10 Reasons You Should Try a Bike Race in Ontario This Year
Sign up for a bike race to meet new friends, conquer a personal challenge, or have fun with your family.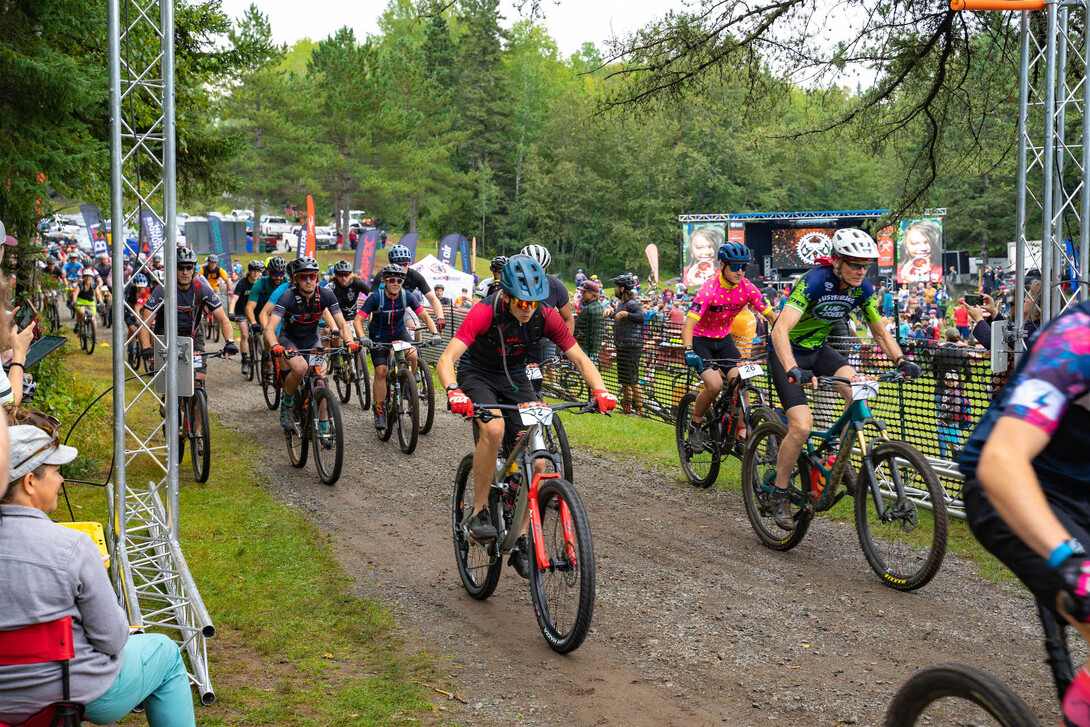 Like most people, I have enjoyed riding bikes since I was a young child. However, it was not until I finally tried a mountain bike race at the age of 30 that I went over the handlebars in love with the sport of cycling. Take it from me, bike races offer excitement, new challenges, great people and much, much more.
There are cycling races hosted by many communities across Ontario every year. Great events are organized by local cycling clubs, bike shops and many passionate volunteers. In major northern centres like Thunder Bay, Sault Ste Marie and Sudbury, you will find big events that draw people from near and far with the promise of big fun and a little friendly competition.
Participating in a bike race is not about winning or losing. Most people enter a bike race to enjoy the social aspect of the sport, to have a goal to work towards, or to share an activity with family and friends. There are countless reasons why different individuals are drawn to the sport of bike racing, but let's whittle it down to a short list of 10 of the most popular motives, with the hope that it inspires even more people to try a bike race in Northern Ontario this year.
1. It's all about having fun
Riding a bike is really all about having fun, is it not? Participating in an organized bike race like Thunder Bay's epic Shuniah Forty Miner mountain bike race is simply an extension of that fun. Look past the butterflies in your stomach at the start line and you are likely to find that the joy of riding bikes is amplified when you have a number plate fastened to your handlebars. In fact, I would go so far as to say it is impossible to finish a bike race without smiling.
2. A chance to spend quality time with family
If you really think about it, there are not a lot of sports where the whole family can participate and have fun together. Usually, we see parents sitting and watching their kids from the sidelines, but with bike racing, nobody is left out. What makes this cycling extra special is the fact that families can continue to enjoy riding and racing together year after year as the children grow into adults. Case in point, you can get a great sense of the potential for family bonding while discovering some of Ontario's best single-track and urban trails at the Sault Cycling Club's Trail Fest weekend.
3. Family and friends who are not racing can still be involved through volunteering
Race promoters are always on the lookout for more volunteers. Even friends and family members who are not interested in racing their bike can still be involved in a race by helping out with registration, course marshalling or any number of other jobs that keep them active and engaged during the event. Check out a promoter like Superfly Racing to find an exciting event in your area.
4. The chance to travel and race in another city
One unbeatable aspect of bike racing is that each different community will host unique events to highlight their top trails and provide exposure to some of the best local businesses. Travelling to a bike race in a different city or town can be an exciting weekend getaway with friends or family. Most marquee cycling events feature a sponsoring hotel with discounted rates or a nearby campground to host all the racers arriving from out of town.
For example, the Ontario Cup mountain bike series includes a stop in Sudbury in late July to race the Walden trails. Racing in a new area also means you will get to meet new people, experience new trails, and discover local restaurants, bike shops and breweries that all add up to a very memorable experience.
5. To be a part of the cycling community
The sport of cycling is filled with a diverse group of really cool and interesting people who tend to be fun, supportive and full of energy. Whether you are travelling to a destination event or participating in one close to home, you are sure to meet some amazing people who are racing, volunteering, watching, or supporting a family member. It is pretty much guaranteed that all your interactions with the good folks you will meet at a bike race will be positive ones. For a great spring day of backroads riding and socialization check out the Turas Mor gravel race in idyllic Creemore Springs.
6. Get a little love for your bike
At most races you will find the local bike shops' mechanics are set up to help you out with a last-minute flat tire repair or derailleur adjustment. Sometimes we ride our bike for weeks with a wobbly wheel or skipping gears that can be quickly fixed with a small tweak from a knowledgeable mechanic.
Jeff Pylypchuk is co-owner of Fresh Air Experience in Thunder Bay, a bike shop that has been supporting racers at the local events for nearly 20 years. He says that the store and the club have grown together, creating "an amazing and strong community around a common interest and lifestyle"—supported by great events organized by the local Blacksheep Mountain Bike Club and the Thunder Bay Cycling Club.
7. Have something to look forward to
While many races are small, low-key events that are usually part of a weekly or monthly series, every city is likely to feature at least one marquee race. Selecting a few key events and adding them to your calendar will always give you something to be excited about. In places like Sault Ste. Marie, Sudbury and Thunder Bay, you will find cycling events that are much more than just a race. The main event in each city is likely to include a full day or even a weekend of fun and activities.
After your race, you can stick around the venue to play games, socialize, enjoy some beer from the local brewery, watch the podium ceremonies or sample some food from one of the local vendors. For example, try the brand new Salty Marie event In Sault Ste Marie.
8. Feeling pride in your accomplishment
Whether the goal is to earn a spot on your age group podium or simply to complete an event, we can all find something to be proud of at the end of a bike race. For many people, just signing up for a future event provides the inspiration and motivation to make healthy choices and establish a positive routine in the weeks leading up to a race. Setting a goal and seeing it through to completion leads to a sense of accomplishment that is so contagious, you will find yourself immediately looking for the next opportunity to race again.
A great way to get started with formal racing is the Tour of Kincardine, a fun yet competitive way to kick off the cycling season in mid-May.
9. You don't need to win the race to be a winner
Most bike races feature a prize table with donations from local businesses. The best part of the prize draws is that they are always random, so even if you finish the race in last place with a flat tire, you still have a good chance of taking home a sweet prize.
Dan Fiorito, manager of Rollin' Thunder bike shop in Thunder Bay, believes that when local businesses like his support the local races, they are helping people to embrace a healthy, active lifestyle. "We hope to encourage participation and inspire a love for the sport in riders of all ages and skill levels," Fiorito says.
10. The afterparty never disappoints
Even when the race is over, there is still fun to be had. It might be the simple act of enjoying a beverage and telling race stories with a few buddies in the parking lot, or it could be a full-blown festival with music and food. Regardless of how big or small the post-race social gathering is, it will always be a highlight that helps keep the good vibes flowing long after you cross the finish line. The 8-hour Enduro at the Mansfield Outdoor Centre, the Sea Otter Canadian Bike Festival in Collingwood and Hardwood Hills' Summer Epic 8-Hour Relay are prime examples of events that include great biking with a fun party.
Sign up for a bike race today
There are many great reasons to try a bike race in Ontario—and having some good healthy fun with friends or family ranks right at the top for most people. Regardless of whether you are an experienced rider or brand new to the sport, you are sure to find a category and a distance that are just right for you.
Even those who would not consider themselves to be the competitive type will discover that simply participating is incredibly fun, rewarding and a great way to motivate yourself while meeting some of the amazing people involved in the sport of cycling.