German Fishing Superstar, Babs Kijewski, Visits Ontario
The author goes carp fishing with Babs in Peterborough, Ontario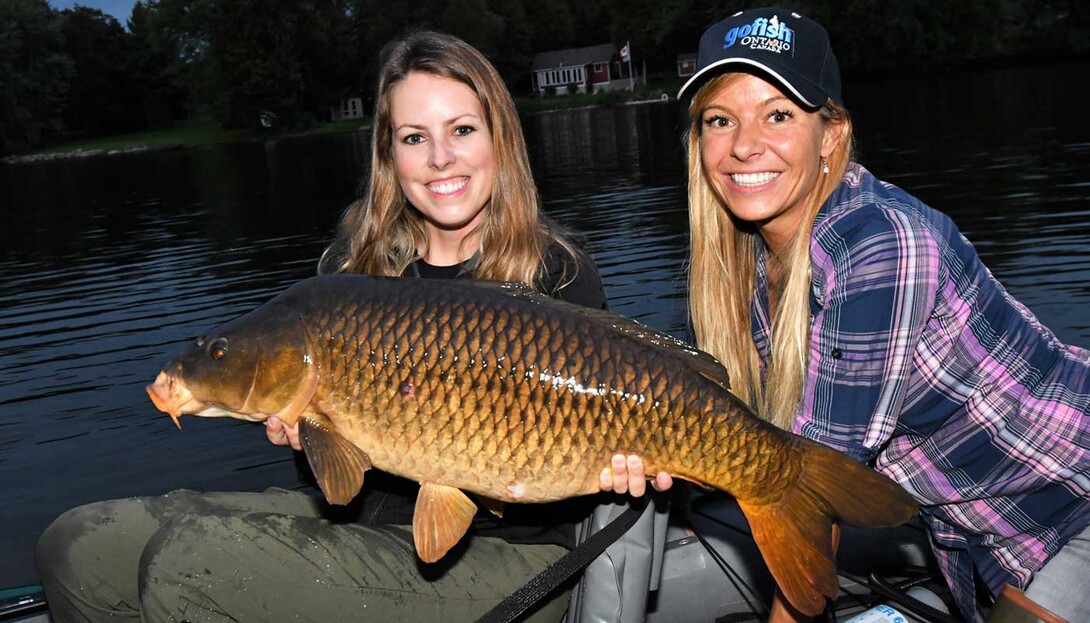 I had been following the adventures of Babs Kijewski online for a number of years. She travels the world filming her show titled, Babs Kijewski World of Fishing, catching such interesting and exotic fish. Her passion for fishing and zest for life is infectious. Living all the way in Germany, Babs wasn't someone I thought I would ever have the opportunity to meet, let alone share the water with her one day. This all changed recently when I received a message from her on Instagram.
Babs would be visiting Peterborough, Ontario with her film crew to do some carp fishing segments. She asked if I wanted to join and perhaps be part of her video. "No pressure, just fun," she said. I was of course on board and pretty ecstatic, to say the least! I was thrilled at the chance of meeting Babs and fishing with her was surely a bonus. Coincidently enough, she would be hitting the bank with my friend Will Muschett of Peterborough Carping Guides. I met Will last summer and shared a memorable carp adventure in Peterborough. We've stayed in touch ever since. The fishing community is truly a small world.
Upon my arrival at the fishing spot Will had selected, Babs was in the midst of filming a segment (in German) on the carp equipment they were using during this adventure. Carp are the most popular sport fish in Europe and the gear used overseas is quite impressive. A fraction of this type of equipment is available in Canada although carp fishing is certainly growing in popularity here. We are very lucky to have such incredible carp fishing opportunities in Ontario, bringing in many European visitors for a sample of it. It was awesome to see Babs and her film crew in action.
The location we were fishing was selected by Will and he had spent time pre-baiting (throwing out corn and boilies) to keep carp in the area to feed. This is common practice with carp angling. After the spawn which takes place in late spring, carp will feed and feed, and feed some more leading into winter. You'll often spot them jumping clean out of the water when they're feeding in an area which is always encouraging. Although I was only introduced to carp fishing in 2012, it's quickly become one of my favourite species to target. The first draw is how huge these fish are, and then of course how fiercely they fight. Primarily targeted from shore, it's a fun and social way to fish with a group of friends. Having the right equipment for carp certainly makes for a more successful and fun experience. I'd recommend carp-specific rods and reels as they can handle the power of these fish along with heavier line. Just like bass fishing in North America, there are endless options for carp rigs out there ranging from simple set-ups with corn to more advanced techniques.
There were seven of us in total on the bank and we had a variety of bait out ranging from corn to boilies with various types of rigs used. Nils (part of Babs' crew and co-host in some of her videos), was the first to land a carp during my time with them although they had been getting into some nice fish prior. Babs had brought along her inflatable kayak, which they commonly use while carp fishing back home. Upon hooking into a carp, they'll jump in the kayak and battle it out for an added challenge and extra fun. It was a riot to watch Nils get pulled around the river by the carp and we were all laughing and cheering. That looks like a blast, I thought.
Babs along with the rest of us got into some nice carp throughout the afternoon and evening. We were having a great time! When a carp picked up my rig and tore off with it, Babs asked if I wanted to jump in the kayak to bring it in. I kayak fished for several years exclusively but I hadn't yet targeted carp in a kayak before. I didn't hesitate to give it a go. Babs passed me the net, I hopped in the kayak, and off I went. This nice-sized carp sure gave me a fun sleigh ride! As the fish tired, I brought it into the kayak, slid it into the net, slung the net over the side of the kayak, and paddled back to shore for a photo. That was certainly the most fun and memorable way to bring in a carp.
We fished until dark and spent the day chatting, sharing fishing stories, and laughing. Although it was the first time meeting Babs, it felt as if we are long-lost sisters. I'm so grateful that I was able to tag along for this adventure and cannot wait to hit the water with Babs again. You can check out her video below, which is primarily in German but also has some English segments as well.
LINKS
Babs Facebook page:
www.facebook.com/BabsKijewskiWorldofFishing
Babs website:
www.babs-angeln.de