How to Cook Northern Pike
This is the best recipe to use to cook your fresh caught northern pike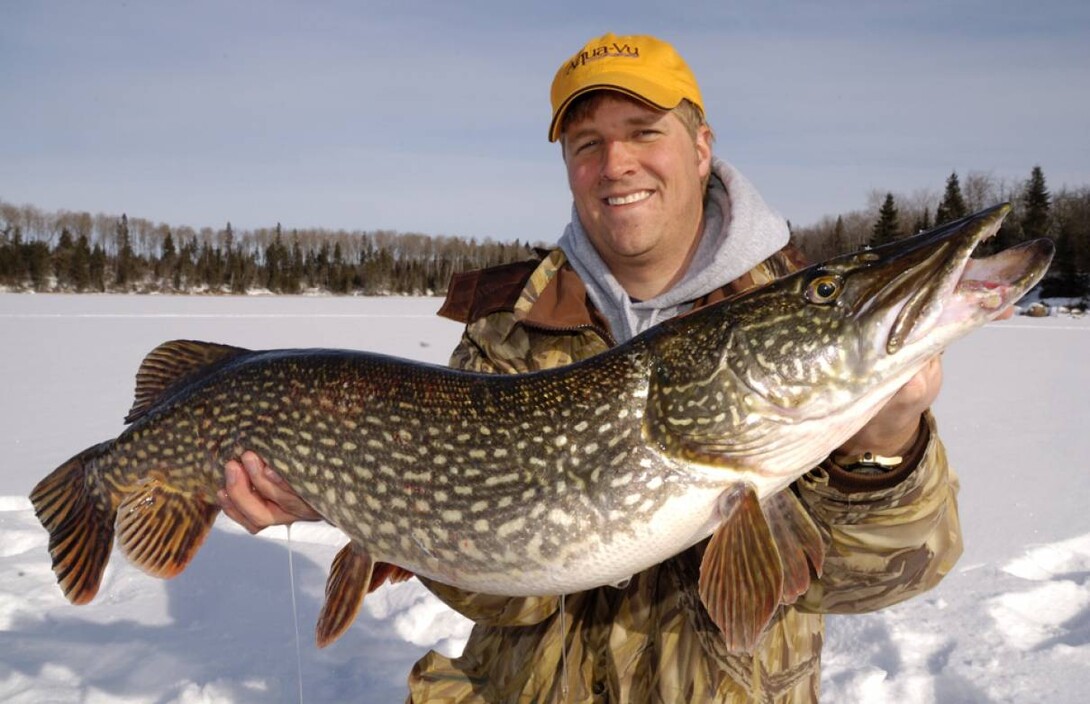 When most folks say they don't like eating fish, they usually mean one of two things: they either don't enjoy the strong fishy taste that results from the fillets being dehydrated and burned while sitting at the bottom of the freezer for too many months, or they hate picking through a plethora of bones. Especially the pesky "Y" bones found in the filets of northern pike.
If this sounds familiar, rejoice, because I bring you good tidings of great joy.
With the winter ice fishing now upon us, there is nothing I enjoy more than targeting northern pike through a hole in the ice in Northern Ontario. Pike are perhaps the most ubiquitous fish in the northern half of the province, being found in abundance just about everywhere.
And while they're wonderful table fare any time of the year, they're at their peak of freshness when caught in the icy cold water of winter, filleted as soon as you get home and eaten shortly thereafter.
I tell this to all the friends I take ice fishing, and while they confess to savouring the experience of catching and releasing trophy size pike in Northern Ontario, they're often skeptical when I suggest keeping a couple of smaller, mid-20-inch pike for dinner.
I'll tell you the same thing I tell them: I prefer dining on pike, as opposed to walleye and most other species of freshwater fish because the flesh is so white, flaky, and firm and oh, so, nutritious and delicious. Especially, when you cook it using the recipe I am going to share with you in a moment.
Still, I am always greeted with the question: How in the heck do you remove the "Y" bones?
Well, trust me, it is easy. In fact, filleting and de-boning a pike is no different than cleaning a walleye so long as you make two additional knife cuts.
Now, I've cleaned my share of pike over the years, and, all modesty aside, I am pretty good at it. Still, I wouldn't want to have a "Y" bone-removing contest with buddy Gord Bastable.
Gord is the owner of Vermilion Bay Lodge on Northwestern Ontario's Eagle Lake. Eagle is renowned for having produced world-record-class muskies, but the walleye, bass, lake trout, whitefish and northern pike fishing is just as good.
Being the personable resort operator that he is, Gord's cleaned his share of northern pike over the years and he recently produced this short video that is the best I've ever seen, on how to remove the "Y" bones, lickity split, from a northern pike.
Now, that you've watched Gord perform his magic, and have your northern pike fillets in hand, here is a family favourite Creole recipe, straight from the bayou country of Louisiana, that is simply out of this world.
I received the recipe many years ago from a good friend and In-Fisherman Television host Doug Stange, who calls it Cajun Your Catch and when you taste it, you'll understand why it has become such a hit with everyone who has ever tasted it.
By the way, a couple of reasons you'll love this recipe are that it is so simple to prepare, so out-of-this-world tasty and so downright adaptable.
By adaptable, I mean that if you don't like hot spicy food, simply reduce the Tabasco sauce to one or two drops and cut the Cayenne pepper in half. By the same token, if you're on a cholesterol-restricted diet or just watching your figure, substitute Becel margarine or olive oil for the butter. I've done this many times and the result is every bit as wonderful when it comes to serving the fish.
Cajun Your Catch
Here are the ingredients:
3 strips of diced smoked bacon
2 cloves of garlic, crushed
2 tbsp. onion
1/3 green pepper, 1/3 red pepper and 1/3 yellow pepper sliced into thin strips
2 sticks of butter
1 tsp Cayenne pepper
1 1/2 tsp Grey Poupon mustard
1/4 tsp dried basil
1/4 tsp dried thyme
1/4 tsp dried oregano
1 - 5 squirts of Tabasco sauce (be careful now)
2 tbsp crab boil seasoning or Old Bay seasoning
1 1/2 pounds of pike filets cut into cubes
a handful of fresh shrimp and/or small scallops
Preheat the oven to 375° F. Sauté the bacon, onion, and garlic in a skillet until the onion is translucent. Add the green, red and yellow pepper and stir them around the skillet. Add the butter, mustard, cayenne, basil, thyme, oregano, Tabasco and crab boil. Simmer for 3 minutes. Add the cubed pike and shrimp. Stir and simmer for another 3 minutes. Transfer to a baking dish and bake for 15 minutes.
I always serve the pike on a bed of steamed brown rice or a mix of brown rice and ancient grains. With a side salad, you'll have your friends and family begging you for more which is so easy and so much fun to do when you fish for pike across Northern Ontario.