Bass Abound in Parry Sound
Variety is, indeed, the spice of life.
Is it at all possible for anglers to get bored? Even when you're supposed to be enjoying yourself casting baits for bass, boredom can set in with your routine lakes and rivers week after week, year after year. Change up your location for some new adventures!
Having made a career catching little green fish, I've had the opportunity to visit and explore new locations on a weekly basis. This also means having to create a pretty good system for locating and catching bass quickly, or face a career change!
On a recent road trip filming a show in the Parry Sound District of Northern Ontario, I was fortunate to visit with the friendly folks at Lorimer Lake Resort. This quaint, peaceful location has a great reputation with the regular guests who return each year for the solitude, wilderness, and clean cabins—which are just off the main highway and offer some very good fishing for trout, northern pike, and bass.
Inside the traditional style 2-bedroom cabins, you'll find a comfortable environment that helps you unwind and rest after the day's activities. The cabins come fitted with many of the comforts of home, including a microwave, fridge/freezer, and coffee maker. Each cabin has a private bathroom. Outside, the cabins have a large deck, gas barbecue, fire pit, and an outdoor table with chairs.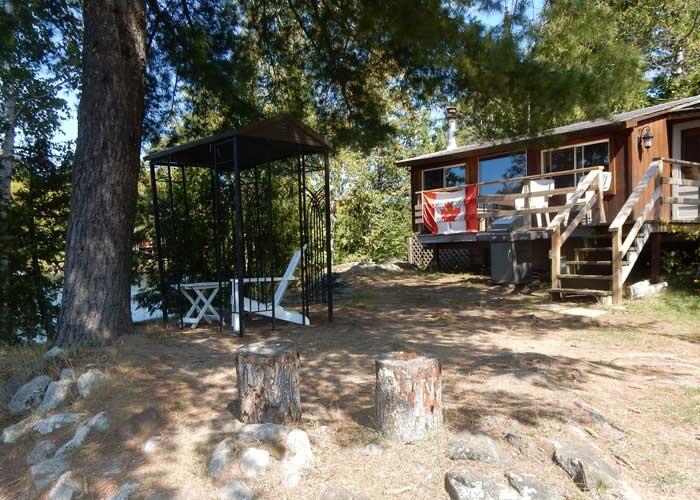 Free to use with your cabin rental is a canoe, kayak, rowboat, and paddleboat. Life jackets are provided for adult size. Pontoon boat and 16-foot motorized fishing boat rentals are available upon request.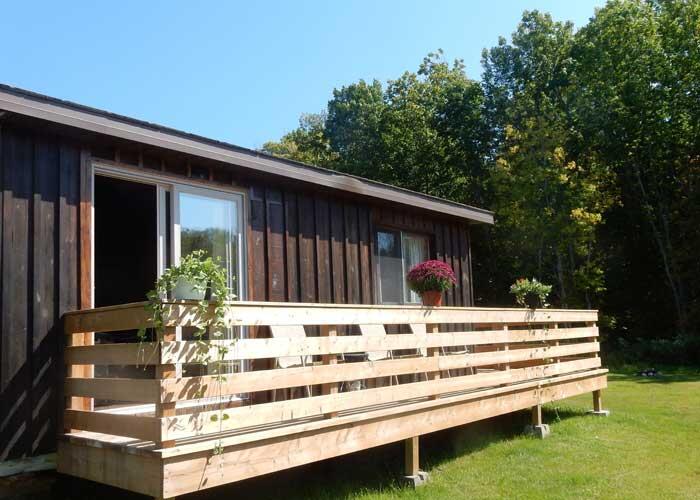 We happened to arrive on an afternoon just before a light summer rain. That didn't stop me from putting on the rain gear, launching my boat, and exploring some of this lake that I have only ever read about online.
A new bass fishing adventure, just the way I like it.
The lake has many natural structure elements for excellent ambush and feeding locations for bass. Island points and drop-offs, rock shoals and reefs, shoreline brush, fallen trees, isolated weed beds between rock piles, and long tapering points with sand, gravel, and boulders. Since this lake was new to me, and with so many potential obstacles to navigate, I decided to idle slowly to several locations I could see on my mapping system. While watching both my sonar and any visible structure, I made my way to a few traditional spots that normally attract bass like long tapering points and since the lake was calm with a light mist, I decided to have some fun and cast a Strike King KVD Splash topwater popping bait and back that up with a small 4-inch Ocho stick worm for any missed strikes on the topwater bait.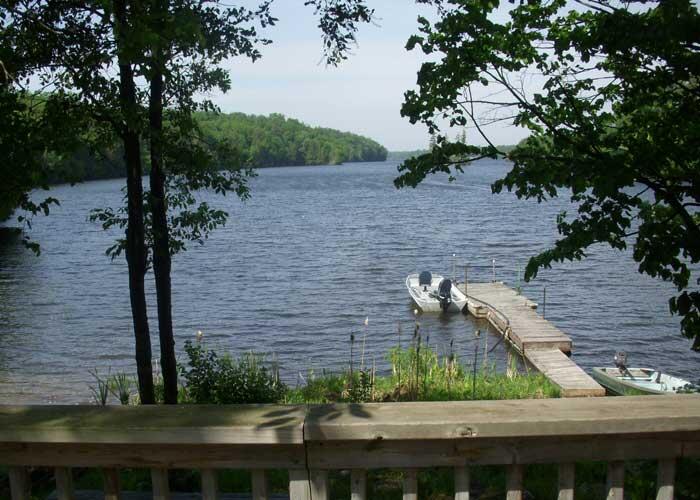 This new lake didn't disappoint.
Not even five casts in—and bang!—first chunky smallmouth of the trip.
Not only did this fish slam my topwater bait with utter disrespect, splashing buckets of water upon its strike, but fought like a wild horse and was out of the water more than underwater.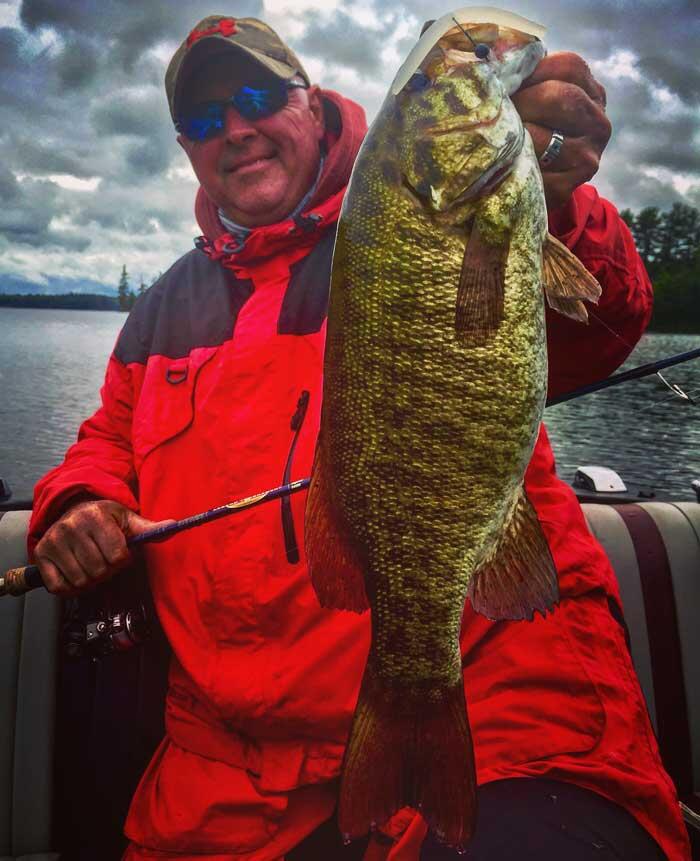 I was impressed.
After fishing several more points and locating several more chunky smallmouth bass, I decided I had seen enough and left well enough alone and packed it in for the next day's filming.
The next morning, I did not waste any time or effort in locating "new water" and headed to the exact same points that produced the afternoon before, and yes, more chunky smallmouth decided to come to play and slammed my topwater bait left, right and centre and gave me the fix my bass fishing addiction so craved.
High-jumping, cart-wheeling smallmouth can have that effect on you.
They are very, very addictive. Once hooked, the feeling never goes away and you crave it more and more. 
Thank goodness Ontario has thousands of lakes to help us get our bass fix on a regular basis.
After catching a bunch of topwater smallmouth, I decided to change it up a bit and picked up my St. Croix heavy action casting rod, Gamma fluorocarbon line, and favourite Strike King soft plastic and start pitching and flipping this little bait into the heaviest weed beds, fallen trees, shoreline brush and edges of rock piles I could find all the while just slowly putting around on the electric trolling motor.
A great way to explore the little nook and cranny hotspots of any new lake. Put the trolling motor down and just fish.
Talk about action.
One thing I love about fishing for bass in Northern Ontario is the smallmouth bass inhabit the exact same locations as the lazy largemouth bass and you never know which one is going to eat your bait regardless of where you cast your bait and this lake was no different.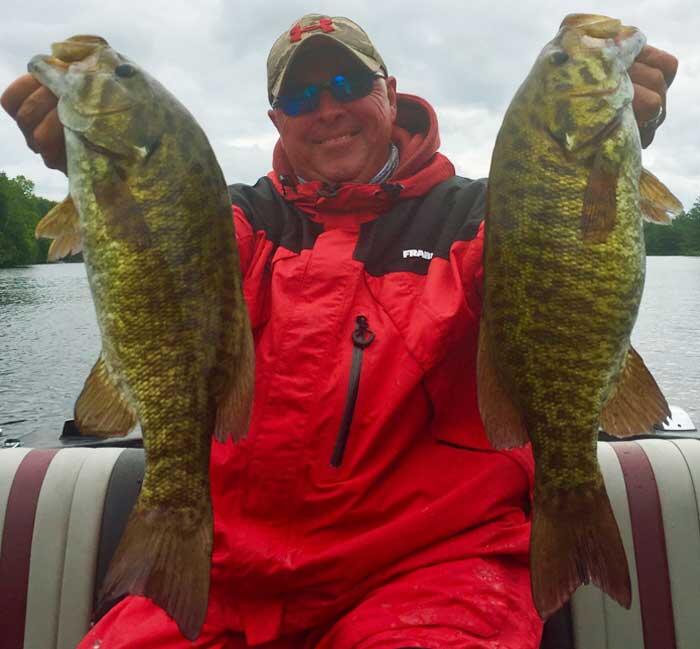 I had the time of my life fishing this new lake, finding new locations, and catching a boatload of bass just about everywhere I fished.
Holding a few fish in the live well for pictures, then releasing them unharmed to fight another day, also ensured future generations of vacationers can enjoy this same awesome bass fishing as I did on my visit to Lorimer Lake and visit Ontario lodge and resort destinations for years to come.
If solitude in the wilderness not far off the main highway with good fishing is something your heart desires this year, visit the friendly folks at Lorimer Lake Resort and add some variety to your bass fishing adventures.
Visit Lorimer Lake Resort at www.lorimerlakeresort.com or phone (705) 346-4006