Debunking Muskie Myths
Busting popular myths about Ontario's big toothy beasts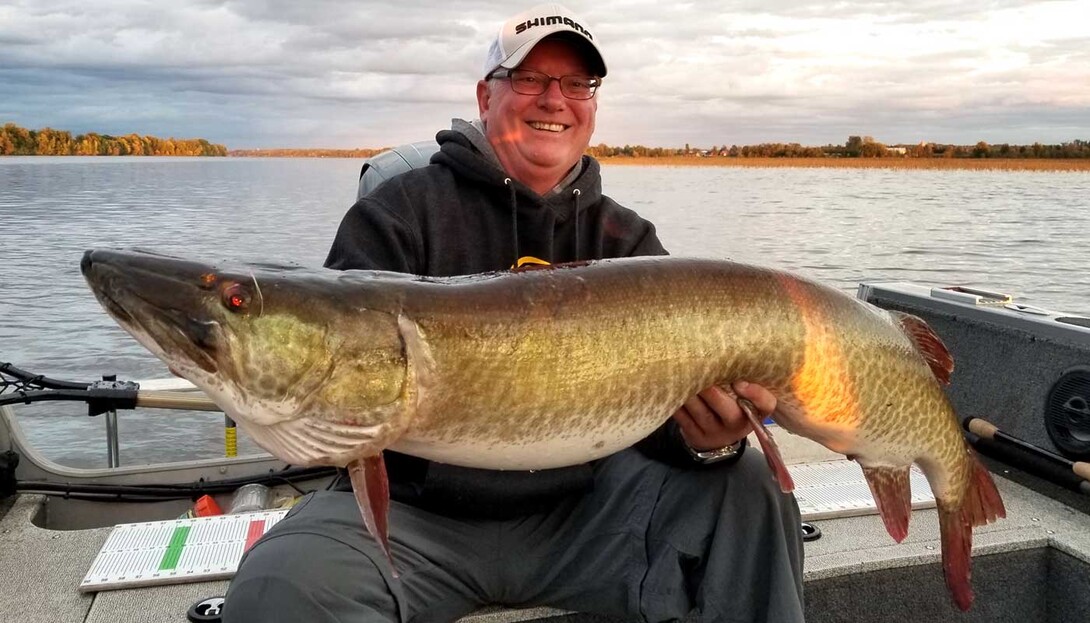 Wally Robins is a muskie angler. Need I say any more?
Like most of the faithful flock who doggedly pursue the big toothy critters across their Northern Ontario range, Robins will admit to devoting at least some time to other species. He spends a week on Lake Temagami every spring catching walleye, bass, and lake trout, but scratch him even barely and he readily admits that "Yah, after muskies, everything else really is just bait."
I should mention, too, that Robins splits his time on the water between two hallowed Ontario venues—his home waters of the Ottawa and Rideau Rivers, and his home-away-from-home waters of Lake of the Woods.
It was on the first location that I caught up with Robins and his sidekick, famed Ottawa River muskie guide, John Anderson, to pick their brains about muskies myths.
"The single most popular belief, and the one that pretty much assures that you won't be successful catching muskies," chuckles Robins, who is a veteran pro staff member for Shimano and G.Loomis, "is believing that the fish are smarter than bass, walleyes or trout."
"For certain, muskies are different, but they're not smarter."
"Being the apex predator in most Northern Ontario lakes and rivers simply means there are far fewer of them, just as there are fewer foxes than rabbits. Muskies are also bigger, have more and sharper teeth, spawn twice in many waters, and live longer than most other fish. But their behaviour is exactly the same as walleye, bass, or bluegill. They're driven by three needs: to eat, to not be eaten when they're young, and to reproduce."
Anderson nods his head in agreement and, listening to Robins, says, "Yes, muskies are smart if you're comparing them to cabbage. But they are not Einsteins with fins. It is even difficult for me to use the word 'smart' to describe a fish that routinely eats gaudy hunks of wood or pieces of plastic with spinning blades in front of a tuft of deer hair, tinsel, or marabou. It is important for first-time muskie anglers to remember that muskies are just fish."
Which brings us to another myth that amuses Robins to no end. It is the frequently heard moniker that some anglers like to throw around which refers to muskies as the fish of 10,000 casts.
"Nothing could be farther from the truth," says Robins, who adds, "on many Northern Ontario muskie water, dare I say most, it is much harder to catch a 5-pound smallmouth bass than a 50-inch muskie. I'm not suggesting that you're going to catch 10 or 15 muskies a day, but if it takes you 10,000 casts to catch a good muskie in Northern Ontario, you're fishing in a swimming pool."
One of Anderson's pet peeve fables, on the other hand, is the one that contends that muskies are loners. The owner of the Ottawa River Muskie Factory says, "fisheries science has shown us that muskies establish seasonal home ranges, but it doesn't mean that a single fish protects its home turf like an inner-city street gang protects its 'hood.' Often multiple fish will share the same area. A mid-lake rock pile, for example, might hold several muskies as long as there is sufficient forage. A few years back, my guests caught three beautiful muskies weighing, collectively, in excess of 80 pounds along a 3/4-mile stretch of the river."
Finally, Robins and Anderson say a big mistake they see many anglers make is always fishing fast presentations in order to cover water.
"It is an excellent strategy when the muskie activity level is high," says Robins. "If you catch a good fish or two in shallow, weedy water or on the wind-blown side of an island, for example, it makes sense to run and gun similar areas. At times like this, muskies are notoriously easy to pattern."
"But it is a mistake to do it when the collective musky mood is low. Then you want to slow down every aspect of your approach. Instead of running from one spot to another, systematically pick apart one or two large complex areas where you know muskies hang out and you have confidence. Always match your boat speed, retrieve cadence and bait choice to the mood of the fish. In other words, put away the fast-moving spinners and tail-kicking top-waters, and cast glide baits and soft plastics Shadzillas and Bull Dawgs."