Wind, Cloud, and Walleye
Learn how weather controls walleye activity in Ontario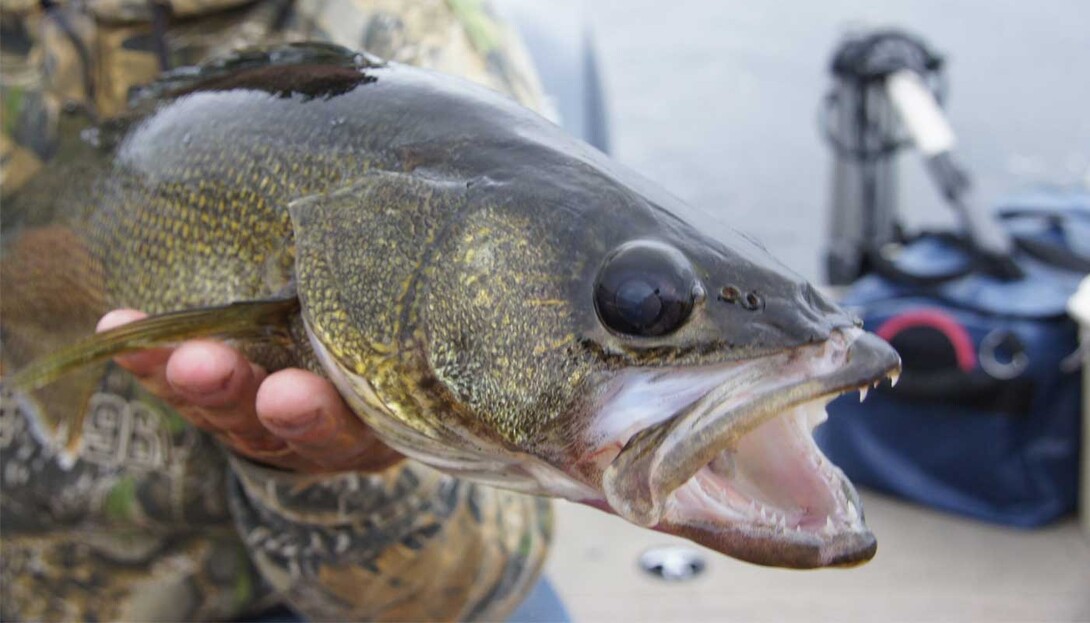 The weather, in all its guises, affects the walleye in lakes, rivers, and reservoirs in different ways. Knowing how weather controls walleye activity on any given piece of water is what separates the consistently successful anglers from the "they weren't biting" folks.
CLOUD COVER
The clarity of the water, and the amount of light that penetrates it, has a huge impact on how walleye respond to angling. While dark or stained water is generally believed to be better for walleye than clear water, the odds are that it's actually just better for anglers. Walleye are sight hunters, and despite owning light-gathering eyes, they have difficulty tracking food in muddy or coffee-coloured water. The importance of light penetration and visibility to walleye activity cannot be overstated.
While water clarity is key, cloud cover is the main controlling element that affects walleye activity during the day or night. If you fish clear water lakes, you've probably learned that on bright sunny days, walleye become trickier to catch. Folks who spend most of their time fishing the clear stuff pray for cloud cover and maybe even a bit of rain. Clearwater walleye are generally warier on sunny, flat afternoons and can be tough to catch. The exception to this rule is found in clear lakes with thick weeds—where the walleye disappear into the salad but stay on the bite.
Clear lakes usually have a strong dusk and dawn walleye bite that's as intense as it is short. Good night fishing is also associated with clear lakes, as the walleye feel more comfortable in the shallows under the cover of darkness. However, a cloudy night on a clear lake is much tougher to fish than a cloud-free night, especially one with a full or partial moon. Without a visible moon, walleye have less available light and can't feed as aggressively. Even stars provide some light to night-stalking walleye.
The best fishing conditions on clear water lakes are associated with overcast skies and warm, stable, air masses. The longer the weather holds, the better the bite gets. I've seen stable, hazy, warm front situations that put clear water walleye so shallow you could see dorsal fins slicing the surface. If a cold front is approaching after a long period of hot, muggy weather, big walleye in clear water always go on the prowl. These are the days to call in sick, folks. Trophy fish get goofy after long hot spells. Make the weather channel your best friend and watch the long-term forecasts daily.
In stained water, the reverse situation of clear water is true. Sunny days with little cloud cover are the absolute best time to be walleye fishing on dark water. This rule holds for all four seasons. The darker the water, the truer the rule. I've seen more trophy-sized walleye caught from dark water lakes during sunny days than at any other time. Dark waters need light for walleye to feed under optimum conditions. The stained stuff also needs the direct heat of the sun to kick-start the food chain, particularly in the spring. Thinking back, it's been the warm, bluebird days that have provided me with the best opening week for walleye fishing on dark water watersheds. Lakes with stained water also hold walleye shallow for a longer period of time and, in many watersheds, that shallow water bite can stretch well into the summer.
By the way, never underestimate the effect of the sun on open-water walleye. In clear or lightly stained lakes, the shaded side of reefs, weed beds, and rock piles will consistently hold more walleye than the sunny side. Walleye will use logs, trees, and even diving docks to escape the direct sun in clear water. Oddly enough, the only time I've ever had success targeting suspended walleye in deep clear lakes has been on sunny, relatively calm days.
WIND SPEED AND DIRECTION
Even the casual walleye angler understands something about the role wind direction can play in a fishing day. Mention the term "walleye chop" at a fishing camp and almost everyone will know what you're talking about. Yet the reason that wind speed and direction are important is not nearly as well understood. I've heard anglers describe how strong winds "blow baitfish across the lake," theoretically drawing all the fish to one side. While the basic premise is not far off, I think it's safe to say that if you were to check the other shore, you'd find that at least some of the minnows would hold tight on the calm side.
Wind does, however, activate walleye in predictable ways that anglers can cash in on. Wind churns up the inshore areas, creating a chaotic mix of silt, mud, algae, and plankton that minnows feed in. Yet the turmoil in the shallows also allows walleye to sneak in and chomp those baitfish without being noticed. I saw this happen one time on a lake north of Nakina.
It was late spring, and four days of heat and high pressure had pushed water temperature up into the 20°C (60°F) territory. A steady northwest wind was blowing into the shore, carrying warm water and a thick soup of tree pollen with it. While the fishing along that windy shore had been good for several days, the walleye had been off the edge of the shallows in deeper water. During a shore lunch, however, I noticed that huge schools of minnows had suddenly appeared in the shallows and were feeding on the pollen. When we got back to fishing, my partner and I started pitching light jigs into the knee-deep surf. Boom. The walleye were there. Despite a haymaker sun and scorching temperatures, we whacked walleye in less than a foot of water. The best one weighed seven pounds (3 kg.), but we caught a dozen or so within the 3- to 5-pound (1.5 - 2.5 kg) range. Not a bad mid-day bite!
Windy shores almost always hold shallow fish but picking the right portion of the shore is crucial. Look for visual clues like feeding gulls or loons as they are rarely far from baitfish balls. Also, watch for breaks in shorelines; whether it be rock fingers, large boulder beds, weed-beds, fallen trees, or even docks. Anything that provides some cover and quick access to deep water is bound to hold walleye when the wind picks up. Keep in mind that there will almost always be some fish holding deeper waiting to take a blast in the shallows when the mood strikes. When the shallow fish go off, slip a little deeper and you'll find their buddies.
Wind direction also plays a role in fish positioning. Wind creates current—even in small lakes—and walleye always set up facing into that flow. Facing current gives the fish more control and allows them to easily pick up food morsels that are caught in the tow. When current is moving across a point, or over a rock reef, the most aggressive walleye will set up the head of the structure. This often means on the top end of a narrows, right to the shore, or at the front portion of a food shelf or reef. Fish are competitive, and the biggest ones always want the first crack at the prime pickings.
Wind, cloud, and walleye are part of a puzzle all the best walleye anglers try to put together before any fishing trip. Discovering how the three elements intertwine is one of the things that keep walleye anglers forever fascinated by their sport. That, and the taste of breaded fillets.