Cook the Classic Shore Lunch
You could go to the fanciest restaurant in the world and it wouldn't taste any better than this.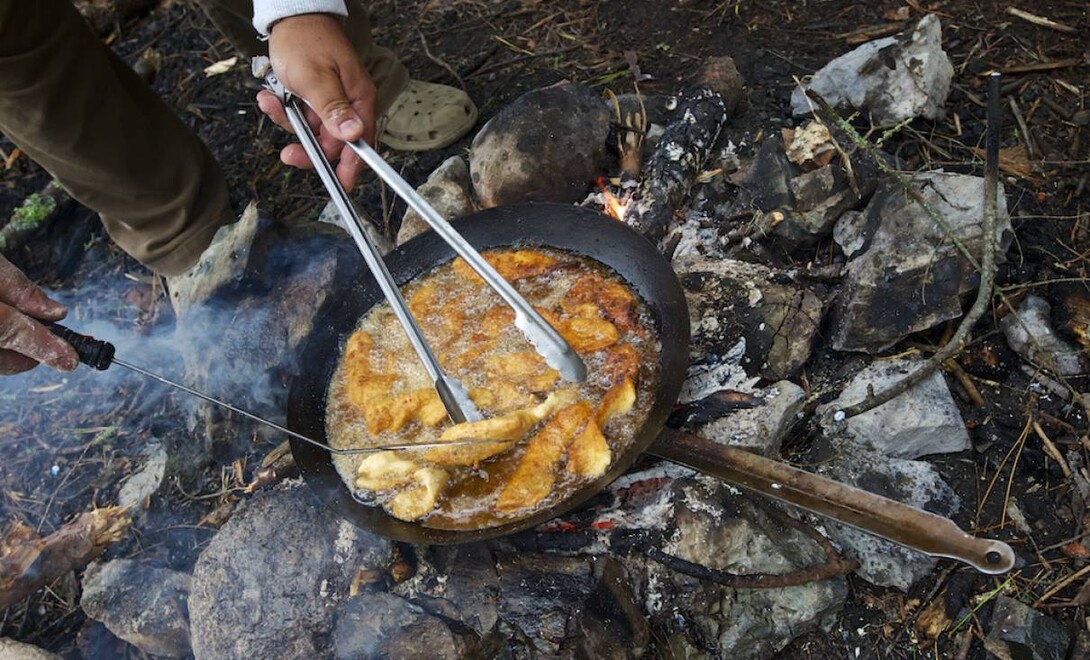 What—you've never had the pleasure of a Northern Ontario shore lunch? Shame on you! It is the highlight of every fishing trip I've ever enjoyed when we've pulled the boat up onto the shoreline of scenic spruce or pine-covered island and cooked our freshly caught fish over a crackling wood fire.
Trust me—you have no idea of how delicious fresh fish can be until you've cooked it minutes after you've caught it.
And the cool thing is, a shore lunch is so easy to prepare.
I would hate to tell you how many shore lunches I've prepared for family, friends and guests over the years, but it is many hundreds, if not thousands.
And here is the recipe that most folks have said is their all-time favourite:
flour seasoned with salt and pepper 
Egg Beater or a couple of beaten eggs
Corn Flake crumbs
Italian Flavoured Bread Crumbs (with Romano cheese, herbs and spices)
Canola oil
fresh lemons
salt and pepper
I like to arrange four loaf pans side-by-side with the fish fillets in one, the seasoned flour in another, the Egg Beater in the third and equal amounts of cornflake crumbs and Italian-flavoured bread crumbs in the fourth.
That is also the order in which you prepare the fillets.
Simply take a piece of fish, drop it into the pan of seasoned flour and give it a good shake. Then give it a bath in the egg wash before finally dipping and shaking it in the pan of crumbs.
While I am preparing the fillets, I like to start the fire so that by the time I am finished, it is hot and ready for the frying pan, which brings us to a real secret to preparing great crispy shore lunch fish. Always heat up the oil so that it is hot before you put in the fish.
The old-timers will tell you that you know when the oil is ready because "when you spit in the pan, the pan will spit back at you." It is a great tip, too, but unless you're cooking just for yourself, I suggest you take a bit of the crumb dressing and drop it in the oil instead. When the oil swirls and bubbles around it immediately, it is ready.
Then gently slide in the fillets. They'll be golden brown in only two or three minutes so watch them carefully and when they look finger-licking-good, flip them over and fry the other side.
When the oil is at the proper temperature, the entire cooking process will take only a couple of minutes, after which you can slide the crispy, crunchy fillets onto a plate covered with paper towels to drain off any excess oil.
I like to grind sea salt and pepper over the fillets and squeeze the juice from a fresh lemon or two over them while they're steaming hot too.
Then, it is a simple matter of everyone digging in and enjoying the finest fresh fish you could ever imagine.
Of course, you can prepare your walleye, perch, crappies or pike this way, too, when you get home but for a real change of pace, especially if you want to impress your family or friends try my baked Mediterranean Walleye.
A couple of years ago I was invited to participate in the Generation Next Angler Celebrity Cook-off at the Mid-Canada Boat Show in Winnipeg.
Twice each day, during the four days of the show, various folks went nose-to-nose cooking up their favourite walleye recipes for a panel of judges.
Each cook-off lasted an hour and I can tell you that once everyone was seated not a single person left the room.
At the end of the four days of competition, the results were tabulated and in the end, I won—or rather, the walleye won—with this delicious, heart-healthy, and easy-to-prepare recipe.
Gord's Mediterranean Walleye Supreme
1.5 lb fresh boneless, skinless, walleye fillets
a handful of green olives stuffed with garlic & cut into small pieces
a handful of black olives cut into small pieces
a handful of sundried tomatoes packed in olive oil cut into small pieces
a handful of crumbled feta cheese
fresh tomato slices
fresh lemon
white wine (optional)
salt and pepper
Directions
Wash and thoroughly dry the walleye fillets between paper towels before laying them on the bottom of a casserole or glass baking dish. Salt and pepper the fish to taste. Add a splash of white wine. Sprinkle the green olives, black olives and sundried tomato over the fish. Sprinkle on the feta cheese. Finally, cover everything with a layer of fresh tomato slices. Pop it into a pre-heated 400°F oven and cook for approximately 20 minutes. When it is time to serve, squeeze the juice from half of the fresh lemon over the steaming fish.
It's a meal fit for a king or queen and the most fitting way I know to celebrate the finest fish that Northern Ontario has to offer.