Ontario Multi-Species Fishing Lodges
A helpful guide for planning your next fishing trip in Ontario.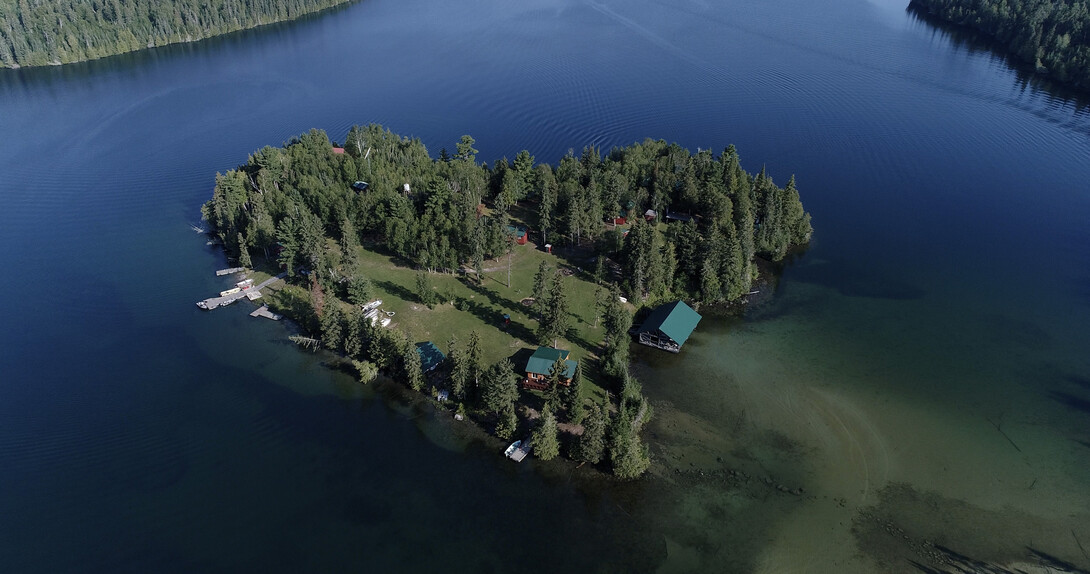 If you're looking for a lodge for multi-species fishing and great accommodations, the lodges featured here will check that box. Some lodges showcase a single fish for attracting guests, and that's great. Although, if you're like me, you enjoy variety and being able to access high-quality angling for a variety of different fish.
The lodges here range from a boat-in to a short fly-in and easy drive-to. For big muskie, both Chaudière and Manotak offer that. Big lake trout, cooking your own meals, and being semi-remote…Anishinabi Outpost. Of course, the mandatory walleye are all offered at each lodge.
Let's dive into more detail about each lodge and what they can provide for a multi-species Ontario Experience!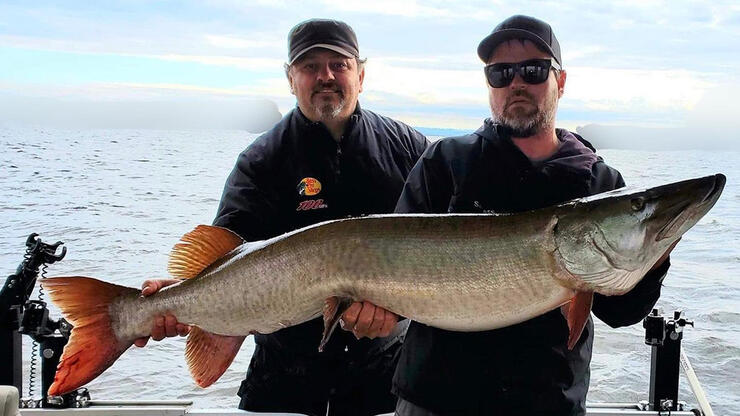 I enjoy river fishing a lot, they usually hold large populations of fish that are set up in predictable areas based on current flows. When you are staying at Chaudière Lodge, you have access to fish both the river and Lake Nipissing. Muskie fishing is WORLD CLASS! Also, the walleyes are there in size and number. The main draws are the walleye and "clear" muskie. The greens, blues, and grey on those French River skies are amazing, and 50 inches is not uncommon! Normally, you catch the spotted or barred ones. There's also a decent population of largemouth inhabiting some of the shallow mud and weeds in this river. The nice thing is that bass in Canada like to feed in the middle of the day when the temps are warmest. This provides a fun break from the morning and evening walleye/muskie fishing.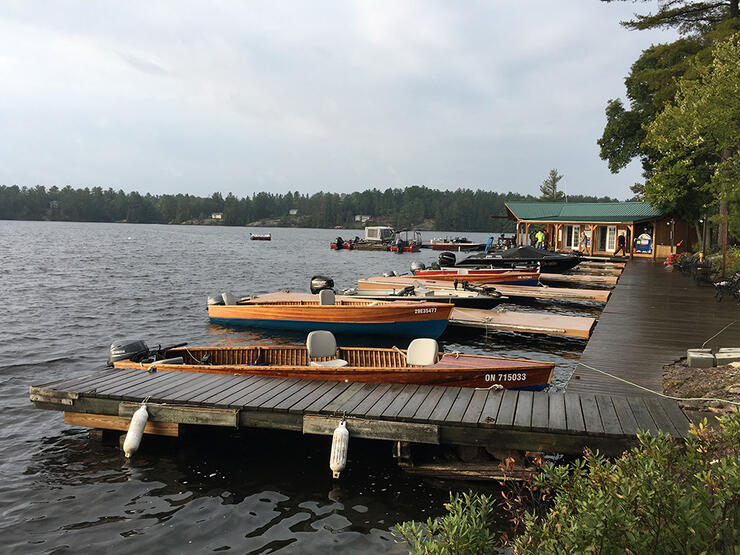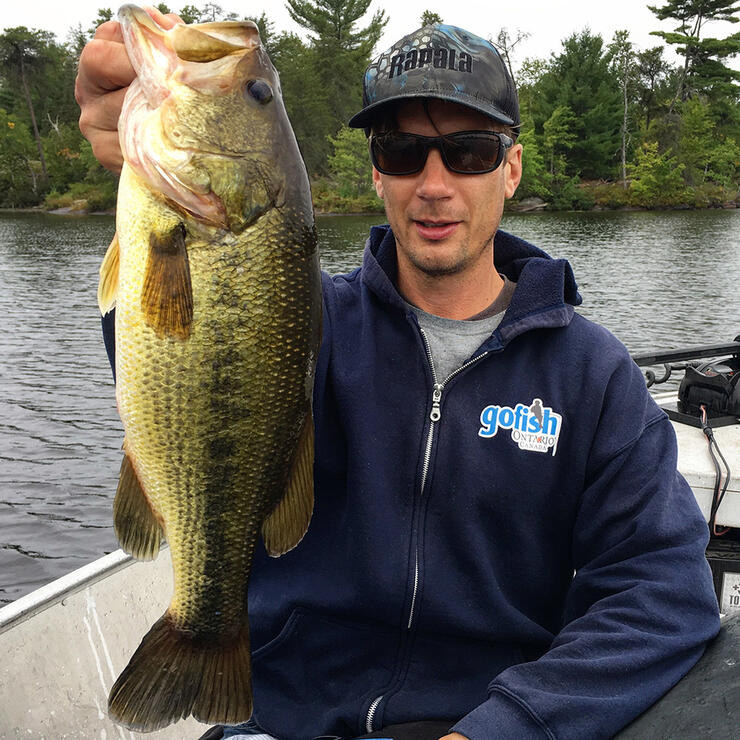 Now that we covered some of the fishing, let's talk about the operation there. Chaudière Lodge is located on an island of the Upper French close to Lake Nipissing. It was established in 1905. Since then, much of the surrounding area is still untouched and looks the same as it did 100 years ago. Besides the obviously incredible fishing, there's canoeing, kayaking, and much more. They offer many different options with one to three bedrooms in size to accommodate two to six guests. All the comforts you need, including electric heat, bar-sized refrigerators, furniture, and clean, spacious bathrooms. The 3,200-square-foot main lodge has a rustic dining room and a big lounge area with a big TV and fireplace. They have a few different options for boats while staying there, from a standard cedar strip to 18-footers with a 90HP outboard. The guides there are very knowledgeable and I highly recommend them for at least the first day. This will get you info on the current bites and learning the river system there fast. Bring your appetite too, as the three meals per day will keep your belly happy. On Friday nights, they even have a prime rib buffet!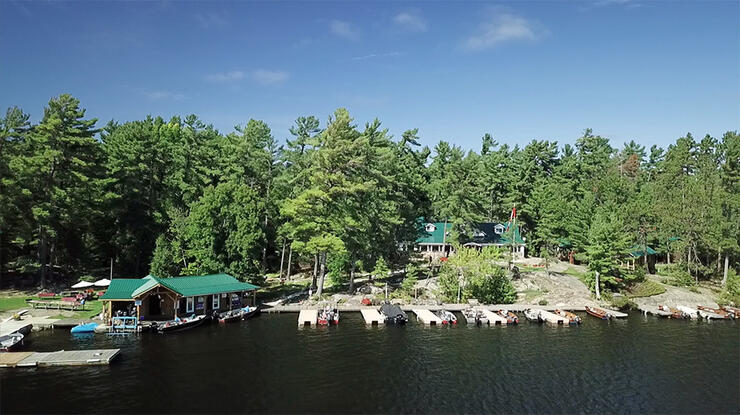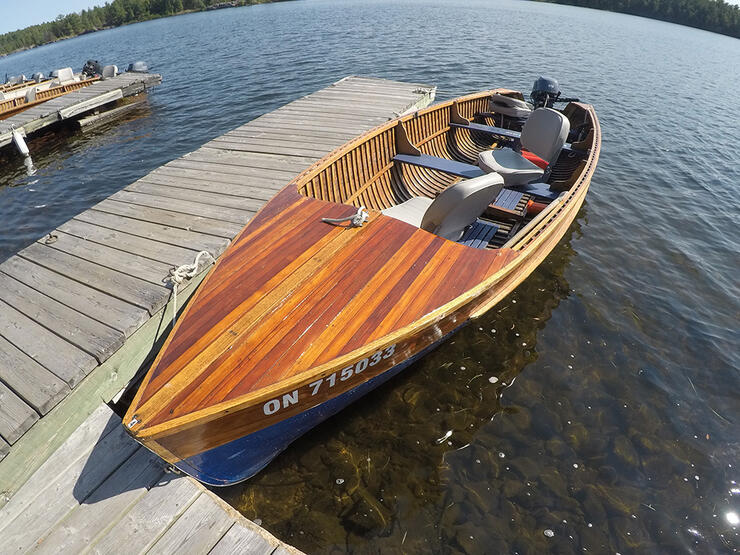 Chaudière Lodge is a great place whether you are looking to catch gigantic muskies, loads of walleye, or big bass, or if you just want to escape away on an island in the Ontario wilderness of the Upper French River in first-class accommodations and service.
To learn more, visit: www.chaudierelodge.com/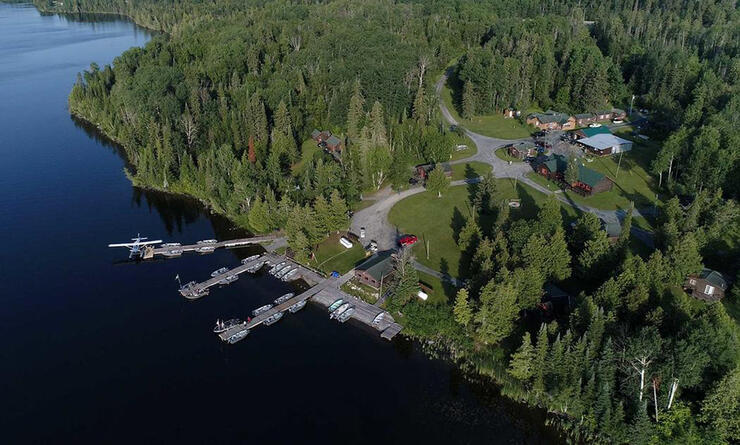 A very easy drive-to destination for multi-species. It is located just a few hours' drive North of the border in International Falls. The fishing and accommodations are incredible, and the Swafford family at Manotak Lodge will make you feel right at home! There are over a dozen cozy cabins, with enough space to accommodate 2 to 4 people or even larger groups of up to 12 people. They offer a number of different lodging plans you can choose from. Without question, the American Plan is the way to go if you want everything taken care of from start to finish. In my travels across Ontario, it's very rare to find somewhere that offers a plan with SEVEN FULL DAYS. With the American Plan, it includes boat use (50HP Yamaha 4-stroke, 28 gallons of fuel, depth finder, aerated live well, net, anchor), fish cleaning (wrapping and freezing), power hook-ups at the dock, towels and bedding, WiFi, three meals per day, and daily maid service. Price it out and you'll see this is an amazing combination! And don't forget about some fresh-caught walleye for shore lunch.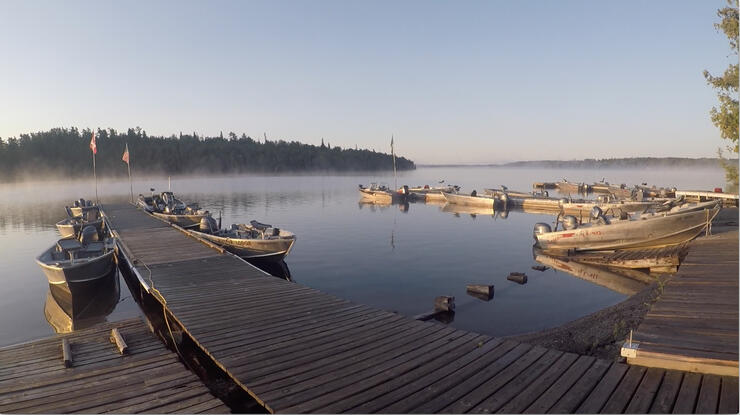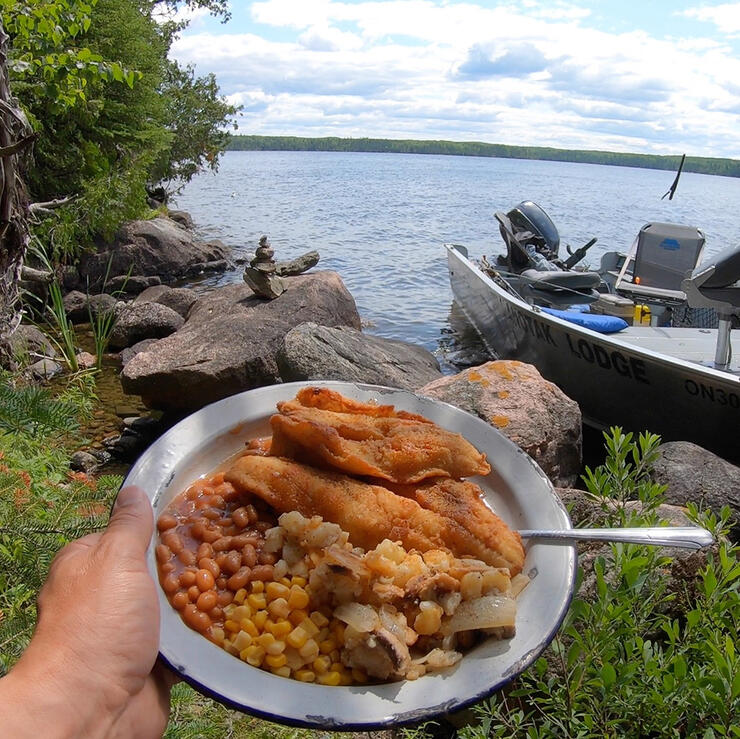 Let's talk about the incredible fishing there. Perrault Lake, about 9,500 acres in size, is connected to Cedar Lake, which is also similar in size. Mid-20-inch walleye are common here, with the chance to catch a lifetime best 30-inch PLUS! For the muskie, this lake has produced low- to mid-50-inch in the past few years. The relative "smaller" size of the lake (compared to others in Ontario for trophy fish) makes it easy to cruise around and switch gears from walleye to muskie to smallmouth.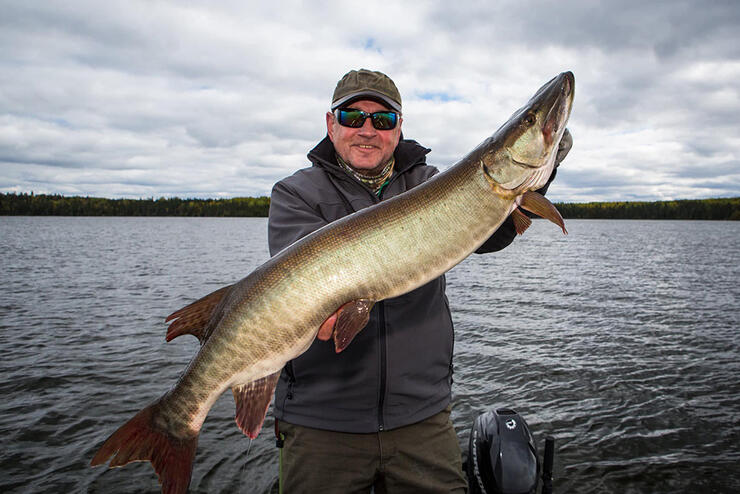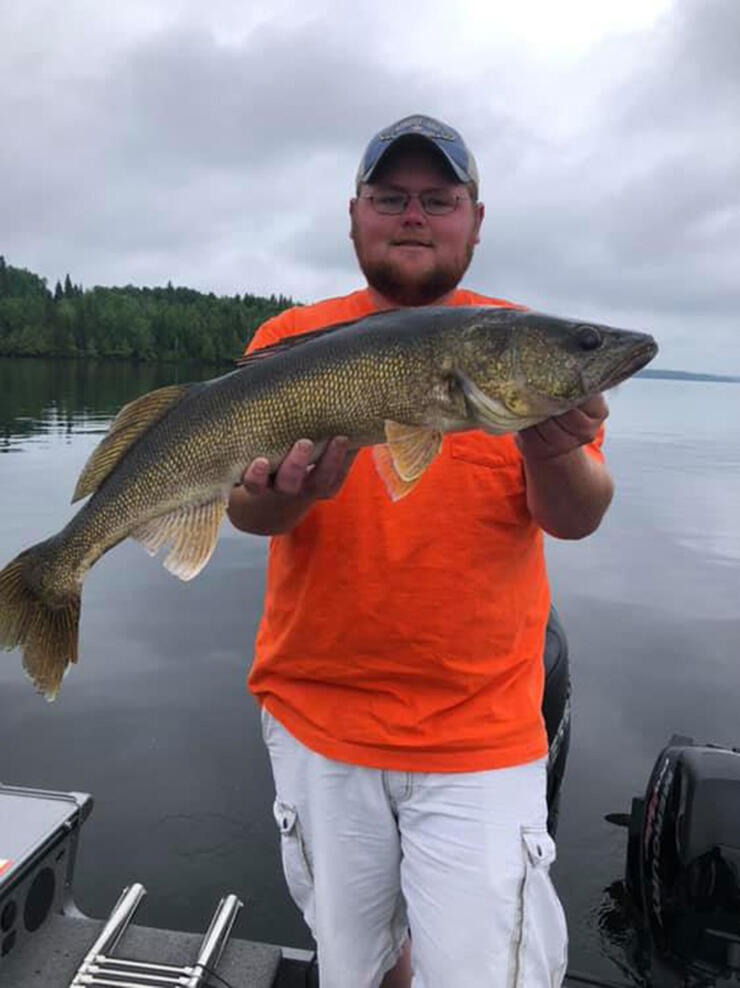 You also have the option for remote lake fishing! There's a muskie lake for numbers. Yes, numbers! Now, they don't get as big as the Perrault fish, but if you want to catch a few in the low-to mid-30-inch range, your odds are excellent. That's quite rare to have access to a lake like that. I spoke with men that fished there, and they say the average day is three to five boated, and 10-15 follows. That's some fun action. Manotak also offers daily fly-out to a remote wilderness lake for number of walleye, pike, and smallmouth. Multi-species options! I mentioned the fish cleaning service they offer that's included in your stay. This is also unique, because not only do they fillet and wrap your catch, they freezer-pack it for border crossing! You can bring back fresh fillets to share with your friends and family. Or enjoy them just for yourself!
To learn more, visit: https://manotak.com/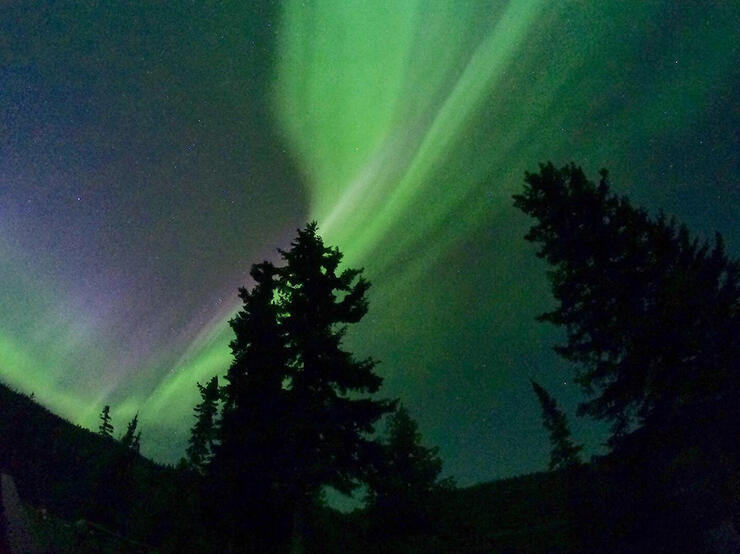 Seeing the Northern Lights during our stay there in the middle of summer was quite amazing! The photo here was from the view of our cabin deck. Owners Wayne and Karla Clark of Clark's Resorts & Outposts operate two drive-in resorts and over 25 fly-in outposts. They also have a very large live-bait business supplying numerous lodges with fresh minnows. For this blog, we'll highlight their Anishinabi Fly-in Lodge. This is only a 10-minute flight from the airbase at Northern Lights Resort on Cedar Lake, 25 miles north of Vermilion Bay, Ontario. If you're looking for a semi-remote cabin, without being too far away, this is a great choice for you. On the main island along with the lodge are four beautiful lakefront cottages. Away from the main island, also on Anishinabi Lake, is an excellent outpost cabin called Williams Narrows. The cabin we were staying in has plenty of room to sleep, eight-plus people. It also included a spacious refrigerator, dining area, cooking and eating utensils, stove, and outdoor deck complete with a grill. With only four cabins on the main island, you have plenty of space. There's a beautiful large cabin there that can accommodate a bigger group, perfect for families. It has the best view of them all!
The two main target fish there are lake trout and smallmouth bass. The lakers get big, I mean, really BIG. We visited in the heat of summer and still caught them. Earlier in the season, you can catch them shallow. There's also great smallmouth bass and northern pike fishing. Even though there are no walleye in Anishinabi, if you're looking for a shore lunch, no problem. There are a number of portage lakes (and daily fly-ins) to get some walleye action for both catching and cooking. Our guide, John Jakobs, knows the lake well. He found some deep schools and put us on the bite. We did keep one smaller laker to eat. And it was delicious! Freshly cooked fish in a frier at the cabin is the next best thing to a shore lunch.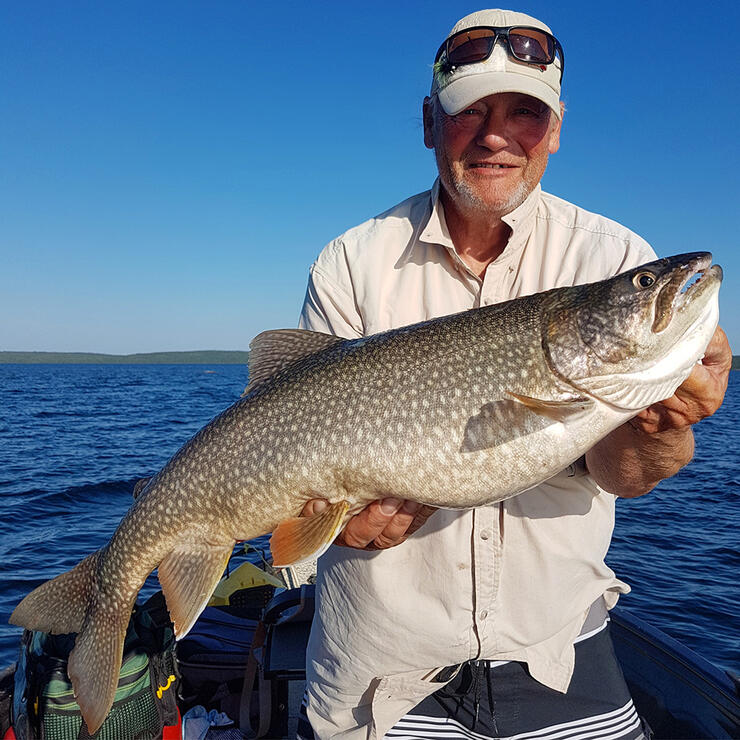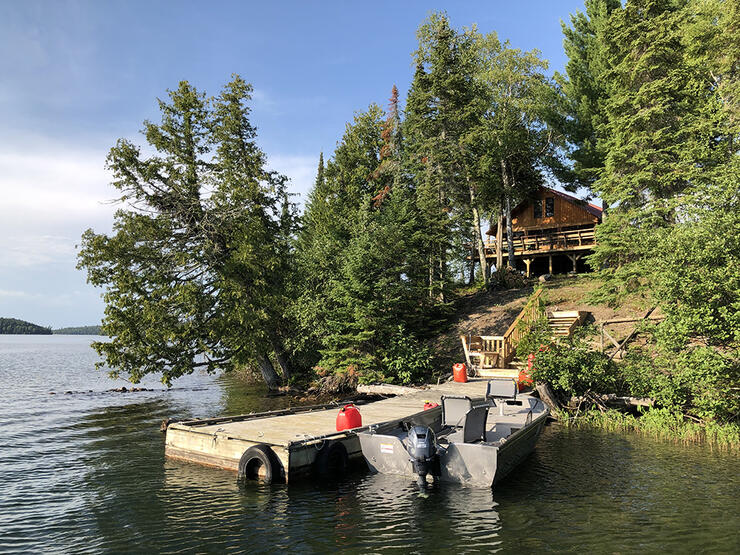 All the fly-in packages include flight to and from the base, the cabin for five to seven nights, well-maintained 14- or 16-foot boats with swivel seats and new or near-new 8HP or 9.9HP motors, fuel for outboard and generator, landing nets, minnow buckets, paddles, mid-week camp checks, ice, water, and LIVE MINNOWS! All outposts feature hot and cold running water, all have electric fridges, all have showers, stoves with ovens, gas BBQs, and gas fish cookers, all cabins are well-lit, and Honda generators are available at all locations.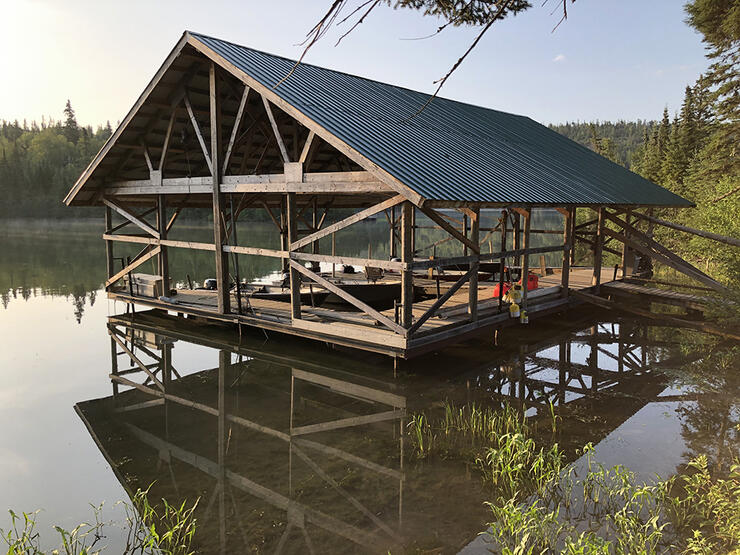 The cabins are also equipped with dishes, cooking & eating utensils, bunk beds with mattresses and memory foam pillows, and sleeping bags or comforters. The evening sunsets are amazing—be ready to take a lot of photos! Anishinabi Fly-In Outpost is great for both small and large groups. The short flight is nice for first-time floatplane passengers, or if you don't want to be too far off the grid. Also, there is WiFi in the main island lodge to keep you connected. Clark's Resorts & Outposts has over 25 outposts, you have a lot of options!
To learn more, visit: http://clarksresorts.com/