Ontario's Incredible Smallmouth Bass Destinations
From rivers to small and large lakes, smallmouth bass are found throughout Ontario's lower regions.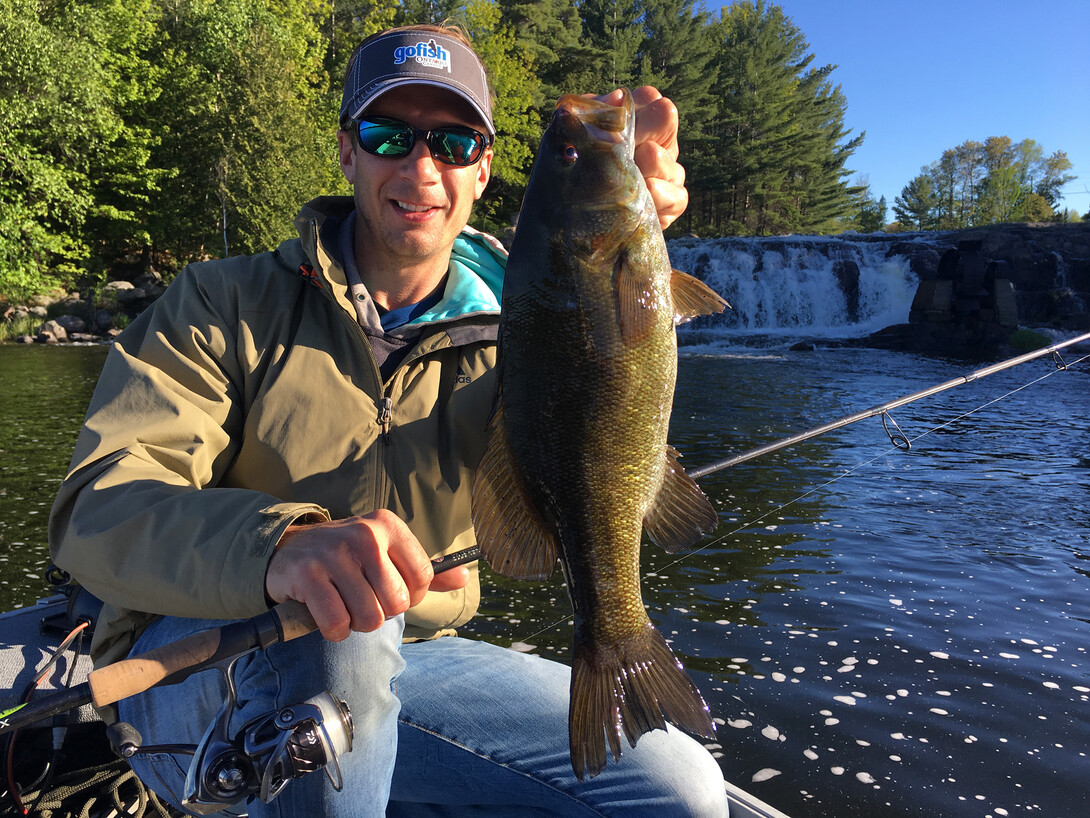 Smallmouth bass are without question, my favourite fish to catch! They have a great attitude and bite during the middle of the day when other fish can get lockjaw. Flat-calm-sunny-summer days are some of the best times, and when you find one, you'll usually find many. These are all big green checkmarks in my book! The lower longitudes across Ontario offer a variety of options for smallmouth bass fishing. From rivers to small and large lakes, smallmouth bass are peppered nicely throughout Ontario's lower regions. The list below are few awesome lodges I have stayed at and each one offers a unique Ontario experience.
As I mentioned earlier, smallies are my favourite fish to catch and they grow big and mean around Camp Quetico. A three-pounder is pretty much average there, and you have a shot at 6+ pounders! That's a smallmouth of a lifetime for most anglers. You also have access to fish for many different species in over 40 lakes. You could visit there year after year and still have places to explore for pike, lake trout, and walleye. Walleye are the best for shore lunch, catch a few eaters in between your bass spots, and you're all set! Most people visiting Camp Quetico, they come there for the trophy bronze back smallies!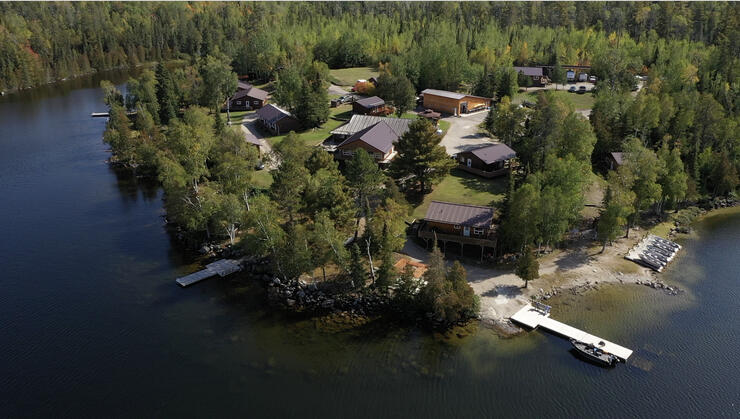 Owner Barry Giles manages a fleet of over one hundred boats. Quite impressive! The main lodge, located on Eva Lake, has all the amenities for an amazing stay. You can pick up snacks, and clothing and tackle them at their fully stocked store in the main lodge. The spacious large dining room there is adjoined by a social area with a pool and foosball table. Lots of room! WiFi is available both in the main lodge and all cabins, so you can show off your day's catch to family and friends. For relaxing and unwinding, there's a lakeside sauna and an enclosed hot tub. Also, there are a couple of fire pits to warm up under the stars at night.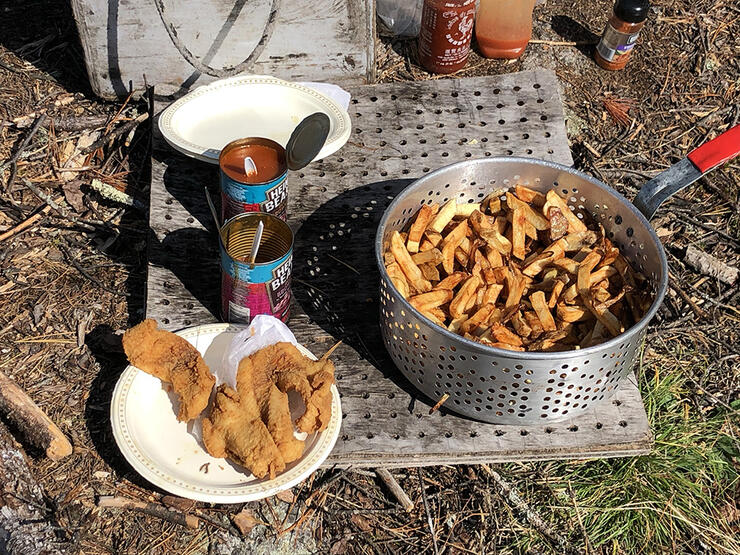 Their American Super Deluxe Plan is a very popular one. It includes dinner and night accommodations on the day of arrival and breakfast on the day of departure. Also, lodging in modern cottages or motel-style units, daily maid service, all meals (shore lunch!), a deluxe boat with casting deck, 30 hp motor, gas, new fish finder, trolling motor – four days guided (one day each for walleye, smallmouth bass, northern pike and lake trout) and two days self-guided. It also includes access to over 40 lakes, live bait, transportation to and from various lakes, and full guide service for every 3 to 4 people. If you want to catch big smallmouth and choose from a variety of lakes, along with first-class accommodations…Camp Quetico is the place for you!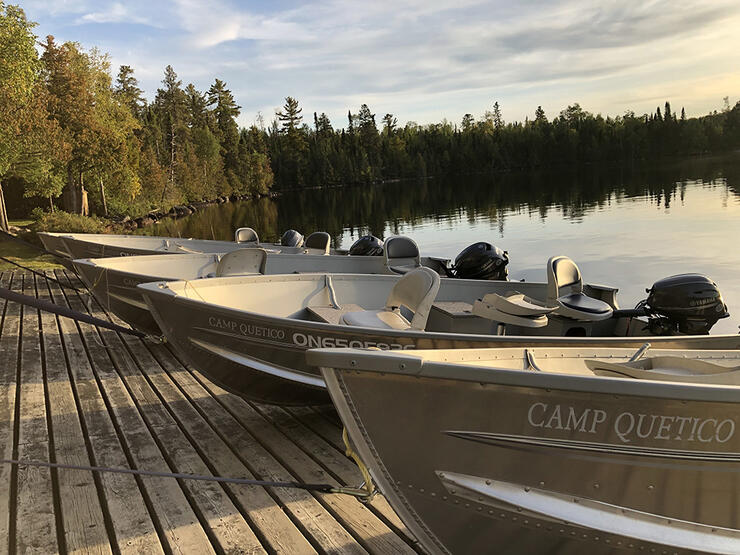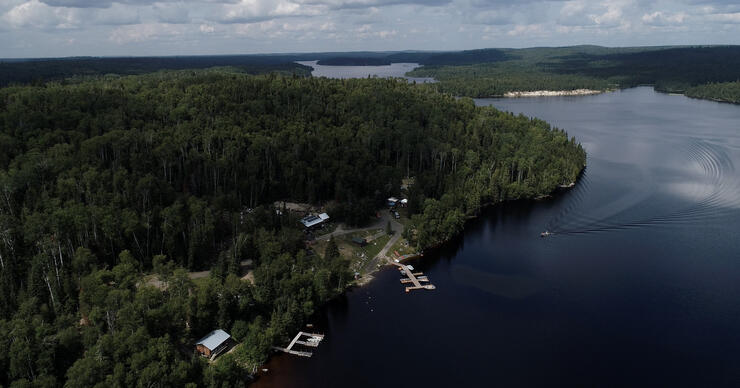 This is a great lodge if you're looking for an affordable housekeeping stay and bringing your own boat. Green Wilderness Lodge has a launch ramp next to the dock if you do decide to bring your own boat, which many guests do. This is a great option and is not always available at lodges. The dock is just steps away from most of the cabins, very convenient. You can also choose to use one of their deluxe fishing boats. They are 14- to 16-footers outfitted with 15-25HP motors, which are great for exploring up and down the lake. There's an abundant population of perfect eater-size walleye there, which makes for great shore lunches (and dinners)!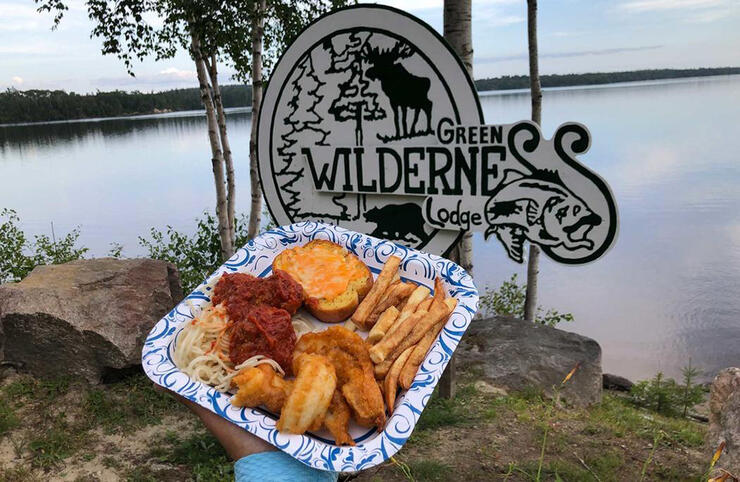 Owner Russ Thibodeau has installed an impressive amount of solar power to keep the lodge (family-owned and operated) running with clean energy. This is a great example of the care that his family takes in maintaining both the lodge grounds and the environment as a whole! Everything around the grounds is within easy walking distance.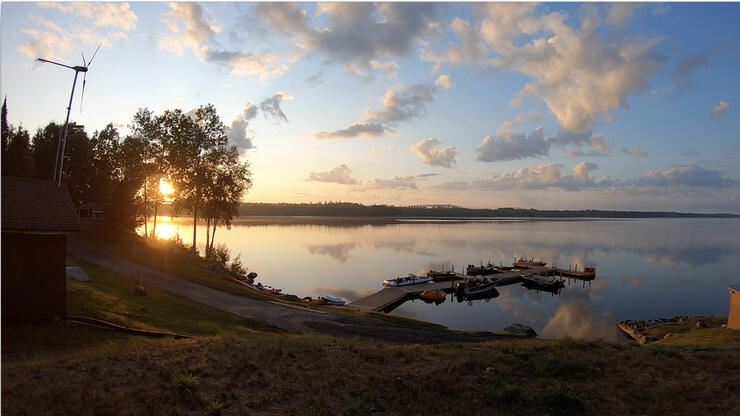 All the cabins are spacious with great views of the lake. The sunrise each morning is picture-perfect. The cabins can easily sleep from two to eight people. They feature full bathrooms with a toilet, sink, and shower. The kitchens are equipped with all the cooking needs; utensils, pots, pans, cutlery, plates, cups, etc. There's also a deck barbecue for your fresh-caught walleye! We had a great group shore lunch right at the lodge fire pit one evening. If you need anything from town, Timmins is about a 45-minute drive away. Green Wilderness is just far enough away to feel very remote.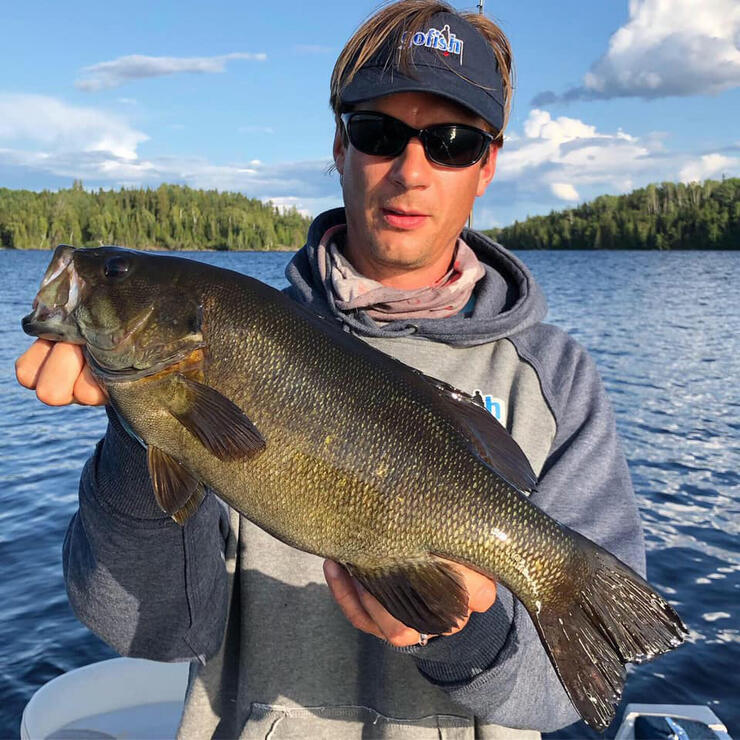 They also offer an outpost cabin, just a short boat ride away. The cabin sleeps up to 12 people with many amenities. It includes running water, a shower, and a sink in the bathroom as well as an outhouse. You have the cooking and eating utensils, refrigerator, countertop stove, and a BBQ. You will need to bring your own towels, sleeping bags, and pillows. Green Wilderness Lodge offers different options, from affordable Housekeeping and American Plan packages to a special Family Package.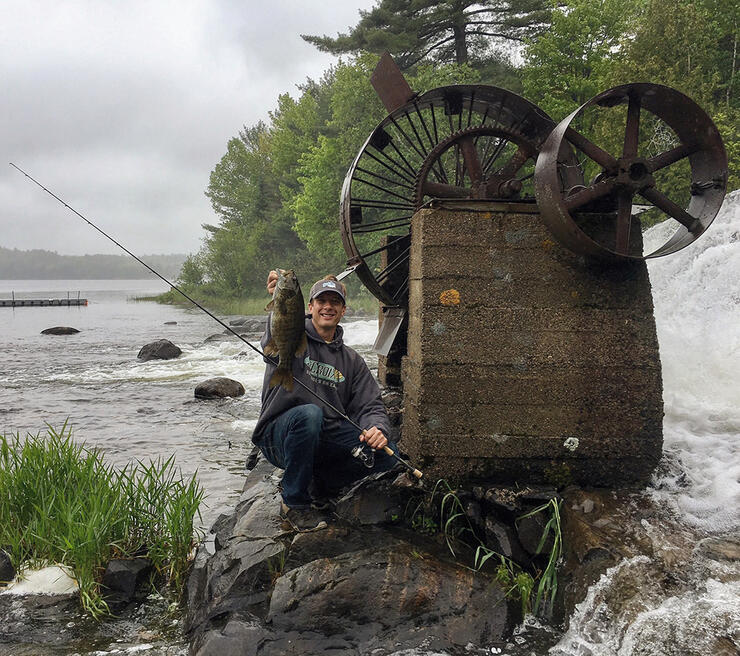 The Catch and Release Program at Waterfalls Lodge has really helped grow the quality of fishing there. I ended up catching a number of smallmouth over 18 inches during my stay in early June. And they grow much bigger there too. Waterfalls Lodge is tucked away just off King's Highway 17 in Algoma Country. The "drive-to" lodge is operated by Rob and Kathy Murphy, and their motto is: "Where you come as a guest and leave as a friend."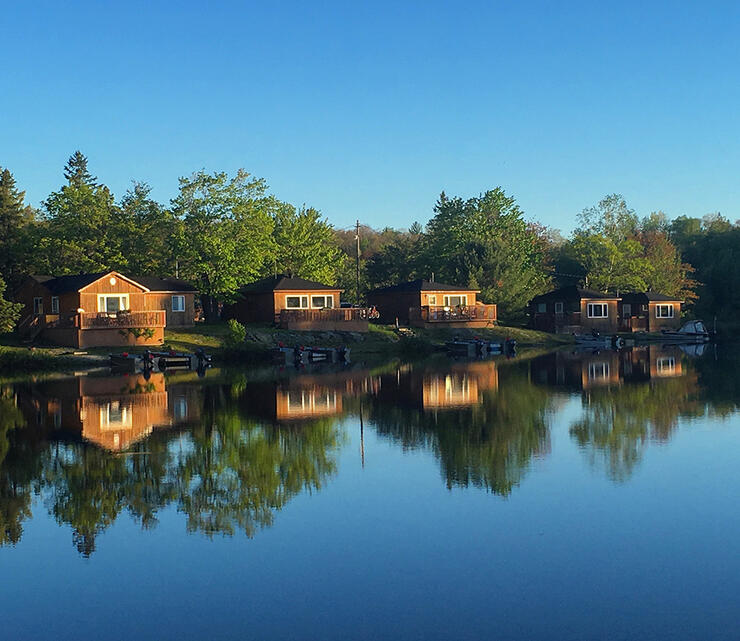 The main lodge and cottages provide lakeside scenery that's tough to beat. The cottages are very roomy, very clean, and have everything you need for your stay. It's a family-friendly destination for sure. They have kayaks, canoes, a white sand beach, a sauna, and a concrete launch ramp if you decide to bring your boat. The log cabin that overlooks the falls is quite unique. The sounds of the waterfalls are relaxing as you drift off to sleep and dream about the next day's fishing.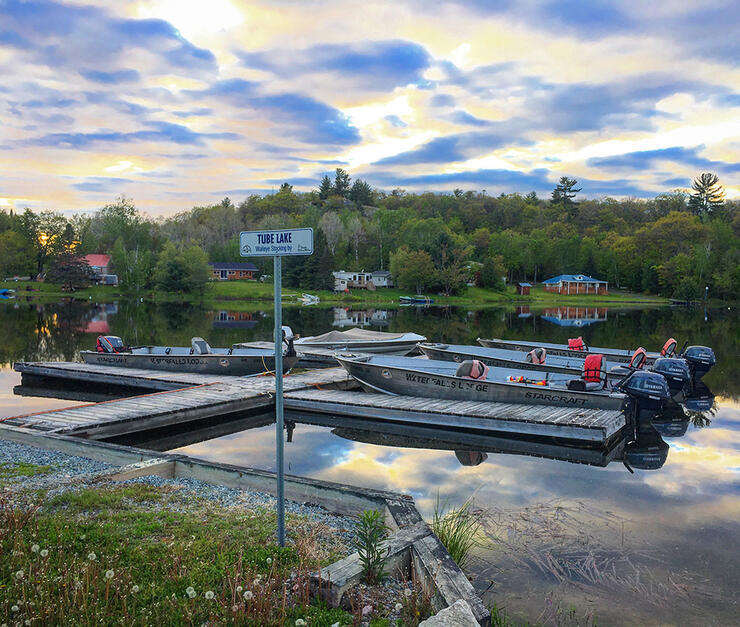 The two waterfalls on the property actually used to run an old sawmill. The original wheel can be seen at the base of the falls as it flows into Denvic Lake. Their boat fleet is rigged and ready for fishing, complete with big casting platforms, lots of storage, quiet 4-stroke motors, and a live well. They also are equipped with sonar, an anchor, paddles, and life jackets.
The ATV fishing adventure to one of their remote lakes is a must! It's like a three-course meal. The ride to the lake on old logging trails is an appetizer, fishing a quiet lake full of biting pike and bass is the main course, and the ride back is the dessert. Day trips include guided fishing, lunch, bait and of course, the ATV ride. If you like to ride ATVs without fishing, they offer two, four, and eight-hour loops on their marked trails.