The Recipe for Catching Ontario Walleye
Pristine fishing for those who are willing to venture off the beaten path.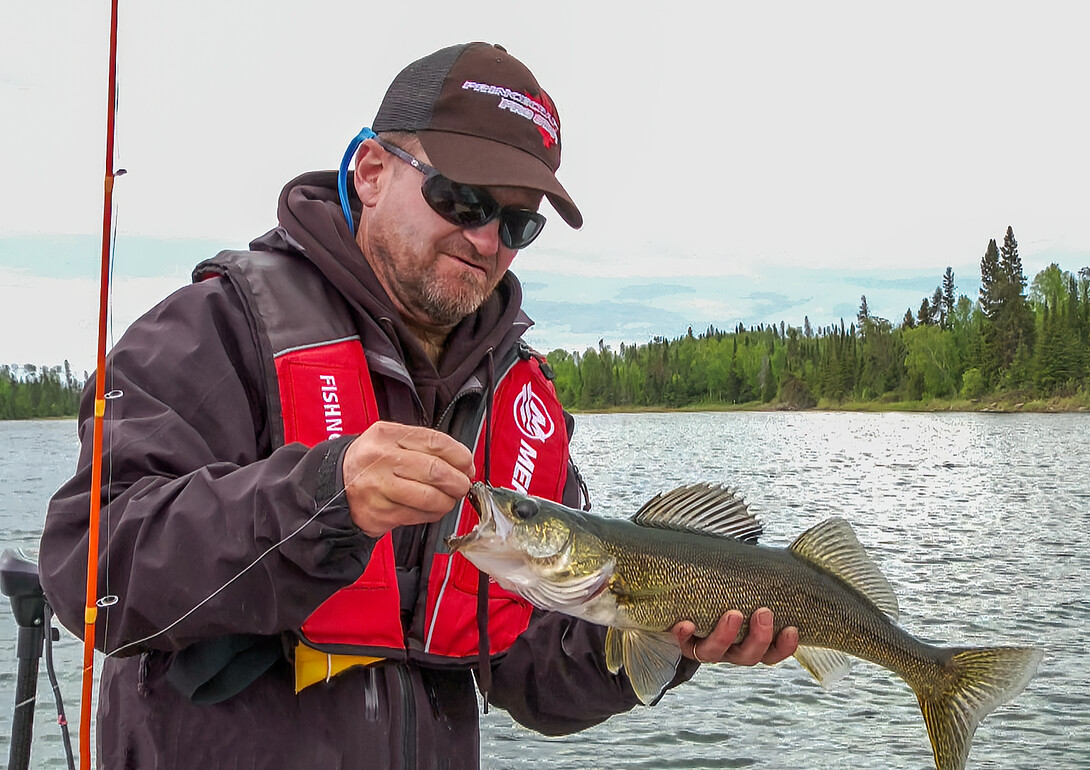 On this Fish'n Canada episode, Pete started with a question.
"If you could only use one bait or presentation for walleye, what would it be"?
Now depending on where you live, there might be an array of answers. Spinners, Crankbaits, Ice Jigs, Minnowbaits, Swimbaits, Spoons, Jigs, Grubs, Live Bait Rigs etc. etc. are the first to come to mind in any versatile walleye angler's tackle box.
In Pete's case, however, having fished for walleye from Lake Erie and all the way through to Northwest Ontario, plus the western provinces and even into BC, he's come up with a definitive answer.
"Day in and day out," says Pete "the simple jighead and minnow is my hands-down choice".
Throughout the years of travelling to fishing lodges in northern Ontario, Ang and Pete more often than not, see the guests and even the guides, dropping the jig & minnow combo.
However, even though the jig and minnow is Pete's ultimate choice for catching numbers of concentrated walleye, it's not necessarily his or Ang's first choice for finding those fish.
"I like to cover water by either casting or trolling faster-moving, artificial baits," says Pete "and when I'm in the north like I was on this last trip, I always search with a leader tied on in case I get into a big pike."
Once Pete contacts walleye in what he feels is a "decent" spot, doesn't matter if the fish are small by the way, then and only then, will he scour that area with his fishfinder while dragging around a jig and minnow.
Once Found, The Work Begins
Just like clockwork (although not hard to do on Lac Seul) Pete picked up a few fish with his casting and trolling gear and way-pointed a couple of locations that could have a few walleye in them. When small to medium-sized fish hit big baits like spoons and swimbaits, it means they're hungry.
The next step was to change his pace, slow down and drag around his be-all, end-all, walleye killer...a jig & minnow.
TIP: How To Fish A Jig & Minnow
Fishing a jig & minnow isn't brain surgery and, in fact, on days when the fish are active, you'll often be fishing like a machine...catching one after another.
On the tougher days though, it does take some finesse.
The key is simple…stay in contact with your jig. It's all about the feel. The better contact you have with your jig, the more fish you will catch.
Try to fish as close to the boat and as close to vertical as you can. We've seen many days when we'll be fishing only 6 or 7 feet deep, and catching fish directly under the boat!
That said, if the fish are acting weird, maybe just nipping at the minnow (trust us it happens in the north), then flick or lob cast a 1/16-ounce minnow-tipped jig, keeping it away from the boat. Then you can proceed to slowly troll, drift or even reel it back in with a controlled retrieve (and keep up with casting and retrieving). Either or all will work.
What About Worms and Leeches?
You might be asking why the jig and minnow? Why not a worm or a leech?
In Pete's personal walleye history he says, "during the cold-water period, the minnow is hands down the best. Although the worm and leech work very well in warmer water, trust me, I use them a lot, so does a minnow…even if it's dead (as long as it's not rotten and stinky). Remember though, most of my jig and minnow fishing is done in the north country. That's the ultimate in testing grounds".
Boat Control
When fishing northern Canadian shield lakes for walleye with a jig and minnow, both Pete and Ang love combining trolling with a bit of drifting. If they're fishing a specific piece of structure, they'll keep kicking their motor either in reverse or forward to cover the area. Every now and then though, they will hit neutral and let the wind fine-tune their position for a perfect presentation.
TIP: Here's a little tip for north-country fishing: when puttering and trolling around on an active school of walleye, try keeping your outboard running. Oftentimes, anglers shut their motor down thinking they're scaring the fish but the reality is, the stopping and starting of the motor often make more of a disruption than the steady purr of a 4-stroke.
Yes, there are days when absolute silence is the key to catching a few extra fish and shutting down your gas motor will benefit you. However, if there is a bit of wind while you are fishing no-man's-land (water), or the fish are simply chomping like crazy, leave that baby running and save your pulling arm!
The Downside of a Jig and Minnow
If there is a downfall to the jig and minnow, it's the fact that any and all walleye can and will take a shot at it. That includes small fish. Great for action, but not so great for trophy hunters. It can also put hurt onto your minnow supply!
Let's look at it two ways.
If you have the entire family out on the boat and it really doesn't matter what they catch, so long as they catch, then that jig and minnow combo will keep dad busy for the entire day (netting fish, dipping into the minnow bucket & re-baiting jigs). The family will LOVE dad!
If you and your hardcore fishing buds are on a fishing-only weekend and 24+ inch fish is all you want, well you shouldn't abandon the jig and minnow, you'll just have to put up with the 12- to 14-inchers nipping away. Not the worst problem one could have.
Keeping Those Eyes Peeled
If you watch this Fish'n Canada episode you will see that Pete is constantly looking at his fishfinder/GPS combo. The obvious things he's looking for are fish, however, bait, structure, and cover are all key.
He's also continuously checking out his chart/map, always on the lookout for his next hotspot.
The Ultimate Calendar Period For The Jig & Minnow
So far we've talked about the open water period for utilizing the jig and minnow. But once that warm, swimming hole freezes over, that is THE BEST time for a jig and minnow.
How many ice anglers do you know that use an ice jig and a leech? Or with a worm? Yes, some people will give those a shot but day in and day out, an ice jig tipped with a minnow (or part of a minnow) is hands down the best hard-water presentation for walleye.
Well, there you have it, Pete's absolute stripped-down, bare essential walleye presentation.
We know many of you have already used the jig and minnow and we're sure most have been successful.
If you haven't, then we encourage you to give it a shot when all else fails, just remember. . .when fishing a jig & minnow. . .The key is simple. . .stay in contact with your jig. It's all about the feel. The better contact you have with your jig, the more fish you will catch.
Lac Seul's Other Fish
[pike photo - missing this photo]
Lac Seul, the body of water that we featured on this Fish'n Canada episode is primarily known as a phenomenal walleye producer, and justifiably so. It is that good!
However, Seul is not just about the walleye. There is an amazing northern pike, muskie and smallmouth bass fishery just waiting to be hit. A couple of seasons ago on this Fish'n Canada trip, Ang and Steve Niedzwiecki took advantage of Lac Seul's crazy smallie and pike population while Pete helped them out on their pike mission (and of course couldn't resist the walleye as well).
Talk about an awesome multispecies fishery!
Local Laws
Something that Ang and Pete always like to remind people about is knowing the angling regulations pertaining to the area you are fishing.
Specific laws like catch and possession limits as well as size limits are always changing, but you need to know the general laws as well.
For example, during this shoot, Pete hooked a walleye under the chin. The hook wasn't even close to being in the fish's mouth. This is considered an illegal catch in Ontario.
General Prohibitions
In Ontario, it is illegal to:
catch or retain a fish by impaling or snagging it with a hook through any part of the body other than the mouth. Fish hooked in this way must be released immediately
Fisheries Management Zone 4 (FMZ 4)
In this episode, Pete fished in Zone 4 in Northwestern Ontario.
This zone has:
vast area (60,440 square kilometres) of which less than 25% is privately owned
lakes of intermediate-depth and stained water clarity
important recreational, commercial and tourism-based fisheries
prominent fisheries for northern pike, walleye, lake trout, lake whitefish, smallmouth bass and muskellunge
brook trout, rainbow trout and splake stocked into many lakes for additional angling opportunities
the "Specially Designated Waters" of Red Lake, Gullrock Lake, Lac Seul, Minnitaki Lake, Abram Lake, Pelican Lake, Botsford Lake and Big Vermilion Lake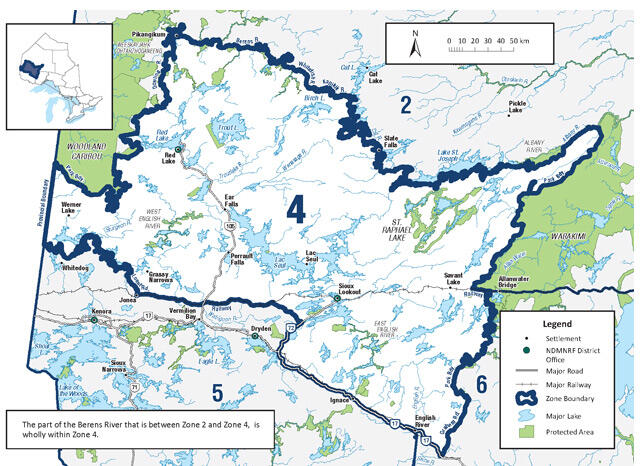 Accessing Zone 4
As you can see in the map above, Ontario's fisheries management zone 4 is full of lakes. Unfortunately, all this water level has little room for roads and anglers looking to explore this vast area often have a tough time figuring out where to get started.
On this particular shoot, our journey to Zone 4 was carried out on the road (see Gettin' There), but similar trips in the past have seen us take to the air from cities such as Thunder Bay and White River.
We have also used the nearby town of Dryden as a hub to access this area on multiple occasions, stopping for lodging, fuel, and food before carrying on to one of the dozens of lakes in this pristine section of the province.
Finally, for those really looking to explore, Ontario's Highway 105 provides access to hundreds of back lakes, small communities, and pristine fishing for those who are willing to venture off the beaten path. Known as Ontario's "End of the Road", this stretch of highway will take you all the way from Vermilion Lake to Red Lake where the road finally comes to an end.
A Guide to Jig Fishing
In an article over at FishnCanada.com, we get into all the details of how to catch walleye with Jigs and even walk you through a piece of tackle that you need to have in your tackle box. For all this and more, check out the link below:
Episode Hotspot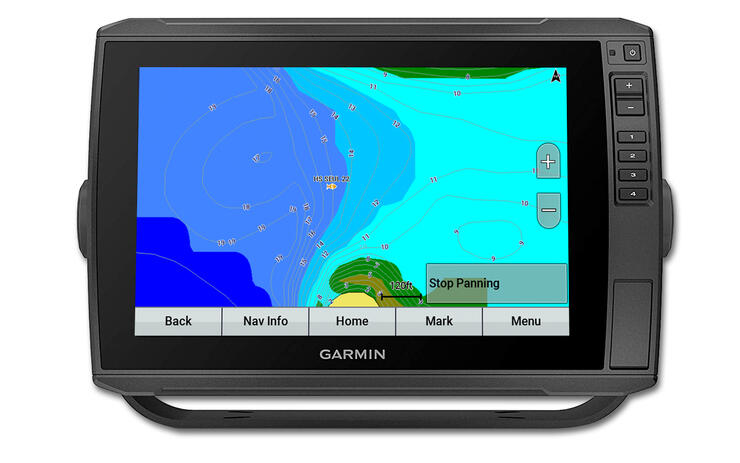 N 50 33.814
W 091 55.346
The Fish'n Canada Hotspot for this episode was a slight bottom contour on Ontario's walleye-rich Lac Seul.
It doesn't look like much from above the water, however, if you run a chart plotter with good mapping or you Quickdraw your map, you'll see a distinct bend in the drop-off which leads up to a big flat.
This is one of a few similar areas where Pete started by trolling and/or casting faster moving baits in search of active groups of walleye. Once found, he then put his trusty jig & minnow to work.
For more Hotspots like this one check out this section of our website.
Baits: Jig & Minnow, Swimbaits, Spoons
Presentation: Drifting or Slow Trolling
Depth: 8-20 Feet
Episode Gettin' There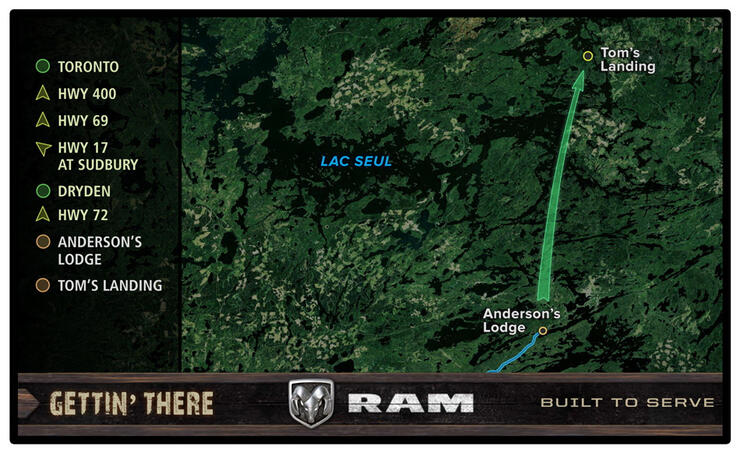 To get to this episode's outstanding fishing, Pete first drove north on Hwy 400 to Hwy 69. He then took Hwy 17 north-west until just east of Dryden. He then turned north on Hwy 72 until he reached his first destination at Anderson's Lodge. But that was only part of his trip.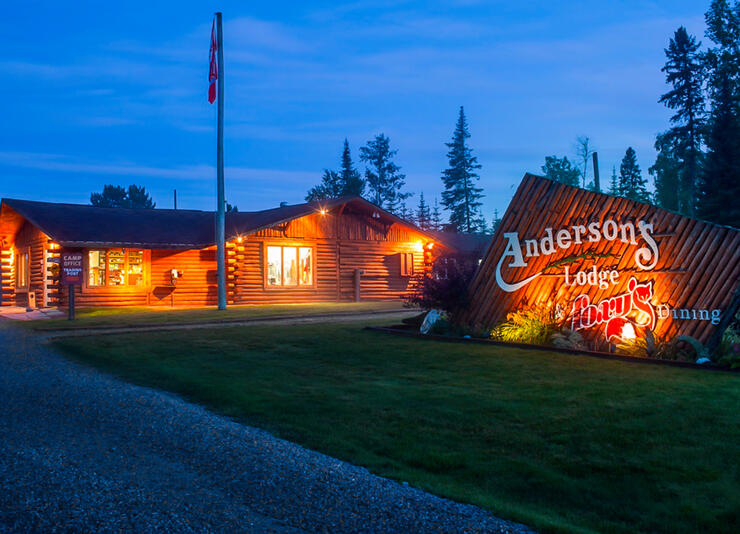 From there he finally ended up at the "Toms Landing" outpost. You can arrange with Anderson's to either fly there, or you can take your own boat throughout the gorgeous stretch of Lac Seul waters. Be forewarned though, it's about a 40-mile boat ride BUT, it's one of the most scenic boat rides you'll ever take!
We rate Anderson's as one of the top lodges in all of Ontario. With great accommodations, meals and access to world-class fishing, it gets no better.