Supernatural Fishing
With plenty of ice and signs of spring, the late winter is the perfect setting to ice fish for northern pike in Northern Ontario.
March is my favourite month of ice fishing in Northern Ontario because the days are long and the weather is gloriously spring-like. There is still typically plenty of ice—it took all winter to make—so you can often fish wearing only a warm hoodie or sweater. Most days you don't even need gloves. And the big toothy critters are waking up from their long winter naps looking for a hearty meal.
It is the recipe for supernatural fishing, but last week it was beyond even that — it was mystical, magical, almost otherworldly. Over a span of two hours, my grandson Liam and I caught and released five northern pike that measured more than 40 inches. The biggest was a magnificent 47 1/2-inch behemoth that was approaching thirty pounds in weight.  And get this: we lost two other fish that were as big or bigger. One reshaped Liam's hook when he tried to set it into the fish's mouth while I had another one that felt like I'd hooked a telephone pole. It was so surreal that I immediately contacted Jeff Lang, the co-creator of the free MHTV app weaves an intricate collection of environmental, ecological, solar, and lunar data into an algorithm that predicts the best fishing times each day. The app is a must-have source of reference for any angler planning to visit and fish in Northern Ontario. But in my rush to get to the lake, I had failed to consult it, so I wanted to know if there was any relationship between what Liam and I experienced and what the app had predicted.
"Because the app considers such an immense amount of data and is updated every fifteen minutes, I don't have the screenshots for your area that day," Lang said. "So I went back and re-ran the algorithm against the data and here is what I see for March 11, 2021."
"The app predicted four activity windows, two of which are meaningful. One was right around midday and the other was toward the end of the day. If I had been fishing, the mid-day one would have been more interesting to me, because I know that the late afternoon one is highly influenced by the two dominant sun and moon events," he said.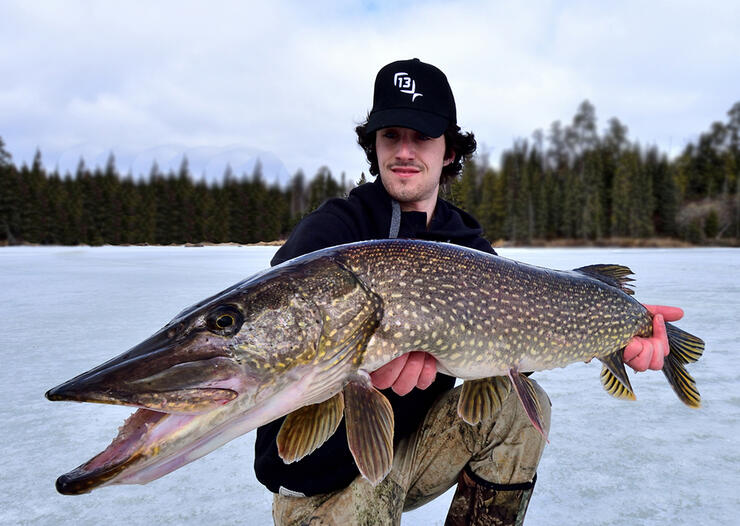 According to Lang, who lives in Chicago, but fishes for muskies and northern pike in Lake of the Woods, Eagle Lake, and Lac Seul every chance he gets, Liam and I were fishing in what he called Slumpy Normal conditions. This means that the barometric pressure the previous day was lingering on the low side of normal. To the untrained eye, the barometer might have looked very low, but the app takes into account the relatively high elevation of Kenora (where I live), so it was, in fact, quite normal.  
"The algorithm likes the dips and gives good weight to the slumpy normal barometer pattern," Lang told me. "But the true gem was that the future barometric pattern was outstanding on Thursday. In mid-morning, the app saw the barometer starting to climb and rewarded the collective biometrics score accordingly because of the changes happening."
I know what you're thinking, Lang sounds like a modern-day soothsayer, but you have to hear what he had to say about the moon because he did not know the two-hour period when Liam and I had caught our fish. So this was a test of sorts. In addition, while anglers know how good the fishing is around dawn and dusk, most of us don't know that the vast majority of world record catches have occurred within three days of the full moon or new moon.
"On Thursday, you were fishing under a 4-percent waning crescent moon," Lang said. "In other words, it was 96 percent of the way to a new moon.  The algorithm rewards proximity to new and full moons for two reasons. There is a stronger gravitational influence, and the moon rises and sets events to align well with the sun's events. On Thursday, the moon rose at 6:35 AM and was overhead at 11:05  AM. It set at 4:29 PM in the afternoon and was underfoot at 11:29 PM."
By now, for reasons that I am sure you can guess, my knees were starting to quiver, but the clincher came when Lang said, "Something very unique happened on Thursday with humidity. Normally, with cold temperatures, humidity is a non-existent factor for the algorithm. But the app will respect it if a weather station reports it.  It is super rare, but the Kenora station reported it on Thursday. That is important because the app treats humidity as an amplifier of the barometric pressure. High humidity creates an additional lightening of the downward barometric pressure that is not always noticeable in the actual readings. That is why I treat it as an amplifier, rather than a primary measure on its own. Again, this is surprisingly rare in the winter, so a unique phenomenon happened on Thursday."
Now, remember, I never told Lang when Liam and I enjoyed the most outrageous ice fishing for big toothy critters that I have ever experienced. I asked him only to re-work the biometrics and tell me what the app predicted as the best fishing times on Thursday.  
"Given what I see," he said, "the app would have predicted that you would catch those fish at about 11:15 in the morning, It looks like the size of the window could have gone an hour in either direction."
Now, are you ready for this? We saw the first flag fly at 10:50 AM and hooked every fish between 11:00 and 1:00 - precisely as the app predicted. This is a planning tool you can't leave home without.
I am still shaking my head in amazement.