7 strange but true facts about the Group of Seven
From sex scandals of tractor heirs to Communist propaganda groups, we bet you didn't know all these trivia tidbits.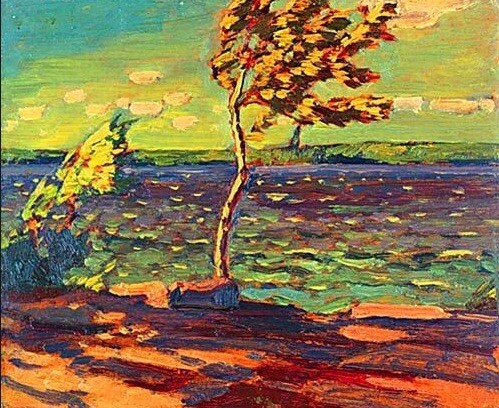 They may be Canada's most famous painters, but there's more to the Group of Seven than just beautiful landscapes (not to mention Hollywood superfans and record-breaking auction prices). Did you know the following strange but true facts about the Group?
1. The most popular "Group of Seven" painter wasn't even in the group.
Although he's forever associated with the Group, and did indeed work with and greatly influence them, Tom Thomson died in 1917, two years before the Group's official formation.
Visit one of Thomson's biggest inspirations
2. The Group of Seven owes its existence to a tractor company.
Lawren Harris was an heir to the fortune of Massey-Harris, the largest farm machinery company in Canada. He used this money to support the Group in its early days and to build their first studio.
Find out more about the Northern Ontario landscapes that inspired Harris
3. The Group of "Seven" actually includes a total of 10 people.
After Frank Johnston left the Group in 1920, A.J. Casson joined in 1926. Two further members were later added: Edwin Holgate in 1930 and LeMoine Fitzgerald in 1932. Perhaps struggling with this discrepancy between name and number, the Group disbanded that same year, returning as the rebranded Canadian Group of Painters a year later.
Learn more about the Northern Ontario landscapes that inspired Johnston and Casson
4. One of the Group drew cartoons making fun of his colleagues.
Arthur Lismer, credited with naming the Group of Seven, was also known to create cartoons of his colleagues in the Group. This image gently mocks Lawren Harris's famous North Shore, Lake Superior (1926), showing Harris cutting down a tree so he could paint around the stump. Lismer also caricatured people who he perceived to be the Group's enemies. His cartoons were later collected in a 1985 book.
5. F.H. Varley visited the Soviet Union with a Communist front outfit.
In 1954, at the height of Stalinism and the Cold War, Varley was part of a Canadian delegation of artists, musicians, and writers who went on a visit to the Soviet Union, described by its organizers as "the first cultural exchange of the Cold War Era." These organizers were the Canadian-Soviet Friendship Society, since revealed to be a USSR-funded propaganda group. Varley never publicly declared any communist or pro-Soviet views; he may have just appreciated the free trip, and indeed returned with some painted landscapes.
6. Lawren Harris was accused of bigamy.
In 1934, Harris left his wife of 24 years, Beatrice Phillips, to marry longtime crush Bess Houser. This was scandalous by the morals of the day, and Phillips' family threatened to charge Harris with bigamy. He and Houser moved to the US for six years while the scandal cooled down, and they stayed together until her death in 1969.
7. The biggest Group of Seven collection includes not only artworks, but six of the members' remains!
Harris, Lismer, Varley, Johnston, Casson, and A.Y. Jackson are buried on the grounds of the McMichael Collection in Kleinburg, Ontario.
Want to find out more about the Group of Seven in Northern Ontario? Whether it's in the Northeast, Algoma or Northwest; by boat, train or sea kayak, we've got you covered.