Witness the inspiration for the Group of Seven's most famous works
Lawren Harris said these breathtaking landscapes "existed nowhere else in Canada." Come see them for yourself!

The Group of Seven painted landscapes from all over Ontario. But the further Northwest they went, the more eerily beautiful the paintings became. Lawren Harris's paintings of Lake Superior's north shore were the centrepiece of his Steve Martin-curated show that toured North American in 2016.
Today, many of the Northwestern areas that inspired the Group are still largely undeveloped, still breathtaking, and still accessible to travellers who want to see the kind of natural landscapes that Harris said "existed nowhere else in Canada."
After travelling the Algoma region on the rails, the intrepid artists set their sights on even more remote regions. Various members of the Group travelled to the Northwestern village of Port Coldwell several times between 1921 and 1928. Legend has it that on one of the trips, the train conductor refused to stop because the grade was too steep, so the artists convinced him to slow down so they could jump out while the train was still moving!
Today, Port Coldwell is a ghost town, but can still be visited as part of a sea kayak trip along Superior's north shore.
It's along this shore that the Group of Seven, in particular Lawren Harris, painted some of their most gripping and haunting work. Harris's Superior landscapes may look abstracted, but they're actually a fairly accurate rendition of the terrain. The spotlight rays of sun in his famous Lake Superior (c.1923) aren't just an artist's notion of divine inspiration—locals know them as a sign of strong winds and changing weather on the way.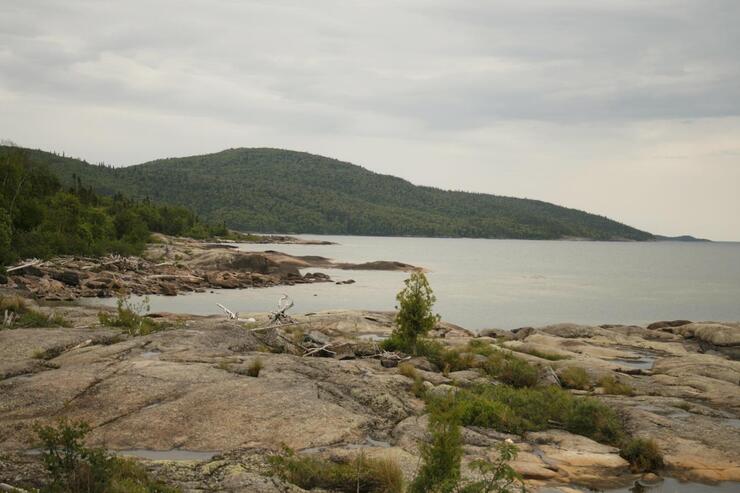 The rocky, rugged landscape is much the same today as it was when the artists visited it nearly a century ago. Visitors to Neys Provincial Park can witness the beautiful Pic Island, immortalized by both Harris and Arthur Lismer.
Though the Group of Seven are sometimes called the first artists to capture Canada, let's not forget about the first people to inhabit the land. Along Superior's north, Worthington Bay is the site of some rare pictographs by ancient painters of the Ojibwe people, some of whose descendents still live in the surrounding area.
The Northwest may not be the easiest part of Ontario to reach, but if you're looking for the landscapes that inspired some of Canada's most famous artworks of all time—or just hoping to connect with some truly natural beauty—you couldn't hope for a better place.