Search for Serenity at Frank Johnston's Lake of the Woods
A visit to the Winnipeg Art Gallery spurs a boating trip to Northwestern Ontario in hopes of locating the origin of this Group of Seven classic.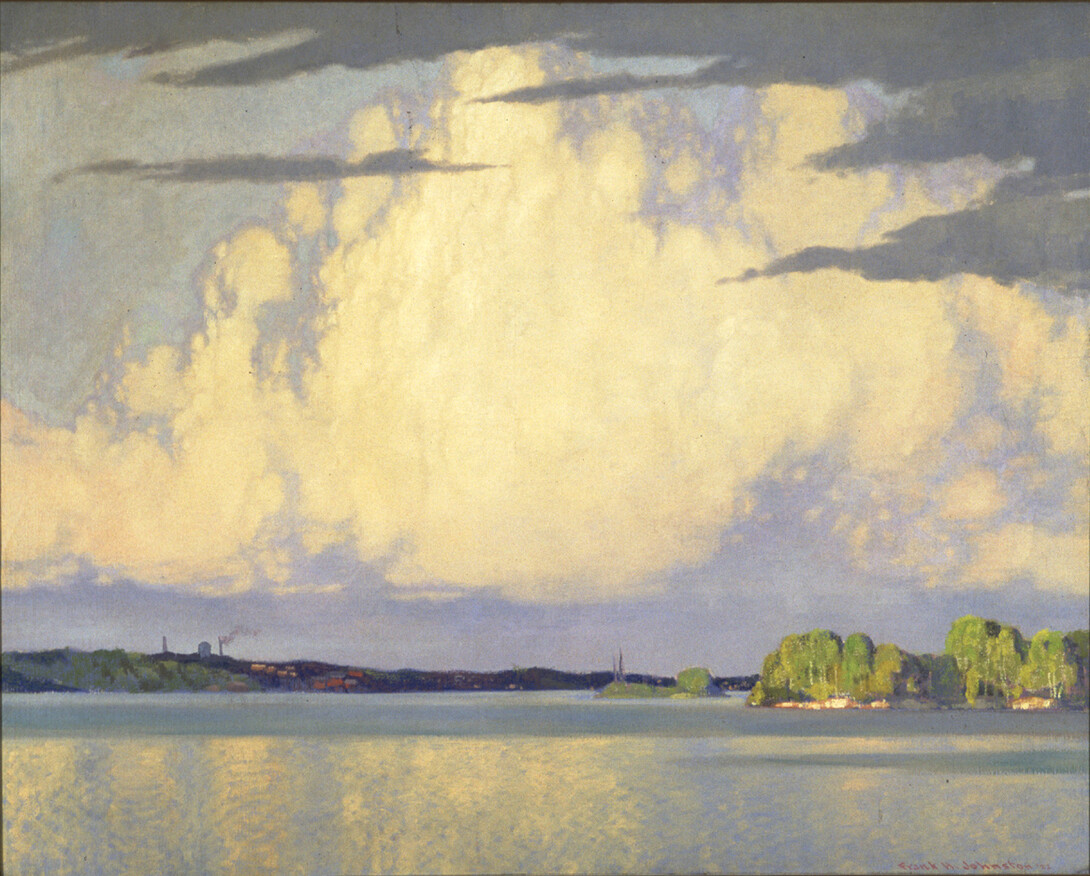 In 1919, just after World War I was over, five men who worked together in a Toronto design firm would change Canadian art history. It was a period when, for some inexplicable reason, Canadian landscapes were not deemed worthy of fine art, according to many of the so-called critics of the day.
Thankfully, these five men – A.Y. Jackson, Arthur Lismer, Frederick Varley, Franklin Carmichael, and Frank Johnston – did not agree. Later adding J.E.H. MacDonald and Lawren Harris, they would become a Canadian art powerhouse known as the Group of Seven. Together, they would capture on canvas the essence of Canada's picturesque landscapes, particularly those in and around the lakes of Ontario.
A Mystery Emerges
I recently paid a visit to the Winnipeg Art Gallery (WAG), which features a collection of a number of these artists, along with the few others who would join the group in the coming years. One of these paintings that would capture my eye was a piece entitled Serenity, Lake of the Woods, by Frank Johnston. As I looked at it, I began to believe I recognized something about the topography. I could not be certain, but the Lake of the Woods has a distinctive look to it, and the scene reminded me of the views I had seen so many times travelling through Kenora, on the way to my cottage in Sioux Narrows.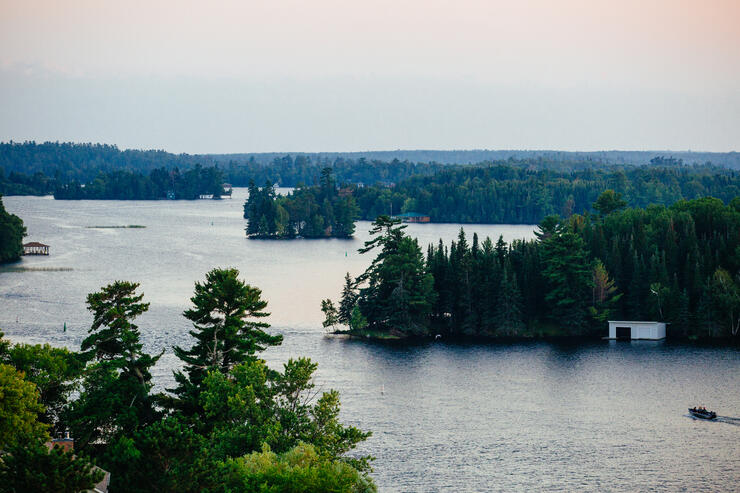 Kenora has become a significant tourist centre in that part of Ontario, drawing not only Winnipeggers and other Manitobans but a substantive number of American visitors as well. For us, stopping for lunch and a bit of a shopping expedition as a part of our journey had become almost a weekly ritual. So I have come to know the look of that region well.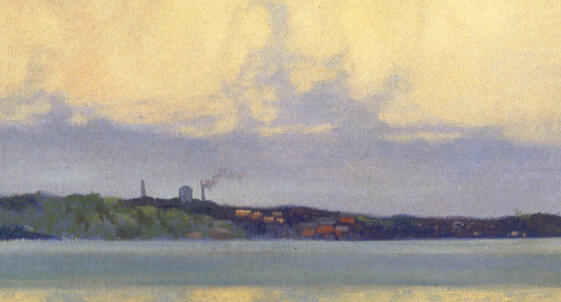 At WAG I perceived that the smokestacks in the background were from an old pulp and paper mill, one of the early major industries of the Kenora region. While I don't claim even remotely to be an expert on the Group of Seven, I appreciate their art, and I was aware that Frank Johnston had moved to Winnipeg to become principal of the Winnipeg School of Art, which was then affiliated with the Winnipeg Art Gallery.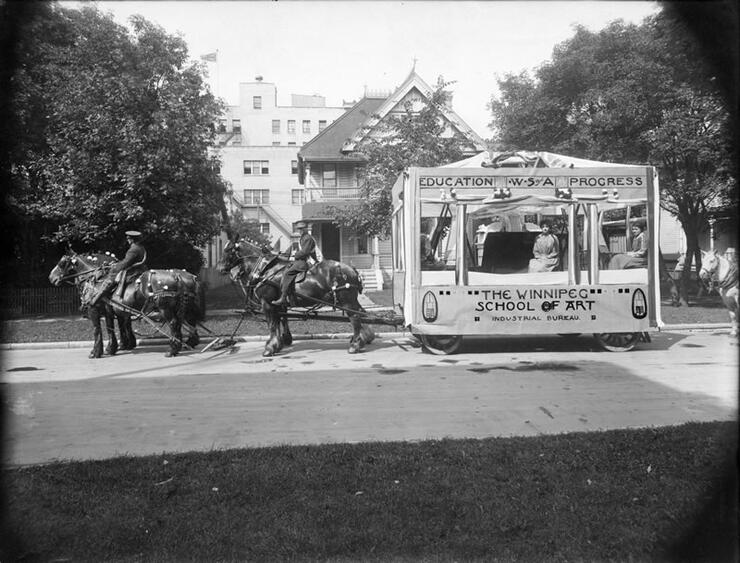 This proximity to Kenora motivated my desire to prove my thesis through further research. While I was wrong on both counts, I take comfort in the fact I was at least half right.
Then and Now
While it was a flour mill as opposed to pulp and paper, the location was in the community of Keewatin, which was connected to Kenora so closely that other than for signage, one would not know when you had passed from one community into the other. In the year 2000 they would, in fact, amalgamate to become the City of Kenora.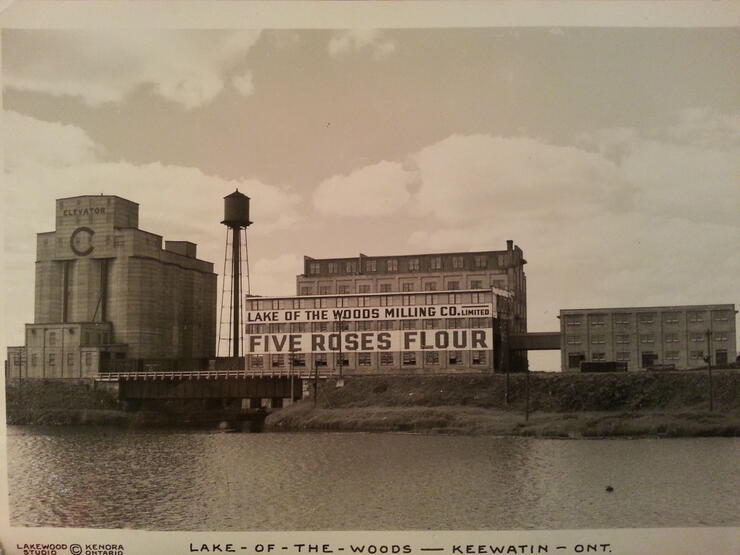 The painting has lived on, but while the flour mill had a more glorious early life, it sputtered to an end in 1967. Started in 1888 as the Lake of the Woods Milling Company, its flour brand would become one of the largest and best known in the commonwealth. Five Roses Flour and its cookbooks which are still produced today could be found in bakers' homes all around this nation and abroad. Ogilvie Flour Mills purchased it in 1954, and later the Smucker Foods of Canada organization bought the Five Roses name. It is still one of its mainstay brands to this day.
On my next trip through Kenora, I will make it a priority to place myself as close as possible to the vantage point Mr. Johnston had when he painted that scene.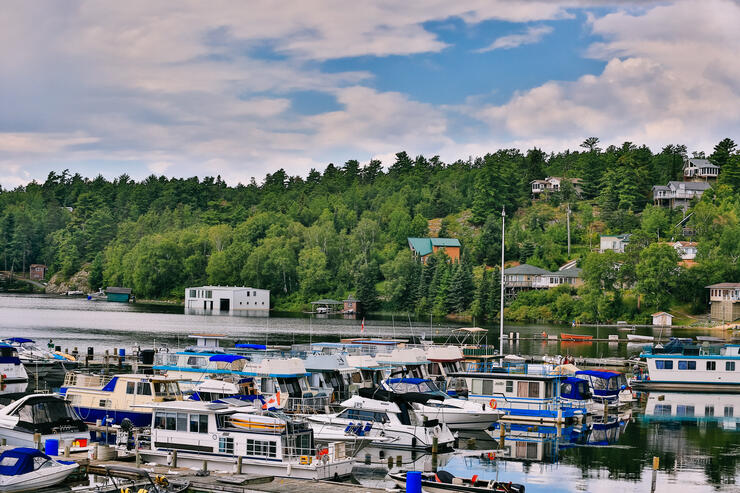 But it is not just that particular exposure that makes Kenora such a popular summer tourist attraction. Its harbour front has become a gathering place for boaters and others who come to take advantage of its offerings on and off the water.
The Kenora Bass International, which takes place annually in early August, draws competitors from throughout North America. The Kenora Harbourfest and bandstand entertainments bring in thousands, and it is still a small enough community where visitors are appreciated, and the people are always friendly.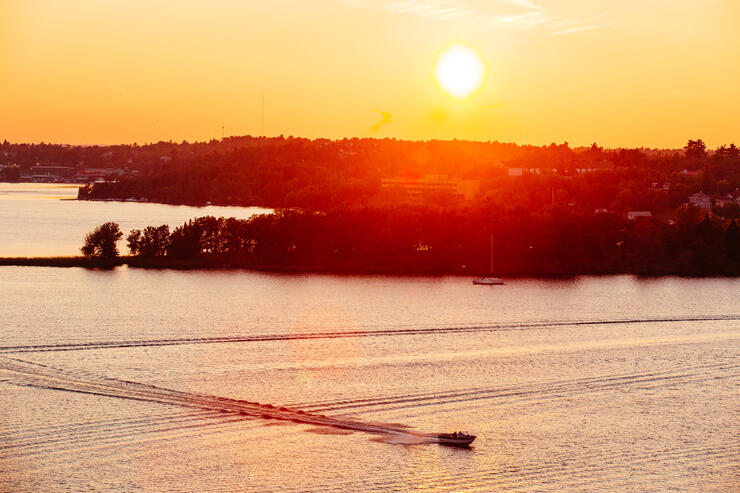 There is accommodation for most budgets from camping to bed & breakfasts, to brand name properties like Travelodge, Clarion, and Super 8's. And there is the knowledge that one of Canada's greatest artists also appreciated this jewel of beauty in Canada's land of great waters.