A Group of Seven Primer
Everything You Need to Know About the Canadian Artists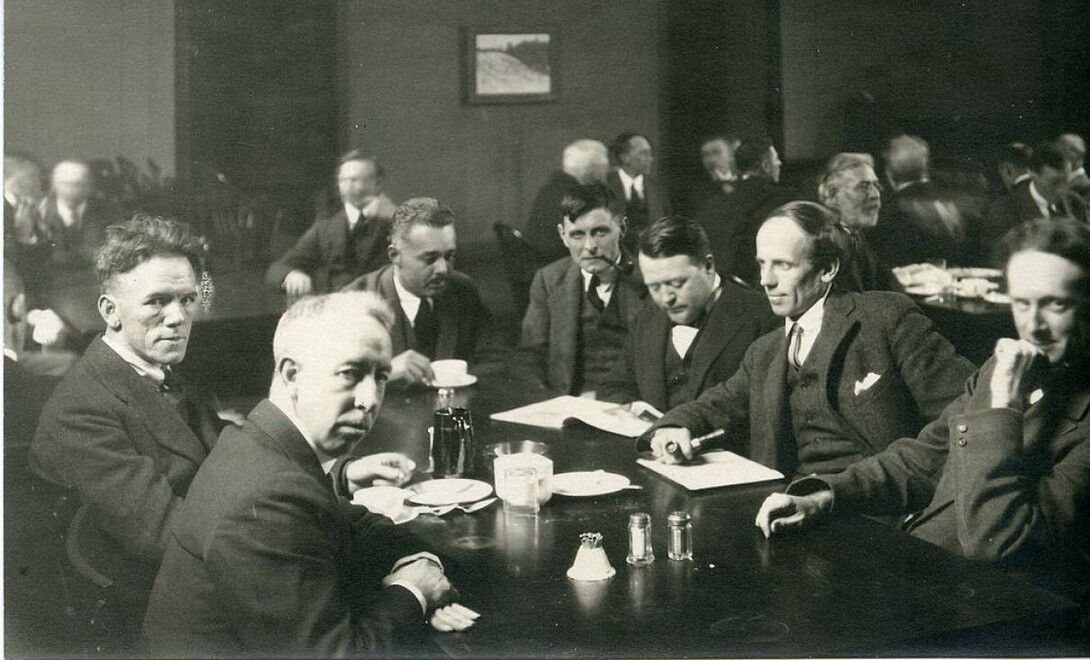 Perhaps you've heard of the Group of Seven, and their broad connection to Canadian art. You maybe even made a mental note to research it when you found the downtime... and never did. Here's your chance to learn about the artists who, through their dedication to bring a distinct Canadian identity to their art, influenced Northeastern Ontario.
In the early 20th century, a group of men began to formulate as they discovered they shared a common artistic interest. Together, these men would embark on weekend sketching trips or socialize at the Arts and Letters Club in Toronto. They were in search for a distinct painting style that would not only reflect the unique character of the Canadian landscape, but would break from European tradition.
These were Tom Thomson, J.E.H. MacDonald, Lawren Harris, Arthur Lismer, Frederick Varley, A.Y. Jackson, Frank Johnston and Franklin Carmichael.
They had become temporarily disbanded during World War I, in which some men were enlisted or became official war artists. A further blow was delivered with the death of Thomson in 1917. Nonetheless, he had a significant influence on the group and his painting style was representative of the Canadian landscape and experience.
In May 1920, Harris, MacDonald, Lismer, Varley, Johnston, Carmichael and Jackson decided, for the first time, to exhibit as the Group of Seven at the Art Gallery of Toronto. This marks the founding of the Group and a historic point in Canada's art history, for which Harris is largely credited. Johnston resigned from the group shortly after.
The Group's experiments and dedication created an impact that has been felt through the years and portrayed through the expanding of their success.
In 1926, the membership grew to include A.J. Casson, and in an effort to widen the geographical base beyond Toronto and become a National School of Painters, Edwin Holgate, of Montreal, joined in 1930 and L.L. FitzGerald, of Winnipeg, joined in 1932. Feeling the need to again shift their identity over the concern of a possible exclusion of the younger, more progressive artists, the Group officially disbanded and formed a new association in 1933, known as the Canadian Group of Painters, which thrived until 1967.
The Group of Seven's influence has also been seen through the emergence of contemporary artists over the years. One such artist was Emily Carr, who was of the same era and closely associated with the Group, but never included as an official member.
While the Group members had travelled across regions in their searches, it was Jackson, Lismer, Casson and Carmichael who were most recognized for painting in Northeastern Ontario, often portraying the landscape of Sudbury, Killarney, the La Cloche area, French River and Georgian Bay, along with Manitoulin Island.
In fact, it had proved to become the life dedication of Jim and Sue Waddington to discover and document the sites that so inspired the Group. They have since published a book, In the Footsteps of the Group of Seven, on their findings, as well as hosted educational workshops and guided hikes to some of the locations.
The Group of Seven and their contemporaries' artwork can be found in Ontario in the collection at The McMichael Gallery in Kleinburg, the Art Gallery of Ontario in Toronto, as well as in Ottawa at both the Ottawa Art Gallery and the National Gallery of Canada. But their inspiration lives on in Northeastern Ontario – come see for yourself!
The individual members of the Group of Seven:
Tom Thomson (1877-1917)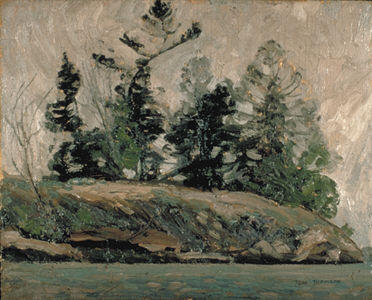 Thomson, who was born near Claremont, Ontario, but grew up in Leith, was an avid outdoorsman and expert canoeist. He spent his time working as a guide at Algonquin Park, until the winter months forced his return to the city. This lifestyle allowed him the time and freedom to paint (he was known to disappear for days in the park).
His untimely death in 1917 meant he did not witness the birth of the Group of Seven.
Lawren S. Harris (1885-1970)
Harris, born into a wealthy, conservative and religious family in Brantford, Ontario, who were also the co-founders of tractor company Massey-Harris. This wealth meant he was allowed the time to concentrate on his painting.
He studied in Germany for three years before returning home to serve in the army and teach musketry at Camp Borden, Ontario. Following his discharge, Harris organized the first of the famed boxcar trips to Algoma, with the last of these trips being in 1921, when he and Jackson went to the North Shore of Lake Superior and Harris was inspired for a new direction of his work.
Harris is credited with being most responsible for the formation of the Group of Seven. His art reflected his interest in theosophy and biology and his search for deeper spiritual meaning.
Find out more about the Northern Ontario landscapes that inspired Harris!
J.E.H. MacDonald (1873-1932)
MacDonald emigrated to Canada in 1887 from Durham, England, with his English mother and Canadian father.
He studied at the Hamilton Art School and the Central Ontario School of Art and Design in Toronto. From 1895 to 1911, he worked at Grip Ltd., the commercial design firm, where he would meet the other artists who would one day comprise the Group. In 1922, he accepted a full-time teaching position at the Ontario College of Art.
MacDonald was described as a quiet redhead of frail stature, as well as a romantic with the dreamy air of a poet and philosopher. On sketching trips, when he was not drawing, he could be found with his nose stuck in a book. A volume of his poetry, West by East, was published posthumously.
Find out more about the Northern Ontario landscapes that inspired MacDonald!
Arthur Lismer (1885-1969)
Lismer emigrated from Sheffield, England to Toronto in 1911, where he, too, began working at Grip Ltd.
Lismer was described to be full of energy with a barbed wit. He delighted in creating clever cartoon drawings of the other artists and those perceived to be enemies of their art. Nothing pleased him more than to target all things pretentious.
With a strong commitment to teaching, Lismer established one of the most successful children's art programs in North America, and in 1936, set up school programs in South Africa. He was also an active promoter of the Group of Seven and the author of articles on Canadian art.
F.H. Varley (1881-1969)
Also a native of Sheffield, England, Frederick Horsman Varley and Lismer were childhood friends. However, Varley first studied art at the Sheffield School of Art, then completed additional studies at the Académie Royale des Beaux-Arts, in Antwerp, Belgium, before immigrating to Canada in 1912, where, he too, was employed with Grip Ltd.
After serving as an official war artist during World War I, he became increasingly interested in painting the human figure, but the landscape continued to captivate him. He is said to have been restless by nature, and his travels took him to remote areas of the world.
Frank Johnston (1888-1949)
Johnston was born in Toronto and another artist employed at Grip Ltd. Although an original member of the Group, he resigned by 1921 to become principal at the School of Art in Winnipeg, Manitoba. It was in here that he spearheaded the largest show the city had ever seen and worked with department store art galleries.
He later changed his name to Franz and, over the years, shifted his style of art from a strong decorative interpretation of the landscape to a much greater realism, revealing his strong fascination with the qualities of light.
Find out more about the Northern Ontario landscapes that inspired Johnston!
Franklin Carmichael (1890-1945)
Growing up in Orillia, Ontario, Carmichael worked in his father's shop as a carriage detailer, which allowed him to practice his skills in the arts.
In 1911, his interest took him to Toronto, where he studied art at the Central Technical School and the Ontario College of Art, and later hired by Grip Ltd. He then joined the Sampson-Matthews firm in 1922, where he worked on the illustration and design of a number of promotional brochures, as well as advertisements for newspapers and magazines.
Carmichael spent 21 years of his life working as a commercial artist and designer, and the remaining 14 years of his career teaching its methods to others. He was in step with the fashions of the times and his work reflected the flat, simplified design popular in the 1920s.
Find out more about the Northern Ontario landscapes that inspired Carmichael!
A.Y. Jackson (1882-1974)
A native of Montreal, Québec, Alexander Young Jackson left school at the age of twelve and began work at a Montreal printing firm.
He studied at the Art Institute in Chicago in 1906, and a year later, enrolled at the Académie Julian in Paris, remaining in France until 1912. His time there left an Impressionist influence in his work.
Harris and MacDonald invited Jackson to move to Toronto in 1913. The following year, he shared space with Thomson in the Studio Building on Severn Street, remaining there until 1955.
Find out more about the Northern Ontario landscapes that inspired Jackson!
Alfred Joseph Casson (1898-1992)
Casson spent his childhood in Guelph and Hamilton, but when his family returned to his birthplace of Toronto, he began attending art classes and working as a freelance commercial designer. While at Rous and Mann, Casson worked under Carmichael and soon began accompanying him on weekend sketching trips.
Being a watercolourist, Casson, along with Carmichael and F.H. Brigden, founded the Canadian Society of Painters in Water Colour in 1925. Casson accepted the invitation to join the Group the following year, thus becoming the youngest member.
Find out more about the Northern Ontario landscapes that inspired Casson!
Edwin Holgate (1892-1977)
Holgate, born in Allandale, Ontario, and raised in Montreal, began studying art under that of William Brymer. He spent several years in Paris, returning to Canada in 1922 to open a studio and teach wood engraving at the Ecole des Beaux-Arts.
Best known for his portraits, Holgate also painted murals, including those for the Totem Pole Room at Ottawa's Château Laurier Hotel. In 1925, Holgate played an instrumental role in the founding of the Canadian Society of Graphic Artists.
L.L. FitzGerald (1890-1956)
Born in Winnipeg, Lionel LeMoine FitzGerald was the only Western Canadian painter to become a member of the Group.
Spending childhood summers on his grandmother's farm, he developed a deep love for Canada's Prairies, and his paintings reflected the strength of those ties.
After the Group disbanded in 1932, FitzGerald became one of the founding members of the Canadian Group of Painters, a successor to the Group.