A Whitetail Hunt with Border Country Outfitters
Paul Beasley of Canada in The Rough treks to Sunset Country in Hopes of Landing a Trophy Whitetail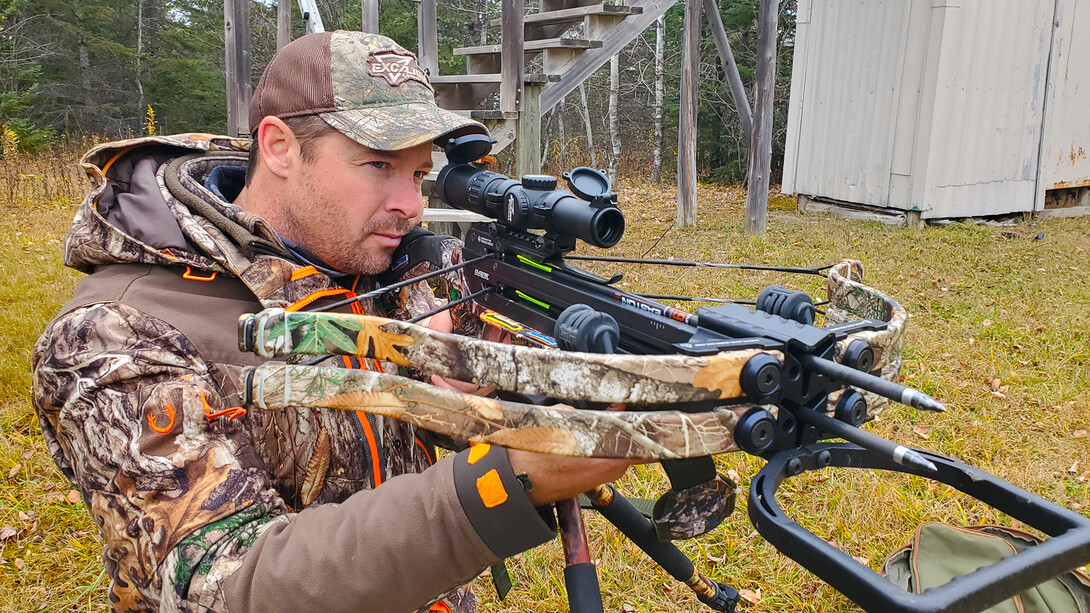 It was just past the middle part of October and I was heading north, truck after truck of moose hunters were heading back south. This year I was headed to Border Country Outfitters in Northwestern Ontario's Sunset Country with my crossbow during the pre-rut to try and harvest one of the big mature bucks this area is known for.
Though this is my first time hunting with Roben and Steve of Border Country Outfitters, both my brothers have hunted here successfully in the past.
This year, though, a busy filming schedule had me already booked during the rut so I headed up fairly early in the season. Heading into this hunt, I knew it wouldn't be a sure thing. Bucks could still be in summer areas and the warmer day-time temperatures would mean that they aren't on their feet as much during daylight hours. But any time I can get out hunting I'm excited to do so.
I left my hometown of Peterborough and made the 18-hour drive to Emo, Ontario. The fall leaves were still showing some impressive colours as I drove along the scenic route to camp. Eventually, I got into some early snow but it faded just before arriving in Sunset Country.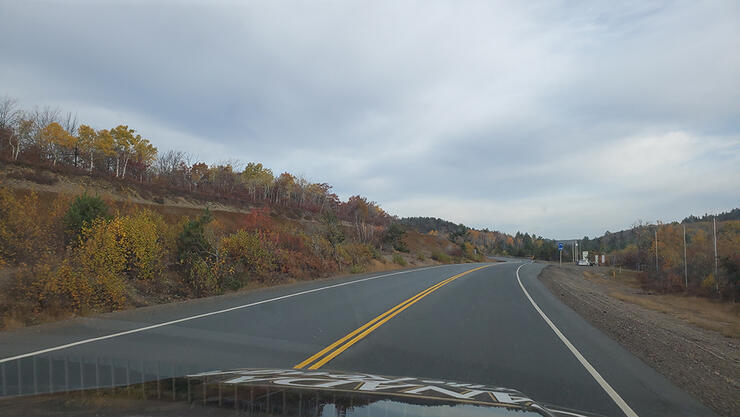 I arrived at camp in the dark and after that 18-hour drive, it was nice to finally get into a comfy bed.
Border Country Outfitters has a great main lodge; it can host a number of hunters with comfortable bedrooms, multiple bathrooms, a living room and a massive full kitchen and dining area. It's the perfect setting for relaxing and telling stories after a good day's hunt.
    
The next morning, co-owner Roben Ogden and I spent the day getting to know the many areas they have available to hunt. We first got a good look on the Huntstand app and then headed out in our Yamaha Wolverine and visited a number of sites.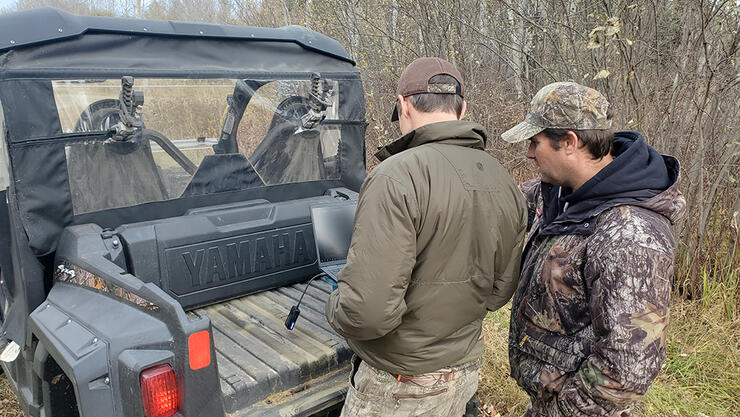 At each site, we set up some Ridgetec Cellular Cameras and even made a couple of mock scrapes and licks with our Black Widow attractants.
The sites looked to be having some fairly good action, and the new ground blinds seemed like they would be great to hunt out of.
I also made sure to shoot my crossbow back at camp before my hunt began, just to make sure my bolts were still flying straight.
The next morning, I headed out to my first spot, a ground blind that was set up in a clearing inside a big section of timber. I had a doe and 2 fawns come in and several species of birds, but no bucks on my first sit.
Later that day back at camp the whole crew joined us for an incredible lunch of steak and potatoes before my evening sit.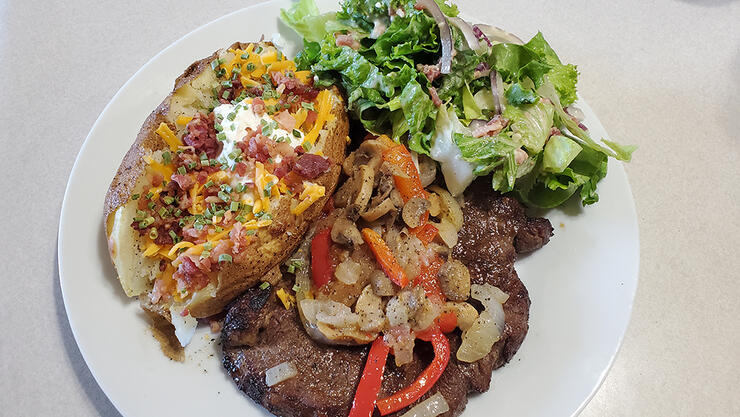 The winds picked up in the afternoon and changed direction, so I headed to a ladder stand inside some timber. Though it was a windy evening I did have a couple of doe's and an older fawn come in for a visit, unfortunately, I didn't see any bucks that evening either.
On my second day, I moved again to another ground blind, set up on a wide trail on the edge of some timber and cornfields. That's one of the unique things about this area of Northwestern Ontario, there's actually a lot of agriculture up here. With a mix of corn and hay fields and the big woods, it has all of the ingredients for growing a lot of deer and big deer.
My morning sit on my second day was entertaining as I had two doe's come in but again, unfortunately, I didn't see any bucks.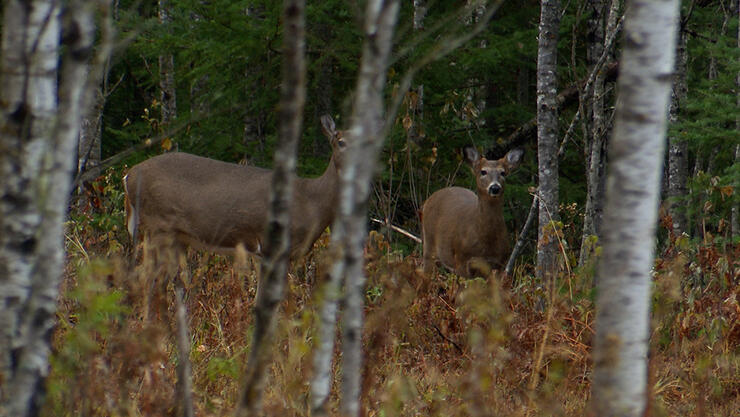 That afternoon I decided to try and take advantage of the amazing grouse population in this area. I grabbed my Tikka .22 and some Winchester ammo and hit the trails that wind all over the abundance of private land that Border Country Outfitters has access to. The trails are planted in grasses and bush-hogged so the grouse spend a lot of time on them making the hunting pretty easy. I had a great time hunting these well-camouflaged ruffed grouse and I had my limit so fast that I was wishing it wasn't over already.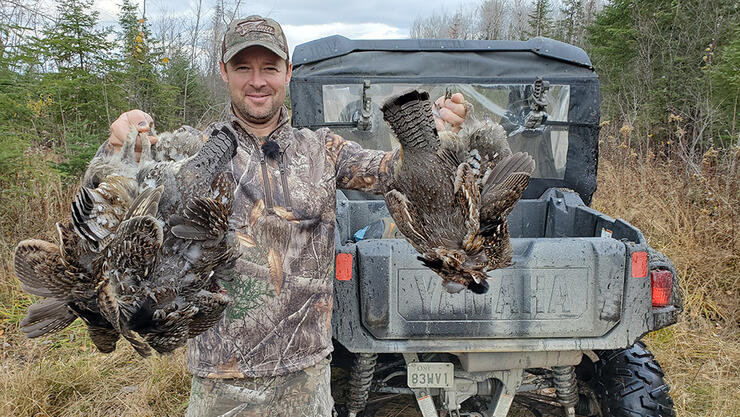 As my deer hunt continued, I hunted several spots over the coming days. I had more great wildlife encounters, including deer, grouse and even a gorgeous wolf, but the bucks were doing a good job hiding from us.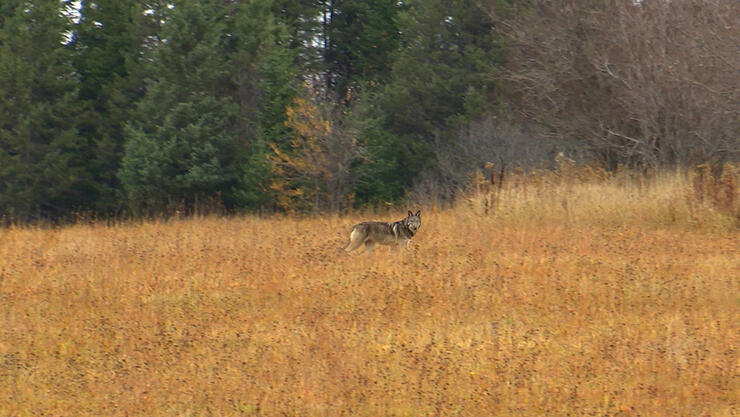 On my last day, the temperatures finally dropped well below zero and it felt like a perfect day to be deer hunting. In the morning I was in a high stand and had a doe and fawn work perfectly in, but there weren't any bucks following them.
In the afternoon I headed out to a natural ground blind on the edge of a field as we finally got a trail camera picture of a big 6x6 buck working a bait nearby. Unfortunately, he was coming in after legal light but I figured it was worth a try in hopes of catching him coming out early in the field. This field was actually the same field my brother Kevin shot his buck the year before.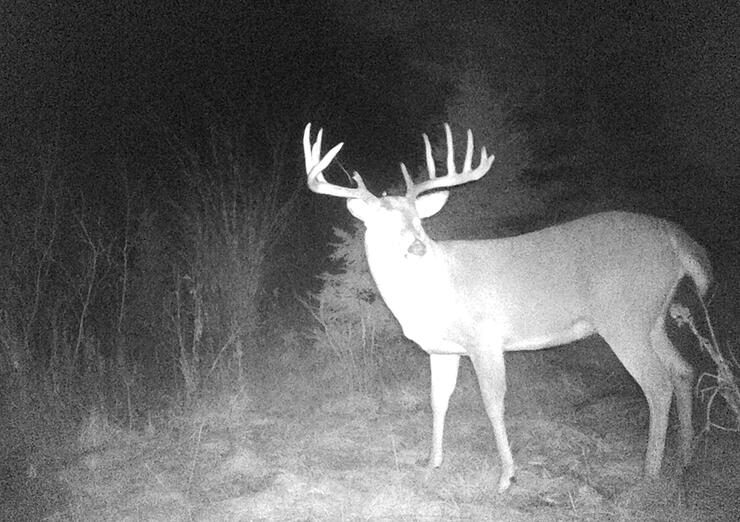 In the last minutes of light, I heard something working from the woods and then spotted movement as it approached the field. I got ready on my bow and hoped it was the big buck, but luck wasn't on my side as 2 doe's stepped out into the field. My setup worked perfectly, the does never knew I was there and gave me plenty of perfect broadside shot opportunities. But the light quickly faded, and time was up on my Northwestern Ontario deer hunt.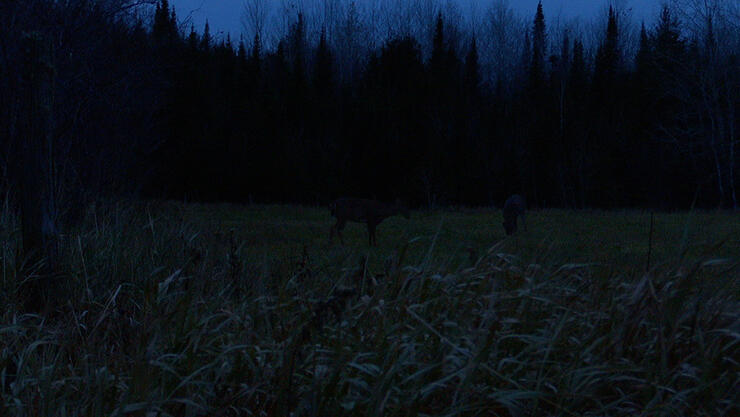 We all know hunting often results in going home without the animal you are after, so coming home empty-handed is not a new feeling but it still leaves you wanting more. I know Roben and Steve have a great area and harvest incredible bucks year after year. I think I was just a bit early and our high winds and warmer temps didn't help us either. As much as I would like to use every excuse in the book to explain why I didn't get a buck, I still had a great time hunting with Border Country Outfitters.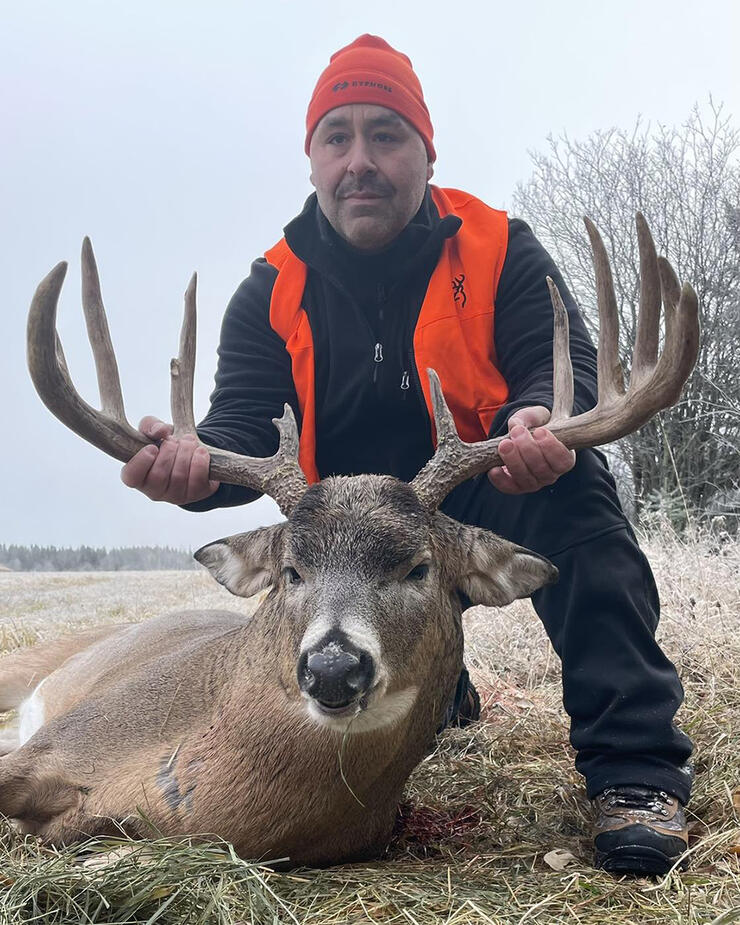 Just a week after I left, Roben texted me a picture of one of his clients holding that big 6x6 that I had hunted. It just goes to show you that you can do everything right and hunt hard and sometimes it's just about timing, being in the right place at the right time. Big congrats to Hugo Bolduc on harvesting such an incredible buck and to Border Country Outfitters for making it all happen!