Ontario Waterfowl Hunt
Located along Lake Ontario, this is a popular tourist destination in the summer but when the cold weather comes most of the tourists leave and the waterfowl start to move in.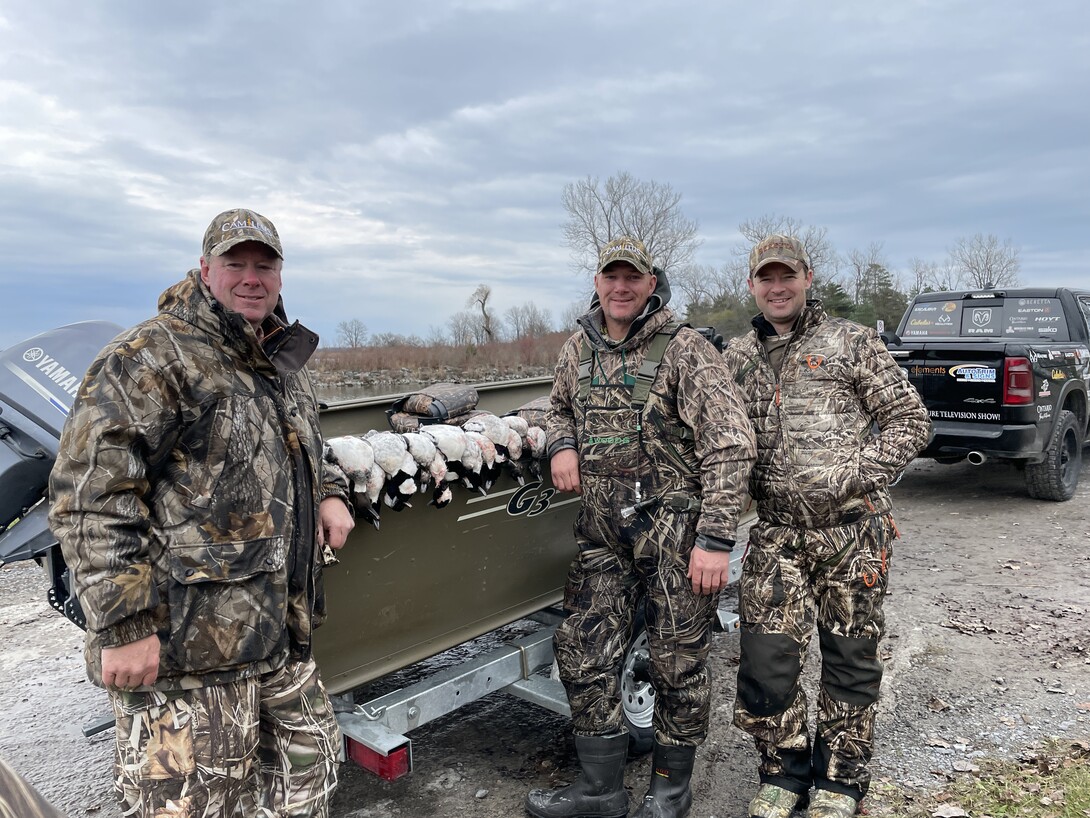 When you're looking for a waterfowl hunt that has adventure, fast-paced action and beautiful scenery, Ontario, Canada should come to mind.
This fall we got the chance to hunt diver ducks off Lake Ontario with Morley Dayton of County Outfitters.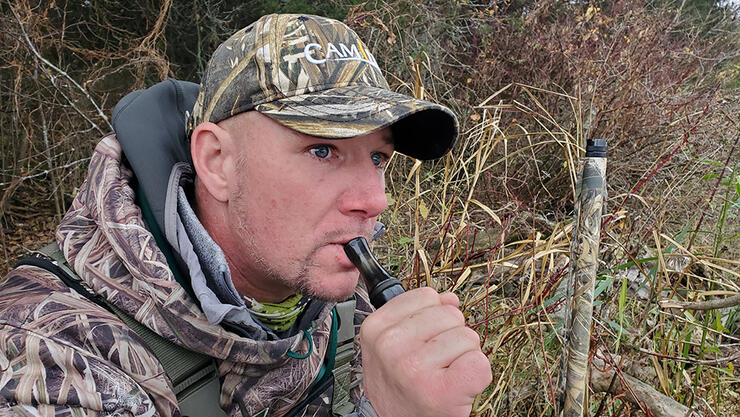 We were hunting around Prince Edward County, which is a large beautiful region on Lake Ontario that is made up of 9 different hamlets. This area is a popular tourist destination in the summer months; known for its food, vineyards, and artistic community. But when the cold weather comes most of the tourists leave and the waterfowl start to move in.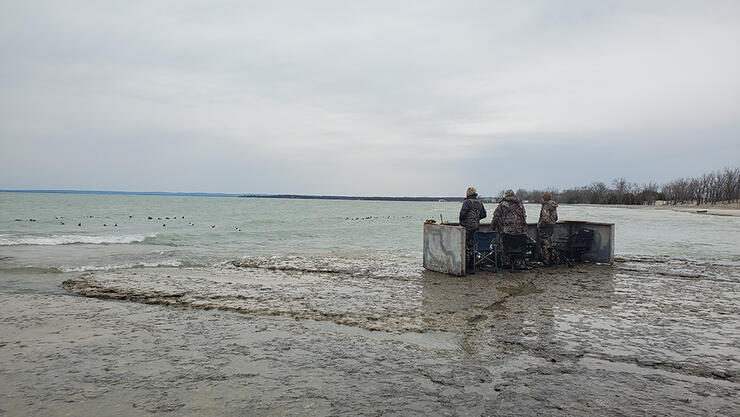 This area has become one of the main staging points for many species of waterfowl during their fall migration south. You can see everything from your typical Canada geese and puddle ducks like mallards and wood ducks but also a variety of diver duck species like; buffleheads, lesser and greater scaup, ring-necks, redheads, common goldeneyes, and even long-tailed ducks.
On this hunt, we'd be focusing our attention on the diver species as we don't often get to enjoy this very fast-paced waterfowl.
Our first hunt had us meeting Morley at the boat launch a couple of hours before sunrise. I and my friend, John Ward of Camillus Knives and DMT Sharpeners, got our boat launched and we were soon on our way following Morley out to a spot he had picked for us.
As we headed out in the pitch black, the lights on the shoreline glimmered off the water giving a magical and suspenseful feeling. We would be hunting on the end of a long point that jutted out into a protected bay just off the big water of Lake Ontario. The past two mornings they had limited out on birds within a couple of hours of hunting in this exact spot.
We quickly got set up in the blind as Morley strategically placed the decoys out in the water. The sight of the pink pre-sun clouds mirrored on the flat water was a stunning sight, unfortunately, calm waters are not what we were hoping for.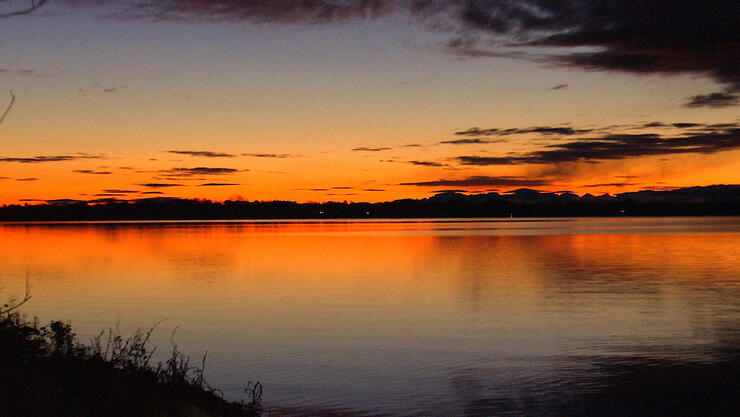 There just wasn't any wind that morning and as any waterfowl hunter knows, no wind is often the worst thing that can happen on a waterfowl hunt. We still had some fun though and managed to shoot several ducks, including redheads, scaup, goldeneyes, and some buffleheads, along with a single Canada goose that came in. It seemed like for the most part the ducks just weren't flying much. We did also have some really cool close encounters with some giant mute swans.
At noon we decided to head in for lunch to warm up as Morley had a restaurant in mind that we could boat right to. The 'North Docks Kitchen and Drinks' located on Main Street in Wellington Ontario serves a great mix of everyday pub food and elevated dishes as well. Chef, Dave Gardiner, cooked us up an incredible duck stew with a side of barley risotto that was more delicious than we could have ever imagined and sure hit the spot.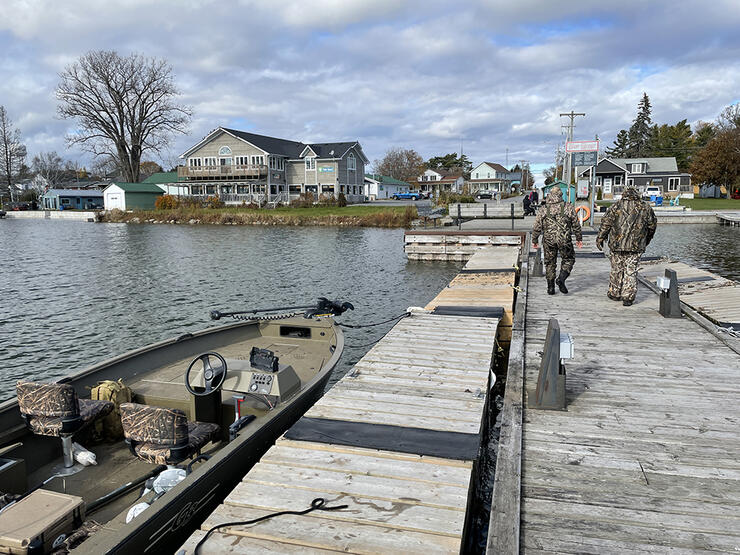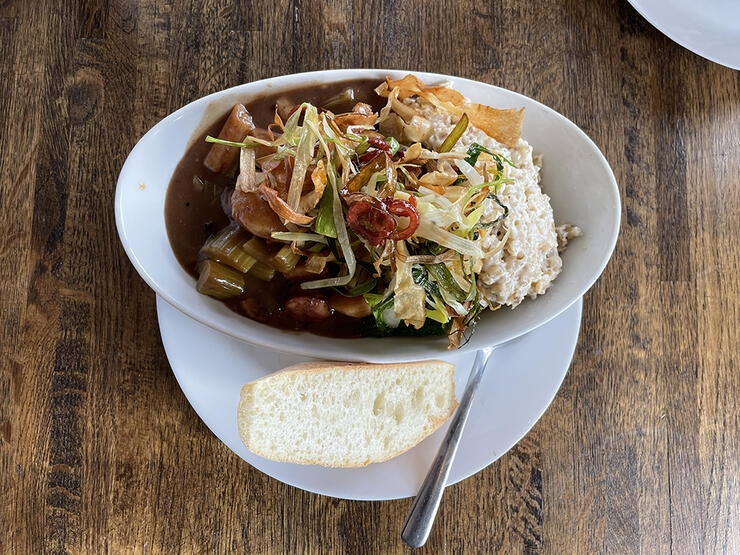 After getting spoiled at North Docks we headed back out to our blind and finished the day off. The wind had picked up some, but the waterfowl seemed to want somewhere else that evening. We ended the day a few birds shy of our limit but way over our limit of laughs and enjoyment.
The next day we decided to change it up. We had noticed a pattern in the bird's flight paths the day before and decided to see if this pattern would repeat itself so we opted for a shoreline hunt along an island that once again was just on the inside of Lake Ontario. This morning started off with a little wind but eventually picked up as the morning went on. As the sun broke, we could see many flocks of ducks on the move.
Our first bird was a hen Goldeneye, she worked great and we took her with ease.
Not too long after that, we had our first flock come our way. It was a flock of buffleheads and as buffies are known to do, they worked the decoy spread perfectly and we were able to take a few of these little rockets from the flock.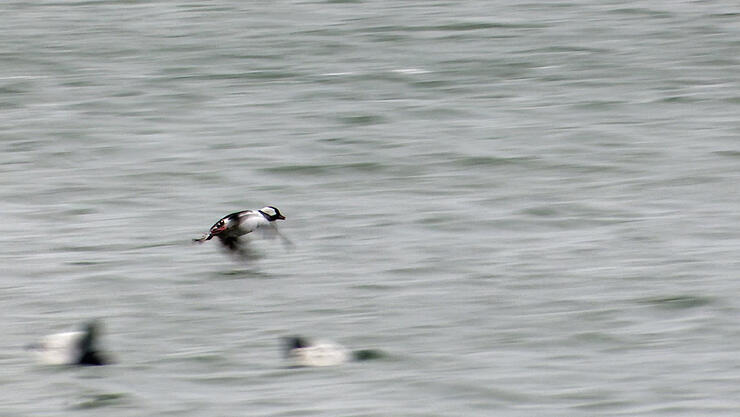 After shooting that first flock, it was like a light switch had turned on. Ducks were flying everywhere, and over the next 25 minutes, we had our three-man limit. The shooting was so fast and furious at times that our gun barrels were honestly too hot to touch!
We had to leave after that morning's hunt but Morley invited us back to enjoy a long-tail hunt in December when these birds make their way into this area and both John and I were more than happy to accept.
John and I arrived back at 'Merland Park Cottages' late one evening during mid-December. 'Merland Park Cottages is a great place to stay as it's in the hub of incredible fishing and incredible hunting opportunities and the cottages are fully equipped with big living rooms, comfortable bedrooms, and full kitchens.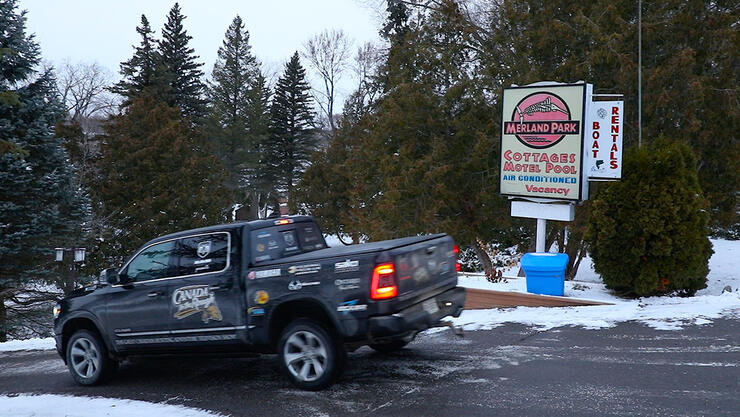 The next morning, we met up with Morley and got busy setting up the blind and decoys. We were set up on a long point on Lake Ontario with a strong 50 km/hr wind at our backs. The waves were fierce and that's exactly what we were hoping for, as Longtail Ducks seem to fly well in big waves and high winds.
As the sun broke, we could see plenty of flocks flying about 100 yards out from shore and starting to raft up in big numbers. Watching the sunrise on Lake Ontario with thousands of ducks flying across the horizon is a pretty awesome experience by itself, but eventually, ducks started to make their way into us and we remembered what we were there for!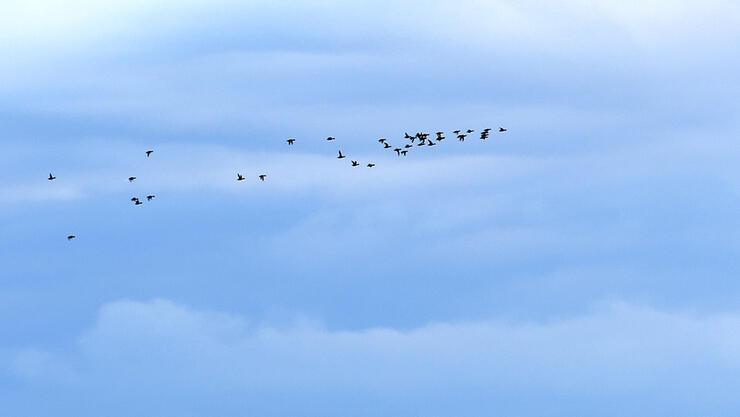 The high winds shifted to a cross-wind and picked up speed and this seemed to force the birds more toward shore and provided us with many more shot opportunities. The birds were decoying as if they'd never seen hunting pressure before but now we had a new challenge. The extremely strong winds, now gusting to 70 km/hr, were really pushing our shot patterns so it took us a bit to realize that we had to lengthen our lead on these fast-flying diver ducks. High-Velocity #3 loads in Winchester's Blind Side seemed to be the ticket.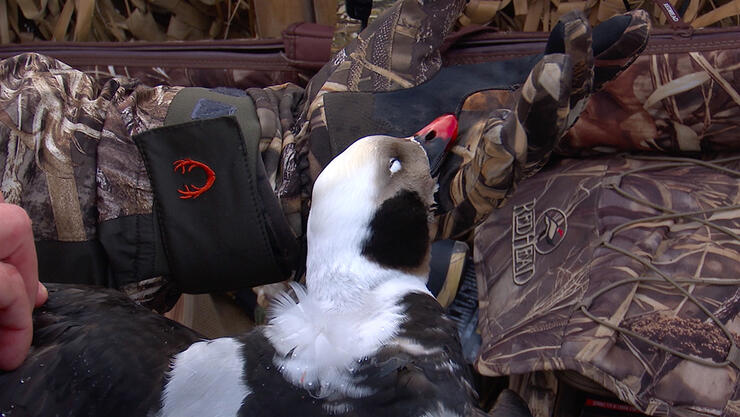 It was a pretty cold morning so we brought a portable Camp Chef oven with us and warmed up some ham and cheese breakfast bagels in between flocks and then enjoyed a warm, waffle cone s'more dessert. It was amazing and such a neat experience on the shores of Lake Ontario while shooting ducks.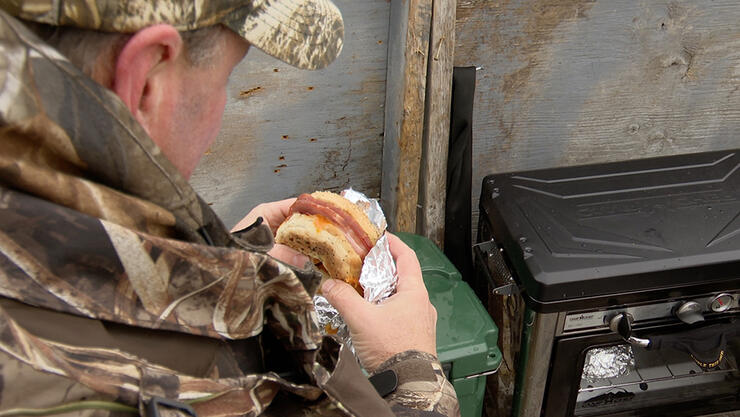 In the end, we had a great time hunting this ruggedly beautiful location and were happy to be bringing some birds home to feed our families. If you ever get the chance to hunt in southern Ontario during the late season for diver ducks you really have to give it a go, it'll be one of the most adventurous waterfowl hunts you'll ever do.