Big Bears in the Big Woods
Spring hunting trip with Hillsport Hillton Fishing and Hunting Resort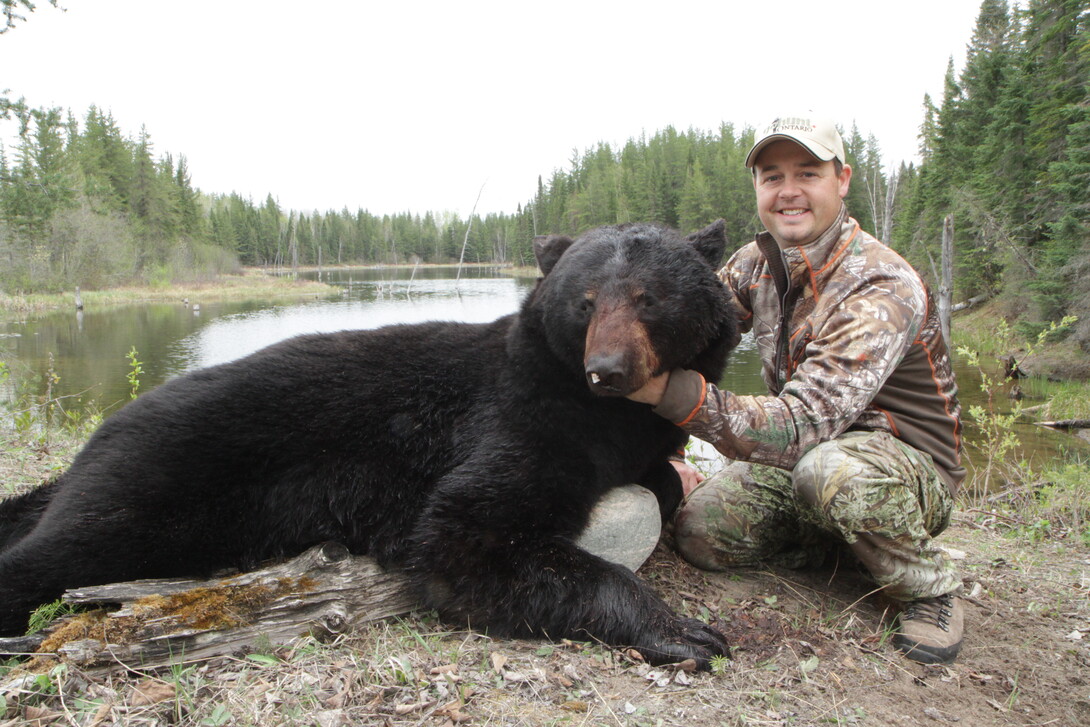 Spring bear hunting is such a wonderful time of year to be in the woods. The Northern Ontario wilderness has had its winter death grip released, ice and snow are long gone, and the birds have migrated back home. The brown gives way to green, and the bears emerge from their dens after a long winter nap.
For me, it's long overdue, as cabin fever has set in and I'm ready to sit out in the remote boreal forest and take in the sights and sounds.
In May of last year, I had the pleasure to head to Hillsport, Ontario, a very, very small town off the beaten path, existing only because of a previous need to service the railroad. Now it's a thriving outfitter location called Hillsport Hillton, as Gary and Maggie Dorion bring in guests from around the world to experience the great outdoors.
I was so excited for this trip, as I was taking my friend Paul Ayotte, the head athletic therapist for the Toronto Maple Leafs. We were both looking to unwind after a busy winter. We arrived with our crossbows dialed in, the boat behind our truck, and lots of fishing gear.
As we drove into our piece of remote paradise, none of it disappointed. Gary toured us to many active bear locations; we checked trail cameras, tweaked stands for filming, and got a good lay of the land. Then we sat down to a meal fit for a king.
The next morning, we put the boat in the pristine lake and fished after a big breakfast. May might be one of the finest times to do so. The big walleye and pike were so much fun and made for a great lunch.
After lunch we started to gear up, heading mid-afternoon to the bear stand. With so much daylight this time of year, our planned hunt was from 3 pm to 9:30 pm. With all Gary's hard work and our quick survey of the cameras, we had some high-odds locations picked and the wind in our favor.
Paul's hunt was incredible, he had one bear come in shortly after arriving and it ended up trying to climb the tree he was perched in! Then another big mature bear that he ended up passing sauntered through his areas for close to 20 minutes. Two bears at his feet and in his tree was enough excitement for him.
My spot was stunning: a brook running through a small valley behind me with a small gurgling waterfall. Bald eagles soared over my trees. The sun shone on my face and I watched, mice and rabbits enjoy the new spring woods. At about 7 pm, still full sun and daylight, I caught movement. A giant black head emerged and peered through the timber. After getting comfortable, the blob of his body followed, and I had no doubt that was the big bear I had come in to harvest. He was a tank! He slowly walked into my setup and faced me while scanning the scene.
Two minutes passed with no shot opportunity, then he turned and came walking past me broadside. With the crossbow resting on the ledge of my ladder stand and the big bruin under 20 yards, I placed the crosshairs behind his shoulder and squeezed off the shot. I watched my arrow with a lit knock sink out of sight and stick into the log behind him as he tore off. He expired only 20 yards from where he stood at my shot. I was rattled, in a good way. My hands and legs started to shake a little and I waited a good 30 minutes before climbing down. But once I did, that massive furry black blob got bigger as I approached him. He was a big boar, with a stunning spring coat. It was a big job dragging him from the woods.
Paul's next hunt was magical; a small bear entertained him for hours, then in a split second he tore out of there scared. Moments later a big boar appeared. Paul knew it was his bear and made a perfect shot on another big bruin.
We were so pleased to harvest these amazing bears in a truly remote wilderness location. We spent the next day with butcher paper and knives preparing our meat to feed our families.
If you get the chance to go hunt bears in Ontario, I strongly suggest you do it.
It's an amazing place!