Woman River Camp & Outposts
"As if on cue, a giant black bear appeared—walking through the woods towards the bait."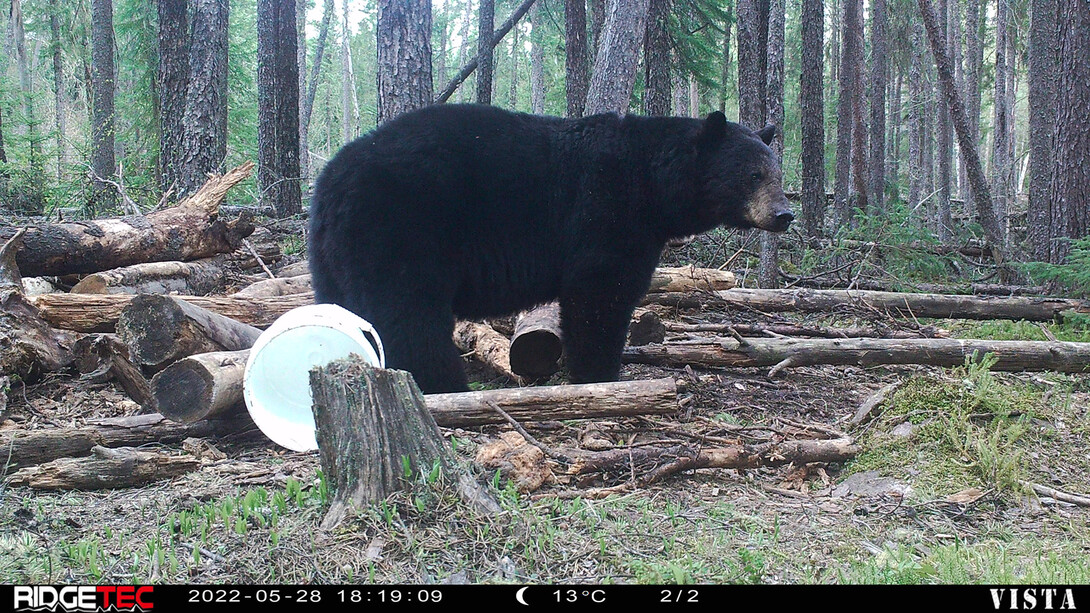 Kevin and the Canada in the Rough Crew were happy to be hitting the road again. This time Kevin was headed to Northwestern Ontario's Sunset Country, to hunt with Woman River Camp & Outpost. Joining Kevin on this trip was Marc Bender, who works at Hercules Tires. Not only was this Marc's first bear hunt, but it was also his first hunt ever.
They flew into Winnipeg and once they had all of their bags into the truck they started their journey to bear camp. The scenic drive helped pass the time and in no time they were arriving at camp.
Woman River Camp & Outpost is located about an hour north of Ear Falls in Ontario. This remote drive to camp is run by Paul and Debbie Mossip who have been outfitting for years. They offer multiple hunting and fishing opportunities which include black bears, moose, grouse, and timber wolves as well as fishing for walleye, pike, smallmouth bass, perch, whitefish, and lake trout. Their main lodge is located on a very scenic chain of lakes, and they also offer outpost camps for those looking to get even further off the beaten path.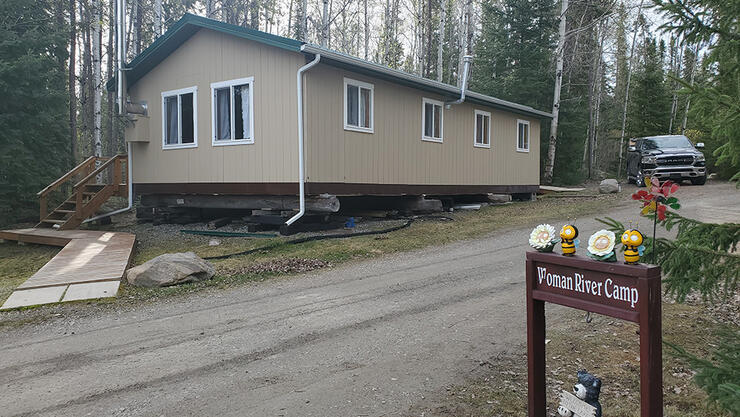 Marc and Kevin stayed at the main camp in one of their gorgeous cabins. It had a full kitchen, three bedrooms, and a full bathroom. It also had a large deck equipped with a BBQ.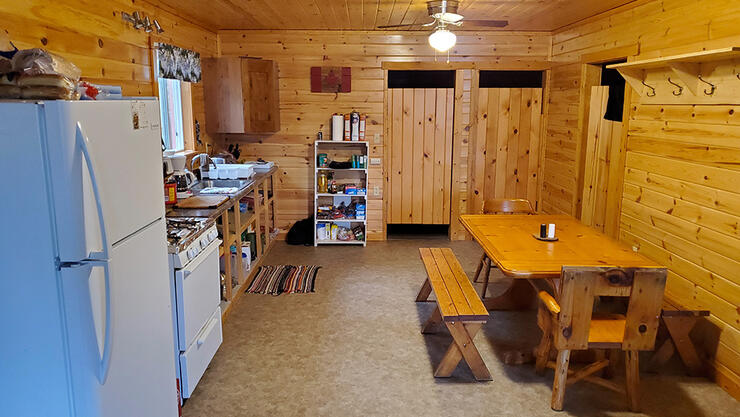 After arriving and getting their gear into the lodge, Marc and Kevin got their bows prepped for a little shooting. It's always a good idea to make sure your bow is still shooting accurately after a long trip, and lucky for them their bows were still shooting tacks.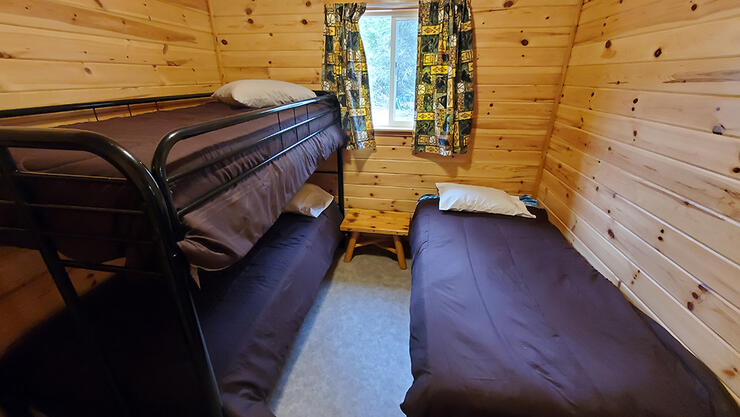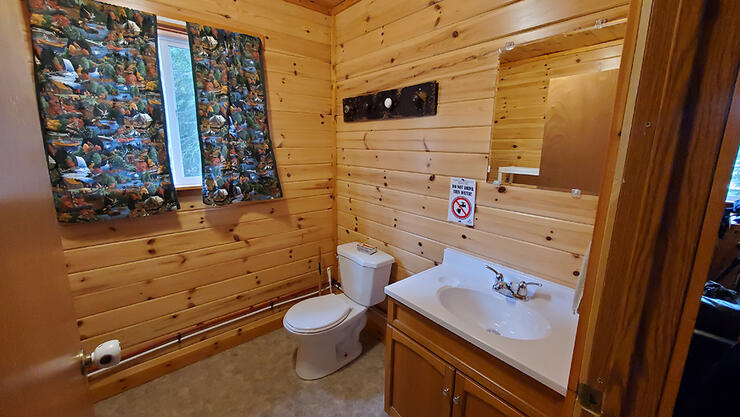 That first evening they were both excited to get into the bear woods, and for Marc, this was even more special as this would be his first hunt.
Kevin was set up in a treestand in a section of woods with a clearing off to his right. The bait was about 25 yards away and the outfitter had been getting some good trail camera photos of bears working this area. That night Kevin had one young bear come in and he enjoyed the encounter, though none of the mature bears showed up.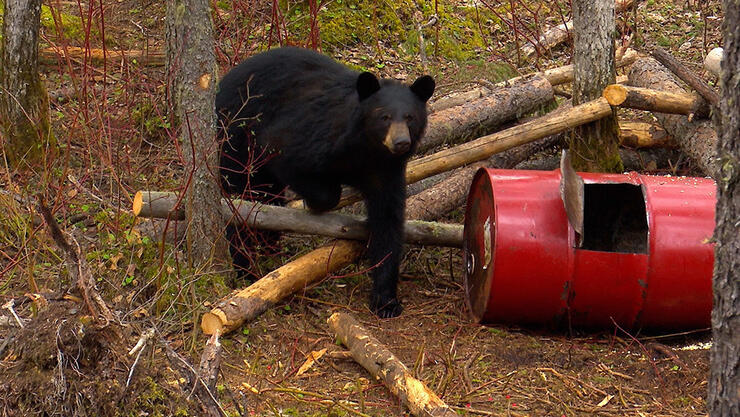 As for Marc, he was set up in a ground blind about 15 minutes away from Kevin and he had an exciting night. Not long after getting settled in he had a very nice bear come in. This bear had a beautiful white V on his chest. Though many hunters, especially first-time hunters, would have been more than pleased to shoot this bear, Marc choose to just enjoy this encounter because he knew all the big bears that Paul had on the trail cameras. This bear would come and go three different times that night, keeping Marc well entertained.
The next morning Marc and Kevin visited several bait sites to check game cameras and set up a couple of new ground blinds since the weather forecast wasn't looking so good.
After getting back they had just enough time to hit the water with their fishing guide Ricky. They had a great morning pounding the walleye and pike and managed to catch enough keepers for a tasty fish fry back in camp.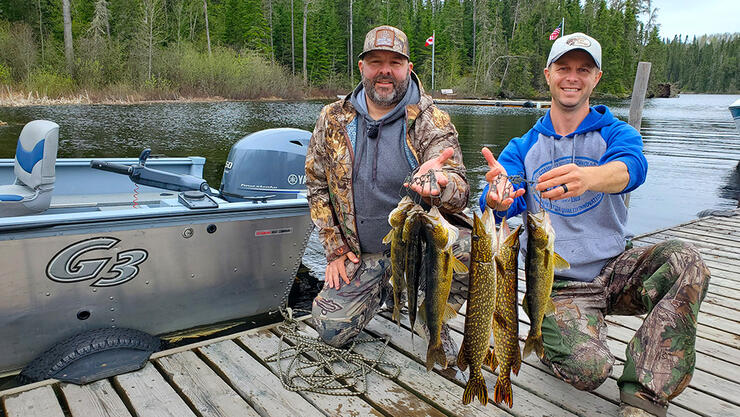 That evening Marc and Kevin once again headed to their spots. Marc headed back to his spot as they knew there were a couple of great bears on the camera.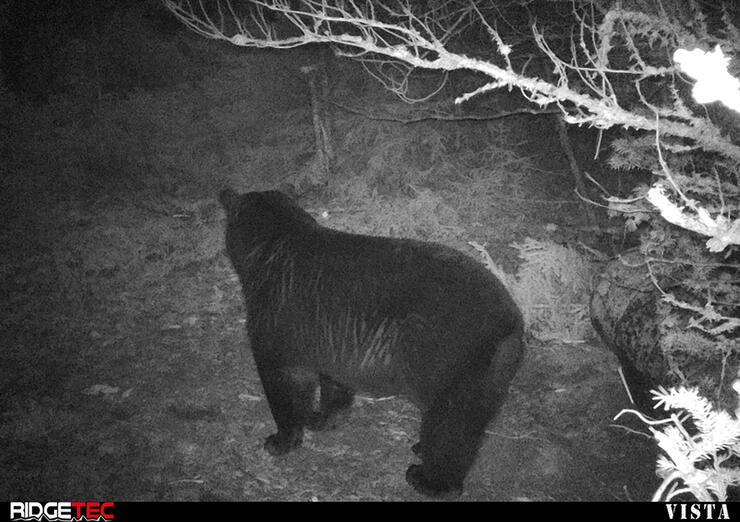 Once again it didn't take long for the bears to start showing up. This time a younger bear who had started to rub his coat came in first, he would spend a good 30 minutes at the bait before suddenly looking deep into the woods and then running off in the opposite direction. Any seasoned bear hunter would tell you that typically means a bigger bear is coming in. As if on cue, a giant black bear appeared walking through the woods toward the bait. Marc knew in an instant this was the big bear from the game camera and he slowly got ready on his crossbow. The bear came in cautiously, smelling the air, and scanning the area, but he wasn't giving Marc any good shooting opportunities. He eventually laid down and fed for a while, head-on, which gave Marc some time to settle his nerves. Unfortunately, when the bear got up, he decided to leave the area without stopping for a good shot. Marc just had one of those suspenseful moments we all go through as hunters and though he was disappointed, his adrenaline was at an all-time high and he still had a good 3hrs of light left.
With about 30 minutes left in his evening, Marc caught movement off to the right. Sure enough, the big bear that came and left without a shot came sauntering in once again. Still on edge, constantly smelling and tasting the air. Marc readied himself on his bow and as the bear worked behind the barrel, he thought he was in for the same outcome as before. This time the bear continued around the barrel and came out front presenting Marc with a textbook broadside shot. Marc squeezed the trigger and made a perfect shot.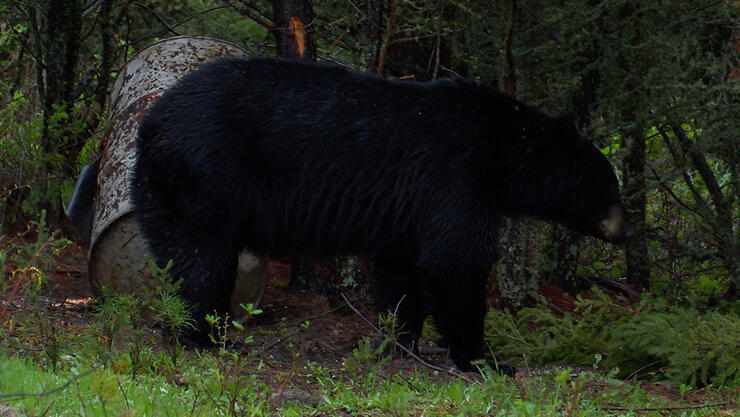 Kevin soon showed up and helped Marc track and recover the bear and it was amazing to be a part of such a special moment for a new hunter. The bear Marc took was remarkable and one any hunter would have been ecstatic to harvest. When they got back, they were able to get him on the scale and this big Spring boar came in at 310lbs!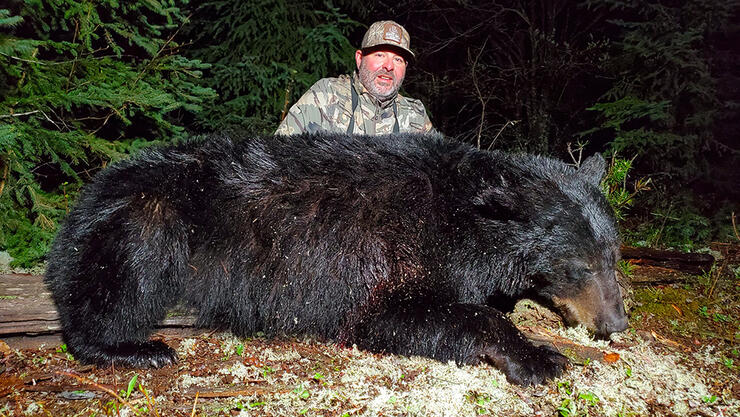 The next morning they got busy butchering. It was nice to have such great facilities to do all the work and it was also a treat to introduce Marc to the world of self-butchering.  
They even had time to grill up some bear as they made black bear Philly cheese steak sandwiches. Marc, like most people who try bear for the first time, was shocked at how good the sandwiches were.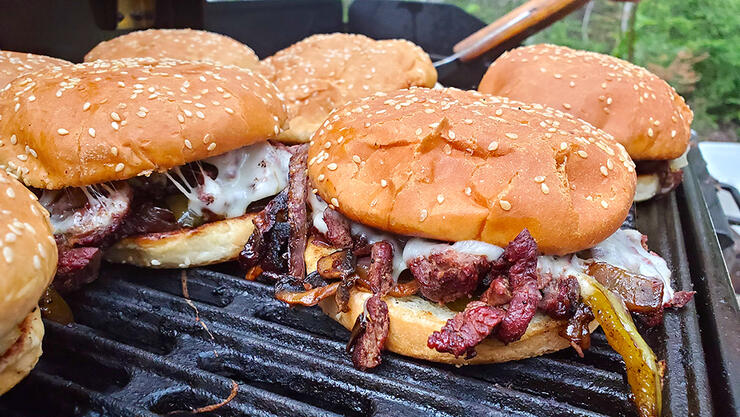 After eating too much, Kevin headed back out into the bear woods, driving the Yamaha UTV that Pearson Auto & Sport, a local dealer in Ear Falls, had lent them.
This time setting up in one of the new ground blinds they had prepped earlier. Kevin was hunting in the middle of a large open bush that was covered in moss. The trail camera had shown the guys that a mature bear was not only hitting this bait but even sleeping at the bait on some nights and throughout the day. So, Kevin was very hopeful he'd see this bear.
After a couple of hours into the sit, Kevin happened to look out a crack in the blind behind him and as luck would have it a bear was walking towards them.
As the bear got closer, Kevin saw him stop and lift his head high in the air and start smelling. Kevin realized the wind was blowing right to the bear and thought there was no chance he would ever get a shot. Kevin decided to dig into his bag and pull out some anise-scented beads. Kevin made sure the jar was close to the back window and hoped at the very least the beads would mask enough of his scent that it would keep the bear from taking off.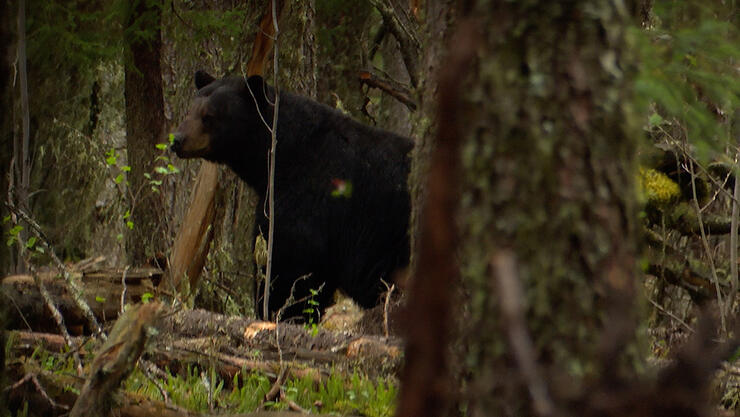 It seemed to work and the bear kept walking back and forth behind them. When the bear got behind some trees Kevin quietly opened the back window and changed his crossbow setup in hopes he could get a shot. Once set up Kevin was able to find a hole through the trees and when the bear hit the hole Kevin was able to stop him just long enough for the shot.
Though the shot was low, the bear only went 75 yards and as luck would have it he ran right to the logging road and died beside it. The outfitter Paul Mossip joined Kevin and helped him get the bear back to camp where they once again got it up on the scale. This mature boar came in at 250lbs and Kevin was beyond excited to harvest such a nice bear.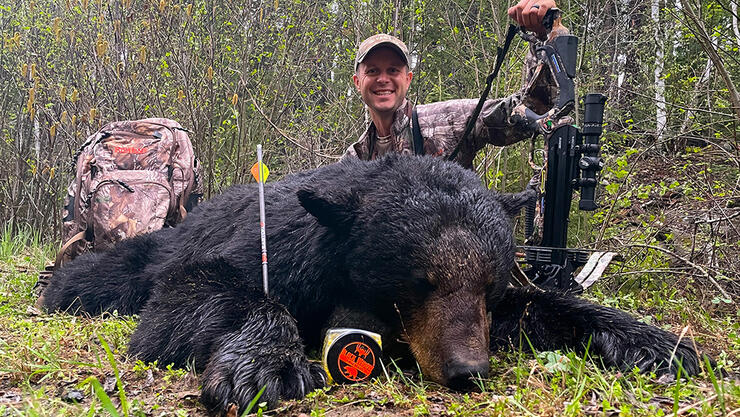 Looking back on this hunt, Marc and Kevin couldn't have asked for a greater time on their Ontario adventure. From the hunting, the fishing, the accommodations, and the food, it all made for a wonderful time in Ontario's Sunset Country and we highly recommend you give Paul and Debbie a call at Woman River Camp & Outpost if you're looking for a great hunting or fishing adventure!