Whitefish Lodge & Outpost: A Bear Hunt For the Books
Where the road ends...and your adventure begins!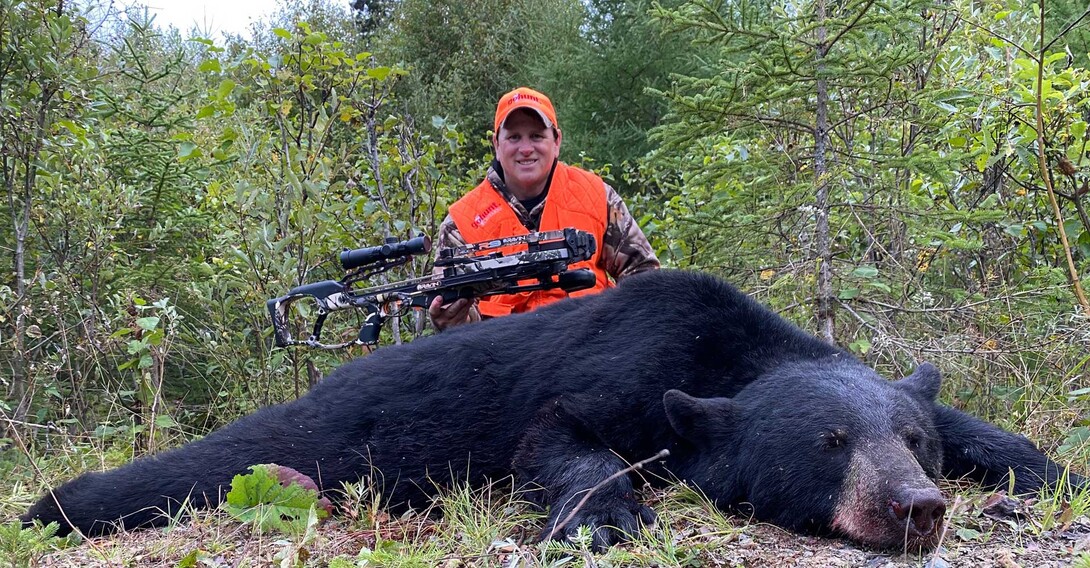 I started big game hunting at a very young age but was limited to whitetail deer. Like so many people, chasing big game goes from having fun hunting those elusive animals to straight-up an addictive passion that consumes your mind every single season.
The first opportunity I had to bear hunt was about six years ago in Ontario. I wasn't sure if I would even enjoy the experience of bear hunting. For me, if it didn't have horns on its head, I wasn't interested. Boy, was I wrong!
Bear hunting in ontario
I've had the pleasured opportunity to hunt those giant pumpkin head-sized bears all across Ontario over the past six years. From the Sunset Country Region where I've had success, to the Superior Region —where I've connected on multiple bears and my biggest — to the Algoma Region where I shot my first bear, then a year later took my niece on her first successful bear hunt. Now, to say I'm addicted to chasing big old bears would be an understatement. With each hunt, I've learned and respected these solitary bruisers more and more.
On this season's annual bear hunt, I would be returning to my bear hunting roots where it all started; in the Algoma Region of Ontario. This time, I would visit the owner and head guide, William Cooper (Coop), at Whitefish Lodge and Outpost Camps just north of Wawa, Ontario. Over the past few years, readers and viewers have reached out, telling me that if I want a giant bear, I need to head to the Wawa, Ontario area.
exploring new territory: Wawa and the Whitefish Lodge and Outpost
Whitefish Lodge and Outpost has an impressive operation with three Bear Management Areas that produce many bears over that 300-pound mark every season. The bear population in these BMAs is equally remarkable. It's not uncommon to see four or more bears on every sit.
Whitefish Lodge's cabins are incredibly comfortable with all the necessities a person could ask for in the heart of the wilderness. Full kitchens and bathrooms along with very roomy bedrooms. They don't skimp on anything, especially on one of the cabins' most important things: the beds! Even more impressive are the sunrises and sunsets from the cabin deck!
My trip started by catching up with Coop checking out trail camera pictures of the bear frequenting a couple of the bear sites. Trail cameras are a must for any quality bear hunting operation.
You eliminate any non-productive areas where there are small bears, sows with cubs or nocturnal bears. They help educate you when bears are most active, whether it be morning or evening. When you're talking about 4- or 5-day hunts, every minute in the stand is important. Seeing a big bear coming into a place you plan to hunt on a trail camera gives you confidence, not to mention an adrenaline rush. I was pumped and ready to hunt after seeing some of the great bear Coop had come in!
The first evening sit of the trip was similar to my next couple of days in the stand. Numbers of a borderline shooter-sized bear visiting to keep my attention and excitement level on high. A couple of big shooters that were coming in previously didn't appear during my hunt, which can be reasonably common. These bears can put on miles and miles looking for food. This time of year in the Fall, a bear can eat as much as 20,000 calories a day, preparing themselves for the long hibernation. This is precisely why Coop always has multiple bear sites set up for every hunter in camp. When one stops being productive, he moves the hunter to an area with the best opportunity to close the deal on a bear of a lifetime.
Our next move was to go with Coop to bait a few sites where he had some giant bear frequenting. As we baited, we checked trail cam photos. First stop, there were lots of smaller and borderline shooters. At the second site, there were not one but three absolute bruisers that had been showing up the last few days in a row, and after looking at the photos, one of them had been at the site minutes before we arrived. We knew we had bumped him coming in, but they will often turn around and come right back. I hurried to get set up in the stand as Coop finished baiting. This spot looked so amazing. It was a perfect natural pinch point with a huge wooded rock ridge on one side and a giant marshy swamp on the other. There were heavily used bear trails coming from a couple of different directions.
Only an hour into the days' hunt, we had a nice sow come in, and an hour later, she would be chased off by a decent-sized boar. After seeing the big boys on the trail camera, I was willing to wait, passing on him. Once I got back to camp that evening, I decided to hold out for one of the 300-pound plus trophies that were definitely in the area, even if it meant going home with a bear tag in my pocket.
The last day of the hunt
The last day of the hunt came and seemed to move along pretty quickly. Not seeing any activity for several hours had my mind spinning, wondering if I made the right decision to pass on a couple of really nice bears earlier the trip. 11 o'clock came and went. Then 1 o'clock sped by with no sign of anything. Finally, at 3 pm, a nice sow came in to keep me company for about an hour. By 5 o'clock, my decision got louder in my head with only 2 hours left in my hunt. No sooner did that question cross my mind, I heard a crack of a branch coming from the ridge just a few yards into the woods.
I looked, nothing. I looked again, and there he was. All I saw was his giant blackhead in the bush looking my way. He stepped out ever so cautiously. Every step was slow and methodical as he stared my way the whole time. He knew I was there but didn't know what I was, not giving me a good shot and left as soon as he got there. All I could think was, he is gone, and my hunt might be over. No sooner did he disappear than he turned around and came right back. His stomach overruled his brain. This time I was ready with my Ravin Crossbow's crosshairs on his shoulder when he came broadside and stopped with one last look and pose as I let the bolt fly hitting its mark. As perfect of a shot as I've ever made. All those doubts and questions left my mind as soon as he fell 30 yards from where I shot him.
The most rewarding hunt
I've been on some pretty darn amazing bear hunts, but this one might have been the most rewarding. I feel I learn and respect bear more and more with every trip. Hunting with a knowledgeable guy like Coop taught me so much. We share a passion for bears!
Whitefish Lodge and Outpost Camps offers world-class spring and fall trophy bear hunting, so if you are looking for a place to see multiple bears and a high probability of connecting on your next trophy bear, give Coop a call. They also offer moose and wolf hunts and fantastic multi-species fishing, including walleye, lake trout, pike and more.
For more information on Whitefish Lodge & Outpost Camps, please visit www.whitefishlodge.ca