This World-Famous Winter Sport Was Invented In North Bay, Ontario
A deep dive into the invention of ringette and how our local sport spread around the globe.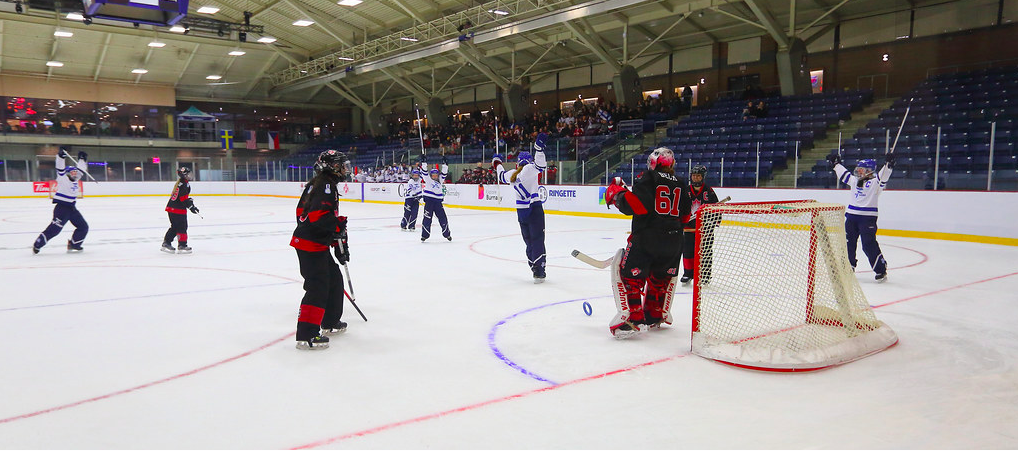 Ringette took off when it was invented in 1963. It was a new chapter in the evolution of female sports in Canada. Learn about its origins in North Bay and how to enjoy as much ringette as you want (both watching and playing) in Northern Ontario.
Thousands of kilometres away in Finland, ringette is a hit! The lightning-fast game on ice is also played in Slovakia, Sweden, the U.S., and France, among other nations. With around 32,000 registered players across the globe, ringette has become so big there's now a world championship. There's even a National Ringette School in Calgary.
Considering the global popularity of the sport, you might be surprised to learn that ringette is a Canadian invention, and what's more, it was created almost sixty years ago in North Bay. It's not in the Olympics just yet, but we hope it will be soon! 
who invented ringette? INTRODUCING SAM JACKS
Sam Jacks was an inventor long before he dreamt up ringette. Born in Glasgow, Scotland, he moved to Canada in 1920, and from 1935 to 1940, worked as an assistant physical education director at Toronto's West End YMCA. During this time, it's said that Jacks invented a new version of floor hockey (another neat story of its own!). After serving in the Canadian Armed Forces, he took on a position as North Bay's Director of Municipal Recreation in 1948. North Bay was then a small city of some 16,000 people in Northeastern Ontario.  
Opportunities were limited for girls' sports, and even though broomball and hockey were popular, girls made it known that they wanted more vigorous activities. Jacks experimented with ideas for a new type of game on skates that embraced friendship, teamwork, and fair play. In 1963, a few female students tried it out on a rink in James Kerr Park. Jacks gave the sport a simple, catchy name – ringette. 
Since then, North Bay has been known as the "Birthplace of Ringette."  Sam Jacks' achievements are celebrated by the North Bay Sports Hall of Fame and Canada's Sports Hall of Fame. After Jacks passed away in 1975, his wife, Agnes, developed and promoted the game. She was later awarded the Order of Canada.  
the first official game of ringette— ESPANOLA makes it official
Jacks put the word out to the Northern Ontario Recreation Directors to see what facilities they had to continue the game. The Town of Espanola, located two hours west of North Bay, responded. Long-time recreation director, Red McCarthy, rallied girls from Espanola High School's hockey team to demonstrate ringette during their lunch hour. The first official game was played at the old Espanola arena. 
Espanola was soon dubbed the "Home of Ringette." Red McCarthy is recognized as the co-founder of ringette and namesake of the town's memorial field.
ringette RULES OF THE GAME
If you've never played ringette, get ready for some serious cardio. It's often called the fastest game on ice. Ringette is played on ice with skates and sticks with six players per team. The object of the game is to score goals by shooting the ring into the opposing team's net during stop-time periods of play. Although ringette is compared to hockey, it's quite different.
RINGETTE SWEEPS THE GLOBE
Almost overnight, ringette teams were established in other Northern Ontario towns, and by the late 1960s, several provinces had caught on too. In 1967, Sudbury held a world ringette tournament. By the early 1970s, ringette was played in ten U.S. States and as far away as South Africa. Newspapers referred to the "ringette boom." Today, there are more than 32,000 registered players on nearly 2,000 teams across Canada. But, it's not only for female athletes anymore. There are around 800 male, transgender, and non-binary players across the country. Ringette is enjoyed at local, provincial, and university levels. There is a Junior and Senior National Team program. 
Since the beginning, ringette has made its mark around the globe. In 2009, Canada Post unveiled a series of stamps commemorating Canadian sports inventions. Ringette was honoured alongside 5-pin bowling, basketball, and lacrosse. 
ROADTRIP RINGETTE: POPULATION YOU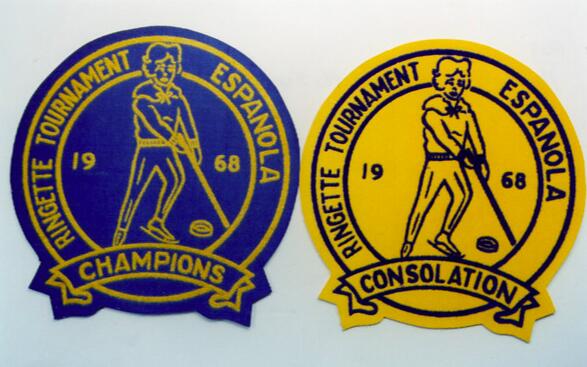 Want to see ringette in person? We've got some ideas to get you started.
1. Why not start in the birthplace of ringette and see the West Ferris Ringette teams when they're in North Bay at the Sam Jacks Arena. In the lobby, you'll come across the bust of Sam Jacks.  
2. Catch a Lakers game (no, not the LA Lakers), but instead the Nipissing University team located in North Bay. 
3. Use this map to find teams across Northern Ontario. Fuel up the car, head to Tim's, and make a day trip or weekend excursion.
4. Want to start your team in your town? Here's how. 
CRAZY ABOUT RINGETTE AND WANT MORE?
There are a host of ringette events all over the world but here are some of the most notable.
Will ringette be at the next Olympics?  Unfortunately not, but there's always hope for the future!