9 Great Places to Stay in North Bay
A log cabin B&B, a boutique motel, a lakeshore hotel—you've got your choice of accommodations when you're visiting the Gateway to the North.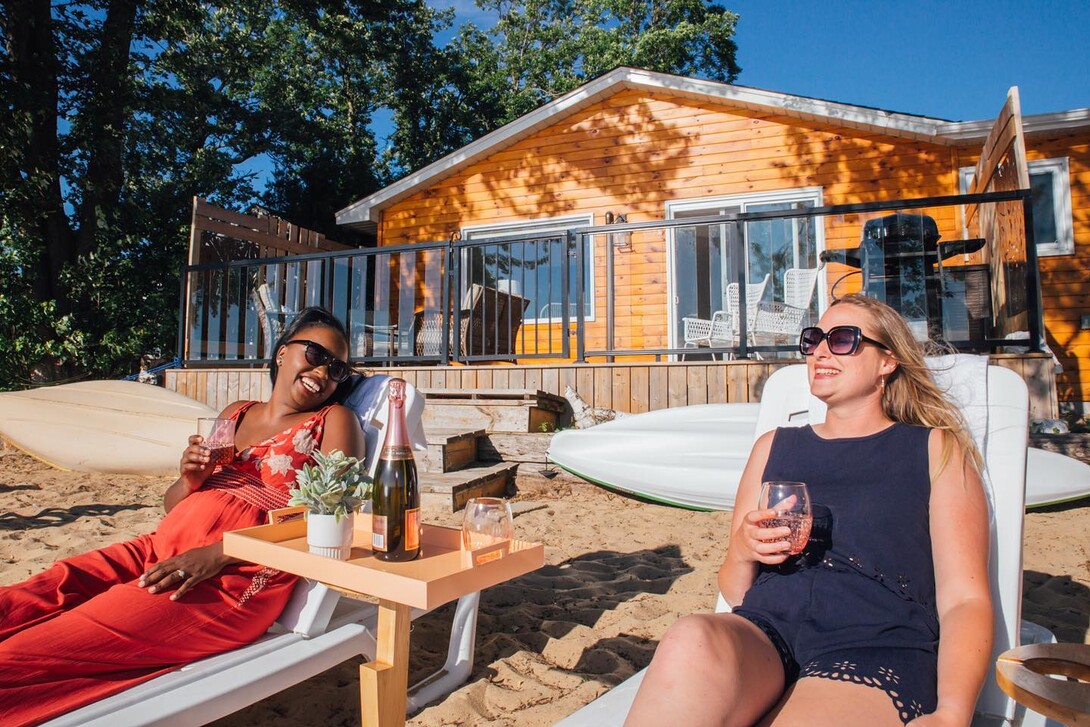 The lakefront city of North Bay, about a 3.5-hour drive from either Toronto or Ottawa, has tons of opportunities for outdoor adventure, from fishing and hiking to skiing and snowmobiling. The local food, music, and culture scene has lots going on as well, with two local microbreweries, fun indie eateries, a film festival, an outdoor arts festival, and a variety of different sports tourneys. All this means: you're going to need a place to stay.
Luckily the city offers a range of accommodations to fit every traveller's needs. Whether you're looking for a boutique spot, a place with a big outdoor pool, or a rustic farmhouse, we've got you covered. 
Check out these nine amazing accommodations in North Bay.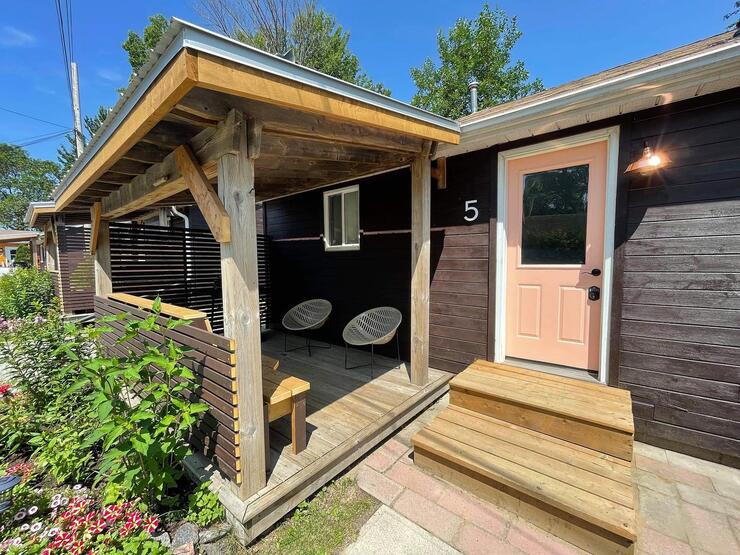 This stylish waterfront boutique is one of the newer accommodations on offer in the city. With four private cottages offering stylish rooms, full kitchens, and gas fireplaces overlooking scenic Lake Nipissing, visitors can go from breakfast to the beach in no time!  Amenities include Canadian-made Oneka bath and body products, complimentary Wi-Fi, and in-season canoeing and kayaking. Room service is courtesy of local fine-dining favourite Churchill's.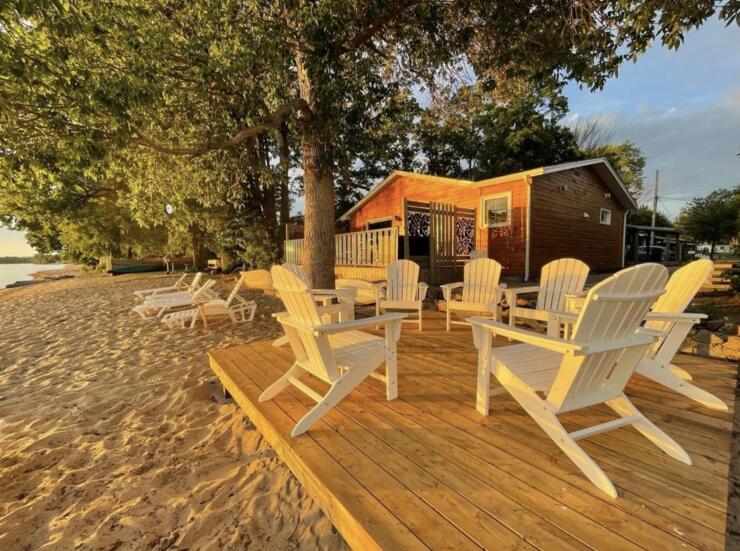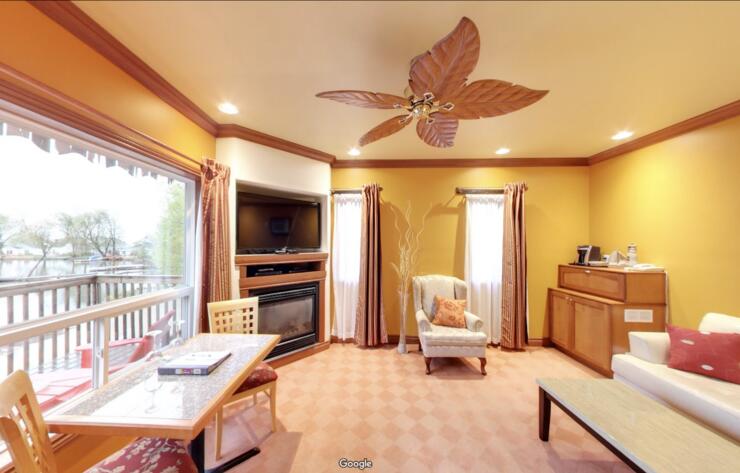 Sunset Inn, located just south of downtown with views of the lake and, of course, sunsets, offers a variety of modern accommodations. Choose from a standard room, a fireplace suite, a jacuzzi suite, a two-bedroom chalet or a three-bedroom chalet, along with a menu of amenities that includes a DVD player and free DVDs, in-room coffee, and cable TV. There are also two waterfront restaurants on site, where you can dine in or order room service: Marigold Unique Flavours, a local favourite with casual Indian dining, and Churchill's, a steakhouse with a fine dining atmosphere. Be sure to check out their packages too, with available "extras" like champagne or a bouquet of roses.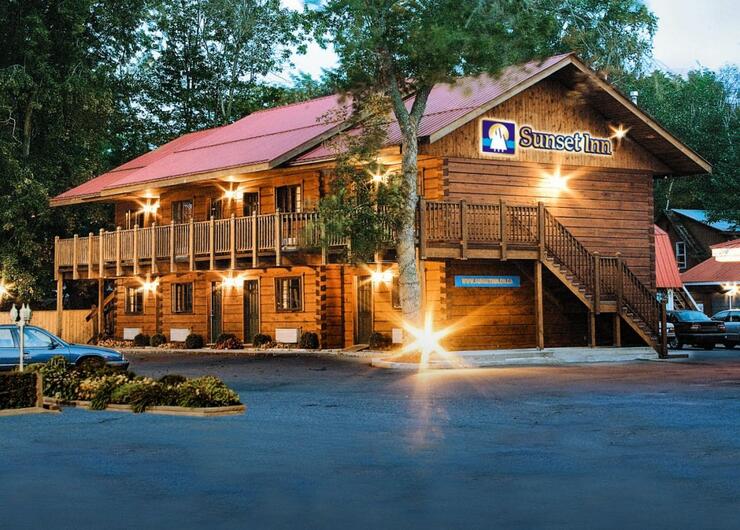 For more information visit the website. 
Discover a piece of North Bay history with this pioneer log home built in 1870, updated for modern living. It has two double bedrooms, each equipped with a comfy feather mattress and duvet, robes and slippers. The common areas offer storage for outdoor gear, a large comfortable living room with satellite TV, books, and board games, and full kitchen that's stocked with coffee, tea, popcorn and cookies. There is also a private, rustic Camping Cabin that sleeps four. Take advantage of hiking trails on your doorstep, as well as easy access to snowshoeing, cross-country skiing and snowmobiling. Nearby, there's Trout Lake or Lake Nipissing for fishing. A continental breakfast is included, with options of hot and cold cereal, fruit, yogurt, pastries and beverages.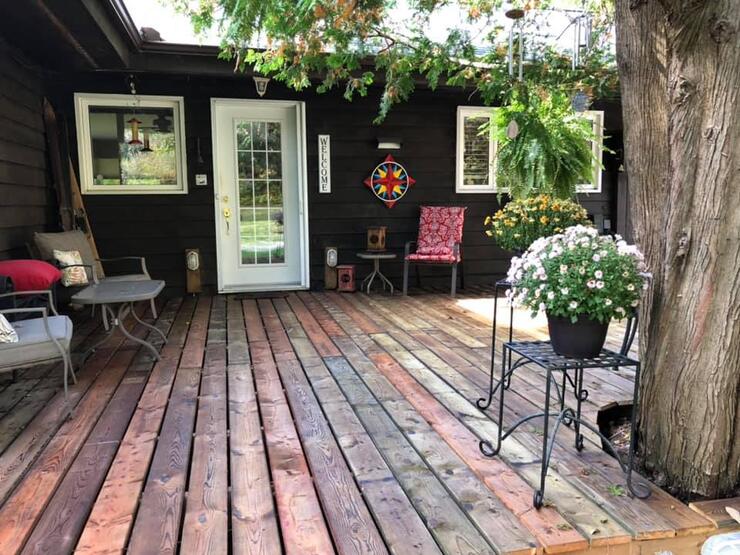 For more information visit the website.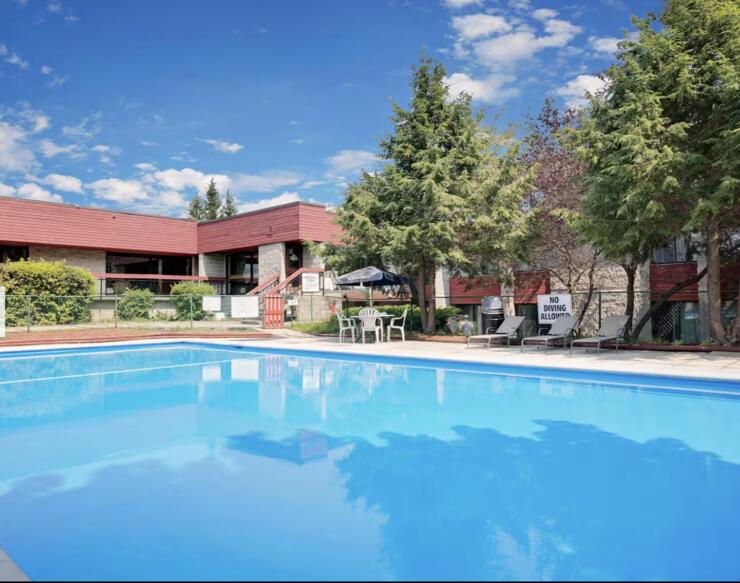 This full-service resort features an 18-hole golf course, heated outdoor pool, fitness centre, hot tub, sauna, two restaurants, express checkout and lots of conference space and parking. In-room amenities include flatscreen TVs and a coffee/tea maker. Your restaurant options are the Tap & Grill for a homestyle dinner or the Pinecone, offering light bites and beverages all day during golf season. This is a non-smoking, pet-friendly venue.
For more information visit the website.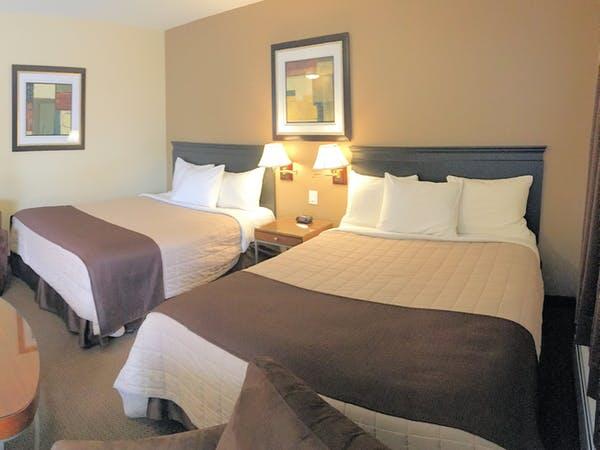 The newly renovated Lincoln Inn is on Lakeshore Drive, just across the street from Lake Nipissing. Enjoy easy access to the TransCanada Highway, the North Bay Jack Garland Airport, and Hwy 11, as well as a variety of stores and services. Room amenities include free Wi-Fi, free calls within Canada and the US, a fridge, microwave, coffee maker, digital cable television, hairdryer, and ironing equipment. You can park right outside your room, and you can plug in your vehicle during cold weather. 
For more information visit the website.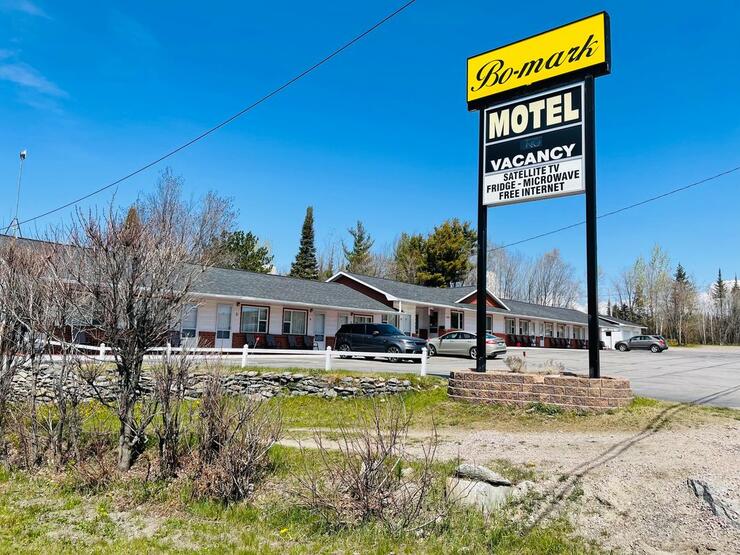 Conveniently located on Hwy 11 north of downtown, the Bo-Mark Motel is known for its friendly service and well-maintained property with updated rooms. Choose from a double room (two double beds) or a queen (one queen bed). Amenities include cable TV, a microwave, refrigerator, hairdryer, and winter plug-in, as well as free high-speed Internet. The cute lobby area will make visitors feel right at home. 
For more information visit the website.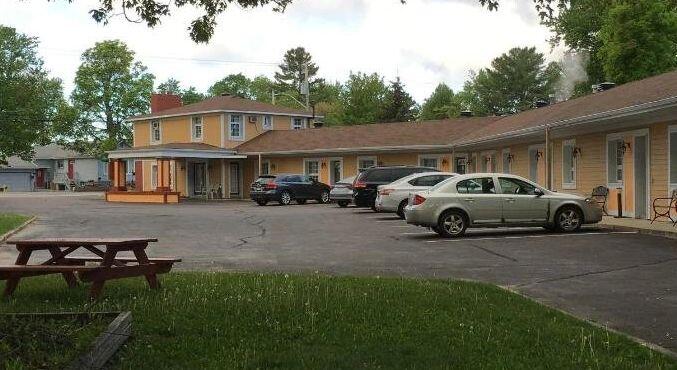 Choose from several different rooms at the North Bay Inn: economy queen, honeymoon suite with fireplace, chalet with spa bath and fireplace, and deluxe suite with two queen beds and fireplace. Found on Lakeshore Drive and a short seven-minute drive from the hustle and bustle of downtown, this is a non-smoking, pet-free establishment. Room amenities include a refrigerator, microwave, cable TV, coffee maker, toaster, free local calls and free Wi-Fi. There is also outdoor playground equipment for the kids and picnic tables, as well as parking directly outside your room.  
For more information visit the website.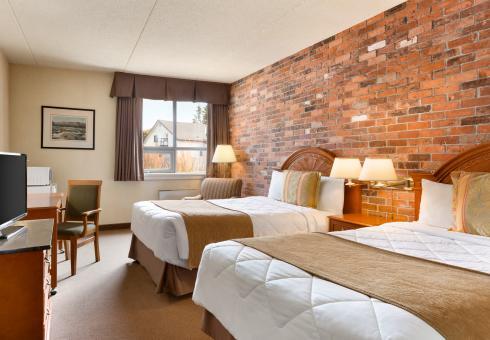 Comfortable and welcoming, this Travelodge on Lakeshore Drive is centrally located and across the road from Lake Nipissing. Enjoy free high-speed Internet, a fitness centre, a lobby ATM, barbecues available for guest use, free local telephone calls, free weekday newspaper available in the lobby, an ice machine, vending machine, room service and in-room hairdryers, microwaves, movies, refrigerator and ironing equipment. A complimentary full hot breakfast is served daily in the bright and sunny breakfast room. Rooms include standard, executive business king, executive business queen, and an ADA guest room and bathroom. This location is pet-friendly. 
For more information visit the website.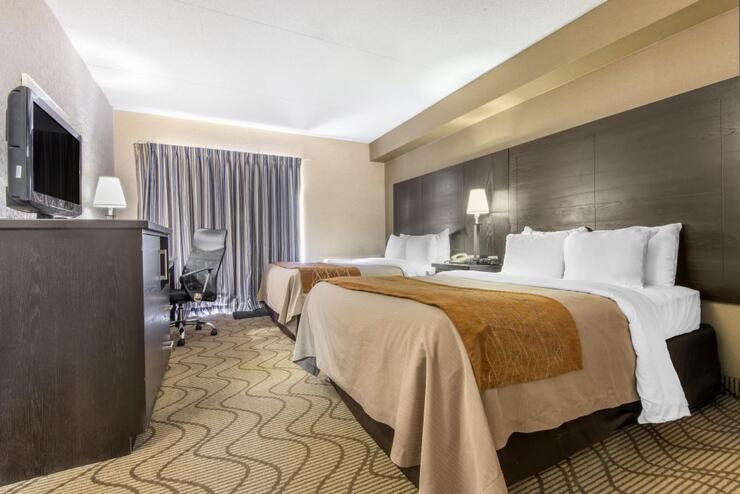 This newly renovated, popular location has lakeside views and spacious rooms. In-room amenities include hairdryers, ironing gear, and coffee makers. Some rooms also include a fridge and microwave. Look forward to free coffee, a fitness centre, cold weather hook-up, electric vehicle charging station, free Wi-Fi, a free hot continental breakfast, a business centre and a free weekday newspaper. This is a smoke-free, pet-friendly venue. 
For more information visit the website. 
Plan your visit to North Bay today
Be sure to check out Tourism North Bay for more great ideas for your getaway. Visit Plan My Trip for unique ideas like a microbrewery tour that includes the history of women in brewing, a guided farmers market tour, a visit to famous Duchesnay Falls, Indigenous drumming circle, the Canadian Forces Museum of Aerospace Defense, or a downtown gallery hop.