25 Winter Getaways in Ontario for People Who Love the Outdoors
Find cross-country skiing, tobogganing, skating and more in these stunning locales.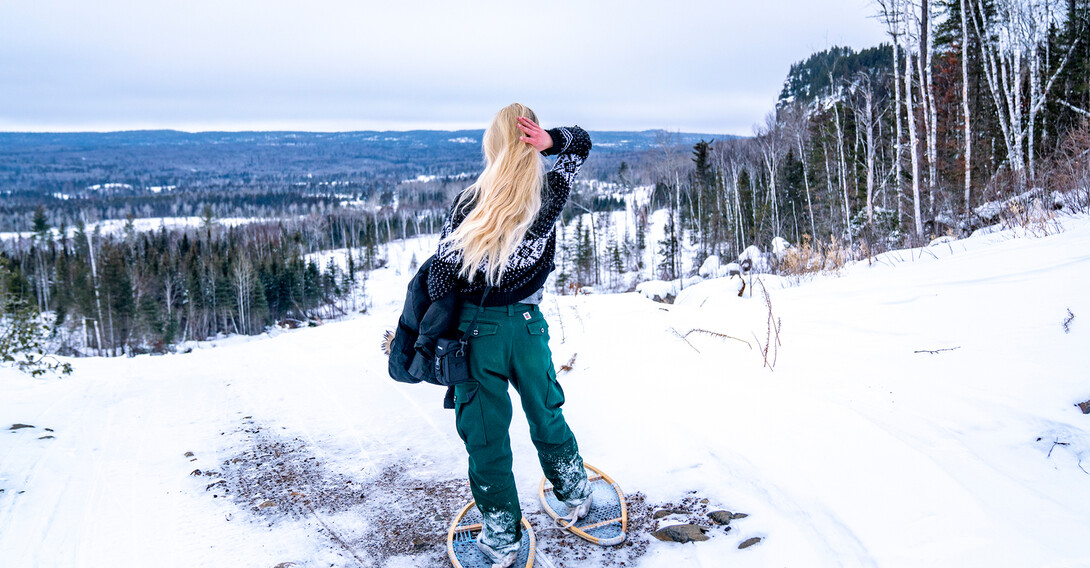 Ontario is a hotspot for winter adventure. Pretty much every community in the province embraces winter with outdoor adventures, ranging from cross-country skiing and ice skating to dogsledding and ice climbing—which made assembling a concise list of the top winter getaways a tricky endeavour. But we were up to the task: here's a rundown of some of the best cold-weather getaways Ontario has to offer in communities large and small, all across the map.
1. Sudbury
The Nickel City comes alive in winter with a number of great activities to enjoy within city limits. Abundant lakes, well-developed trails for cross-country skiing, fat biking and skating and a vibrant outdoor community make Sudbury an excellent destination for winter adventure.
Skate on the natural ice of the Ramsey Lake skating path, next to popular Science North and minutes from downtown
Sudbury is home to a number of options for cross-country skiing: Kivi Park has 35 km of trails near the city centre at Long Lake and on-site rentals; Walden boasts an active cross-country ski club that takes pride in maintaining nearly 25 km of trails for classic and skiing; Capreol maintains 32 km of crowd-free trails; Bio Ski grooms 17 km of trails; Laurentian Nordic offers 9 km of trails adjacent to the University and downtown; and 40 minutes north of downtown, Onaping Falls' 15 km of nordic trails pass through the snowy boreal forest
Di Gusto and La Fromagerie are two great downtown Sudbury dining options. Visit Twiggs Coffee Roasters or Old Rock Roastery for a cup of locally roasted java
2. Sault Ste. Marie
This mid-sized Northern Ontario city is becoming known as one of Canada's top adventure destinations for good reason. "The Soo" is located a day's drive or short flight from Southern Ontario and many large U.S. cities, yet it's a world apart with rugged  Canadian Shield that's blanketed by metres of perfect snow. Credit the city's proximity to Great Lake Superior for its abundant snowfall and spectacular scenery; meanwhile, Sault Ste. Marie boasts a vibrant urban core with excellent dining and cultural attractions.
3. North Bay
North Bay embraces winter activities, taking advantage of its location on sprawling Lake Nipissing. The city has long been a destination for ice anglers, with outstanding opportunities for walleye fishing on an endless expanse of frozen water. The city also features great adventure sport options, including fantastic cross-country skiing, downhill skiing and winter hiking.
4. Blind River
Like many other Northern Ontario communities, Blind River boasts a vibrant outdoors scene. Blind River's ski trails and hiking trails are maintained by volunteers who welcome do-it-yourself adventurers. This small town is surrounded by plenty of wild spaces, making it an ideal place for those with the skills and experience to explore the outdoors on their own.
Cross-country skiers can enjoy almost 20 km of groomed trails at the Boom Camp, a unique natural space including wetlands, rocky ridges and tall pines, adjacent to Lake Huron and the mouth of the Mississagi River
The Voyageur Trail is open to snowshoers and accessible in various locations north and west of Blind River. A great one-way, 8-km winter hike traces the Mississagi River from an access point on Melwel Road to the village of Iron Bridge, on the Trans Canada Highway.
5. Mattawa
The first thing you'll notice when visiting this town at the confluence of the Mattawa and Ottawa Rivers is the stunning scenery. The steep shores of the river valley, cloaked in sweeping pines, climb towards the sky and create the feeling of being cradled in the mountains. Little wonder that Mattawa is a great destination for winter activities, with some of Ontario's finest downhill skiing and snowshoeing—all located within an easy drive of Ottawa and the GTA.
Book a cabin at the Mattawa River Resort and enjoy a quiet retreat on the Ottawa River, with snowshoeing and cross-country skiing available right from your door
The town of Mattawa also boasts a little-known downhill ski area that's one of Ontario's finest: Antoine Mountain features 630 vertical feet and 15 runs—including the longest alpine ski run in the province at 2.92 km
The Canadian Ecology Centre provides access to the historic Mattawa River and dozens of kilometres of ski and snowshoe trails, as well as cabin rentals
6. Temagami
The small community of Temagami on Highway 11, north of North Bay, is best known for its namesake lake, which is a popular summer destination for paddlers and anglers. In the winter, this expansive body of water is a forgotten treasure, with unique winter camping and other classic Canadian cultural experiences available.
Book a winter weekend getaway with Temagami Outfitting Co. and try winter camping in the frozen wilderness with heated prospector tents, snowshoes and toboggans
Great Spirit Lodge offers four heated cottages for winter use, providing weeklong rentals for families and winter enthusiasts. Try ice fishing or explore the frozen bays of Lake Temagami by ski or snowshoe for a unique perspective of one of Ontario's greatest lakes.
Northland Paradise Lodge offers accommodations and unique experiences such as trapline tours
7. South River
South River is another blip on the map, located between Huntsville and North Bay on Highway 11. But for outdoor enthusiasts, this small community is the western gateway to Algonquin Provincial Park, with many options for winter adventures for families and hard-core outdoor enthusiasts alike.
Voyageur Quest's Algonquin Log Cabin is an off-grid retreat with an impressive stone fireplace—a perfect destination for a weekend getaway for couples or families. Be sure to book early to avoid missing out. The lodge serves homemade meals and offers access to great winter activities like cross-country skiing, dogsledding and snowshoeing.
8. Parry Sound
Parry Sound is an easy getaway from Southern Ontario—yet this community on Georgian Bay is a world apart in the winter. The big water of the 30,000 Islands produces plenty of lake-effect snow and creates a picture-perfect landscape for fat biking, cross-country skiing and snowshoeing. 
9. Thunder Bay
Thunder Bay is known for its vibrant Finnish population and, true to its Scandinavian heritage, comes alive in the winter months. The city is a veritable mecca for cross-country skiing, with three world-class networks of impeccably groomed trails surrounding its perimeter. Yet, Thunder Bay is also large enough to be home to fine dining and great accommodations, making it hard to beat as a winter destination.
10. Wawa
Wawa is certainly better known as a summer destination, when this small town is a popular destination for adventurers and anglers. Located on the Trans-Canada Highway between Sault Ste. Marie and Thunder Bay, Wawa is a great winter getaway if you're willing to get off the beaten track and bring a do-it-yourself sense of adventure.
Stay in town at the Wawa Motor Inn and make the short drive south to Lake Superior Provincial Park, where you can snowshoe on hiking trails in scenic hills for outstanding views of the greatest lake. Be sure you come prepared because this is seriously wild country.
11. Goulais River
The community of Goulais River barely registers as a blip on the map north of Sault Ste. Marie. Yet the area is rapidly becoming a top winter destination for epic cross-country and backcountry skiing.
Stokely Creek Lodge is a Scandinavian-style cross-country ski resort with over 100 km of groomed trails in a wilderness setting, gourmet meals and cozy accommodations
If you're looking for Ontario's best backcountry skiing, check out Bellevue Valley Lodge, which provides family and group rentals of a hillside chalet and guided backcountry ski adventure in rugged, snowy terrain
For a guided snowshoe adventure in the Goulais River area, check out Forest the Canoe or Blaq Bear Eco Adventure Routes
12. Cochrane
Cochrane is the gateway to Ontario's James Bay frontier, providing year-round train access to the remote communities of Moosonee and Moose Factory via the Polar Bear Express. The town has the feel of a northern outpost, yet it's easily accessible via Highway 11.
A train journey to the James Bay coast in winter is the ultimate bucket list item for adventure travellers. You'll experience the vast expanse of Ontario's far north aboard a historic railway. Stay at Moose Factory's Moose-Cree Ecolodge for a unique Indigenous cultural experience.
Cochrane-based Ravens Adventures offers dogsled tours in the boreal forest of Northeastern Ontario
13. Bancroft
Bancroft is your jumping-off point for Silent Lake Provincial Park, which is aptly named for its appeal to winter adventurers. The Park offers tent campsites, yurts and cabins for winter overnight stays. There's no better place to get a taste of winter camping and fall in love with year-round outdoor adventure in Central Ontario.
Silent Lake features over 20 km of cross-country ski trails with options that will appeal to all levels of skiers
The Park's hiking trails also make for great snowshoeing and anglers can try their luck ice fishing for elusive brook trout
14. Tobermory
Tobermory is the gateway to Bruce Peninsula National Park. This spectacular park is popular in the summer months for good reason: the Lake Huron coastline is jaw-dropping and there are plenty of trails to explore. Several options for winter camping make this a great four-season destination.
Bruce Peninsula National Park remains open in the winter, too, with backcountry camping available on a self-registration basis. Camping in the snow is pure solitude; just be sure you're prepared to weather the cold.
Want an easier introduction to winter camping? Cozy yurts are available year-round at MacGregor Point Provincial Park.
15. Elliot Lake
There's more to retirement living in Elliot Lake. This quaint community is off the beaten track and nestled in a wilderness of rugged hills and lakes. Abundant snowfall makes it a mecca for winter adventures.
You won't spend any time waiting in chairlift lines at Elliot Lake's Mount Dufour. The hill features seven runs and 320 feet of vertical drop, minutes from the city centre. Rentals and lessons are available, as well as a licenced fireside lounge.
Elliot Lake also provides 20 km of groomed cross-country ski trails and snowshoeing on numerous in-town trails
Dunlop Lake Lodge offers year-round waterfront accommodations on one of the region's prettiest lakes
16. Timmins
This Northeastern Ontario city has a vibrant winter scene, with one of Ontario's largest cross-country ski clubs taking advantage of the long and cold winters. Timmins embraces its wild side, yet the community is large enough to support plenty of great restaurants and options for year-round accommodations.
The Porcupine Ski Runners maintain over 25 km of ski and snowshoe trails for all levels of winter enthusiasts, minutes from downtown
Enjoy a weekend in Timmins at the Cedar Meadows Resort and Spa, a surprisingly luxe experience in Northern Ontario, with suite and chalet accommodations, gourmet meals, a Nordic spa and a 100-acre wildlife park
17. Temiskaming Shores
The communities of New Liskeard, Haileybury and the Township of Dymond, on Highway 11, are a hub of winter activity. Like other northern towns, Temiskaming Shores takes winter seriously with plenty of options for active outdoor adventures.
18. St. Joseph Island
While it's best known as a summer cottage destination, this large island that's located in the North Channel of Lake Huron, east of Sault Ste. Marie, also holds the distinction of being Ontario's largest producer of maple syrup. St. Joseph Island features several attractions for winter adventure, including groomed cross-country ski trails near the community of Hilton Beach and an outdoor rink in Richards Landing.
Sign up for the Maple Syrup Stampede, a recreational ski loppet held each February in Jocelyn Township near the community of Hilton Beach. This family-friendly event includes a 14-km skate category, along with 7-km and 2-km classic races—all with a casual atmosphere and the lure of great draw prizes.
19. Haliburton
You'll find no shortage of winter activities in this bustling cottage country town in Central Ontario. Haliburton captures the best of the north, including rugged topography and great opportunities for outdoor adventure, yet it's located a short drive from the GTA.
Sir Sam's boasts outstanding downhill skiing, including family-friendly lift tickets and rental rates
Looking for cross-country skiing? Check out 22 km of trails at the Frost Centre. Want to try something truly exciting? Sign up for an ice climbing lesson with Yours Outdoors.
For a quieter outing, go snowshoeing and observe birds and wildlife at the Snowden Park Nature Reserve
20. Kirkland Lake
Kirkland Lake is another Northeastern Ontario community that's more than just a mining town. There's great snowshoeing and cross-country skiing within city limits, with trails radiating from the community centre.
There's a snowshoeing adventure for everyone in Kirkland Lake, with maintained trails and free rentals available at the community centre. For the more adventurous, venture into the snowy backcountry of nearby Esker Lakes Provincial Park.
Cross-country ski trails are also available—both in Kirkland Lake (starting from the community centre) and at Kap-Kig-Iwan Provincial Park
21. Kenora
The famous lakes of Northwestern Ontario cottage country are a fantastic winter destination. The area boasts excellent Nordic skiing and fat biking, with options for ice fishing, too.
Located 45 km north of Kenora, Minaki Yurt Adventures offers four yurts and a tipi for small group rentals year-round. The main attraction for winter guests to this off-the-radar retreat is excellent cross-country skiing, with 20 km of groomed trails. Larger groups can book the 2,800-square-foot Mee-nah-kee yurt, which features a kitchen, several bathrooms and space for up to 11.
The Lake of the Woods Brewing Company is a Kenora staple, with a popular taproom in a reclaimed historic firehall
22. Nipigon
Located just east of Thunder Bay, Nipigon is a small town in the heart of some of the finest scenery on Lake Superior's north shore. Hard-core climbers have long been attracted to Nipigon's perfect combination of cliffs and cold weather, which combine to create Ontario's best ice climbing destination.
Whether you're a beginner or a pro, check out the Nipigon Ice Fest to discover a new adventure sport or test your skills—while admiring the stunning vistas of Northwestern Ontario
Rather stick to flat ground? Check out the Nipigon to Red Rock hiking trail on snowshoes. This 10-km path traces the backwaters of the Nipigon River and climbs flat-topped hills with great views of Lake Superior. Modern snowshoes with traction spikes are advised.
23. Atikokan
Though the community is undoubtedly quieter in the winter months, the Northwestern Ontario town of Atikokan remains the gateway to Quetico Provincial Park in the winter months. Like other small towns, winter outfitting amenities are limited; but if you're skilled and experienced, there's no better place for an epic winter adventure.
Get a taste for winter in Quetico on the 15 km of groomed cross-country ski trails at Dawson Lake Campground
The Cross Quetico Lakes Ski Tour is a popular event for experienced Nordic skiers, held in March
If you're truly up for the challenge, explore Quetico on snowshoes and try backcountry winter camping
24. Huntsville
This trendy near-north town, located barely two hours north of Toronto, is a perfect getaway with access to a variety of winter adventures in Central Ontario. You'll also discover all the amenities you'd expect from a tourist town, including excellent dining and accommodations, but with far fewer crowds in the winter months.
Hidden Valley Highlands is aptly described as Ontario's friendliest ski hill—and it's a great destination for fat biking, ice skating and snowshoeing, too
There's great cross-country skiing at Fen Lake, located just inside the western gate of Algonquin Provincial Park
Just north of Huntsville off of Highway 11, Arrowhead Provincial Park features some of the best cross-country skiing in the province and a magical forested ice skating trail, as well as cabin rentals
25. Hearst
Located about as far as you can drive in Northern Ontario, Hearst is a vibrant Franco-Ontarian community with lots of great winter adventures. Besides excellent skiing and snowshoeing, Hearst is known for its friendly people and authentic poutine. 
The Hearst Cross Country Ski and Snowshoeing Club offers nearly 20 km of groomed cross-country skiing trails and 20 km of snowshoeing trails, accessed from a clubhouse on Lagoon Road. Ski and snowshoe rentals are available.
Nearby Fushimi Lake Provincial Park is also a quiet winter retreat for the more adventurous who might like to set out on a snowshoe trek in untracked powder
Winter is the Best Time to Get Outside
Many people are tempted to save their vacation days for the summer months, and plan a getaway then. Those who do, though, are missing out on incredible experiences and landscapes. This year, dedicate a getaway to winter and find out just what Ontario has to offer