A Beginner's Guide to Camping in Ontario
Here's the lowdown on where to go, how to go, and who to go with.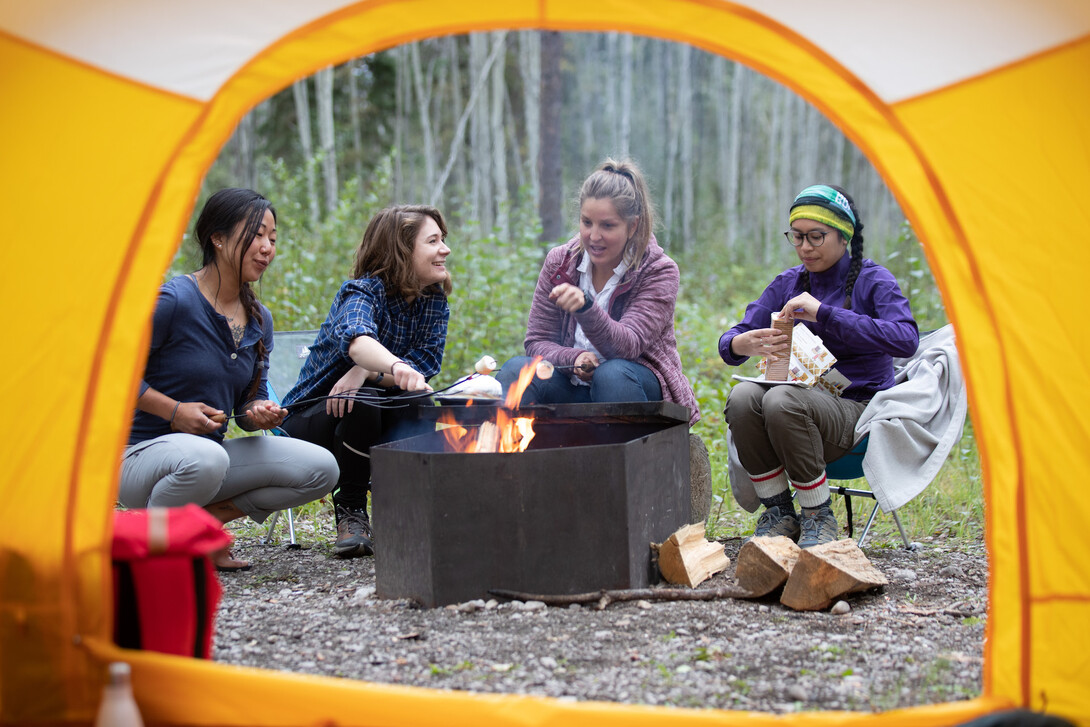 Going on a camping trip proves that old adage that the more you put into something, the more you get out of it. It may not be the easiest way to spend your leisure time, but those who've done it know there's no better way to spend quality time with friends and family than by spending a night (or half a dozen) in the woods. Learn to camp with Ontario Parks or Parks Canada.
Camping gives you time to reconnect with nature, forget the stresses of everyday life, and reset your priorities. If you're prepared, even the worst weather won't affect your time away.
Ontario is full of wild (and not so wild) places to pitch a tent. And whether you're bringing the kids along, seducing a new sweetheart, or just getting away from it all, a good camping trip is beneficial to all involved. If you've never done it before, here are some tips on getting the most out of your first few expeditions.
Try It To See If You Like It 
If you're interested in camping but don't know where to begin, check out these programs. They provide all necessary camping equipment and will teach you the camping basics.   
Wilderness Backcountry Camping Adventures 
If your dream is to camp in the wilderness but you have no experience, we suggest taking a guided outfitted adventure, where you will learn how to camp safely and respectfully. All camping equipment, meals, and a guide will be provided.  
Outdoor guides generally live, breathe, sleep, eat, and dream of the outdoors. Even when they're not working, they're outdoors. So having them show you how it's done is a great way to get started in wilderness backcountry camping.
Reputable adventure companies like Black Feather create amazing river trips and more. Learn to camp and paddle in Algonquin Park with Voyageur Quest or Algonquin Outfitters.
The ultimate guided camping experience might be Outpost Co., a three-day retreat for up to eight people that immerses you in the wilderness near Killarney, but does it with accommodations and a menu that are first-rate.
Of course, if you really want to commit to the lifestyle, why not take an Outward Bound course?
Do-It-Yourself Camping
Start slowly. After taking a Learn-to Camp program, you'll be ready to try "car camping" —camp sites that you can drive to. 
Places like Happy Holiday Campground in Temagami or Wawa RV Resort and Campground have tent sites you can drive to in woodland parks. These types of places often have central washroom facilities, with showers and laundry to boot, and firewood and ice for purchase. It's a head start toward setting up a comfortable base camp from which you can enjoy nearby hikes, swimming spots, beaches, fishing holes, and trails. You could also sample the RV lifestyle by renting an RV. 
Or why not try glamping? Ontario Parks has developed all kinds of ways to do this. Yurts, rustic cabins, cottages, backcountry cabins, or geodesic domes are great ways to sample the camping lifestyle without sacrificing comfort.
As you get more experienced with camping, you may wish to go deeper into the wilderness on backcountry paddling or hiking trips. Doing this type of trip yourself takes lots of planning, special skills, and quality equipment. Pick your Ontario Park, then let local outfitters help you plan your adventure.  
Buying Your Own Gear
How much you spend on camping gear is entirely up to you. You could spend anywhere from a couple hundred to a couple thousand dollars, or you could treasure hunt at garage sales and beg and borrow gear from friends.
If you're ready to commit to gear, a great place to start is MEC—their keen staff members tend to be passionate about camping, so let them know your plans and they'll be able to get you started. There are seven MEC locations in Ontario, and their inventory is well displayed on their website if you don't mind shopping online.
For more localized expertise and equipment, it's always a good idea to check out reputable independent shops like Lake of the Woods Sports Headquarters and The Hardwear Company in Kenora, Wilderness Supply and Gear Up for Outdoors Ltd. In Thunder Bay, Albert's Sports and Workwear in Timmins, and Ramakko's Source for Adventure in Sudbury. Staff here can help you navigate between the must-haves and the frivolous luxury items that will only get in your way out there.
Buying camping equipment can be expensive. You can easily and economically rent quality camping gear from adventure outfitters located near Ontario Parks.
Eat Well
Food always tastes better in the wilderness. You could buy the cheapest hot dogs, have the stalest buns, and no condiments, but if you're in the backcountry you'll think, "Hawt dang, this is one good hot dog!" A happy camper is generally a well-fed camper. Pack lots of food, lots of your favourite snacks, and maybe try picking up a camping cookbook to help you plan meals. Unless you are cooking over an open fire, you'll need a campstove. The ultra-lightweight backcountry stoves pack small and look pretty, but they don't simmer well and can be finicky. If you are feeding a crowd while car camping, opt for the double-burner Coleman stoves you screw a mini-propane tank into. They take some of the excitement out of camp cooking, but also some of the anxiety.
Enjoy the Beauty
The main reason people love camping is to experience and enjoy the beauty of nature. And Ontario has some amazing places to camp. Beautiful spots like Killbear, Killarney, Pukaskwa, Temagami, Algonquin, Sleeping Giant, Georgian Bay Islands, and Bruce Peninsula all offer camping and have jaw dropping backdrops that you just won't find anywhere else on earth. 
Staying Dry
And if you are going to get out there, keep this pro tip in mind. Nothing puts more of a damper on camping than being wet. A wet sleeping bag and clothes can turn a camping trip miserable in a hurry. Thankfully, being prepared will help you avoid trip-ending scenarios. Buy a dry bag, put your sleeping bag in it, and only pull it out when you're sure it won't get wet. Throw an emergency set of clothes in that dry bag too, and you'll feel like nothing in the world can get to you. Use this checklist to make sure you have everything you need.
Happy Camping
Spending time outdoors is one of the best ways to connect with your family and your friends. Camping allows you to fully experience the wonders of nature.   
The first sunset you watch with the crickets calling from the woods behind and a campfire crackling in front of your feet will make you glad that you embraced the camping lifestyle.