25 Destinations That Offer The Best Camping In Ontario
Choose a campsite in Ontario at one of these locations for your next camping adventure.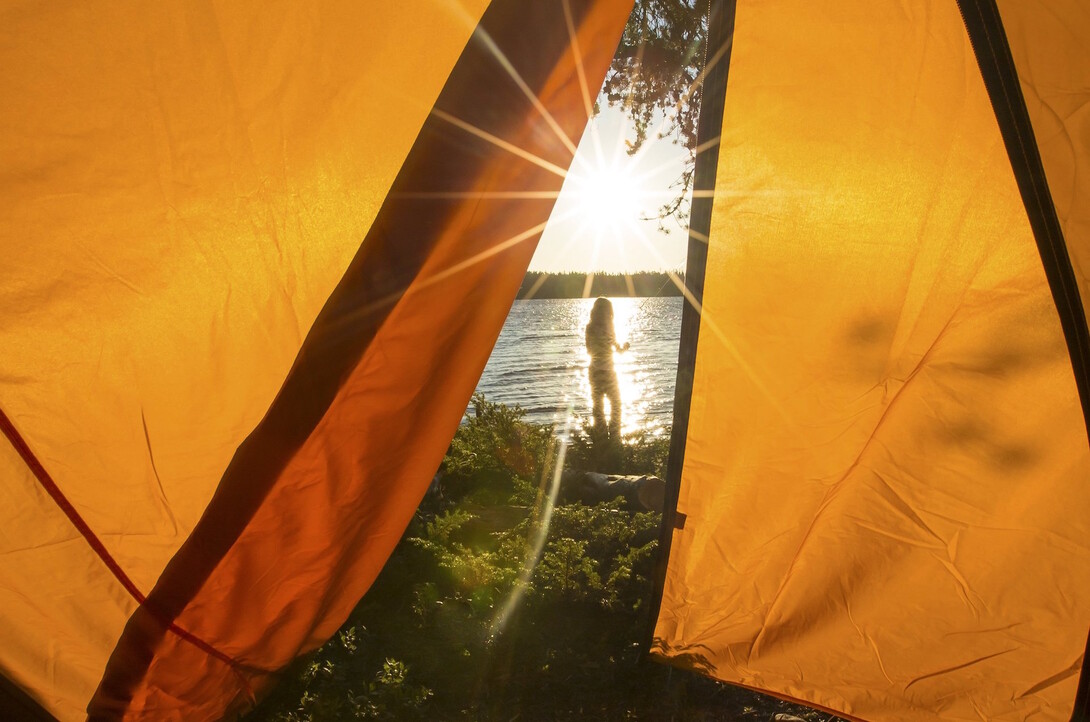 Whether you're looking for family-friendly drive-in campgrounds for tenting, trailers or RVs, or seeking solitude in remote backcountry, Ontario has plenty of great camping options in all regions of the province.
Ontario has a massive network of provincial parks reflecting a diverse and spectacular geography. Ontario Parks provides an online reservation system to allow visitors to view, select and book campsites at many parks. Check out the park locator to plan your next vacation. There are also a handful of national parks with overnight camping options administered by Parks Canada. Private campgrounds are another option, with still more possibilities. Camping Ontario provides a province-wide list of over 400 Ontario campgrounds, and Campground Reviews will give you a sense of what to expect.
With so many options in all corners of the province, compiling an Ontario-wide list of where to camp in Ontario was a challenge. The opportunities are truly endless, and with a bit of exploration you're sure to uncover more gems while discovering the best camping in Ontario.
1. Quetico Provincial Park
Quetico Provincial Park is all about the backcountry. It's one of the world's greatest wilderness canoe destinations, offering some of the best backcountry camping in Ontario, with a myriad of lakes scattered across a vast forested geography. Quetico is a wilderness area without designated campsites; backcountry camping permits are issued on a lake-by-lake permit system, with paddlers responsible for low-impact camping.
2. Neys Provincial Park
Neys Provincial Park features one of the finest beaches on the Great Lakes—a broad swath of sand with glorious Lake Superior views and sunsets. The park includes over 100 campsites with electrical service, water, and pump-out facilities—set well back from the Trans-Canada Highway. Besides beach activities, Neys boasts great hiking trails leading directly from the campground. Fall asleep to the sound of waves lapping on the shore, dreaming of the next day's adventures.
3. Pukaskwa National Park
Secluded campsites, including tent and RV pull-throughs, blend into the spruce and birch forest, making the Hattie Cove campground at Pukaskwa National Park, south of the town of Marathon, feel like the remote backcountry. Hiking trails and great beaches will keep you busy. If you're looking for a remote camping experience and possess wilderness skills, check out the Coastal Hiking Trail or Coastal Paddling Route on Lake Superior.
4. Rainbow Falls Provincial Park
Two great campgrounds lure families and outdoor enthusiasts to Rainbow Falls Provincial Park, on Lake Superior's north shore near the quaint village of Rossport, off the Trans-Canada Highway. The Whitesands campground features almost 100 sites and excellent swimming, as well as hiking trails; the smaller Rossport campground offers amazing sunsets on Lake Superior. Both are suitable for RV, trailer and tent camping, with electrical, water, pump-outs, and full comfort stations.
5. Slate Islands Provincial Park
This remote archipelago is a great destination for advanced sea kayakers. Slate Islands Provincial Park encompasses dozens of wilderness islands off of Lake Superior's north shore. It's all backcountry camping here, though Ontario Parks recently installed a handful of three-sided, insect-proof shelters at popular campsites, to be used on a first-come, first-served basis. The Slates are unique for their rugged geology (including remnants of a meteorite impact) and herd of woodland caribou, an endangered species. Find out more about Naturally Superior Adventures' guided sea kayak trip to the Slate Islands. 
6. Sleeping Giant Provincial Park
Sleeping Giant Provincial Park offers both front- and backcountry camping, with 200 drive-in sites available at Marie Louise Lake—set under the gaze of the park's namesake landform (which is truly gigantic). Sleeping Giant boasts 110 km of great hiking—and the option for newbie backcountry campers to access some spectacular wilderness campsites. Load up your backpack and make the trek to experience backcountry camping on Sleeping Giant's Lake Superior coast at Tee Harbour or Lehtinen Bay.
7. White Lake Provincial Park
The forested campground at White Lake Provincial Park, located just off the Trans-Canada Highway south of Marathon, Ontario, is often overshadowed by more popular campgrounds on the Lake Superior coastline. With 187 campsites, it's a great option if you want a full-service campground with access to outstanding walleye fishing, an expansive beach, and warm-water swimming.
8. Lake Superior Provincial Park
Two drive-in campgrounds in Lake Superior Provincial Park offer distinctly different camping experiences. Agawa Bay is renowned for its surf-swept beach and open Lake Superior horizons. Just out of Wawa, Ontario, the Rabbit Blanket campground is more secluded and intimate, set in the deep green of the boreal forest. Both are accessible off the Trans-Canada Highway. 
9. Missinaibi Provincial Park
Missinaibi Provincial Park is a remote protected area near Chapleau, deep in the wilderness of Northern Ontario. If you're seeking isolation, this is the place! The main road-accessible campground on Missinaibi Lake is popular amongst anglers and boaters; if you love wilderness canoeing, the Missinaibi River is one of Ontario's longest (and most historic) canoe routes, flowing north to James Bay. MHO Adventures offers outfitting and various guided trips on the Missinaibi. The backcountry campsite at Thunder House Falls will stir your soul.
10. Gordon's Park
Manitoulin Island's Gordon's Park is located a 15-minute drive from the ferry landing in South Baymouth, and offers a variety of exciting camping opportunities and a dark sky preserve for unbelievable stargazing. Tent campers will love the large, secluded campsites. Cabins and tipis are also available if you're looking for a glamping experience, or try hammock camping—rentals are available. Unbelievable night skies are Gordon's Park's greatest attraction; the campground also features hiking, cycling, mini-golf, and a swimming pool—perfect for families looking for a rustic camping getaway.
11. Killarney Provincial Park
The George Lake campground at Killarney Provincial Park is more than just a place to spend a night: It's a base camp or starting point for some of the finest outdoor adventure in Ontario. The drive-in campground features full services for tent and RV camping—just make sure you reserve in advance. From the beach on George Lake, pink granite shoreline beckons paddlers into the La Cloche Mountains, where white quartzite contrasts with a verdant forest of pine and oak. There's great day hiking, canoeing, kayaking, and standup paddleboarding directly from the campground, with options to get into Killarney's spectacular backcountry for overnight backpacking and paddling trips. The George Lake campground is open year-round, with six heated and furnished yurts available in all seasons. Nearby Killarney Outfitters offers excellent outfitting services. 
12. Samuel de Champlain Provincial Park
Samuel de Champlain Provincial Park is located on the Mattawa River, just east of North Bay in Northeastern Ontario. It's an outstanding destination for history buffs: The Mattawa River was the orginal highway through the area, serving as a critical transportation corridor for Indigenous people, explorers (including Champlain), and the voyageurs of the Canadian fur trade. Over 200 drive-in campsites are available in two campgrounds. The park features three hiking trails and another hiking trail system with four loops, paddling, cycling, and an interpretive centre. Be sure to visit the Canadian Ecology Centre, which is located within the park, for great nature programs for the entire family.
EXPLORERS' EDGE
13. Algonquin Provincial Park
Algonquin Provincial Park is one of Canada's most famous camping destinations for good reason: it boasts a huge range of outdoor experiences in a spectacular landscape of lakes and forest, a close drive from Toronto and Ottawa. There are eight full-service campgrounds located along Highway 60, including Mew Lake (which remains open through the winter) and Lake of Two Rivers—the park's original campground. With great cycling, hiking, paddling, fishing, nature-viewing and swimming you could easily fill years of vacations. Even more opportunities exist in the backcountry—with some of Ontario's finest canoe routes and backpacking. Just be sure to reserve campsites well in advance.
14. Arrowhead Provincial Park
Muskoka's Arrowhead Provincial Park offers a distinct camping experience in the heart of Ontario's cottage country. The park features three campgrounds as well as roofed accommodations. Hiking and paddling are main attractions; check out Arrowhead's great cross-country ski trails, ice skating path and tubing hill in the winter.
15. Grundy Lake Provincial Park
Grundy Lake Provincial Park includes nine camping areas, servicing tent campers, trailer and RVs with electrical and full amenities, just north of Parry Sound. It's also a great place to discover backcountry camping in the rugged Canadian Shield, with canoe-in sites accessible from the main campground.
16. Killbear Provincial Park
Georgian Bay's iconic 30,000 islands are within easy reach from Killbear Provincial Park, near Parry Sound, Ontario. You'll get an immediate sense of the Bay's polished granite geology and iconic windswept pines at all seven campgrounds (three areas feature electrical sites). Trails for cycling and hiking are available, as well as fantastic beaches. Boater enthusiasts will love the easy access to Georgian Bay. The park also offers winter camping and has a heated comfort station.
BRUCE PENINSULA, SOUTH GEORGIAN BAY AND LAKE SIMCOE
17. Black River Wilderness Park
It's hard to believe peaceful Black River Wilderness Park is just north of Barrie, located near Washago, Ontario. Set on the banks of the Black River, this idyllic campground includes tent sites, RV camping, yurts and tipis beneath tall pines along an island-choked stretch of the Black River. The park offers a unique chance to experience the area's Indigenous heritage, with authentic cultural programming available.
18. Fathom Five National Marine Park
The six backcountry campsites on Flowerpot Island, a chunk of sculpted limestone set in the azure waters of Georgian Bay, off the tip of the Niagara Escarpment, are without question amongst Ontario's best places to pitch a tent for the night. Flowerpot, named for its distinctive rock formations, is the only place to camp in Fathom Five National Marine Park. You'll certainly need a reservation to score a site, and once you're there (boat transportation is necessary), make sure you check out the island's hiking trails and a historic lighthouse.
GREATER TORONTO AREA
19. Glen Rouge Campground
Parks Canada created the world's first national urban park at Toronto's Rouge River. The Glen Rouge Campground, administered by the Toronto Regional Conservation Authority, is the only place to camp in Toronto. The campground includes 125 sites, including 87 with service for RVs and five primitive backpacker sites. A partnership with Parks Canada makes five oTENTik shelters available for a unique camping experience. Learn to camp programs are also available.
SOUTHWEST ONTARIO
20. East Park Campground
Experience Canada's southernmost campsites at East Park Campground on Pelee Island. This small, 22-site campground is designed for tent campers looking to witness the rich biodiversity of the Carolinian forest, play on Lake Erie beaches, and visit one of Canada's finest wineries. It's only accessible by ferry from the mainland, near Leamington.
KAWARTHA AND NORTHUMBERLAND
21. Silent Lake Provincial Park
Silent Lake Provincial Park is a perfect year-round camping retreat north of Peterborough, Ontario. In the summer months, check out the park's rugged mountain bike trails. Full-service campsites are available, as well as "walk-in" sites for a great introduction to wilderness camping, a short distance from your car. For a unique experience, visit Silent Lake in the winter; eight yurts (each sleep six) are available for winter use, with either wood or electric heat. The park also maintains over 40 km of cross-country ski trails.
22. Whispering Springs
Whispering Springs offers "refined Canadiana camping." What's that? How about a luxurious camping retreat in Northumberland County, located between Oshawa and Belleville, featuring historic canvas tents with queen-sized beds, electricity, furnishings, and outdoor cooking areas. Enhance your stay with wellness programs, including yoga and Thai massage. Could there be a better place to plan a wilderness wedding?
OTTAWA AND COUNTRYSIDE
23. Fitzroy Provincial Park
A short drive from Ottawa, Fitzroy Provincial Park is a peaceful retreat with great family camping, including waterfront sites on the Carp and Ottawa rivers. Fitzroy has 200 large campsites, some with electrical service. Attractions include swimming and paddling on the calm waters of the Ottawa River; rental canoes and kayaks are available.
SOUTHEASTERN ONTARIO
24. Sandbanks Provincial Park
Southeastern Ontario's Prince Edward County, south of Belleville, is renowned for its bicycle touring, wineries and dining. Sandbanks Provincial Park is your gateway to the county, with over 500 drive-in campsites and some of Lake Ontario's finest beaches. Sandbanks is also an excellent location for birders, attracting hundreds of different species in the spring and fall migrations.
25. Thousand Islands National Park
Can you count them all? Thousand Islands National Park is located centrally between Toronto and Montreal, with over 60 island campsites in a United Nations Biosphere Reserve. It's a great place to learn to camp: all gear is provided with the equipped camping options. Or reserve a unique oTENTik site for a more glamorous camping experience. This watery park is an outstanding destination for boating and kayak touring, with cruises and guided trips available.
Ontario has plenty of great camping options in all regions of the province. Create memories this year with a fun-filled camping trip to one of these campgrounds in Ontario.