A Guide to Horseback Trail Riding in Ontario
Discover the best horseback riding trails, riding vacations, tours and horseback riding clubs.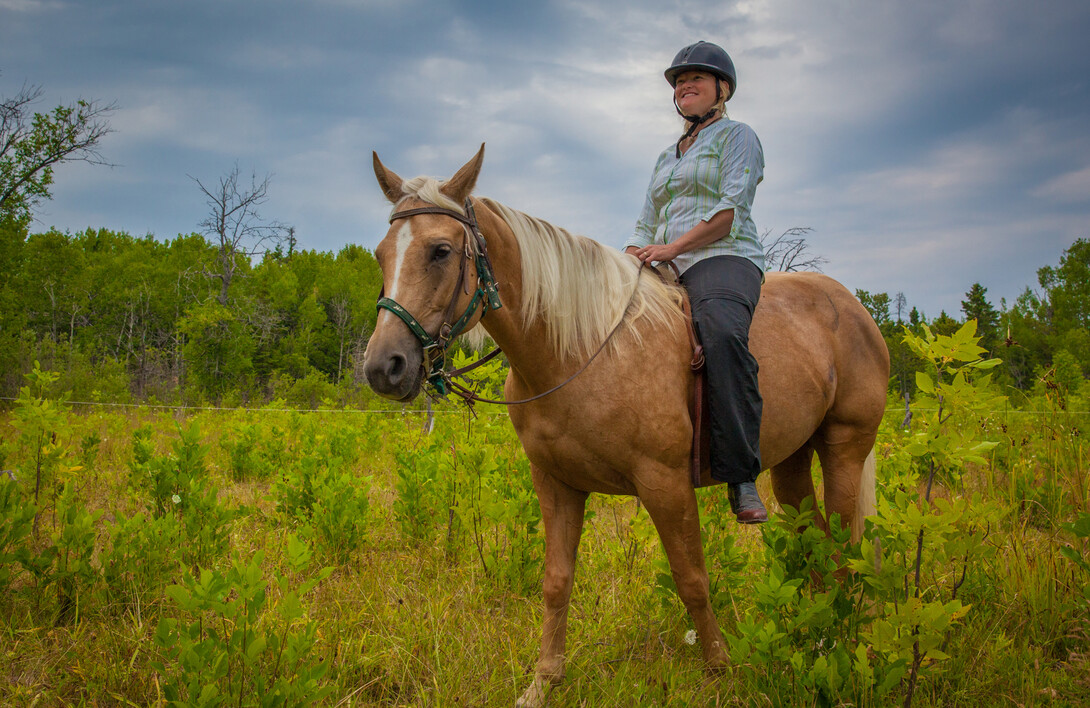 If you want to get in the saddle for a trail ride but don't know where to start, check out our regional listing below for horseback riding tours in Ontario, horseback riding clubs and horseback trail riding in Ontario. 
Horse Trail Riding and Horseback Riding Tours in Ontario
There are lots of so-called "horse people" who are ready and waiting to welcome you to their stables and horse trails in Ontario. You'll get up close and personal with these beautiful animals before setting off on a trail adventure that's just right for your level of experience and ambition.
Whether you are looking for horseback trail riding vacations or guided tours on the best horseback riding trails in Ontario, it's easy to say "Howdy" to horseback riding. 
Whispered Dreams Ranch, Kaministiqua
Explore the beauty of Northwest Ontario on the back of a horse. Located 60 km west of Thunder Bay, Whispered Dreams Ranch offers hourly or overnight horseback trail rides plus destination horseback trail riding vacations and packages. The countless kilometres of trails that are available range from wide logging roads to narrow forest trails and even bushwacking sections. The terrain includes hills, stream crossings, waterfalls, and lookouts. Riding on the quiet horses gives you a good chance of spotting wildlife like deer, wolves, bear, and moose. Rides range from 1.5 hours to three days long.
Honora Riding Stables, Little Current
Honora's guided horseback riding tours take you through some of Manitoulin Island's most stunning scenery aboard a well-trained horse. Whether you wish to take a gentle and relaxing ride through quiet woods or would like a more challenging ride through open fields and narrow pathways, Honora Bay offers the best horseback riding trails for you.
Von Doeler's Ranch, Rutherglen
Just south of the Mattawa River, Von Doeler's Ranch has a full slate of wilderness horseback riding options available. Chose from lengths of one to eight hours, and from terrain that varies from gentle to cliff-like and takes in scenery like the stunning Talon Chutes falls. Backcountry horseback trail riding vacations from one to three nights are the real deal.
Clear Lake Farm, Magnetawan
Trail rides on Icelandic horses are available for guests staying at the Magnetawan Cottage or for small groups (maximum of four people).
Horse Tales N Trails, Magnetawan
Horse Tales N Trails Equine Play Park is for riders with their own horse. It's a great place to go to enjoy bush and field trails or natural obstacles like jumps. Choose from a grass riding area, sand ring, and mountain trail course, plus an indoor training barn. Explore the 33-hectare property on your own or with a guide.
Stewart Coughlin Riding Ranch, South River
Since 1960, the Stewart Coughlin operation has been introducing people to the Amalguin Highlands by way of beautiful Arabian horses. The horseback trail riding involves basic instruction and walking and trotting on some of the best horseback riding trails in Ontario. 
Winding Fences Farm, Utterson
Winding Fences Farm offers uni​que horseback trail riding vacations and packages that start out with a quick lesson on positioning and working with your horse to move forward, stop, and turn.  You'll then head out for a ride through the ranch's pastures, forest trails, and quiet country roads. The guides will be happy to continue teaching along the trail. Custom packages can be designed to meet experience levels.
The Wild Life, Haliburton
Horseback riding tours run hourly throughout the year, weekends and holidays. Rides commence at 10 am and the last ride leaves the yard at 3 pm. Special arrangements can be made if more trail time is desired. The half-hour rides are a big hit with small kids.
Rawhide Adventures, Mulmur
Rawhide Adventures is a working horse and cattle ranch located in the high hills of Mulmur, Ontario. Since 1996, they have been providing private horseback riding adventures with just your group and the guides. There are different ride lengths and difficulty levels available, plus an overnight option. Riders with their own horses are welcome.
On the Forest, Newmarket
On the Forest will cater to all aspiring equestrians, be they interested in English or western riding, are advanced or beginners, want trail riding or horseback nature tours on scenic trails through a nature preserve. It's open all year, a short drive from Toronto. Riders must be a minimum age of 10.
Pathways on Pleasure Valley, Uxbridge
Pathways On Pleasure Valley is about 45 minutes northeast of Toronto, making it an easy escape from the city. Rides take place on 90 hectares of scenic and tranquil forest trails. It's a great getaway for those seeking a peaceful and serene environment.
Trickle Creek Farms, Millbrook – Ganaraska
Trickle Creek Farms is a great place to enjoy some of the most scenic trail riding in Ontario, adjacent to the beautiful Ganaraska Forest. This is an ideal family outing that proceeds at a leisurely pace for everyone's comfort. Knowledgeable and experienced guides keep you safe and happy.
Carousel Canada, Trenton
Carousel Canada runs rides on trails of different difficulty through 485 hectares of terrain with beautifully manicured private trails. The terrain includes steep hills, natural jumps, creeks, and quiet forests. Bring your own horse or arrange for a rental. You can opt for a guided or self-guided ride.
Mountain View Stables, Collingwood
Mountain View Stables offers hour-long horseback trail rides led by a knowledgeable guide. The trails travel through meadows, forested areas, and across streams with beautiful views of the Niagara escarpment. The ride can be tailored to suit the ability of the riders. Experienced riders can opt for a two-hour ride on more challenging terrain (not available during the winter).
Windsong Horse & Carriage Ranch, Meaford
The Windsong Ranch trails are a beautiful mix of hardwood and softwood forests, hills, streams, fields, and quiet roads with views of the Queen Valley. One-and two-hour rides are offered. Groups of five or more can book a custom length.
Fallbrook Trail Ranch, Georgetown
Fallbrook Trail Ranch offers rides through wooded trails and lessons with trained and experienced staff. It's a great place for a family gathering in a rustic ranch setting with food prepared and served from their kitchen. All levels welcome, 364 days a year.
The Ranch, Oakville
The Ranch offers year-round rides on safe and stalwart horses for beginner-to-expert riders through the scenic escarpment country. It's been running since 1980 on a relaxed farm in Oakville with friendly staff. The unique Twilight Ride is open to groups of 10-20 people.
Horseplay Niagara, Port Colborne
Great for first-timers or the more experienced, Horseplay Niagara offers a range of settings for their trail rides, including beach, lakeside, and Trans-Canada trail sections. Options include sunset trail rides and romance packages and one- or two-hour rides.
Niagara Riding Stables, St. Catharines
Hop on a trail ride along the Niagara Escarpment in the heart of wine country. Operating since 1961, this is Niagara's longest-running trail-riding establishment. There are horses available for all levels, so no experience is necessary (minimum age is 10). Open all season, with reservations recommended.
Horseback Adventures, Waterloo
Riders older than 11 years can choose from a one-, two-, or four-hour ride. The longer ride goes to St. Jacobs but all are undertaken at walking speed, so they make a great introduction to horseback riding.
TJ Stables, Chatham
TJ Stables is open for trail rides from spring through fall, with the indoor arena always available no matter the month or weather. The hour-long, guided trail rides travel through seven hectares of scenic woodland. Riders must be eight years of age and older. At least two riders are needed to book a ride, unless you want to join a pre-existing ride.
Horseshoe J Dude Ranch, Saint Thomas
The Horseshoe J Dude Ranch offers hour-long trail rides from May until November, by reservation only.  All of the rides are guided and travel through scenic woods and a valley. Children younger than eight years old and first-time riders are steered toward a shorter ride option, which includes a guide walking along beside the horse for assistance.
Texas Longhorn Ranch, Strathroy
From May to December, rides follow the scenic Sydenham River, just west of London. The western quarter horses will take you up hills, across creeks, and through cattle herds, depending on which trail you ride. There's always a chance to see deer and other wildlife. Rides are one and 1.5 hours and the minimum age is 10 years old.
All About Horses, Thedford
All About Horses is true to its name. It offers trail rides, but also beginner lessons for aspiring riders as young as five years old, or more experienced riders who want to try dressage and jumping.
Cherry Grove Stables, Thorndale
Cherry Grove Stables is home to a private horseback trail that encircles the idyllic setting for easily accessible trail rides.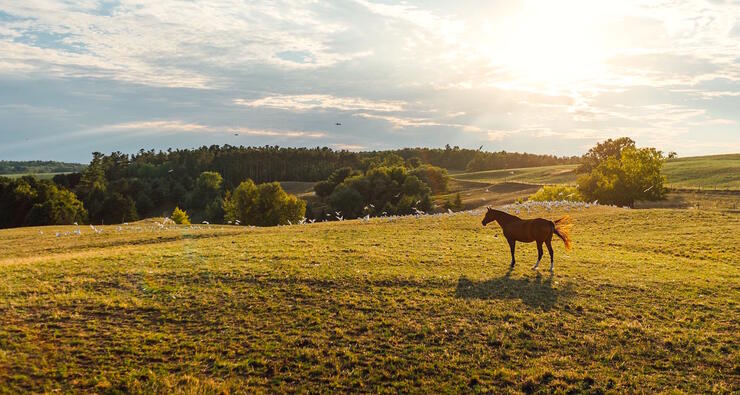 horseback riding Clubs
If you like what you've experienced during horseback trail riding in Ontario and want to start doing it on a regular basis, and maybe even compete in shows, check out what membership offers at these horseback riding clubs.
Ontario Trail Riders Association
The OTRA is a non-profit organization founded in 1970. Its mission is to promote the creation, development, preservation, and safe use of horse trails in Ontario. It schedules group rides throughout Ontario from May to October.
Wellington-Waterloo Hunt Club
The Wellington-Waterloo Hunt Club is a small, friendly group of enthusiasts who enjoy the camaraderie and sport of riding to hounds. Guests and young riders are always welcome. The aim of the hunts is not to kill a fox, but to follow the hounds as they chase scent that has been intentionally dragged before the hunt. Hunts take place on Wednesdays and Sundays during two separate seasons. The spring season runs mid-April through the last Sunday in May, and the fall season runs mid-to-late August and continues until the end of November.
Caledon Riding Club
This private horseback riding club has a grass ring, sand ring, 40 hectares of trails, and cross-country jumps. It's home to a pony club, educational programs, and regular competitions for its members.
Chelsey Saddle Club, near Owen Sound
The Chelsey Saddle Club has been a social collection of horse lovers since 1971. Through its history it has been involved in horse shows and clinics, and has shown a strength and growth in its horse trail riding activities. It organizes about two rides a month for its members during the warmer seasons.
The Ontario Competitive Trail Riding Association
OCTRA is the provincial sanctioning body for the equestrian sports of Endurance Riding, Limited Distance, Set Speed, Competitive Trail Rides and Ride n' Tie. Their riding competitions are held throughout Ontario with between 10 to 15 events per season. OCTRA also sanctions Introductory or Beyond the Basics Clinics along with training rides every season.
What to Wear Horseback Trail Riding 
Dressing to go horseback trail riding in Ontario doesn't have to be expensive, and suitable clothing is easy to find.
Horses are incredibly powerful and at times unpredictable. They can startle easily which may result in you falling off. It is highly recommended that you wear a good quality helmet that fits you properly and is made for horseback riding. Most horseback trail riding tours in Ontario offer helmets for use. In Ontario, it is legislatively mandated for minors to wear a helmet.
If you are going out on horse trails in Ontario, you might consider wearing bright colours for visibility. Many riders like to dress in layers (a t-shirt and long sleeve shirt). When the weather gets cooler, adding a vest will keep you warm without restricting your arms and shoulders.
The most comfortable pants to wear are two-way stretch tights. Riding tights can be bought with leather knee and seat patches. You can also wear jeans or sweatpants. Avoid pants that twist or bunch up along the inside of your legs and knees.
It is a good idea to wear boots with a 1 to 1 ½ inch heel and low tread. You want to make sure your boots won't get caught in the stirrup. 
EXPLORE ONTARIO ON HORSEBACK
Settling into the saddle for a day of horseback trail riding in Ontario is as easy as visiting a stable near you for some horsing around of the best kind. Horseback trail riding vacations and horseback riding tours in Ontario are a great way to explore the different regions of the province.