7 Enchanting Places to Paddle on Lake Superior
Discover crystal-clear waters, beautiful beaches and off-the-beaten-path parks.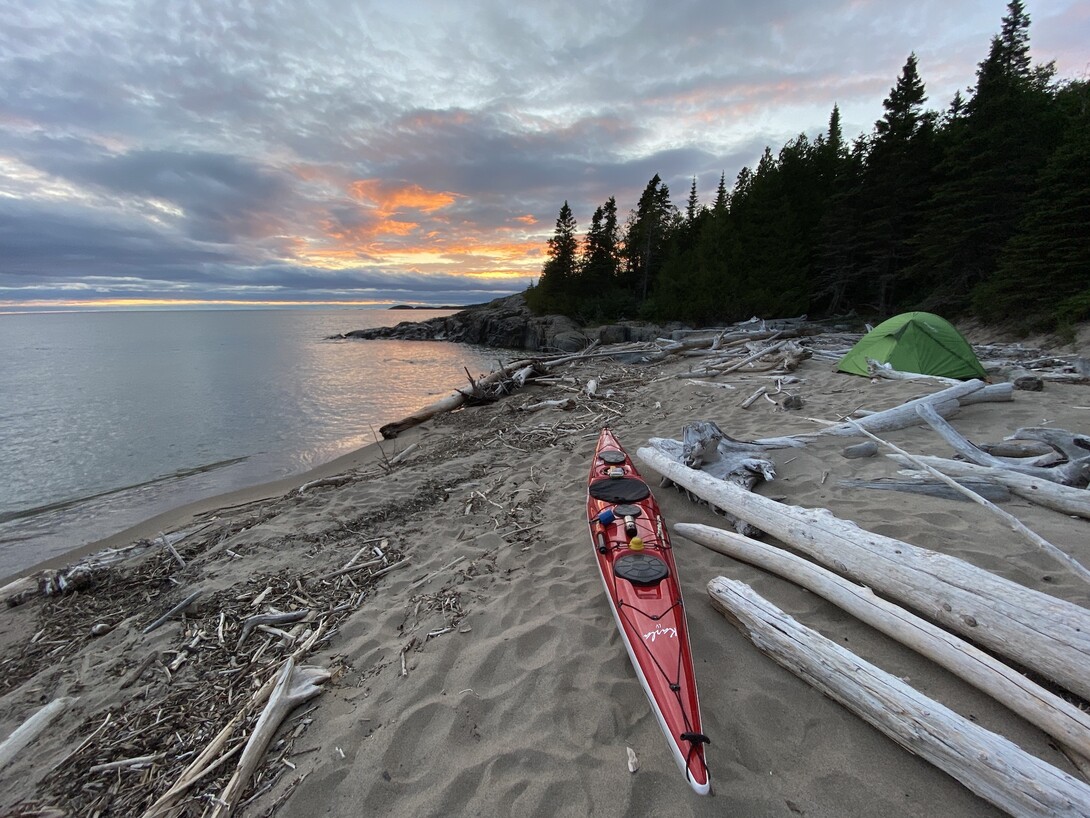 It's in the name. Lake Superior. The greatest of the Great Lakes is a paddling destination unlike any other. Superior is the world's largest lake by area, containing 10 percent of the planet's surface freshwater. Its Canadian coastline, sprawling some 750 km across Northern Ontario, is also one of the least developed freshwater coasts you'll find anywhere on Earth. Even better, the Lake Superior region's experienced outfitters and established paddling routes make it simple for kayakers and canoeists to plan the trip of a lifetime.
We highly recommend booking a guided trip to enjoy these routes safely. Lake Superior remains cold all summer, and wind and waves can develop quickly, making travel impossible. Guided trips are also a great way to make a meaningful connection with the area by learning more about Lake Superior's fascinating natural and cultural history.
Lake Superior Provincial Park
This easily accessible provincial park offers a spectacular microcosm of Lake Superior's grandeur, with white-sand beaches, emerald waters, mossy forests, and ancient Indigenous pictographs rewarding adventurous paddlers. Lake Superior Provincial Park offers some of the most varied shoreline geology you'll find anywhere, ranging from fine-sand beaches to technicolor cobbles and dramatic, pink granite cliffs.
Kayakers and experienced open-water canoeists can enjoy short tours from numerous access points along Trans-Canada Highway, or embark on a multi-day trip exploring the Park's 105-km coastline end-to-end.
Book a Guided Sea Kayak Trip with Naturally Superior Adventures; their all-inclusive Spirit of Superior Weekly Escape offers five days of wilderness camping and paddling.
Reserve a Campsite at Lake Superior Provincial Park's Agawa Bay or Rabbit Blanket Lake campgrounds. Both camping areas accommodate vehicles, tents, and RVs, with beachfront sites available.
Don't Miss taking a hike on one of the park's 11 trails, ranging from easy one-hour wetland rambles to demanding all-day tours that visit cascading falls and breathtaking lookouts.
Rossport Islands
This scenic archipelago of islands lies just offshore from the quaint community of Rossport and offers kayakers and canoeists a friendly glimpse of Lake Superior's north shore. Novices can enjoy a day trip among the sheltered passages of the inner islands, while more experienced paddlers can venture on overnight trips to the outer islands. Highlights include nearly guaranteed bald eagle sightings, peaceful backcountry campsites, and the historic lighthouse at Battle Island.
Pukaskwa National Park
Stunning scenery and sheer isolation put the wilderness coastline of Pukaskwa National Park at the top of many sea kayakers' bucket lists. The park's pristine 90-km coastline offers experienced paddlers an unforgettable string of sublime campsites on sand and cobble beaches overlooking aquamarine waters. Add in cascading rivers with paddle-to waterfalls and the potential to see wildlife such as moose, black bears, and bald eagles, and it's little wonder this is Superior's premier sea kayaking destination.
Many paddlers choose to combine this route with the adjoining Superior Highlands Conservation Reserve to make a 190-km, 10- to 14-day sea kayak expedition. Boat transfers are also available to the remote south end of Pukaskwa National Park for paddlers with less time.
Slate Islands
The Slate Islands archipelago offers paddlers a sheltered oasis in the heart of the mighty lake. Lying more than 10 km offshore from the town of Terrace Bay, this compact cluster of islands is renowned for its bizarre geology, superb lake trout fishing (in June and July) and one of the most southerly populations of woodland caribou found anywhere.
Thought to have formed some 450 million years ago from a massive meteorite impact, the islands' circular arrangement creates a protected inner harbour with peaceful backcountry camping. When the lake is calm, adventurous paddlers can venture around the exposed south coast of Patterson Island to view fascinating rock formations, remote beaches and a spectacularly situated lighthouse. Boat shuttles make the Slate Islands surprisingly accessible from Terrace Bay.
Denison Falls
Few Lake Superior paddling routes can rival the journey to Denison Falls for beauty, solitude, and accessibility. This four- to five-day trip includes a mixture of stunning sand beaches and rocky headlands along a wonderful wilderness coastline, with many landing options making it suitable for open canoeists and novice kayakers alike. The highlight of the trip is standing in a cloud of mist emanating from jaw-dropping Denison Falls, a 100-foot cataract hidden at the end of a two-hour hike inland.
Lake Superior National Marine Conservation Area
The world's largest freshwater marine park stretches for 125 km between Lake Superior's iconic Sleeping Giant and the sleepy village of Rossport, containing hundreds of wilderness islands and a lifetime of exploration for intrepid paddlers. This island-to-island route offers challenging open water crossings and a varied coastline of craggy cliffs and inviting cobble beaches. Highlights include visits to historic lighthouses, remote agate beaches and a smattering of rustic saunas tucked in the Boreal forest, a testament to the Finnish heritage of this region.
Michipicoten Bay
Many first-time Lake Superior paddlers have dipped their toes in the waters at the mouth of the Michipicoten River, home to the region's premier paddling centre, Naturally Superior Adventures. When the lake is calm, novice paddlers can enjoy a rewarding day trip to beautiful Driftwood and Sandy beaches, or venture up the Michipicoten River to view thundering waterfalls when Superior is too rough to paddle.
Book a Guided Day Tour with Naturally Superior Adventures; canoe and kayak tours include basic instruction and packed lunch.
Rent Kayaks, Canoes & SUPs from Naturally Superior Adventures; lessons are also available.
Reserve an Overnight Stay at Rock Island Lodge; choose from cozy lakeside rooms, beachfront glamping in a unique geodesic dome, or peaceful beach camping.
Discover world-class kayaking and canoeing on Lake Superior
You don't need to travel to the ocean to find outstanding sea kayaking and canoeing. Lake Superior is truly an inland sea with endless vistas of sparkling waters, remote wilderness coastlines, and diverse route possibilities to challenge paddlers of all abilities. Whether you are seeking to escape for a day, a week, or even longer, Lake Superior's friendly paddling experts can help you plan the perfect trip.