Winter Bucket List
Experience the awesomeness of snow with these can't-miss outdoor adventures.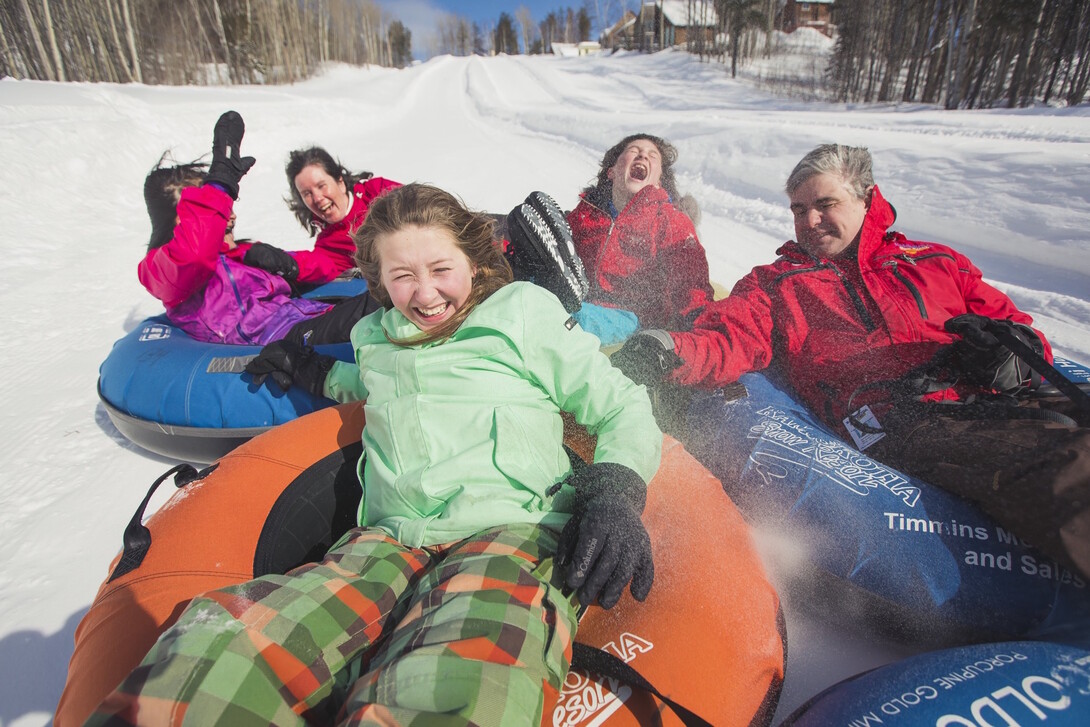 When the powder piles up and ice accumulates on the lakes, it's time to check out the endless selection of fun winter activities Ontario has to offer. We have a bucket list adventure for every winter weekend—plus a few bonus ideas to keep you busy in between!
Fun Winter activities in Ontario
Ski-shoe the backcountry
If you haven't tried ski-shoeing (back country skiing) yet, you're missing out on a seriously fun winter sport. Combining the go-anywhere, off-trail exploration of snowshoes with the sliding efficiency and downhill thrills of skis, these short and stable hybrids offer the best of both worlds! Also known as Altai or Hok skis, today's easy-to-use equipment is based on an ancient mode of winter mountain travel.
Rent equipment and explore 120 acres of Muskoka forest on a self-guided or guided ski-shoeing adventure with Liv Outside in Bracebridge.
For the ultimate backcountry ski-shoeing playground, head to the powder-filled hardwood hills of Algoma. Stay at Bellevue Valley Lodge and make turns on over 2,000 acres and 700 vertical feet of tree skiing—right out the back door.
Freewheel the forest on a fat bike
Fat biking is one of the best things to do in Ontario in winter. The oversized tires on these beefy bikes turn just about any snowy trail into a cycling paradise. With long winters and abundant snowfall, it is no surprise Northern Ontario offers so many fantastic fat biking venues.
In the Sudbury area, rent bikes and ride the trails at Kivi Park and Walden Cross Country's Trail Centre.
Around Sault Ste. Marie, don't miss the 20 km of groomed fat bike trails at Crimson Ridge. Then head to Hiawatha Highlands' Crystal Creek trail system.
Near Thunder Bay, share the 50-km cross-country ski trail network at spectacular Sleeping Giant Provincial Park.
Ski a cross-country loppet
If you are wondering what to do in Ontario in the winter to keep active and healthy, cross-country skiing is the perfect answer. It combines fitness, adventure, and serene snowy splendor. This year, take your skis a stride or two further with a fun and festive Nordic tradition—the ski loppet. Equal parts skiing and being merry, these social gatherings are a great way to get to know a new Nordic ski centre or club. Even better, there are dozens to choose from across Ontario.
In January, Algoma skiers can feast on treats and trails at Stokely Creek Lodge's Chocolate Express or Hiawatha Highlands' Snowfest.
Come February, head to Northeastern Ontario for North Bay Nordic's Blue Sky Loppet and the 40th annual PSR Loppet hosted by Timmins' Porcupine Ski Runners.
Loppet season wraps up in March with the acclaimed Sleeping Giant Loppet near Thunder Bay, featuring distance challenges from 8 to 50 km, and the Temiskaming Loppet in Temiskaming Shores.
Winter horseback riding
Imagine ambling through the frosty forest, listening to the soft crunch of snow under hooves and feeling the steamy breath of your mount. A winter trail ride has a special magic that anyone who loves horses needs to experience.
Halfway between North Bay and Mattawa, the family-run Von Doeler's Ranch is open daily for winter riding with miles of gorgeous forest and river trails, four-season lessons, well-mannered horses suitable for all levels, and lakeside cabin stay-and-ride packages.
Climb a frozen waterfall
For an unforgettable adrenaline rush, join a guided ice climbing adventure. Learn to swing ice axes and kick crampons (spiked harnesses worn over boots) to ascend a vertical curtain of ice, then savour the view from the top before rappelling gently back to terra firma. It's one of the most fun things to do in Ontario in the winter.
Northwestern Ontario boasts some of the best ice climbing in the world. From Thunder Bay and Red Rock to Nipigon and Orient Bay, dozens of routes reach heights of up to 300 feet. Join Outdoor Skills and Thrills for half- and full-day beginner ice climbing adventures.
In Algoma, Superior Exploration delivers guided multi-pitch climbs and instruction for every level of climber around Searchmont and Batchawana Bay.
In Muskoka, Liv Outside offers ice climbing packages for all skill levels, including introductory climbs on 70–100 feet of natural chandelier ice.
Snowshoe to ice caves
The Lake Superior shoreline is an incredible place to witness ice caves. When temperatures plummet, the splashing waves of early winter storms transform rock shelves and cliffs into ethereal caverns of aqua-blue ice. Strap on a pair of snowshoes to explore the shoreline along ice cave hotspots like Michipicoten Bay (near Wawa), Lake Superior Provincial Park, and Gros Cap headland near Sault Ste. Marie.
Drive your own dog sled
Feel the pull of your dog team as your sled slides down narrow forest trails between columns of snowy evergreens and across wide-open expanses of frozen lake. Learn to mush, or just sit back and enjoy the ride—Ontario's friendly and professional dog sledding outfitters move you through some of Canada's most beautiful winter landscapes on journeys lasting from an hour to a several days.
In Northwestern Ontario, Borealis Dogsled Tours ventures into pristine wilderness on day trips or multi-day adventures where guests sleep along the trail in heated wall tents and a cozy log cabin.
Near the town of Cochrane, Ravens Adventures Dogsled Tours specializes in personalized trips through the Northeastern Ontario forest.
Dogsledding is one of the best winter activities Ontario has to offer. Find more dog sledding outfitters across Ontario here.
See the Northern Lights
Increase your chances of witnessing this magical natural phenomenon by heading north to an area with little or no light pollution. Aurora Borealis appear when solar particles interact with the earth's atmosphere, and peak on a cycle that coincides with solar activity. Fall and winter offer the best displays of these dancing green, white, and pinkish-red lights—find a frozen Northern lake on a clear night (the lights are most active between 11 pm and 2 am), and look up.
Ontario's eight Dark-Sky Preserves, designated by the Royal Astronomical Society of Canada, guarantee the darkest skies for aurora gazing. In Muskoka, snowshoe the trails at Torrance Barrens, the province's very first preserve. In Northern Ontario, Killarney Provincial Park and Lake Superior Provincial Park were awarded Dark-Sky status in 2018.
Summit a mountain (yes, in Ontario!)
Winter is the perfect season for peak bagging in Northern Ontario. Summit elevations are modest (by mountain standards), making for shorter hiking times and more minutes enjoying the panoramic views from the top. Strap on your snowshoes to reach these unforgettable high points.
Killarney's La Cloche Mountains dazzle with white limestone cliffs set amidst brilliant snows. Stay at a heated yurt or cabin in Killarney Provincial Park, and allow a full day for the round trip up (and down) the tumbled boulders of "the Crack" to stunning vistas atop Killarney Ridge.
Algoma region spoils summit seekers—loads of great peaks rise within an hour's drive of Sault Ste. Marie. Touch the sky atop King Mountain, your reward for the strenuous 13-km trek from Stokely Creek Lodge. Nearby, an easy 5-km loop in the Algoma Highlands Conservancy tops out on the Robertson Cliffs for jaw-dropping Lake Superior views.
Get cozy with winter "camping"
Extend your winter adventure with a warm and cozy sleep in an Ontario Parks heated yurt or camp cabin. Four of our favourite northern parks for overnight stays when the snow is falling are Killarney (yurts and cabins), Windy Lake (yurts), Sleeping Giant (cabins), and Quetico (cabins). Groomed cross-country ski trails and sublime snowshoeing and stargazing at all four parks ensure your weekend is action-packed. Or experience traditional winter camping with Lure of the North. Learn more about winter camping.
Skate an icy lake
Skating natural ice comes down to timing. Hopeful lake skaters need the ice to be a safe thickness (minimum 4 inches of black ice), but free from any more than a dusting of the fluffiest snow. Fortunately, with thousands of frozen lakes and ponds to choose from, Ontario has some of the best potential for lake skating anywhere. Discover the top 5 skating trails in Ontario. Ideal times to catch the ice at its best are just after a mid- or late-winter warm spell, when surface puddles re-freeze into glassy goodness.
Missed your window? No worries—lace up at Sudbury's Ramsey Lake Skating Path, a 1.5-km swath of well-maintained ice winding along the shore near Science North.
Catch a classic Canadian winter festival
The winter carnival tradition is as Canadian as canoes and maple syrup. Muskoka's Bracebridge Fire and Ice Festival, in January, is best known for a spectacular fireworks display and the legendary downtown tube run—when the steep main street is piled with snow and converted into a tobogganing hill.
Get your stick on the ice at Sudbury's Pond Hockey Festival on the Rock—late January/early February, complete with fireworks and hot air balloon rides.
In early February,  the Cochrane Winter Carnival is an 11-day extravaganza featuring a torchlight parade, fireworks, polar bear dip, ice sculpting, curling, hockey tournaments, snowmobile races, and a demolition derby!
Downhill ski & snowboard thrills
Combine rugged topography with heaps of lake effect snowfall from weather systems blowing in over Lake Superior and Lake Huron, and Northern Ontario offers some of the best skiing and boarding in the Midwest.
Near Thunder Bay, two unique and wonderful ski areas serve up something for everyone. Nestled in the Nor'wester Mountains, Loch Lomond features two hills, glade skiing, and load of updates in recent years. North of town, Mount Baldy is a friendly family hill with great Lake Superior views from the Lookout. Both offer weekend night skiing.
In Algoma, the crème de la crème of alpine ski areas is Searchmont Resort, with 700 feet vertical, 132 inches annual snowfall, 22 runs, a terrain park, and weekend night skiing.
The family ski hill is a staple of communities in Northeastern Ontario. In Timmins, Kamiskotia Snow Resort boasts the most black diamond runs and 400 feet vertical. Near Mattawa, Antoine Mountain is an undiscovered gem with 630 feet vertical, stunning views of the Ottawa River valley, and Ontario's longest run (2.9 km). In North Bay, Laurentian Ski Hill features 350 feet vertical, while Big Nickel skiers enjoy Adanac Ski Hill in Sudbury.
Best Winter Activities in Ontario 
Make this your best winter ever by adding these 13 winter outdoor activities Ontario provides to your bucket list. Soon you'll be wishing that everyday is a snow day.