9 Enchanting Blue-Water Lakes in Ontario
Cool, clear and clean waters await.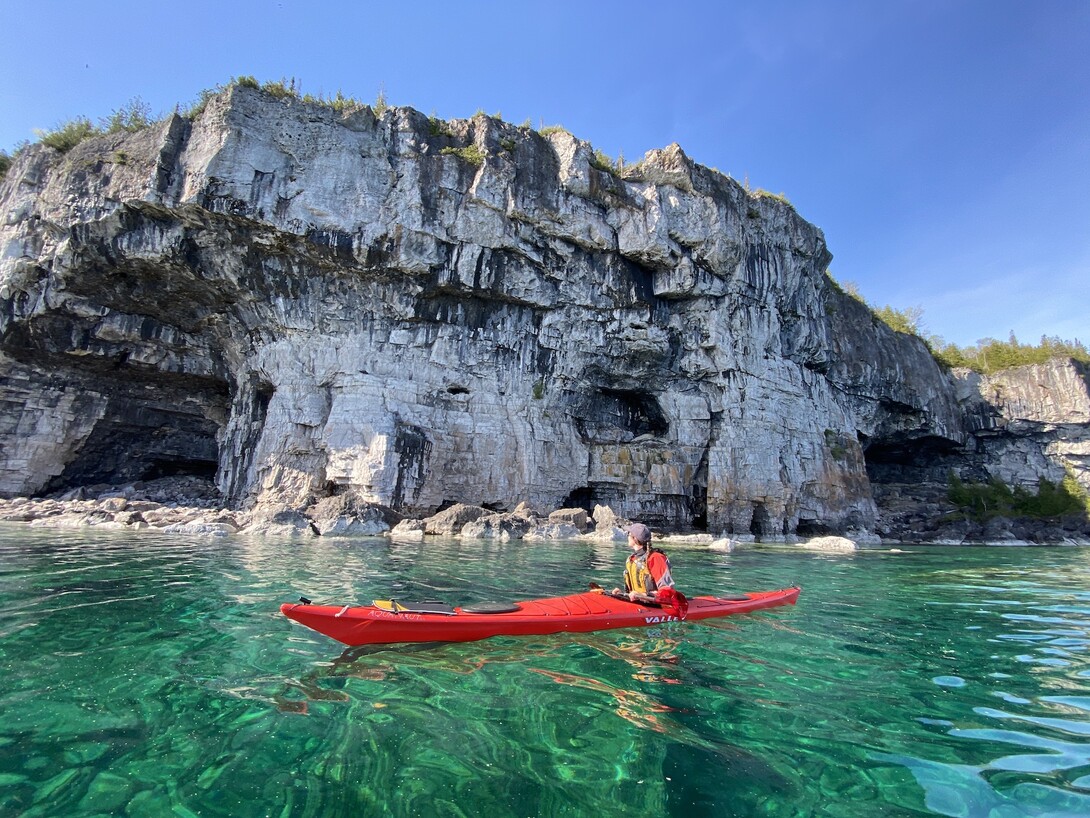 You don't have to travel to glacial Rocky Mountain lakes or exotic seaside beaches to paddle in mesmerizing blue waters. There is a summer's worth of incredible, crystal-clear lakes to explore right here in Ontario. From the famed sapphire lakes of Killarney Park to seldom-seen blue water gems hidden deep in the backcountry. Cool, clean water and low concentrations of algae and other substances make these some of the most beautiful lakes in the province. Start with this list—then see how many more you can discover for yourself!
Blue Lake Provincial Park
With its sparkling blue waters and fine sandy beaches, Blue Lake brings tropical vibes to Northwestern Ontario. Located near the town of Vermilion Bay, the park protects a slice of beautiful boreal landscape, including mossy spruce forests, outcrops of glacially sculpted bedrock, and wetlands rich with insect-eating plants. But gaze into the clear, azure waters of Blue Lake with the sand in your toes and hot summer sun on your shoulders, and you may find yourself transported from the Canadian Shield to the Caribbean.
Rent canoes, kayaks or stand up paddleboards from the park store at Blue Lake Provincial Park.
The provincial park campground offers 203 sites for tent and RV camping, as well as eight sites equipped with travel trailers (complete with dinette, cook stove, fridge/freezer, heater, shower and sinks with potable water).
Portages connect Blue Lake with surrounding lakes, creating a five- to seven-day canoe loop beginning in the park.
Stay in a waterfront cabin at Blue Lake Resort and enjoy easy access to the adjacent provincial park.
Georgian Bay, Lake Huron
Nowhere do the clear waters of Georgian Bay shine a dreamier blue than beneath the rugged limestone cliffs of Bruce Peninsula National Park. With its mystical cave pool and turquoise waters, the Grotto—easily accessible by trail from the park's Cyprus Lake campground—is one of the most popular blue-water swimming holes in the province. Escape the crowds by launching at Dunks Bay and paddling east to Driftwood Cove. Cobble beaches invite secluded dips, dolomite sea stacks cling to the cliffs, and on a calm day paddling across the transparent waters gives the sensation of flying.
The village of Tobermory, on the tip of the Bruce Peninsula, is the gateway to Fathom Five National Marine Park, a popular destination for snorkelling and scuba diving. Sharing the same striking geology and tropic-blue waters as its neighbouring provincial park, Fathom Five is also the resting place of nearly two-dozen shipwrecks. Starting from the public launch in town, paddle over the two most accessible, found in five to seven metres of water in Big Tub Harbour. Experienced kayakers can make the four-km crossing to Flowerpot Island, where you can camp and see natural "flowerpot" rock pillars, caves and a historic light station. 
Outer Vision Adventure Tours provides kayak and canoe rentals with delivery anywhere on the Bruce Peninsula.
To reach Flowerpot Island by glass-bottom tour boat, book a return trip with Blue Heron Cruises or Bruce Anchor Cruises. Both outfits also offer convenient and comfortable motel or cottage accommodations.
Rent a clear (see-through) kayak or standup paddleboard at Big Tub Harbour Resort for amazing views of the historic shipwrecks just offshore.
O.S.A. Lake, Killarney Provincial Park
Considered by many to be the most beautiful lake in the whole park, O.S.A. Lake is also the true birthplace of Killarney Provincial Park. Formerly known as Trout Lake, this crystal clear, blue-water jewel was renamed O.S.A. Lake in 1933 in recognition of the conservation efforts of the Ontario Society of Artists. Among them was acclaimed Group of Seven painter A.Y. Jackson, who revered Killarney and lobbied tirelessly for the creation of a park to protect this irreplaceable treasure.
Nearly a century later, O.S.A. Lake remains a focal point for many park visitors. The lake owes its bright blue colour, and views of the bottom 20 metres below, to the surrounding white quartzite bedrock, which doesn't give up its nutrients easily. Small islands dot the sapphire waters, cradled between the twin quartzite spines of Blue Ridge and Killarney Ridge. Readily accessible from the park's main George Lake Access Point, O.S.A. Lake is an unforgettable day trip or overnight destination.
Located a short drive west of George Lake, Killarney Outfitters provides complete rentals and outfitting for canoeing, kayaking, paddleboarding and hiking in the park; as well as trip planning assistance informed by decades of experience.
Killarney Kanoes is located at the nearby Bell Lake Access Point. They offer shuttles, lightweight canoe rentals and complete canoe trip outfitting.
Make the sidetrip to Killarney village for dockside dining at Herbert Fisheries, rated as one of the top 10 fish and chip restaurants in Canada. Serving Georgian Bay fresh catch.
Nadine Lake, Algonquin Provincial Park
Far off the beaten track in Algonquin Provincial Park's north central highlands, Nadine Lake is a rare green headwater lake. Whereas most of the park's rivers and lakes have a familiar "root beer" tint—the result of staining by tree tannins—the sparkling ether of Nadine Lake issues directly from its clear-water springs. The cold temperature and crystalline clarity also make the lake perfect habitat for Algonquin's famed native brook trout fishery. Four backcountry campsites allow paddlers to savour this remote gem, which is especially breathtaking in the fall when the surrounding hardwood forest blazes with colour.
But there's a catch. There's no quick and easy way to reach Nadine Lake. The north side of the park provides the best access, with route options from Brent (Cedar Lake), Kiosk, or Kawawaymog Lake. Wherever you start, expect a taxing, multi-day trip through some of Algonquin's finest and most secluded landscapes.
Travel upstream on the Nipissing River from the Brent Access Point at Cedar Lake. Algonquin Outfitters has on-site lightweight canoe rentals and complete or partial trip outfitting to make your journey easier.
Algonquin North Wilderness Outfitters serves the park's Kiosk Access Point, providing lightweight canoe and equipment rentals, as well as shuttles for one-way trips.
For a longer trip traversing the large, scenic lakes in the northwest corner of the park, start at the Kawawaymog Access Point. Voyageur Quest Outfitting offers canoe rentals, complete trip outfitting, shuttle service, meals and accommodation, as well as guided canoe trips led by knowledgeable wilderness guides and naturalists.
Nellie Lake, Killarney Provincial Park
Secreted away on the less-travelled west side of Killarney Provincial Park, most paddlers bound for Nellie Lake begin their journey at the Widgawa Lodge Access Point. From here, allow at least three days to savour this stunning area, making a loop through Charlton, Murray, Nellie, Grace and Frood lakes. Your reward for navigating the treacherous steeps of The Notch portage is paddling one of the clearest lakes in the park, with 28 metres of underwater visibility. Depending on the light and depth, the limpid waters beneath your canoe can appear totally transparent, luminous turquoise, vivid teal or emerald green. Reserve early to score one of the three campsites on this sublime lake.
Widgawa Lodge & Outfitters provides complete canoe and kayak rentals and outfitting, as well as water taxi service to and from various locations on the park's western boundary. Their peaceful campground and cozy cabins also make an ideal start or end to your trip.
Agnes Lake, Quetico
Quetico Provincial Park boasts some of the finest wilderness canoe tripping in all of Ontario. With more than 600 pristine lakes to choose from, Agnes Lake stands out as a clear-water oasis in the remote southeast corner of the park. Adorned by high cliffs, ancient rock art and a beautiful waterfall, the lake possesses a sweeping beauty matched only by the spruce-topped islands and rock point campsites of neighbouring Kawnipi Lake. Intrepid backcountry paddlers can visit both Agnes and Kawnipi lakes on a challenging, 225-km figure 8 route from Quetico's Stanton Bay access on Pickerel Lake. Allow at least two weeks for this route, or halve the distance and time by flying into Saganaga Lake and travelling north.
Sunnywater Lake, Temagami
Tucked in the isolated northwest corner of Temagami, the crystalline waters of Sunnywater Lake rival the clarity of Killarney's famous Nellie Lake. Visibility beneath the surface is more than 25 metres—reason enough, perhaps, to pack a dive mask and snorkel into your wannigan. Sunnywater lies just a few portages east of the spectacular white-sand beaches and imposing rocky ridges of Smoothwater Lake, the place of world rebirth in Anishinabe legend. In between are the Aurora trout lakes, home to an incredibly rare species of trout that is found only here, with colours so dazzling it was named for the northern lights.
For experienced canoe trippers, Sunnywater Lake is a highlight of a challenging, nearly 100-kilometre loop through Lady Evelyn-Smoothwater and Solace River provincial parks. This route is best done over seven to 10 days and also includes a trek to the top of Ishpatina Ridge—the highest point in Ontario. If you're short on time, charter a floatplane to Smoothwater Lake, or start your trip at the Montreal River access point south of Gowganda and paddle up through Lady Dufferin Lake to Smoothwater Lake.
Temagami Outfitting Company offers lightweight canoe rentals, vehicle shuttles, complete outfitting and trip planning services, as well as guided trips for all levels of paddlers.
Lakeland Airways is your best bet for Temagami fly-in canoe trips. The air base is located on the waterfront in the town of Temagami and canoe rentals are also available.
Conveniently located just east of Gowganda, Poplar Point Camp makes a cozy home base before or after your trip, Choose from six lakeside cottages, including a unique, three-storey lighthouse cabin.
Lake Superior
The largest freshwater lake in the world, Lake Superior's tempestuous moods are the stuff of folk legend. When storms lash the lake into a fury, whitecaps race across a sea of mercury and steely swells pound the bedrock shore. But when the lake is placid and calm—as it often is in July and early August—Superior's seemingly bottomless, gin-clear waters shine an inviting blue-green. Stretching hundreds of kilometres across Northern Ontario, this inland sea offers world-class coastal kayaking and canoeing. You can spend two weeks traversing a wilderness coast, or two hours dipping your blade just off the beach. Either way, you'll be rewarded with aquamarine waters, champagne sands and a craving to return again and again.
Florence Lake, Temagami
Nestled deep in the Temagami region's Lady Evelyn-Smoothwater Provincial Park wilderness, Florence Lake is surrounded by towering pines, beautiful hills and glacially scoured escarpments. Make the challenging journey to reach this isolated lake, and you'll quickly see why Florence Lake has long been a favourite sanctuary of the Teme-Augama people. The sparkling water is so clear, you can see to a depth of 20 metres below your canoe. Sandy beaches and mysterious caves dot the shoreline, and Florence Mountain—accessible via a rough trail—rises almost as high as Temagami's famous Maple Mountain, with superb views from its rocky summit.
Florence Lake lies along a 200-kilometre, two-week-long loop from Lake Temagami through Obabika and Diamond Lakes and the Yorston and South Lady Evelyn rivers. The route includes long, strenuous portages and powerful current, making it best suited to experienced canoe trippers in search of a truly primal, out-there feeling. 
Paddlers completing the Florence Lake Loop can also see the spectacular waterfalls of the Lady Evelyn River. Treat yourself to a stay at Cabin Falls Ecolodge and fall asleep to the rumbling of a 30-foot cascade outside your door.
For paddlers short on time, Lakeland Airways offers chartered floatplane flights to many Temagami backcountry lakes, including Florence Lake.
Smoothwater Outfitters and Lodge is one of Temagami's original canoe outfitters. Besides a variety of lodging options and great meals—a perfect way to start and end your wilderness canoe trip—Smoothwater offers rentals, vehicle shuttles and complete canoe trip outfitting with top-notch gear.
Plan Your Trip Now
Paddle the best blue-water lakes in Ontario and you might feel like you've jetted off for a tropical vacation. With amazing, crystal-clear waters and gorgeous beaches, these perfect paddling destinations have everything but the palm trees.