4 Amazing Ways to Explore the Great Canadian Wilderness this Summer
Northeastern Ontario makes it easy to become a family of adventurers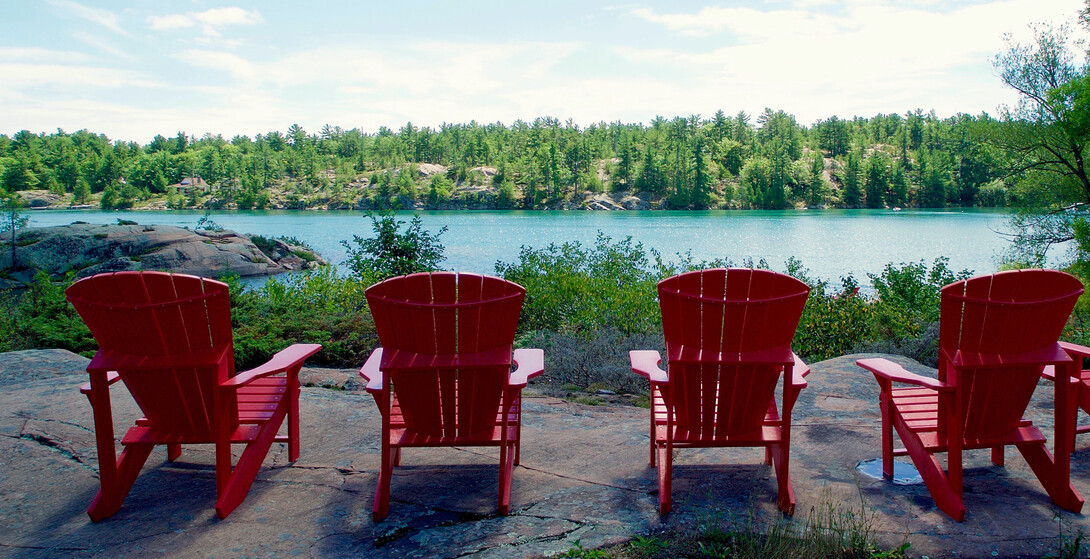 There's a summer vacation ready for every type of adventurous family in Northeastern Ontario, Canada. With experiences as diverse as the area is vast, you're invited to discover family-approved resorts and lodges, exhilarating outdoor pursuits, unique cultural and Indigenous experiences, and touring routes that are guaranteed to inspire even the most seasoned road trippers. 
Here are a handful of ways to create an unforgettable family vacation in breathtaking Northeastern Ontario.
Experience Wikwemikong & The Great Spirit Circle Trail
Some of Canada's most immersive Indigenous cultural tourism experiences are offered on Manitoulin Island, the largest freshwater island in the world and one of the most beautiful destinations in Northeastern Ontario. The original inhabitants of Manitoulin Island are the Anishnaabek people of the Three Fires Confederacy—Ojibwe, Odawa, and Pottawatomi.
Discover Indigenous culture, both past and present, and learn about the history of this sacred place with Wikwemikong Tourism and the Great Spirit Circle Trail. Together they present a variety of family-friendly eco-wilderness experiences, as well as authentic cultural and educational tours that offer a unique perspective on the people and place of Manitoulin.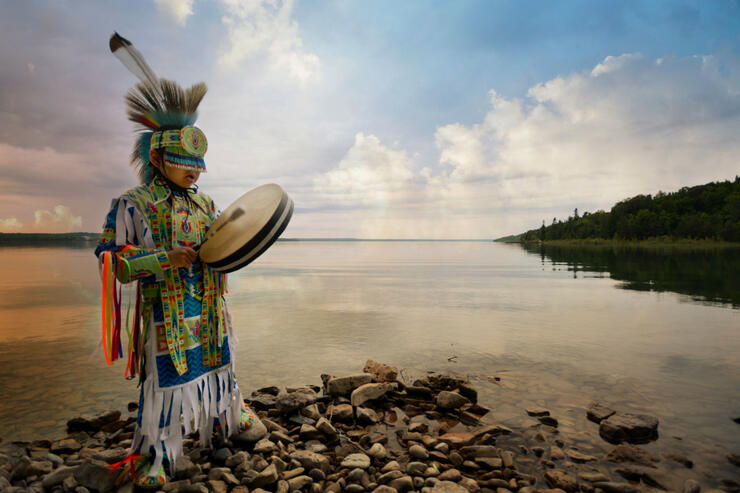 Relive history as you retrace ancient canoe routes. Unwind to the soft murmur of legends and stories from days long past. Curate your family's experience from guided day trips, rustic or refined accommodations, traditional regional cuisine, and a wide variety of shops, galleries, and educational cultural activities.
Cycle Manitoulin Island
Not only a sacred Indigenous place, Manitoulin Island is also one of North America's best cycle touring destinations. The quiet, meandering country roads lead you along picturesque pastoral fields, expansive views overlooking Georgian Bay and Lake Huron, the famous Bridal Veil Falls in the Village of Kagawong, and many other charming towns. With over 500 miles of road biking routes, Manitoulin Island is a place your two-wheeled crew will want to return to again and again. For more, read Why Cycling on Manitoulin Island Should be on Your Bucket List.
Manitoulin Island Cycling Advocates, in partnership with OK Cycle & Adventure Tours, provide all-inclusive, fully organized multi-day tours. Besides the fun and freedom of a family cycling vacation, you'll experience fascinating marine and geological history, natural alvar habitats, Indigenous culture, and one-of-a-kind local shops, restaurants and accommodations. It's the perfect bonding adventure for active families with older kids. 
Take On the Lake Temiskaming Tour
Discover one lake, two provinces, three cultures and endless family adventure on the Lake Temiskaming Tour—a family road trip unlike any other. 
While exploring the area around Lake Temiskaming (pronounced "Ta-misk-a-ming"), which lies on the provincial border between Ontario and Quebec, you'll journey to diverse communities where Francophone, Anglophone, and Algonquin cultures flourish. Visit museums, theatres, galleries, and shops. Take in stunning natural beauty and warm sandy beaches, embark on paddling and fishing adventures, and enjoy local events, attractions, and cuisine. Accommodations choices range from camping to full-service resorts.
Need more incentive? Take part in the Explore the Lake Temiskaming Tour Passport Contest that runs from May to September. Set out with your Adventure Passport game card and punch your card in at least 12 of 20 key stops en route for a chance to win amazing travel packages. 
Stay In Unique Lodges That Deliver Adventure 
With endless water-based thrills, epic wilderness adventure, and stunning sunsets that soothe the soul, these resorts and lodges will exceed all expectations. 
Killarney Mountain Lodge, Killarney 
The charming marine community of Killarney is located on the rugged north shore of Georgian Bay, the large eastern arm of Lake Huron that's known for its crystal blue waters and impossibly gorgeous vistas. Framing the town are white quartzite ridges of the La Cloche mountain range, picturesque pine, oak, and maple forest tracts, sparkling lakes, and glacier-sculpted, pink-colored granite rocks along the coastline. At dusk, these moon-like boulders illuminate, mirroring the flaming sunset sky. To say this place is beautiful would be a giant understatement. If that doesn't pique your interest, Killarney's dockside Herbert Fisheries serves up the tastiest Fish and Chips this side of the British Isles—one of the Top 5 Things to do in Killarney.
Right in the centre of this paradise, Killarney Mountain Lodge is a full-service wilderness retreat with all the trimmings families love, like a big swimming pool, great games pavilion, canoe, kayak, sailing, cruising rentals and charters, and bicycles. Chartered fishing excursions with guide Robert "Bungy" Herbert makes for a great family day trip. From its iconic lighthouse to its grand entrance, you'll quickly see why this lodge is one of Northern Ontario's most highly regarded.
You're also just 15 minutes away from Killarney Provincial Park, a spectacular spot for hiking and one of the best places in the world to see the stars of the northern hemisphere. 
Plan your visit around the Current to Killarney CanoeFest, a 21-mile race that includes teams in Voyageur vessels on July 4 or the two-day Killarney Music Festival in August.
Old Mission Resort, North Cobalt
Discover one of Northern Ontario's hidden gems for families that love to fish. Old Mission Resort is a budget-friendly housekeeping cottage-style resort located on the majestic Lake Temiskaming. Each cozy, off-grid, cabin sits on the rugged shoreline, offering spectacular views of the lake. 
Exciting fresh water fishing is the signature attraction here, with plentiful walleye, northern pike, and smallmouth bass just waiting for their Instagram moment with you. The resort is a proud member of the Destination Northern Ontario Experience Fishing program that provides families with a fun, all-gear-provided introduction to the quintessential summer pastime. There's plenty here to keep all the outdoor enthusiasts in your crew occupied—from hiking trails and canoeing routes to fantastic nighttime sky stargazing.
Kesagami Wilderness Lodge, Cochrane
If an even more remote, bragworthy fly-in fishing adventure is what you seek, Kesagami Wilderness Lodge should be at the top your bucket list. North of Cochrane and south of the James Bay, you'll be in sub-Arctic wilderness, so expect the occasional (but always stunning) Northern Lights display, abundant wildlife viewing, and pristine nature.
The four-star American Plan lodge provides excellent meals, comfortable digs in cabins or deluxe motel-style rooms, and guided or self-guided fishing adventure for trophy pike and walleye. The waters are teeming with fish due to a strict catch and release pike policy, and only a select walleye harvest – for your shore lunch. 
Backcountry angling in Northeastern Ontario is more than just a fishing trip, it's an experience second to none and the ultimate way to create lifelong family memories.
Know Before You Go
For detailed information on border crossings, customs, currency conversion and much more, here are the tools and tips to help you get the most out of your trip to Ontario, Canada. 
Northeastern Ontario can be easily accessed through border crossings into Canada from New York state and Michigan, and a straightforward trek through some of the most breathtaking landscapes in North America then awaits the road-tripping set. If entering through any of the four border crossings that connect Western New York State to the Niagara Region, the route takes you through the heart of Southern Ontario to Toronto, north along Highway 400 and Highway 69 to Sudbury.
Turn off Highway 400 just past Barrie onto Highway 11 toward North Bay and immerse yourself in the French heritage of the region heading north to New Liskeard, Cobalt, Cochrane, and Timmins. If crossing via the International Bridge that connects Sault Ste. Marie, Michigan with Sault. Ste. Marie, Ontario, head due east along the Highway 17 stretch of the Trans-Canada Highway to the gateways of Northeastern Ontario.
If choosing to arrive by air, the northern gateway cities of North Bay, Sudbury, and Timmins are serviced by Air Canada via Toronto and Porter Airlines services the latter two.
However you choose to journey here, Northeastern Ontario, Canada will not disappoint.