9 Amazing Sights for Ontario Motorheads Who Go the Extra Mile
From the Wawa Goose to the Lake of the Woods pictographs and Canada's largest house, here are the best, weirdest, and quirkiest things to see in Northern Ontario by boat, ATV, snowmobile, and motorcycle.
A giant goose. An abandoned gold mine. The biggest house in the entire country. Ancient art in the remote wilderness.
Forget what you were taught about bragging—once you have these sites in your back pocket, you're gonna have every right to boast. If you're a die-hard motorhead who's spent time in the area, you'll already know about these. And if you don't, you're about to boost your cred. 
We've got 9 landmarks every motorhead needs to see—some of which can only be accessed by sled, ATV, or PWC. We'll count them down with the easier-to-get-to spots up first, and work our way to the most off-the-beaten-path gems. So fuel up (literally), make some room on your camera (and your bucket list!), and come along for this ride.
9. Little Current Swing Bridge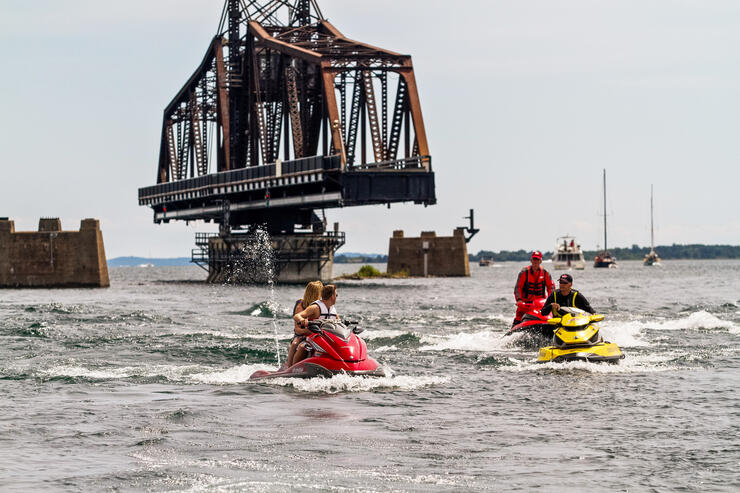 Location: Little Current (Connecting Goat Island to Manitoulin Island via Highway 6, the only land access to Manitoulin)
Accessible By: Motorcycle / Boat & PWC
How to Get There: Pick yourself up nautical chart 2205 - Killarney to Little Current and study the location, or launch from Spider Bay Marina, Harbor Vue Marina or Boyle Marine. By motorcycle, exit the Trans Canada Highway towards Espanola and follow Highway 6 south. You'll cross the bridge on the way to The Manitoulin Island Tour.
What's the Story? Constructed in 1913 by the Algoma Eastern Railway to provide access to the community of Little Current, this Ontario Heritage Site was modified to allow for vehicle traffic in 1946. It was powered by a gasoline engine until the Ministry of Transportation upgraded it to an electric motor in 2003. The bridge is mostly in the closed position, except for the first 15 minutes of each hour during daylight in spring, summer, and fall. There are plans in the works to replace it with a new, two-lane structure, so make sure you see it while you can!
8. Terry Fox Memorial and Lookout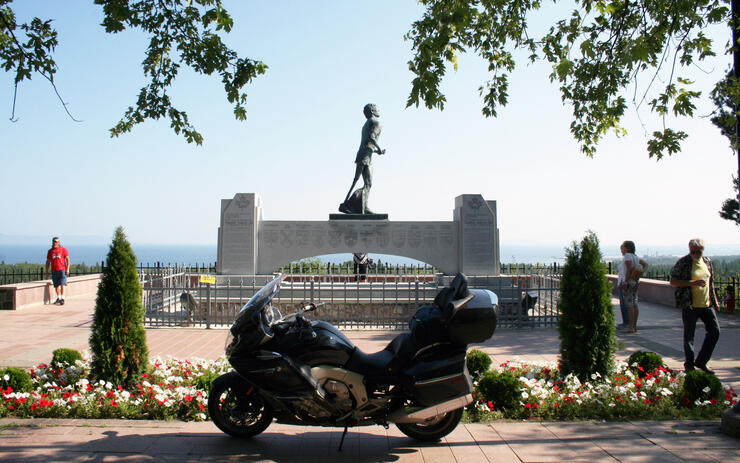 Location: Outskirts of Thunder Bay (off the Thunder Bay Expressway, less than a mile east of Hodder Ave.)
Accessible By: Motorcycle (also wheelchair-accessible)
How to Get There: Ride east out of Thunder Bay on the Trans Canada highway, and follow the signs after you pass Hodder Avenue. This will be one of your main stops on the epic Ride Lake Superior route.
What's the Story? As a tribute to one of the most recognizable and courageous figures in Canadian history, The Terry Fox Memorial was erected in 1982 to commemorate the spot where his famous run across Canada ended in 1980. Originally built right off the highway, a new site was constructed further back atop one of the many vistas overlooking Lake Superior.
7. the Sleeping Giant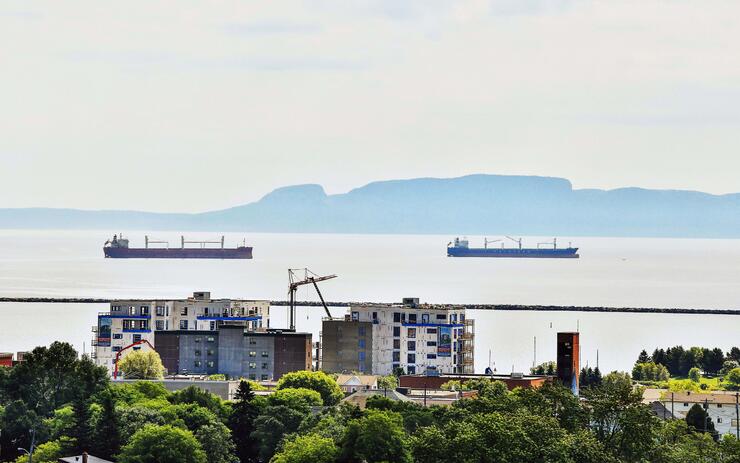 Location: Thunder Bay (viewable from the west to north-northwest section of the city). 
Accessible By: Motorcycle / Boat & PWC
How to Get There: Our favorite way to take in the Giant is by riding out on the Sibley Road into Sleeping Giant Provincial Park. The road is a gently winding road with a few long sweepers. Alternatively, run your bike up Mount McKay in Thunder Bay for a crazy view of the city and the Giant. Again, this is part of the Ride Lake Superior route.
What's the Story? See a giant laying on his back? This massive formation of mesas (elevated rock formations with a flat top) and sills sits on The Sibley Peninsula. Voted #1 on a list of seven Canadian wonders, it's home to a provincial park with a plethora of trails and campsites. Local Ojibwe legend suggests the giant was Nanabijou, who was turned into stone after revealing the location of a silver mine. Regardless of what you believe, this is one very cool sight to see—and makes a great background for some selfies.
6. The Wawa Goose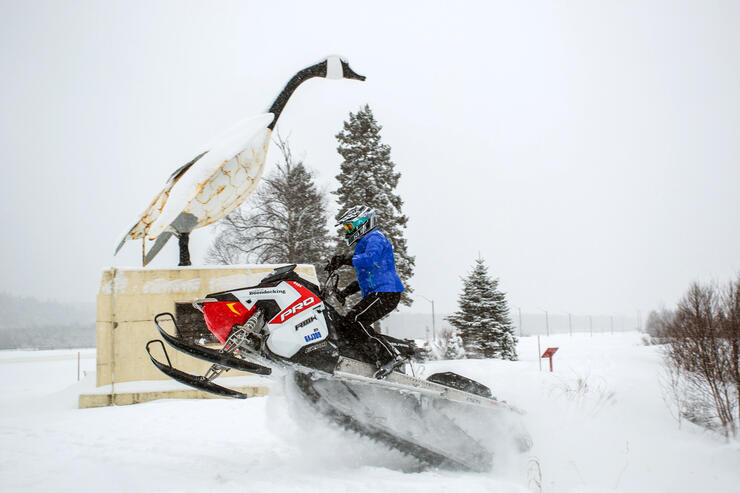 Location: Wawa (located just off Highway 101)
Accessible By: Motorcycle / Snowmobile
How to Get There: You'll want to tread lightly if you actually want to put your sled in front of the Goose, as this is not officially part of the snowmobile trail. You'll be driving right through Wawa on the D Trail. By motorcycle, you're on both the Ride Lake Superior Route and the Grand Algoma Tour, a real rock 'n roll of a ride through Algoma's backcountry. Take Highway 101 off Highway 17.
What's the Story? The famous Canada Goose Monument was constructed in 1960 to celebrate the completion of The Trans-Canada Highway connecting Wawa to Sault Ste. Marie and Western Canada. It was originally made to satisfy local residents after they complained that the completion of the highway bypassed the town. The thought was that the giant figure would draw more attention to Wawa, and boy did they get that right! Some say it's the most photographed landmark in Canada.
5. Canada's Largest Home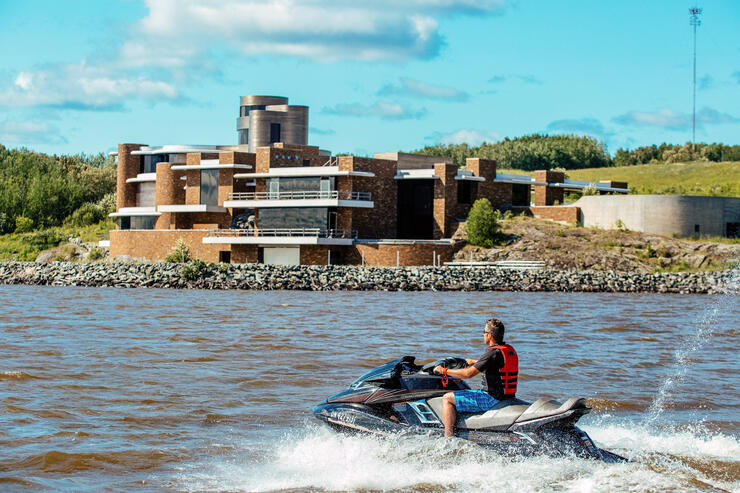 Location: On Lake Temiskaming (near the town of Haileybury)
Accessible By: Boat & PWC / Snowmobile
How to Get There: To reach this hidden powerboating haven by boat, launch out of the Haileybury marina, and head south no more than 10 minutes. It will be on your right side. By snowmobile, the L184 trail off the main A trail in Temiskaming Shores will bring you right past the house.
What's the Story? You won't find this one in any travel guide—after all, it is a private residence—but the largest home in Canada is well worth mentioning. At 55,000 square feet, it rivals Bill Gates' mega-mansion in Seattle and is twice the size of the White House! And, it's located in the most unlikely of locations—5.5 hours north of Toronto, near North Bay, Ontario! This property has never been lived in and currently sits vacant and for sale. Want to know why? Read this.
4. The McIntyre Porcupine Gold Mine 
Location: Town of Schumacher (just east of downtown Timmins, off Highway 101)
Accessible By: Motorcycle / ATV / Snowmobile
How to Get There: By sled, take trail L27 from in town in Timmins. Check with locals about the lake ice conditions before venturing out. By ATV follow the local trail signs. By motorcycle, catch this on the Great Legends Motorcycle Tour.
What's the Story? Sitting on the shores of Pearl Lake near Timmins, the now abandoned McIntyre Mine has a place in Canadian mining history as one of the nation's most important mines. It's easily visible off the main highway into Timmins, screams quintessential Northern Ontario, and makes for a great photo op—especially during winter, when the lake is frozen over. (Yes, that means easy access by snowmobile).
3.  Devil's Rock (Mani-doo Aja-bikong)
Location: Lake Temiskaming (North Cobalt)
Accessible By: Motorcycle / Snowmobile / ATV/ Boat & PWC
What's the Story? Probably the oldest landmark on the list, at 220 million years this 600-foot sheer granite cliff (300' underwater and 300' above) is one of the most majestic vistas in all of Ontario. Its unusual name comes from a legend that suggests it was once the entrance to the underworld - Manitou Rock, a word meaning the 'spiritual and fundamental life force' in Algonquian languages.This one is very seldom seen, and definitely, one to visit.
How to Get There?  To get here by motorcycle, you'll want to take a slight detour off the Lake Temiskaming Loop Tour (you can order a map for that here) and take Highway 567 from Cobalt to the Devil's Rock trailhead. There is limited parking, but it's not a busy site. A two-minute hike will take you to the top. By snowmobile, the L184 trail off the main A trail in Temiskaming Shores will bring you right past the #5 on this list, and then shortly after, to Devil's Rock. By boat, launch out of the Haileybury Marina, and head south—again, it's just past #5, so you'll take in two great attractions in one ride.
There are two access points to Devil's Rock; both run off Highway 567, which is off Highway 11B. Click here for directions on Google Maps.
2. Giant's Tomb Island Ice Formations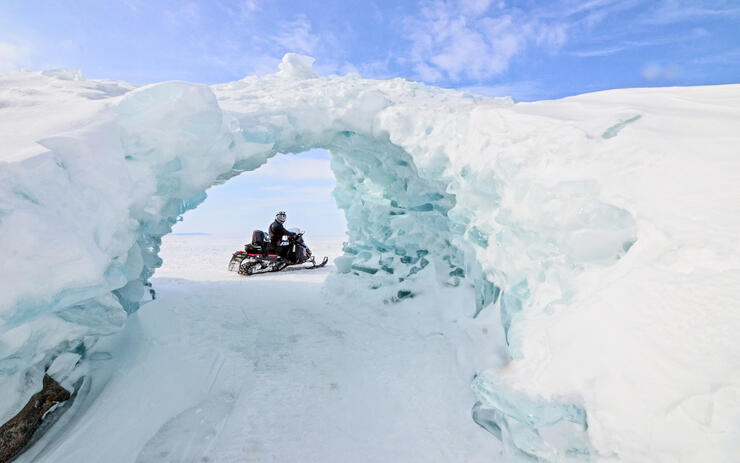 Location: Giant's Tomb Island (on Georgian Bay between Christian Island and Honey Harbor)
Accessible By: Snowmobile
How to Get There: Snowmobile along the 305 trail to Midland and enter onto the frozen Georgian Bay at Midland Bay Landing Park. There you will find ample free parking for trailers. The Georgian Bay Snow Riders put up a line of old donated Christmas trees from the Landing Park out to Snake Island; this is the signal that the ice has been measured and is safe to that point. (If you don't see the trees, do not attempt to ride on the ice.) Follow the Christmas tree line to Snake Island, and from there head north-west to Beausoleil Island. Keep Beausoleil Island to your right-hand side as you head north, and you will find snowmobile tracks heading north-west towards Giant's Tomb Island. The trip from Midland Bay Landing Park to Giant's Tomb is roughly 20 to 30 minutes.
What's the Story? Giant's Tomb may sound more video game than natural wonder, but it's certainly the latter. On this island on the southeastern corner of Georgian Bay, north of Midland, ice caves form during the winter months. When the bay turns to ice, word of mouth travels fast between snowmobilers that the time is right to catch a glimpse of these spectacular towering ice formations—but for those not already connected to the snowmobiling community in Muskoka, word rarely gets out at all (save for some brave cross-country skiers). Ice floats in the shallow water; waves lift and pile the pieces into magnificent fortresses. This one is a different sight to see each year, as no two formations are the same. It's like something out of a set designer or special effect's person's dream, but it's all created naturally, on its own.
1. Lake of the woods Pictographs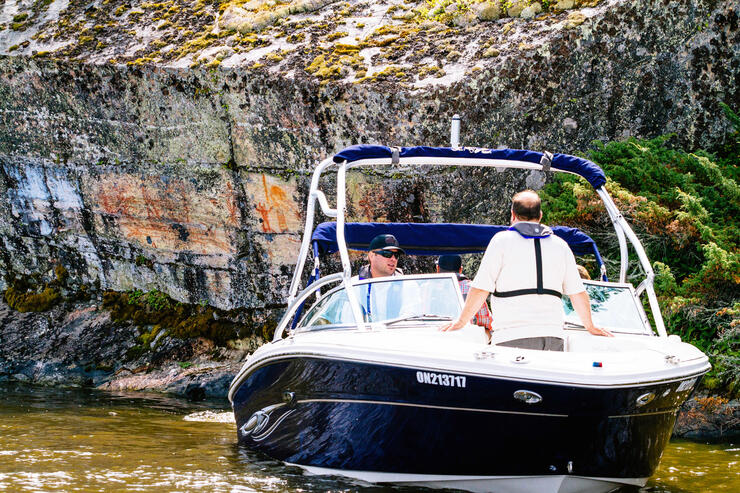 Location: Lake of the Woods, Kenora
Accessible By: Boat & PWC
How to Get There? Unfortunately, the locations of all of the pictographs on Lake of the Woods are not mapped, but if you reach out to Scott Green at Anicinabe Park, he will guide you or let you know how to reach them. Lake of the Woods is an incredible complex waterway, only for the most sophisticated navigators, so we highly recommend getting chart 6201 from the Canadian Hydrographic Service. 
What's the Story? These ancient Anishinaabe drawings date back 500 years and have survived extreme weathering, preserved in slabs of granite rock. They only exist in a handful of locations across the province. Only reachable by water, this extremely rare relic is absolutely worth checking out.