An Ideal Snowmobiling Getaway
This comfy lodge in the Temagami area is conveniently located, family-friendly, and full of activities both on and off the sled.
Lake Herridge Lodge and Resort is the ultimate adventure destination for snowmobilers and snowbikers alike of all ages and skill levels. At the beginning of March, Ted and I had the chance to spend a weekend away snowmobiling at Lake Herridge Lodge, and we were able to share it with some of our friends and their kids too. Located on Herridge Lake, only 100 km north of North Bay and right outside the town of Temagami on Highway 11, it is the ideal location. It's not too far of a drive from the GTA and is the gateway to Ontario's North, always with an abundance of snow.
Believed to be built in the 1940s, Lake Herridge Lodge has long been known for their remote lake fishing experiences, ATV trail system, and bear, moose, and small game hunting packages. New owners Brad Ferguson and Nathalie St. Amour took over the lodge in June 2018, and are eager to welcome snowmobilers to experience all of what Lake Herridge Lodge and Temagami have to offer.
For snowmobilers, Lake Herridge Lodge is conveniently located right off of the OFSC  A Trail. There is trail sign that directs snowmobilers right to the lodge by following a 1-km private trail and crossing Highway 11 to the laneway of the lodge. This makes Lake Herridge Lodge a great destination for snowmobilers on multi-day saddle bag rides, either heading north past Temagami or south to the surrounding North Bay and Sudbury districts.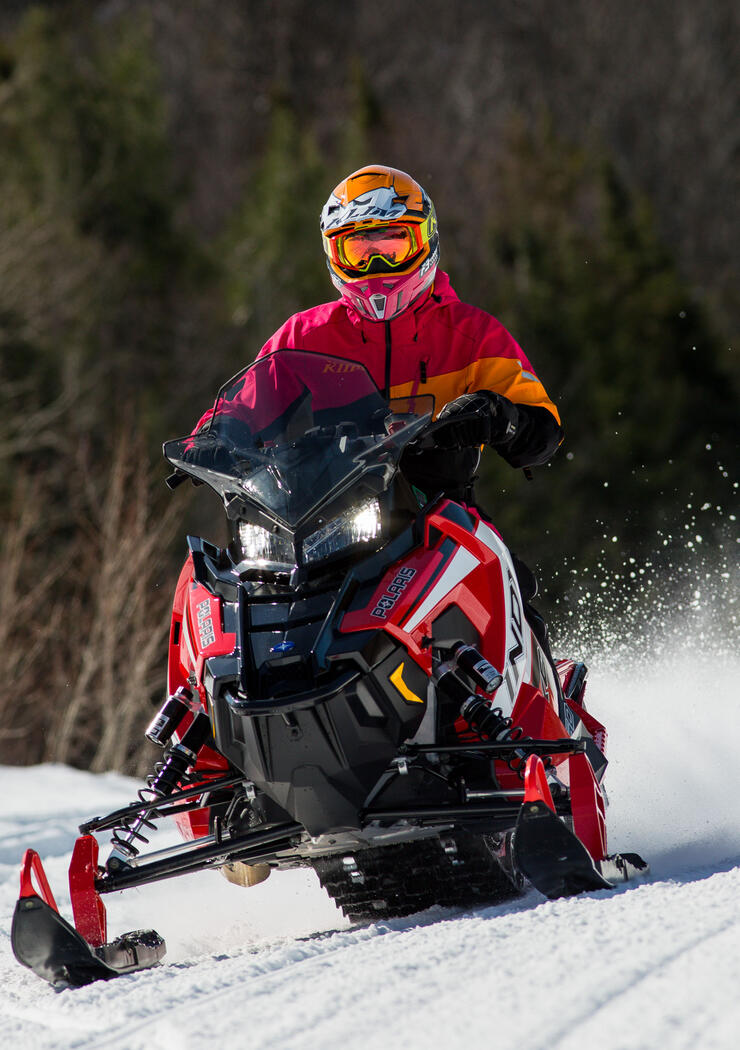 A highlight of the location of the lodge is that it is right off Highway 11, so you don't need to worry about driving in a long, snow-packed road. With ample parking for trucks and snowmobile trailers, snowmobilers can use Lake Herridge Lodge as their base camp and do day trips, leaving right from their cottages by sled and exploring miles of groomed and ungroomed trails in the Nipissing District.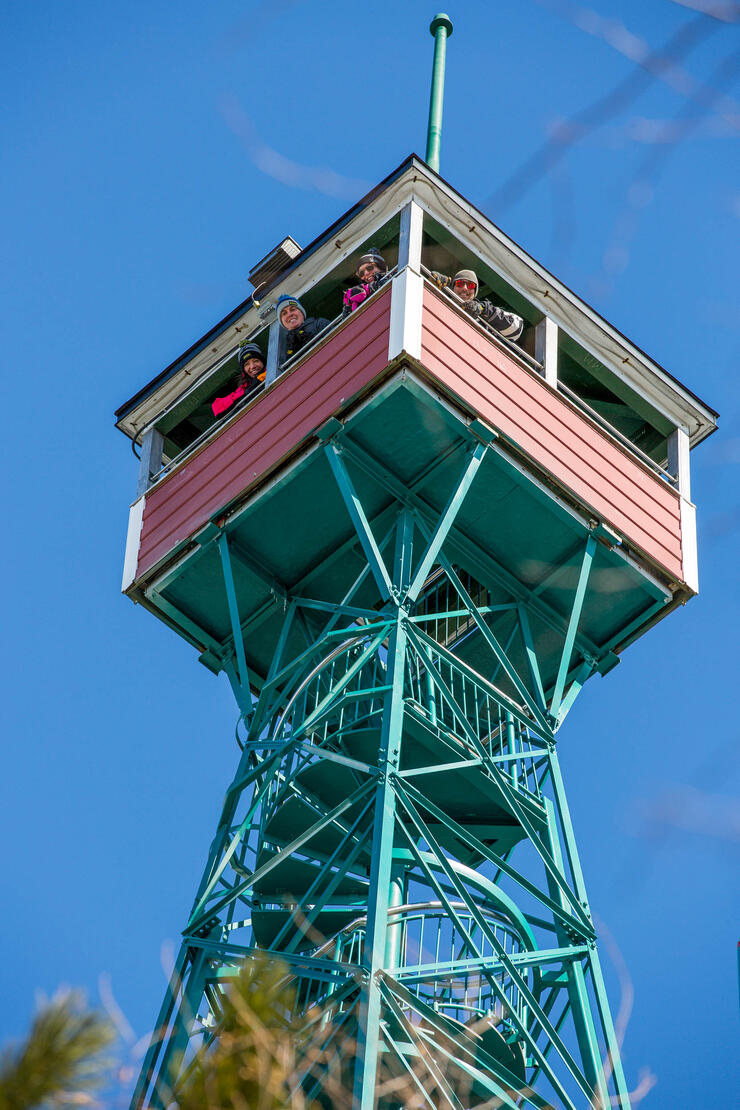 While riding the OFSC trails around Lake Herridge Lodge, we took the A Trail north through the town of Temagami to see the Temagami Fire Tower. It was a clear and sunny day and we could see for miles. The cool part was we could follow a feeder snowmobile trail right to the top of the lookout. I would highly recommend checking out the fire tower in any season, the views are stunning.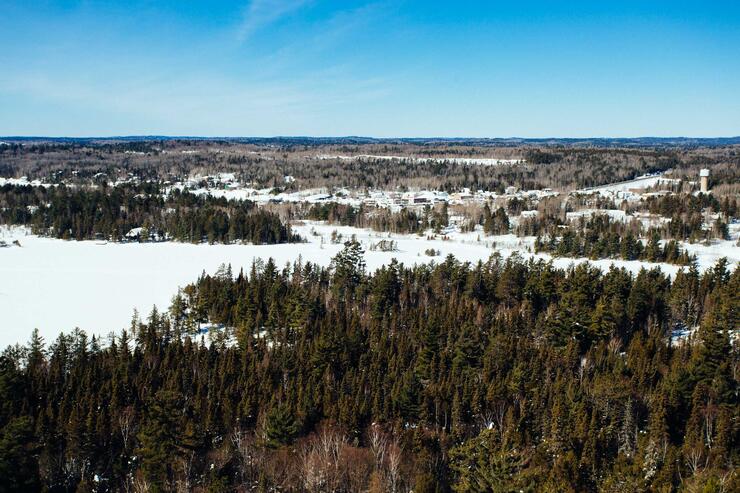 Lake Herridge Lodge is surrounded by more than 200 lakes located in the Municipality of Temagami, the largest of which is Lake Temagami, as well as a vast amount of crown land. This is the ultimate destination for backcountry snowmobilers and snowbikers for exploring new areas and zones. There are summer portage trails to break, tight treelines to ride, and lakes to run. A website I use often to help define Crown land areas in Ontario is called the Crown Land Use Policy Atlas. This website is very useful for differentiating between general use areas (crown land), conservation and wilderness areas, provincial parks, private land, etc. Lake Herridge Lodge offers a nice mix of terrain for snowmobilers, all while being very family-friendly.
There are 10 seasonal cottages at Lake Herridge Lodge, of which four are winterized for guests, and each sleeps between four to six people, making it a great location for large groups and families. They offer a "snowmobile special" that includes dinner, a night's accommodations in one of the cottages, and breakfast—so no need to worry about bringing food, especially if you're on a multi-day tour. However, if you're like me and you like cooking and packing meals, each cottage is equipped with a kitchen and dining area.
New owners Brad and Nathalie have completely renovated one cottage so far,  and have been doing minor renovations to all of the others. And I have to mention that the cottages are absolutely spotless, so clean—kudos to Nathalie for her eye to detail and cleanliness! There is a main guest lodge with a pool table and games room, wood stove with couches, a TV and WIFI, and a general dining area for all guests to use. This lodge is original, and they are looking to have it rebuilt in the next year or two while preserving some of its nostalgic charm.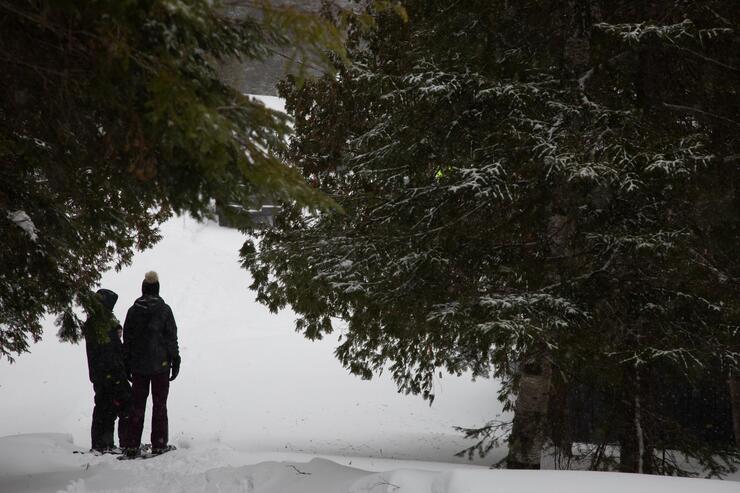 There are plenty of other outdoor winter activities to do at Lake Herridge Lodge besides just snowmobiling. They offer guests snowshoes to borrow to explore the lakes on foot or the snowshoe trail through the bush by the lodge. Ice fishing is also very popular on Herridge Lake, as well as on remote lakes like Driftwood Lake and Iceland Lake that are only accessible by snowmobile in the winter. Don't forget to pack your ice hut, bait, and tackle, and to try to test your luck!
Temagami has long been called "an adventurer's mecca," and all of what Temagami has to offer can be enjoyed right at Lake Herridge Lodge. I can't say enough about the new owners Brad and Nathali—they very self-motivated and eager to share Ontario's wilderness gateway and this ultimate adventure snowmobile destination with you!