Shore Lunch: The Ultimate Northern Ontario Meal
The Italians have their pasta, the Jamaicans their saltfish, and the Brits have well, their mushy peas. But Northern Ontario's signature dish is arguably the best-tasting of the lot, and a heck of a lot more fun to prepare.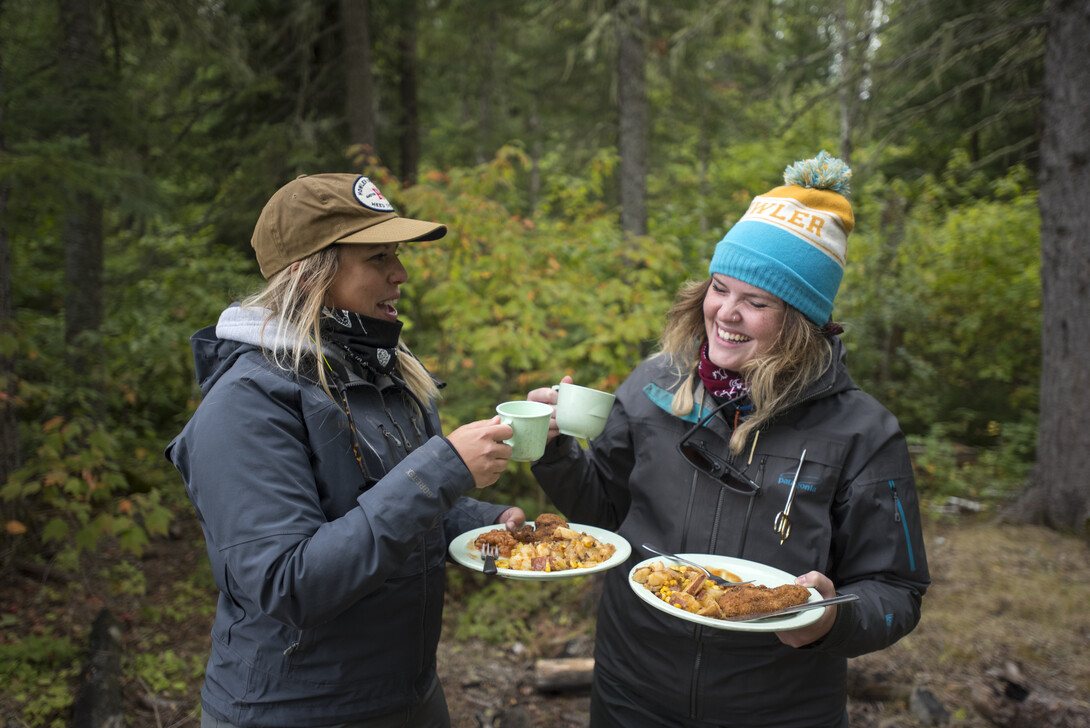 The campfire roars with orange flame, the skillet pops with fresh pike fillets sizzling in oil. Before you is a black-blue lake surrounded by stands of spruce and pine, and above the wide Northern Ontario sky. A crowd gathers, anticipating the crunch of the crisply-battered flesh—the first taste of that perfect combination of heat, salt, and fat on your tongue. This is the experience that brings people from around the world to Northern Ontario—to learn first-hand this unique tradition that's remained relatively unchanged for hundreds of years.
What makes Northern Ontario's shore lunch a once-in-a-lifetime experience? For one thing, it can't be packaged and reproduced. Even the most well-travelled foodie won't have had anything like it. "I've travelled all over the world and eaten in some of the finest restaurants in France, Germany, Italy, Australia, Finland, the United States, and Canada," says Gord Pyzer, journalist and fishing editor at Outdoor Canada Magazine. "And quite simply, there is nothing that compares to pulling up to a white pine, red pine, or black spruce-studded island, getting on shore, and having someone prepare a fresh shore lunch with fish that you caught literally minutes before." And this, in a nutshell, is the essence of the shore lunch and why it's Northern Ontario's quintessential dish. We asked some expert local guides to break it down for us and explain exactly makes the lunch so special. 
You must leave your car behind 
It isn't called a "shore" lunch for nothing. Arriving to a remote campsite by boat is what makes the shore lunch such a unique experience—the journey into nature is part of the process and can't be separated from the final dish. "Everything tastes better outdoors," explains professional angler and journalist Gord Ellis. "A can of beans is the most divine thing you've ever eaten." TV host and professional angler Jeff Gustafson agrees. "I don't know why it is, but fish on the shore of the lake simply tastes better than anywhere else." You may even spot some wildlife--bald eagles or white pelicans are a common sight. "They absolutely recognize the traditional shore lunch spot," says Pyzer. "You'll throw an eagle a few scraps and they almost eat it from your hands." 
It's oh-so fresh!
Whether it's vegetables, eggs, or meat, the "fresh" food we eat is usually at least a few days old if not a few weeks—that's just the way our food system is designed. "When you think of how we normally eat fish, it's net or caught one day, then another day coming into a processing plant to be cleaned and then shipped out," explains Pyzer. "It's often a week to 10 days old, even when it's sold 'very fresh.'" And that's exactly what makes the shore lunch so different. It's how our ancestors ate—no factories, tractor-trailers, or grocery stores needed. Just straight from the freshwater to our plates. "You simply can't believe the difference in taste when it's two-minutes fresh versus freezer-burned from the fish aisle," says Pyzer.
No fancy kitchen appliances required
A shore lunch is meant to be simple—no frills and zero pretentiousness are part of the deal. "I've served billionaires fresh walleye on a paper plate and they always eat it up and get more," says Gustafson. Ellis says his basic shore lunch includes a couple cans of beans, a few cut-up potatoes, and some bannock, along with watermelon for dessert. As long as it's easy to carry with you and prepare over a fire, that's all you need. It's this back-to-basics vibe that makes the experience so special. For kids (and some adults), it might also be the first time they've started a fire and cooked their own meal. "For young kids, the highlight is gathering up the driftwood and dead wood for the fire," says Pyzer. 
How to do a shore lunch like a local
While the shore lunch is infinitely adaptable to your particular needs—there are a key few things that are essential for a successful experience. Our experts weighed in on the necessary steps and added their own tips for making the most of your first shore lunch.
First of all, make sure you've brought along the right supplies. There's nothing worse than pulling up to a campsite only to discover someone's forgot the coffee (or beer, depending on your tastes). 
Shore lunch checklist
Fishing gear
Heavy frying pan—cast iron ones work well
Cooking oil
Cooking utensils
Flour in a resealable bag
Eggs
Panko breadcrumbs or crushed cornflakes in a resealable bag
Salt and pepper
A few lemons
Sides of your choice: cans of beans, potatoes, bannock, corn on the cob, pre-made salads
Beverages of your choice
Paper plates and utensils
Napkins 
Waterproof matches or a lighter
Garbage bag
Step one: Choosing a perfect location
The shore lunch is all about being outdoors. That means picking a spot for lunch is just as important as the food itself. A desirable location will already be well-known amongst the guides and locals—if your first choice is taken, don't worry, there are plenty of sites for everyone. "A good spot is out of the wind, not too steep for getting out of the boat, and it should be rock, not sand, because sand will get into everything," says Gustafson. "If it's earlier in the season, sometimes having a nice breeze will keep the bugs off," Ellis adds. So, keep an eye out for campsites on semi-exposed rock, set a bit back from the water's edge, and that are set up with amenities like a fish cleaning table, picnic tables, and a fire pit. A beautiful view helps, too, but that won't be hard to find. 
Step two: You want that oil popping, hissing, sizzling hot
The next, and perhaps most important step, is the oil needs to be hot. Every guide, fisherman, and local we talked to stressed the importance of getting this step right—do it wrong and you'll get soggy fish. "The old-timers back at the turn of the century used to say they knew when the oil was hot because you would spit in the pan and the pan would spit back at you," says Pyzer. Another, perhaps more sanitary way to check if the oil is hot, according to Pyzer, is to flick a few droplets of water into the pan and wait for the sizzle. Or touch the striking end of a unused wooden match to the oil--if the temperature is right, the match will flare. "The fish should crackle when you drop it in," notes Gustafson. Lard is the traditional choice, but Canola oil works too.
Step three: Season and cook the fillets
While the oil is heating up, it's time to clean and prepare the fillets. Each guide has their own preferred seasoning but remember, the key is simplicity. "I like to keep it simple and just let the fish be the main focus," says Gustafson. Preparing the fillets takes a couple of easy steps: place each fillet in the resealable bag filled with flour and shake to coat. Dip each fillet in an egg wash. Then drop the fillet into a bag of panko breadcrumbs or crushed cornflakes and shake to coat. Fry up the fish (it should take just two or three minutes) and add any final touches--salt and pepper or a squeeze of lemon. "Once cooked, I sprinkle a little bit of lemon pepper on the fish and it's pretty tasty," says Gustafson. For a quick and easy side dish, open a can of beans and set it on a rock near the fire to heat.
The law of the land: Leave it as you found it
Cleaning up your mess is a crucial part of the shore lunch, so don't forget this last, important step. Bring a garbage bag and don't leave anything behind. And of course, make sure to properly extinguish your campfire. Part of the shore lunch culture is respecting nature and being a good citizen, so think of whoever might use the site after you and act accordingly. 
Shore lunch like a celebrity chef
Of course, in the winter months (or for those of us without 24/7 access to fresh fish and a lake), there are ways to enjoy the spirit of a Northern Ontario shore lunch from the comfort of our own homes. Try this award-winning walleye recipe from Gord Pyzer, and hopefully satisfy your taste buds until your next shore lunch excursion.
Gord's Mediterranean Walleye Supreme
1.5 lb. fresh boneless, skinless, walleye fillets
handful of green olives stuffed with garlic, cut into small pieces
handful of black olives, cut into small pieces
handful of sun-dried tomatoes packed in olive oil, cut into small pieces
handful of crumbled feta cheese
fresh tomato slices
fresh lemon
white wine (optional)
salt and pepper
Wash and thoroughly dry the walleye fillets between paper towel before laying them on the bottom of a casserole or glass baking dish. Salt and pepper the fish to taste. Add a splash of white wine. Sprinkle the green olives, black olives, and sun-dried tomato over the fish. Sprinkle on the feta cheese. Finally, cover everything with a layer of fresh tomato slices. Pop it into a pre-heated 400°F oven and cook for approximately 20 minutes. When it is time to serve, squeeze the juice from half of the fresh lemon over the steaming fish.
It's the perfect thing to get you thinking about your next fishing trip. Perhaps paired with one or more of the region's culinary pleasures, the shore lunch is the true taste of the North.