Family Fun at a Fishing Lodge
Want to share what you love with those you love?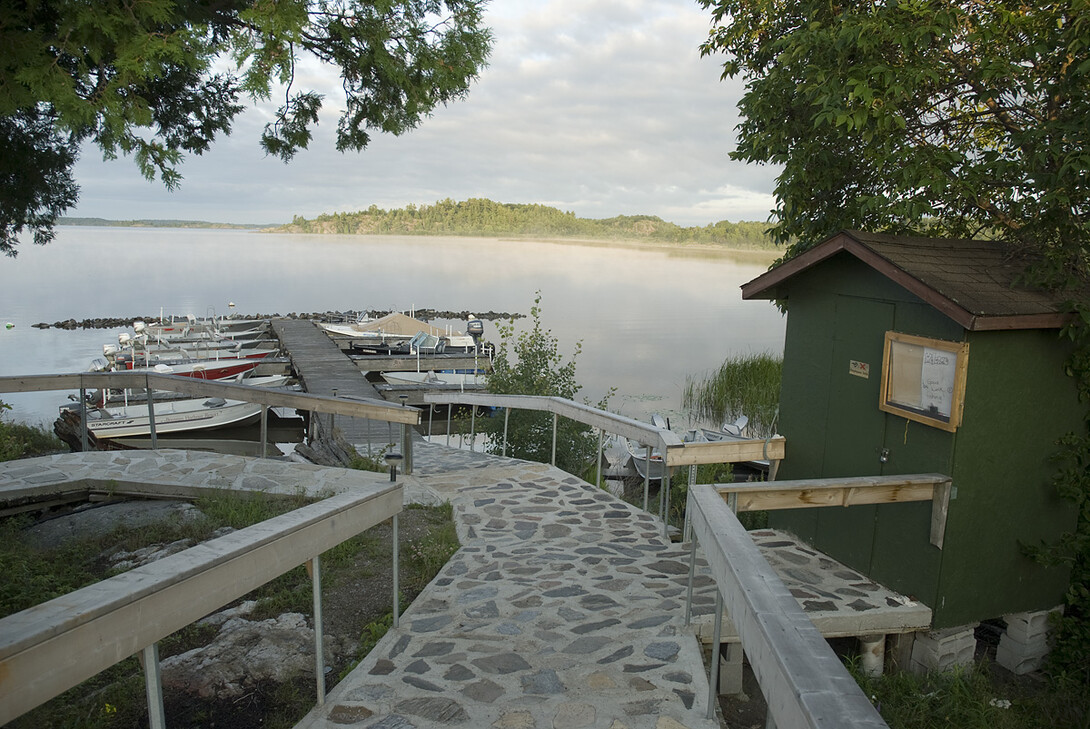 It was dark when we carried our gear from the truck to our cabin, but now the rising sun sheds light on our situation. The girls were up early this morning, gazing out the front window at a stone path leading down to the dock. Beyond is an expanse of water enveloped within the rolling tree-capped granite landscape of Algoma Country. After a hasty breakfast, we jump into the boat.
Clutching a map of the lake in one hand, I cruise past islands, bays, and points stretched along a seemingly infinite stretch of undeveloped shoreline. I find 20 feet of water well offshore and begin a slow troll. As soon as I drag my bottom bouncer and leech over an edge that drops to 28 feet, I'm jolted by the hard hit of my first walleye. I pass the rod off to Francine, but even before my wife lands the fish, my oldest daughter lets out a squeal. Fourteen-year-old Islay's rod is bent sharply with the protests of a fish of her own—it turns out to be a few inches bigger than her mother's. Our first day is a blur of fishing, hearty meals at the main lodge, and exploring on land and water.
Next morning Francine and Islay plan to explore the sand beach and rounded rock landscape around the lodge, so I wake my 12-year-old daughter Lillian and we creep down to the dock. A great blue heron stands stock still amongst shoreline pencil reeds as we head towards a promising area. Lillian lowers her worm harness to the bottom for an instant hook-up. For the next few hours, we experience exceptional walleye fishing with double headers of 15 to 20-inchers. Songs, conversation, and catching as many fish as we want forges a memory we won't soon forget.
In the afternoon, my oldest daughter Islay joins me on a quest for bass. I drag a tube jig along a rocky saddle between islands and quickly hook up. The big brown slab jumps and spits the hook. Islay casts a jig and a white plastic grub. I suggest she changes to a tube, but she perseveres and within five minutes is into a good bass. Islay is not a quiet child, especially with an acrobatic 18-inch bass on her line. I sit back and absorb as her hooting, hollering, and laughter engraves another indelible father-and-daughter memory.
Maybe this evening we'll get out for a family fish, or maybe just enjoy the warm and golden summer night from the deck of our cabin. These are difficult choices. But I'm confident we'll manage just fine.
Plan A Reel Adventure At A Fishing Lodge That Caters To Families
Whisk your family away to Northern Ontario, a region rich in beauty and home to a wealth of pristine lakes and rivers teeming with fish just waiting to be caught. Here are a few ideas to help you and your family find the perfect fishing adventure: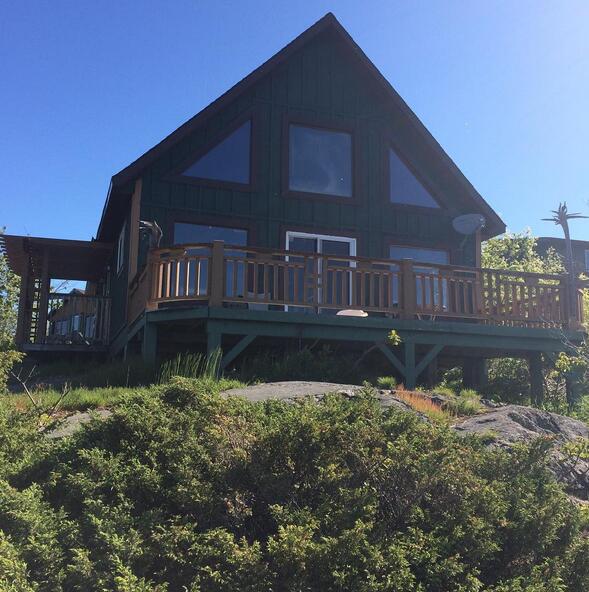 The Family Special at Brennan Harbour Resort – This family fishing getaway includes comfortable cabin accommodations for a week, a fishing boat for the family, daily amenities, a welcome BBQ and more. Learn more
Guided Fishing with Tyler Dunn at Birch Lake Resort – Discover the best fishing holes on Birch Lake with a little help from local expert Tyler Dunn. Guided fishing expeditions range from one to seven days. Learn more  
Housekeeping Cottage Fishing at Waterfalls Lodge – Escape to the comfort of the modern lakeside cottages at Waterfalls Lodge, where you'll enjoy a fully equipped boat for every two adults, water toys for children, kayaks, ATVs for remote fishing trips and much more. Learn more 
Laurentian Lodge – Located just past Elliot Lake the beautiful lodge offers motel units and gorgeous cottages as well as a full-service restaurant, gorgeous waterfalls on-site with a walkway across the top of the falls, two beaches, tennis and a central hot tub and sauna. Boats, motors, canoes, and pedal boats are also available.  Built solely as a fishing and hunting lodge, it is now known not just for great fishing but also as a family getaway. Learn more
Limberlost Lodge - Located in the Mississagi Valley, this lodge is a fantastic fishery with hiking trails, kayaks, canoes, paddle boards, paddle boats, inflatable water toys, swim raft, docks, rowing boats, Limberlost Little Tyke Areas (Limberlost Fort, Knight's Castle & upper playhouse, Mini Limberlodge Playhouse & Playground), private BBQ, evening campfires at the Grotto, sauna, horseshoes & other lawn games, access to the Limberlost Library, Board Game Hut, and more! Learn more
Moose Horn Lodge – This lodge is located in Chapleau and has lots of places to fish as well as many activities for the whole family such as swimming at the beach, hiking, mountain biking and canoeing. Learn more
Blue Heron Resort - Situated on the Spanish River, the resort offers fully equipped housekeeping cottages. Great fishing for walleye, northern pike and smallmouth bass. Families can also enjoy wildlife viewing, swimming and canoeing. Learn more 

Birchland Cottages - Nestled on Clear Lake, this is a wonderful place to relax. Modern, fully equipped housekeeping cottages. Lots of space to enjoy family time together for swimming, canoeing and kayaking and hiking. Excellent smallmouth bass fishing and northern pike. Learn more 

Snowshoe Camp - Open year-round on Wakomata Lake, the resort offers fully equipped housekeeping cottages. In summer, enjoy the sandy beach and swimming, canoeing and kayaking. Enjoy great fishing for trout, northern pike, smallmouth bass and whitefish. Learn more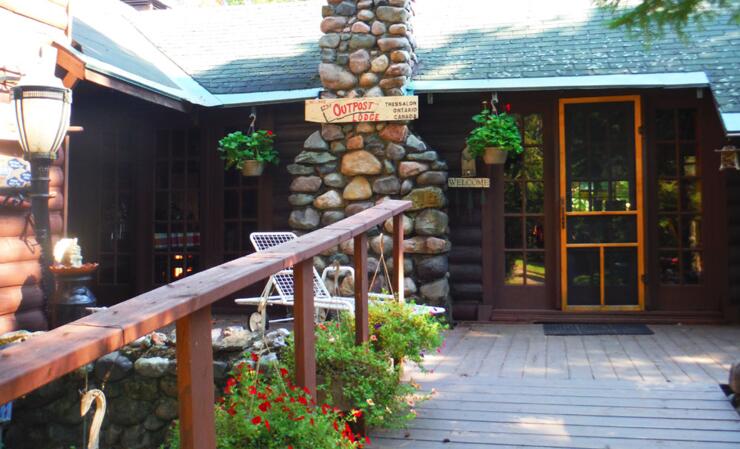 The Outpost Lodge - Featuring clean fully equipped housekeeping cottages and a main lodge with a private dining room. Housekeeping and American plans are available. Enjoy swimming, canoeing, hiking and many day trips nearby. Fish for walleye, smallmouth bass, northern pike, whitefish and perch. Learn more 

Birch Lake Resort - Features cozy, modern housekeeping cottages with beautiful views of the lake. The small peaceful lake has excellent smallmouth bass fishing. Learn more
Bruce Bay Cottages - Escape to nature at the cottages. Located in the North Channel of Lake Huron, featuring fully equipped housekeeping cottages. Complimentary canoes, kayaks and bicycles. Learn more 
Como Lake Resort - Located just inside the Chapleau Crown Game Preserve. Fish for walleye, northern pike, whitefish and smallmouth bass. Offers fully equipped housekeeping cabins and campsites. Learn more
Chapleau Lodge Resort - Situated on Borden Lake, offers fully equipped housekeeping cabins. Enjoy fishing for walleye, northern pike, lake trout, smallmouth bass, whitefish and speckled trout. Families will love the full-size swimming pool. Learn more
Flame Lake Lodge - Just one hour from Chapleau, featuring fully equipped housekeeping cabins or stay in the main lodge. Families will enjoy fishing for walleye, whitefish and northern pike. Also enjoy swimming, hiking, ATVing and wildlife viewing. Learn more
Ranger Lake Resort - Just over an hour out of Sault Ste. Marie, the year-round resort features five fully equipped housekeeping cottages including a sauna, boating, tubing, swimming, swimming raft with slide, sandy beach and fire pits at each cottage. Learn more