Adventures in Snowy Sault Ste. Marie
Fat-biking, skiing, skating and more: Winters are hot in Sault Ste. Marie & Algoma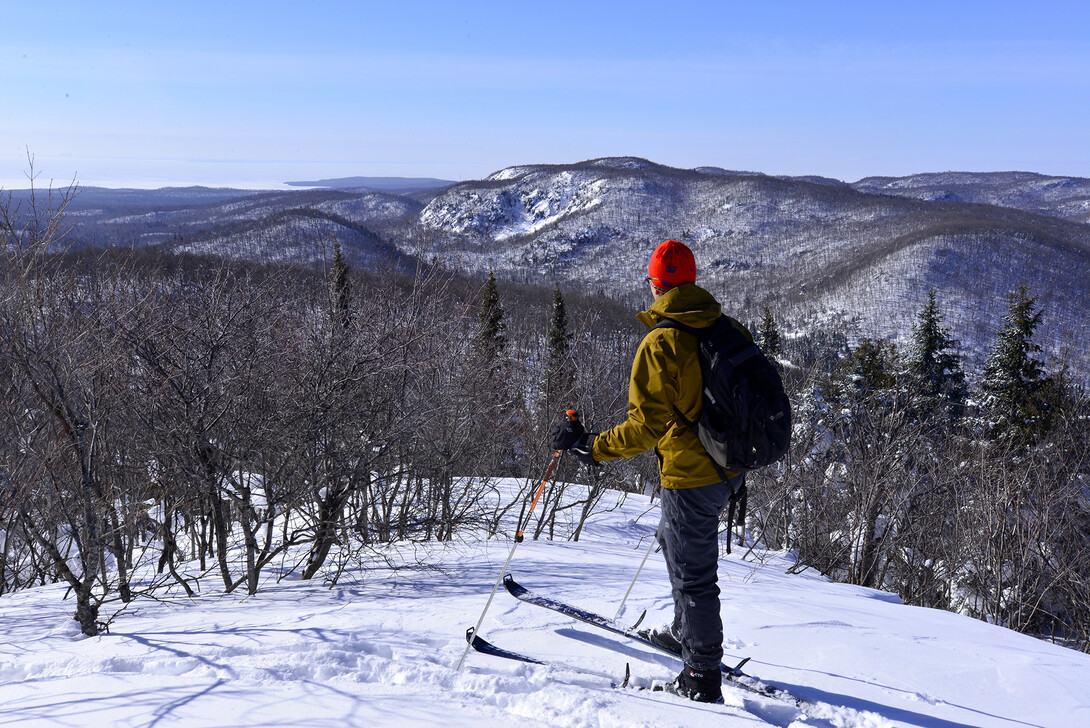 Sault Ste. Marie experiences winter like few other places in Ontario. Close proximity to Lake Superior produces exceptional snowfall; this, combined with a rugged Canadian Shield landscape of rolling hills, tall pines and hardwood forests, creates a winter playground for outdoor enthusiasts. Ontario's finest nordic and alpine skiing have long been staples of Sault Ste. Marie winters; you'll also find incredible backcountry skiing and snowshoeing, an emerging fat-bike scene, great ice fishing and unique urban ice-skating opportunities—all making "The Soo" the preeminent winter adventure town in central Canada.
Nordic Skiing
It's not much of a compromise if you're looking for outstanding nordic skiing.
Stokely Creek Lodge, in the Algoma Highlands, has legendary trails, gourmet meals and luxe accommodations. Traverse 100 kilometres of trails to the highest peaks of King Mountain and cross the valley and creeks below.
50-plus-km of diverse, impeccably groomed cross-country ski trails at Hiawatha Highlands make for a great day with family and friends. There are three distinct trail networks groomed for both classic and skate-skiing, ranging from the beginner-friendly Pinder to the scenic Red Pine and the rollercoaster hills of the challenging Crystal system.
By mid-winter groomers have established a unique classic trail to Mabel Lake, which traverses a vast frozen wetland and climbs several gentle, tree-clad hills for a wilderness skiing experience. Get your day pass, rentals and trail advice at the clubhouse at 780 Landslide Road, barely a 10-minute drive north of downtown Sault Ste. Marie.
Fat Biking
Fat biking is a hot winter activity in Sault Ste. Marie for good reason: The city boasts two huge networks of single-track, groomed exclusively for snow biking. Located minutes from the city centre, Crimson Ridge off of Fourth Line West features over 20 km of packed, flowy trails through tall maples, briefly interrupted with amazing long views of the cityscape and the St. Mary's River. Combine a ride with an upscale meal at Embers Grill and Smokehouse, located at the trailhead. Hiawatha Highlands has embraced the fat biking scene this winter with 9 km of single-track, groomed in partnership with the Soo Cycling Club. 
Backcountry Skiing and Snowshoeing
For over 30 years, grassroots enthusiasts have quietly carved an impressive backcountry ski area in the rugged Algoma Highlands of Goulais River, an easy 30-minute drive north of Sault Ste. Marie. Now, the word is out: Bellevue Valley Lodge is your go-to destination for Ontario's best backcountry, telemark and alpine touring skiing.
You'll find cozy accommodations equipped to prepare your own meals or bed-and-breakfast-style lodging—great for small groups or families. Needless to say, deep powder and spectacular terrain are the main attractions; you'll have to "earn your turns"—the downhill runs are exceptionally long and there are no chairlifts.
Snowshoeing is a good option if you're looking for great scenery and less adrenaline. Guided day trips and lessons are available. You'll also find excellent snowshoeing within Sault Ste. Marie city limits on the Hub Trail and Voyageur Trail, with rentals (and more trails) available at Hiawatha Highlands.
Adventures on Ice
Sault Ste. Marie gained international notoriety when the New York Times featured Lake Superior's otherworldly ice caves as a bucket-list experience. But this stunning, mid-winter phenomenon (created when lake waves are followed by a deep freeze, sculpting blue-ice shoreline cathedrals) is fickle and hard to predict. If you're an avid angler, ice fishing is a better bet: Sault Ste. Marie serves as a perfect base for winter trout fishing in the wilderness of Lake Superior Provincial Park (about a two-hour drive north on Highway 17). Ice skating is a great family-friendly option. A downtown skating trail parallels the St. Mary's River in Clergue Park; Crimson Ridge also maintains a 1.1-km skating trail.
Where to Stay and Eat
Book a room at the Water Tower Inn or Quattro if you're looking for accommodations close to the trails at Hiawatha Highlands and Crimson Ridge, or choose the Delta Waterfront or Holiday Inn Express downtown.
Sault Ste. Marie has a well-earned reputation for great Italian food: Check out Giovanni's for an authentic meal. Meanwhile, delectable Indian food is available at Tandoori Gardens (downtown) or The Taj Indian Cuisine in the city's north end.
Quench your thirst with a microbrew from OutSpoken Brewing or Northern Superior Brewing Co. and visit The Breakfast Pig for a hearty start to your day.