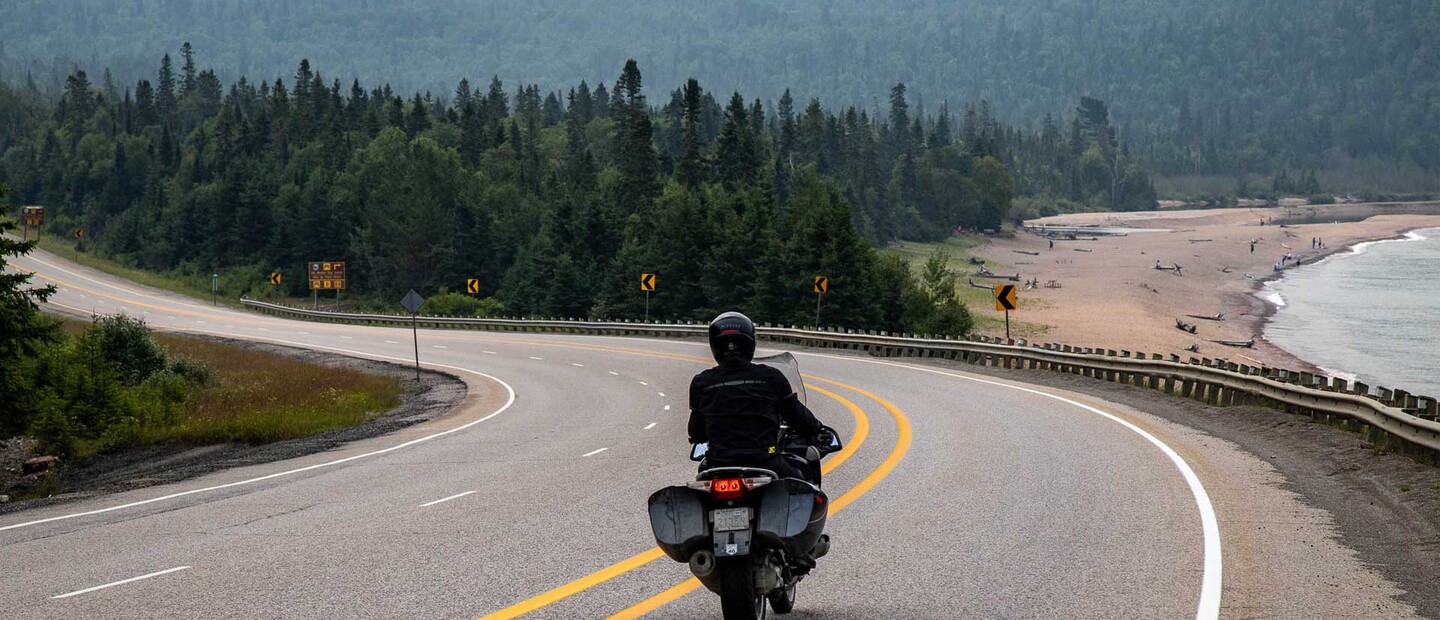 Moto Touring Algoma
Sault Ste. Marie to Wawa is one of Canada's top 10 drives. Here are 12 essential stops to check out along the way!
When it comes to the best motorcycle touring in Ontario, the stretch of Highway 17 between Sault Ste. Marie and Wawa along the north shore of Lake Superior is sure to be on every rider's bucket list. With its rugged coastline, sweeping curves and epic vistas, this 200-kilometre stretch is sure to deliver moto touring joy. But there is no need to rush through it. With many reasons to stop along the way, this ride can be an adventure. 
Here are the best places to stop along Highway 17.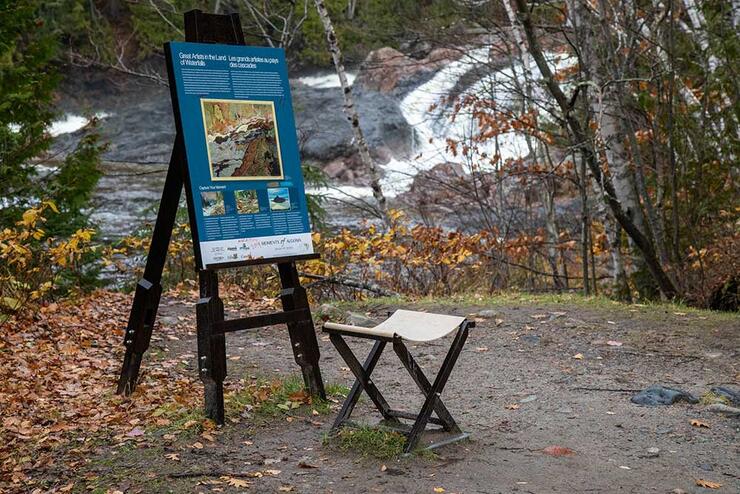 Chippewa Falls Rest Area
The 25 feet high Chippewa Falls can be seen from Highway 17, and with a roadside park next to them, this is a popular rest stop. The location, captured by A.Y. Jackson of the Group of Seven, is celebrated by an interpretive installation, one of several Group of Seven sites on the day's ride. You can walk across the bridge for better views of the falls or hike on the rocks for a closer look.
The Voyageurs' Lodge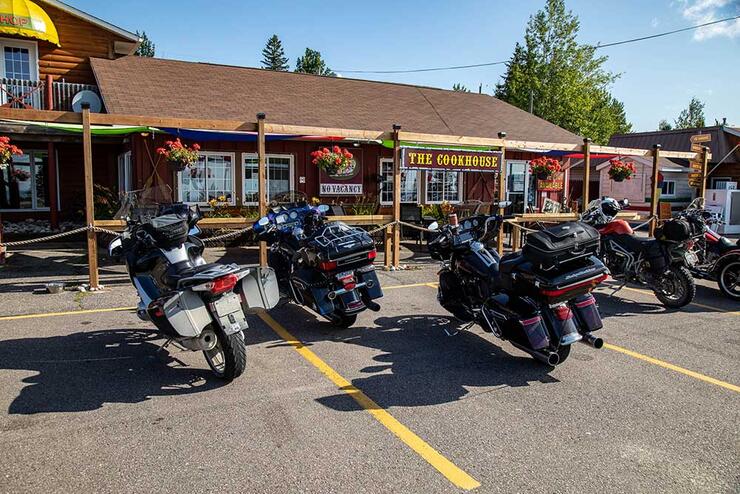 The Voyageurs' Lodge, located across from beautiful Batchawana Beach, on Hwy 17 north, is just 45 minutes north of Sault Ste. Marie.
The cookhouse is famous for its homemade desserts, like apple fritters and apple and blueberry crisp, which utilizes Algoma Highlands blueberries and Ontario apples. Gas and accommodations are also available here.
Agawa Crafts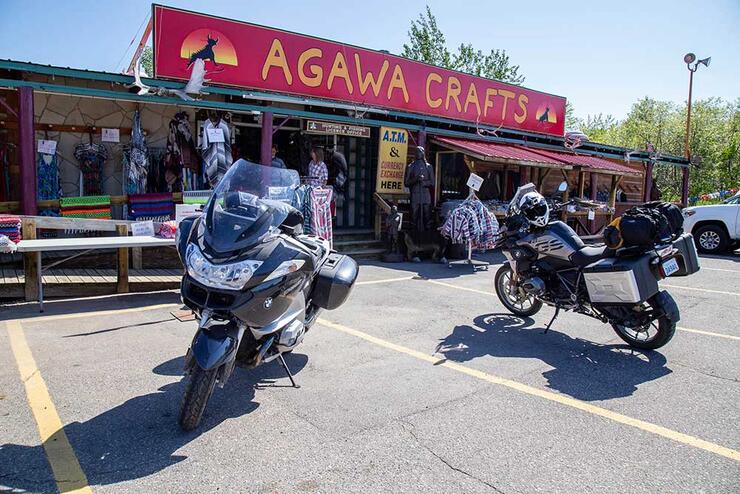 Gas, food, crafts, here's your chance to play tourist at this popular stop, smoked fish, ice cream and liquid supplies for your cooler. Stop in at the Canadian Carver for some "cottage-themed" home décor, woodcarvings, whittling and sculptures of animals, people, scenes and items by some of Canada's best-known artisans. At Agawa Crafts, browse Canadian Indigenous crafts, furs, moccasins, pottery, jewellery and much more.
Pancake Bay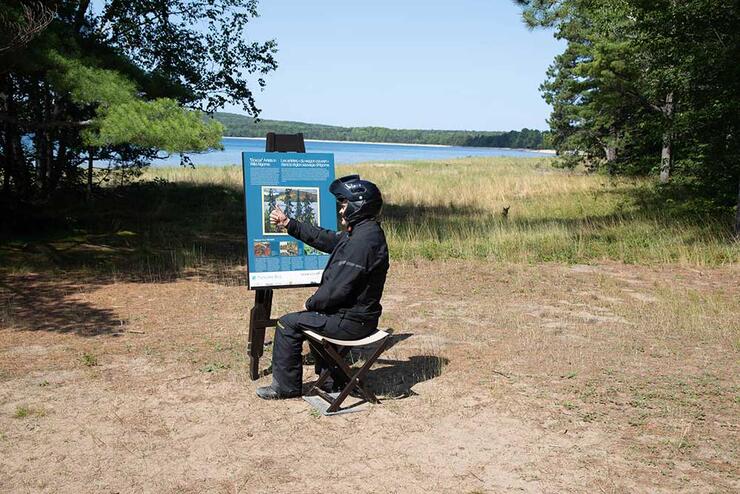 Famous for its 3 km (1.8 mi) superb sand beach that offers some of the warmest water on Lake Superior, members of the Group of Seven made two trips along the railway line in the hills behind Pancake Bay Provincial Park. Passing through, you can access the beach and the interpretive installation from the day beach area.
Alona Bay Scenic Lookout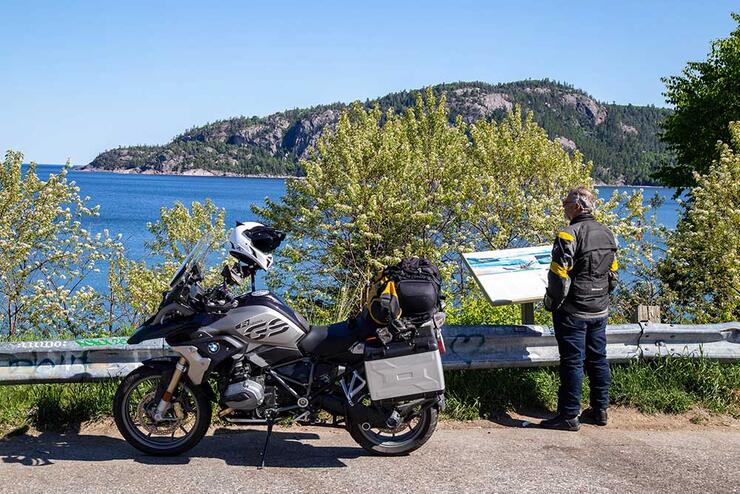 The scenic lookout at Alona Bay is a favourite place to stop and stretch your legs. Unfortunately, the view of Lake Superior and the juniper-studded island in the distance is hindered by trees and shrubbery.
Agawa Bay Scenic Lookout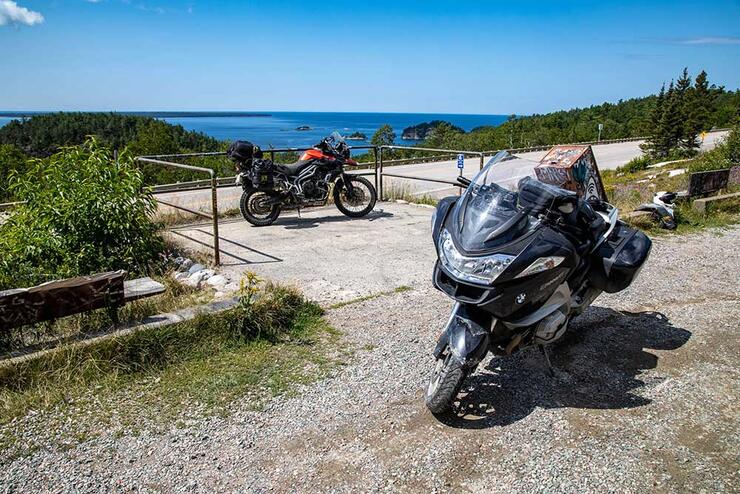 Enjoy the spectacular scenery from this roadside lookout. The view of the coast of Lake Superior and Montreal Island is breathtaking.
Katherine Cove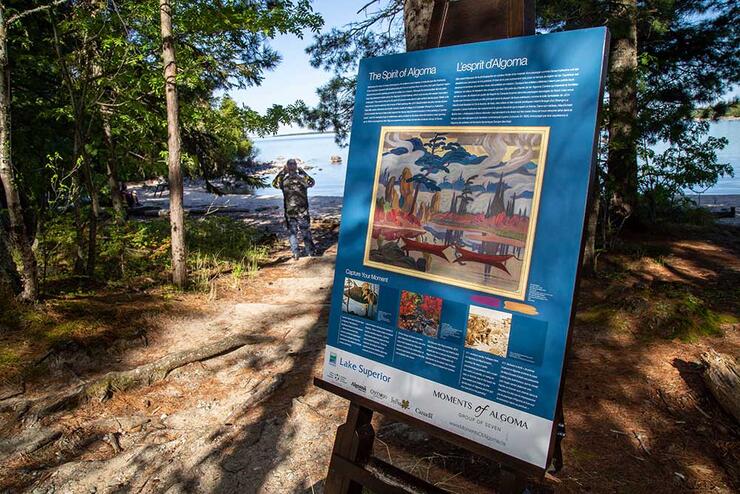 A lovely fine sandy beach surrounded by a rocky shoreline on both ends. Easy access from your bike and, yes, today's favourite Group of Seven interpretive installation number three.
Old Woman Bay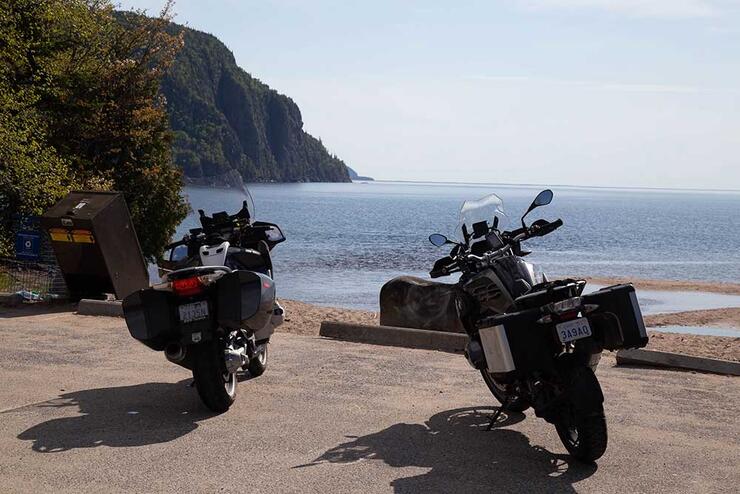 With its wide sandy beach and backdrop of rising rock, Old Woman Bay is a spectacular sight from the road and a must-stop when in the area. Park your bike at the edge of the sand and take in the vistas from the comfort of your saddle.
Scenic High Falls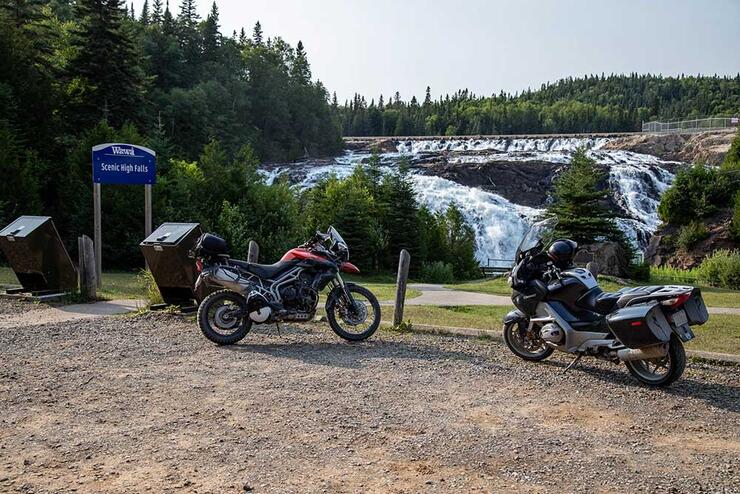 Watch for signs for the falls along Highway 17 as you approach Wawa. Access is along a short gravel road but worth the effort. At 75 feet high, 125 feet wide, Scenic High Falls lives up to its name.
Sandy Beach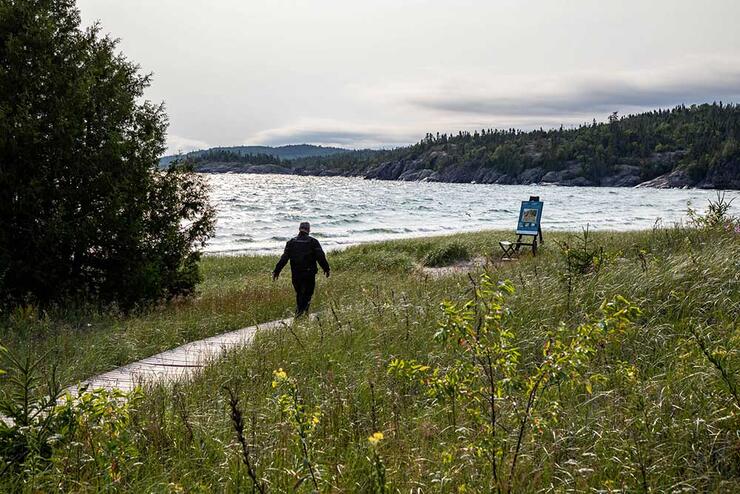 Another short excursion off the beaten path along a gravel road, Sandy Beach is one of the most spectacular views in the Wawa area! A beautiful sandy beach framed by rugged cliffs on Lake Superior. Take a stroll along the boardwalk, go for a swim, sunbathe; you will definitely want to stay awhile. The setting is impressive enough that Group of Seven painter A.Y. Jackson found it worthy of his canvas when he painted Shoreline Wawa Lake Superior.
Also, be sure to visit the storytelling pavilion that teaches visitors about the Indigenous people who settled the area, famous artists who spent time on Lake Superior, and more.
The Wawa Goose
Did you know that "Wawa" means "Wild Goose or Land of the Big Goose" in Ojibwe? Today the Wawa Goose Monument, now 50 years into its existence, is one of the most photographed landmarks in North America. I'd say that is reason enough to stop. Learn some fun facts about the goose here. 
Wawa Waterfront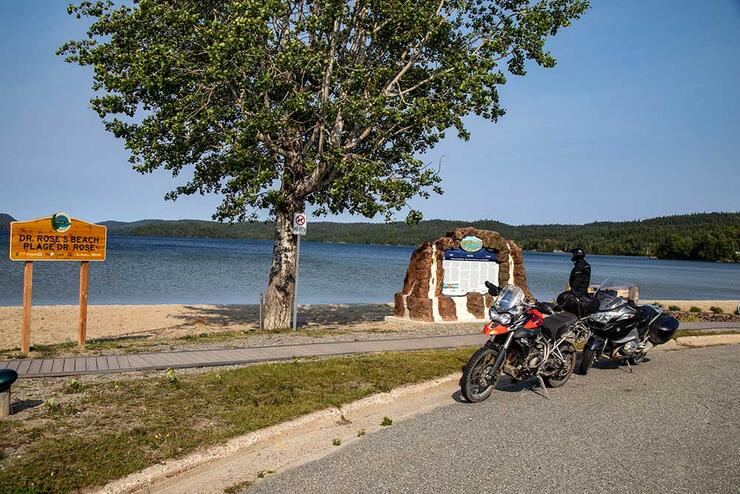 While the Goose welcomes you to Wawa, explore further into town, and you will find Dr. Rose's Beach, a lovely stretch of sand along the shore of Wawa Lake. Enjoy a swim and a stroll along the Boreal Forest Eco-Walk and visit the Mine Driller Memorial, where you can learn about Wawa's culture, history and location.
Yes, the stretch of Highway 17 between Sault Ste. Marie and Wawa is a memorable ride, but it becomes a day's long adventure with a few stops along the way.