This Story is Archived
Please note this page may no longer be up to date. For new stories about Northern Ontario visit us here.
Sylvan Circle Tour
The Sylvan Circle Tour celebrates talented artisans from the area.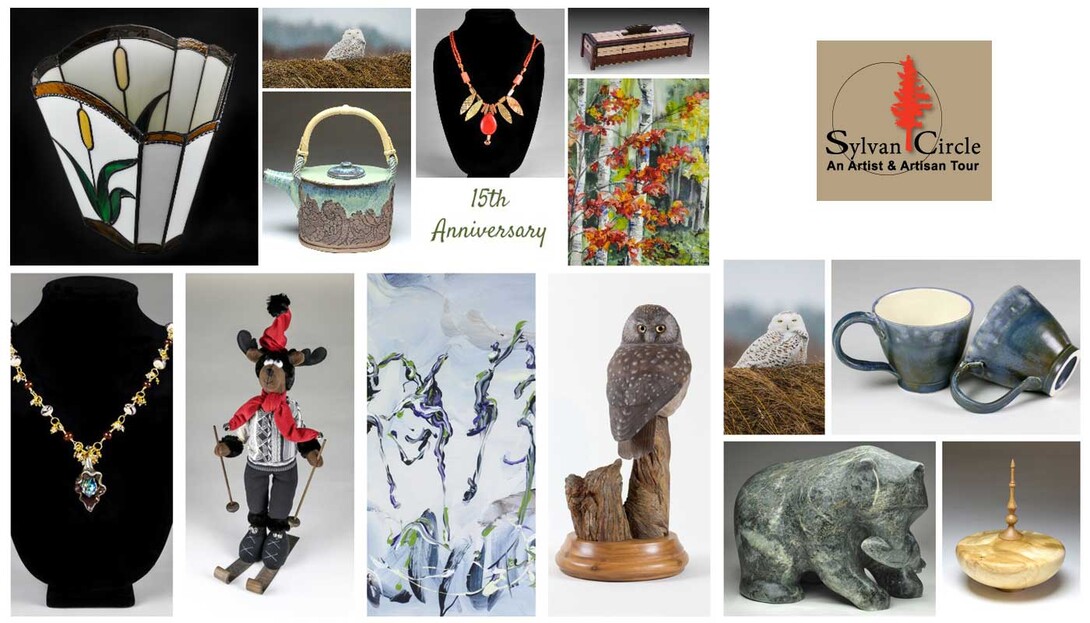 Editor's Note: In 2015, The Sylvan Circle Tour celebrated its 15th anniversary. For the most current dates, the route map, locations and sponsors, visit sylvancircle.ca or Follow on Facebook for updates.
Sylvan Circle Tour Takes Place in September
The Sylvan Circle Tour is a 100 km route through the beautiful East Algoma countryside. Artists and artisans will be showcasing their talents at eleven community centres and three studios. Seven locations will have food and beverages available. See the Sylvan Circle Map
All the information you need can be found at sylvancircle.ca. The Sylvan Circle Tour would not be possible without the continued support of all of its sponsors.
To celebrate the 15th Anniversary, the organizers have asked artisans to select their own favourite items to display during the day. These "Artist Favourite" items will be available for purchase.
The 61 artists and artisans participating in the Sylvan Circle Tour are categorized within their halls or studios.
*Please note the location of artisans may have changed since the article was first published in 2015. The most current list of artisans will be listed on the Sylvan Circle Tour website.
Bar River Hall
Jack Dunning creates functional and decorative stoneware pottery, playing with many shapes and glazes. His photography also captures nature's natural beauty.
(705) 248-2321
jack@echoriver.ca
www.echoriver.ca
Jayne Cady's handcrafted dolls with embroidered features are made with flesh tone fleece and filled with 100% polyester fiberfill.
(705) 549-7945
justfriends@rogers.com
www.justfriendsofjayne.com
Demonstrator
Sheila Currie's inspiration for her creations is influenced by life experiences through her travels abroad, teaching and her many charitable projects.
(705) 842-3599
watercoloursbysheila@gmail.com
www.watercoloursbysheila.com
Lawrence Howard's unique woodturning is emphasized by fine finishes. His award-winning functional and decorative pieces are made from local materials.
(705) 253-7983
Carmen Sims creates a wide range of hand-crafted jewellery from classic to elegant designs of sterling silver, copper and semiprecious stones.
(705) 869-5470
carmensims@xplornet.ca
Bruce Mines Community Hall
Michele Forrester and Hans Wesselius handcraft wood art; wall plaques, sculpture, carved doors and tabletops.
(705) 782-6938
itsinthewood@gmail.com
www.itsinthewood.com
Patricia F. Baker, an award-winning artist, specializes in North American leather textiles with embroidery and beadwork. She will also have her acrylic artwork.
(705) 777-3095
pbaker.spiritriver@sympatico.ca
Demonstrator
Heather Jordan specializes in woven wire jewellery, meticulously handcrafted with meteorites, fossils and various gemstones with contemporary to steampunk styles. (647) 985-5364
heatherjordanjewelry@gmail.com
www.heatherjordanjewelry.com
Demonstrator
Carson Merriefield, is a fused glass artist whose work includes a wide range of "kiln-formed" glass creations from jewellery to functional items and art.
(705) 971-9389
carsonmerriefield@gmail.com
www.carsonmerriefield.com
Marilyn Mill's watercolour and pastel works include local landscapes, floral or the nostalgic life in or around the area including Lake Superior.
(705) 254-7272
millsymf@gmail.com
Donna Nelson, oil painting has been her life-long passion. She paints on locally sourced rock to enhance their natural beauty.
(705) 785-3853
Demonstrator
Lynden Pond features her celadon glazed pottery and leaf printed bowls with designs inspired by nature that are both beautiful and functional.
(705) 949-1057
lyndenpond@gmail.com
Bruce Station
Janice Miller's hand-stitched English smocked garments, unique fabric snowmen, moose and winter creations are today's gifts and tomorrow's treasures.
(705) 942-8051
jan.miller@shaw.ca
Demonstrator
Pat & Nancy Caldwell's wood bands are hot water bent around forms and the covers feature fancy woods or watercolour nature art.
(705) 575-2231
wlscp3@gmail.com
Demonstrator
Lou Lacroix, is always original and creative; her artwork includes mixed media with colour and movement. Lou's recycled wool hats are practical and awesome.
(705) 843-0884
algomamoon@gmail.com
www.sites.google.com/site/algomamoon
Jim & Joanie Lindamood, Jim carves lifelike birds in tupelo or basswood then Joanie paints each piece in detail before being mounted on natural driftwood.
(705) 461-1745
jjl1234@eastlink.ca
Debra Morin's original jewellery designs reflect nature's colour, sparkle and beauty. Quality stones and crystals combine to create classic and modern pieces.
(705) 759-0414
deb.steve@shaw.ca
Desbarats Arena
Sarah Buckley designs and weaves functional household textiles and personal accessories using natural fibres.
(705) 246-2819
sarahcollena@gmail.com
Demonstrator
Cathy Barton's magical stained glass is both functional and decorative, ranging from lamps and sun catchers to jewel boxes, ornaments and bowls.
(705) 949-4487
b.c.barton@shaw.ca
Brian Fulin began taking pictures in his 20's and focuses on scenic and nature photography then turns them into works of art.
(705) 942-1833
bbf@shaw.ca
www.bbfphotography.ca
Hugh Morrow favours 'rustic' subject matter using watercolour to best express the results desired in his painting of landscapes, marine art and portraits.
(705) 946-2386
hughmorrow@hotmail.ca
Gil Sachro unites function and design to create a diverse range of tableware and one-of-a-kind pottery. Pieces are uniquely carved, textured and glazed.
(705) 759-8496
gil.sachro@sympatico.ca
Nancy Sachro creates functional and decorative fabric art using a wide variety of techniques, fabrics, fibres and found objects.
(705) 759-8496
gil.sachro@sympatico.ca
Demonstrator
Echo Bay Hall
Suzan Love's art is inspired by her writing/poetry, created by her imagination and influenced by life and her love of fairytales.
(705) 943-7855 or (416) 318-6904
artbysuzan@hotmail.com
www.thedesignhouse.ca/suzanlove
Susan Coventry is a nature and wildlife photographer who finds beauty and inspiration in the scenery and life all around her.
(705) 785-3274
herdingdog@hotmail.com
Gwendlyn Goulet uses wire and metal to create jewellery using wire wrapping, fold form, chain maille and wire work techniques.
(705) 849-8170
gwentreed@yahoo.com
Demonstrator
Lidia Silvestrova's hand-painted wooden eggs and Matryoshka dolls are traditional Eastern European styles, with nature, Christmas and Easter themes.
(705) 946-3676
lidiasilvestrova@hotmail.com
Karen Singleton is a true Canadian artist whose attention to detail is amazing no matter the subject or choice of canvas.
(705) 882-1250
karen@karensingleton.com
www.karensingleton.com
John Robert Speer's hand-carved and painted carvings accurately portray an animal's true appearance. They are mounted on natural settings or free standing.
(705) 254-7649
speersjohnrobert@hotmail.com
Kelly Boyer is inspired by imagination and created with love. Kelly specializes in both fresh and artificial flower arrangements for all occasions.
(705) 542-8005
kboyer_@sympatico.ca
kelly@foreverflowersbydesign.com
www.foreverflowersbydesign.com
Elks Hall
Russ Mason has been a functional weaver for over 35 years; Russ continues to explore colour, texture and design in his works.
(705) 759-2086
russ.mason@shaw.ca
Bev Hamel's high-fired stoneware merges design with craft and skill. She aspires to create pottery that is pleasurable both to the eye and to the hand.
(705) 248-2176
hamelb@hotmail.ca
Graham Shell is a builder of authentic-looking replica model trucks and heavy equipment. Graham also makes useful wooden household items.
(705) 246-2222
gnhiltonhollow@hotmail.com
Maria Parrella-ilaria creates one-of-a-kind pieces of jewellery combining semi-precious metals and stones with hand-knit and crocheted linen and silk fibres.
(705) 256-9368
openartstudios@hotmail.com
www.openartstudios.ca
Warren Peterson is a professional artist that enjoys painting the beauty of natural spaces and wild places bringing them to life.
(705) 949-9972
warrenpeterson@yahoo.ca
www.warrenpetersonfineart.com
Cathy Redmond "Anyone can do calendar art", so for the past 40 years, Cathy has been trying to perfect it through watercolour.
(705) 945-7032 or (705) 246-2016
cred2@sympatico.ca
Andrew Tiltins is a Cabinet Maker and fine rustic furnishings designer. His creations incorporate unique locally found materials.
(705) 246-2209
atiltins@sympatico.ca
Laird Hall
David Solomon is an award winning woodworker creating decorative boxes and serving boards from exotic woods and burls with complimentary colours and patterns.
(705) 759-8790
davep.solomon@gmail.com
Cindy Coccimiglio is also known as ChinzPots. Cindy creates both functional and decorative pottery made with hand building and wheel throwing techniques.
(705) 971-9055
chinzy73@yahoo.ca
www.flickr.com/photos/chinzy/
Jeanne Dumas's style is influenced by Superior's dramatic coastal highlands. She captures the spirit in organics of stone, wood and colourful acrylics.
(866) 887-8862 or (705) 882-2231
jeannesnorthernvision@gmail.com
Eileen Halfpenny is a watercolour artist with a great love for art and nature that is undeniable in her colourful, breathtaking pieces.
(705) 942-4464
info@ehalfpennyart.com
www.ehalfpennyart.com
Steffon McGregor's digital photography of his wildlife images emphasizes making the connection of an animal's personality when taken in its natural environment.
(705) 949-2080
steffon.mcgregor@shaw.ca
northerninterludesphotography.com
Leeburn Hall
Errol Caldwell creates unique and functional woodturnings and wood products from native and exotic woods. His work is sold in several Ontario galleries.
(705) 248-1545
errol.helene@gmail.com
Doug Hook has been a professional watercolour painter for 45 years. His work is in hundreds of collections around the world.
(705) 246-2457
doug.hook@sympatico.ca
www.doughook.com
Kim McHale utilizes cheerful colour combinations when creating fused glass items that are nature-inspired, yet whimsical.
(705) 782-0164
groovyglassshed@gmail.com
MacLennan Hall
Sheri Minardi captures wildlife, landscape and still life in Algoma through her lens. Her photography will complement any décor.
(705) 971-5616
sheri.minardi@shaw.ca
www.sheriminardi.com
Steve Dyni applies his vision for decorative and functional forms of local and
exotic woods to create hollow vessels, vases and bowls.
(705) 254-6021
steve.dyni@shaw.ca
Phil Jones is an Ojibway from Garden River, Ontario. He uses Woodlands Art for his muse to create soapstone sculptures.
(705) 943-0558
pjones@gardenriver.ca
Demonstrator
Karen Nisbet is a freelance artist and craftsperson. She uses hand-building and a wheel to produce functional dinnerware and sculpture.
(705) 943-6348
kareniz@hotmail.com
www.hummingbirdstudio.ca
Demonstrator
Rydal Bank Hall
Skip Bailey uses the wheel, hand-building techniques and a variety of clay and glazes combinations to create functional, decorative and whimsical pottery.
(705) 946-3774
gump.dot@shaw.ca
Danilynn Redgrift loves doing macros, landscapes, reflections and still life. She enjoys bringing them to life while capturing them from a different perspective.
(705) 521-3382
reddl@homerj.net
www.dlrphotography.ca
Gerry Richard creates fine home décor using domestic, exotic and reclaimed wood with unique characteristics to enhance the visual appeal.
(705) 946-4811
gerry@infinitestyleinc.com
Zoey Wood-Salomon paints in traditional Woodland style reflecting her Odawa heritage. Zoey has one book published called "Healing Through Art".
(705) 759-4897
zoeyjimws@shaw.ca
Sylvan Valley Hall
Lucy Boston is an award winning fabric artist using 100% cotton/batik for her wildlife/country quilt collections and Raggedy Ann/Andy dolls.
705 945-9294
wboston7@shaw.ca
Mike Nebesniuk is a landscape photographer who enjoys the surrealistic look of HDR photography finding beauty where others would not.
705 257-1198
nebey@hotmail.com
Ulrike Schneider creates unique handcrafted pieces in whimsical, organic and elegant forms that are inspired by the natural beauty surrounding Batchawana Bay.
705 882-2154
ulipottery@gmail.com
Tiana Pollari loves to design and make unique jewellery using different colours, crystals, textures and mediums to create fun and beautiful pieces.
(705) 942-2807
tianabob@shaw.ca
Melanie Springbett works in oils and pastels with occasional acrylics. She specializes in pet portraits and does commissions.
(705) 943-2592
theartist@melaniespringbett.com
www.melaniespringbett.com
Demonstrator
STUDIOS
Brander Studio – Hilkka Brander and Lena Skyum, artfully upcycle used clothing and materials into durable hand-loomed Finnish rugs, placemats and runners.
(705) 785-3453
finnweavers@gmail.com
Three Oak Resort – Dieter Heller's handcrafted fretsaw woodwork designs of his own and German patterns are combined with wood burning techniques to produce one-of-a-kind pieces.
(705) 785-3875
threeoakresort@gmail.com
www.threeoak.com
S & S Creations – Stephanie Mitchell and Steve Haaksman combine stained glass, local stone and metal to truly create one-of-a kind and unique pieces.
(705) 785-2466
stephaniemitchell4@yahoo.ca
www.sandscreations.ca
Demonstrator
Members of this year's Sylvan Circle Tour Committee (Jack Dunning, Lucy Boston, Errol and Helene Caldwell, Russ Mason, Skip Bailey, Sheri Minardi, Janice Miller, Suzan Love, Michele Forrester, David Solomon, Stephanie Mitchell and Sarah Buckley)are looking forward to celebrating the 15th Anniversary this year and bringing you a wonderful day of art and travel. Brochures can be picked up at various locations in Algoma. The locations are on the website at sylvancircle.ca/brochures. The photography for the brochures and website are the work of Tim Harris and Sheri Minardi.
For further information about the Sylvan Circle Tour, refer to the tour website at sylvancircle.ca or contact (705) 248-1545. Follow Sylvan Circle Tour on Facebook, Twitter and Instagram. See you soon!