Peterborough and The Kawarthas
A longtime boating couple from Maryland spends Canada Day on the locks and the parks of the Kawarthas.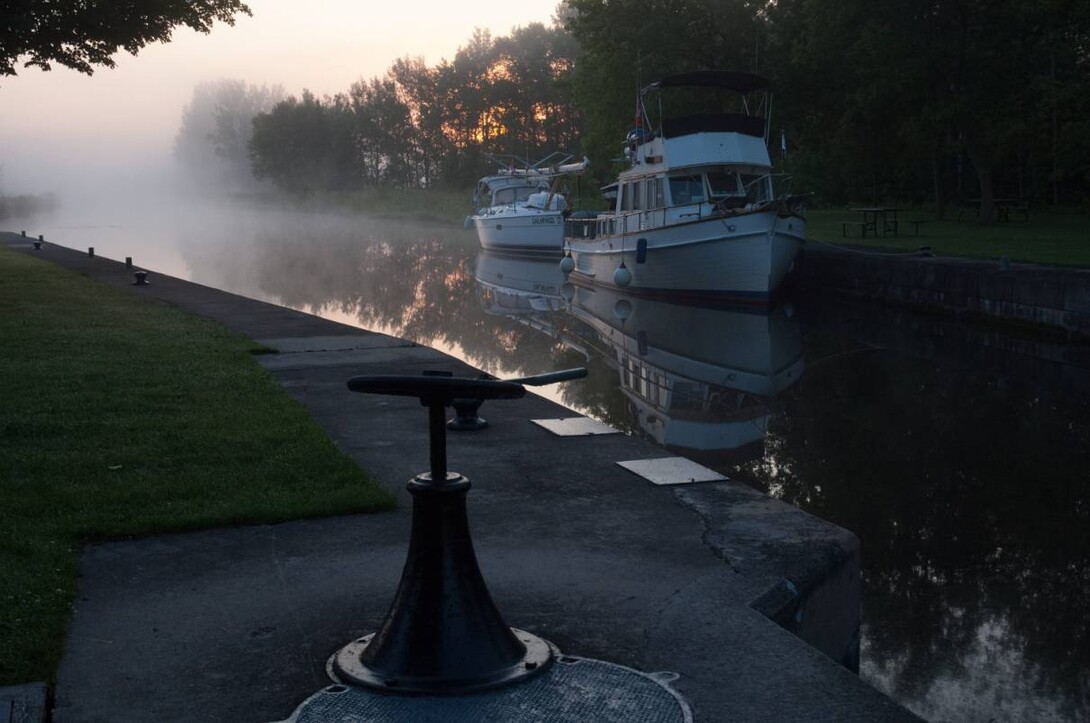 One summer we left our home waters on Chesapeake Bay and cruised the Trent-Severn Waterway in Ontario's Kawarthas Northumberland region, a dream of a cruise. We were easily making our way through the lock system until we entered Lock 13 and lost our boat's teak gate railing overboard. As my husband Gene was leaning against the railing to retrieve a stern line, the gate popped open. He almost went overboard but got his footing; unfortunately, the gate's hinge pin broke, and the piece of varnished teak with heavy brass hardware sunk like a rock. I asked if the locks were drained during the winter, hoping the gate might be found, but the lock tender said no. But he added that periodically divers were sent down to clear out the debris and they'd keep a lookout for it. It didn't sound promising, but we gave him our phone number anyway, musing we'd pay a king's ransom to Grand Banks for a replacement.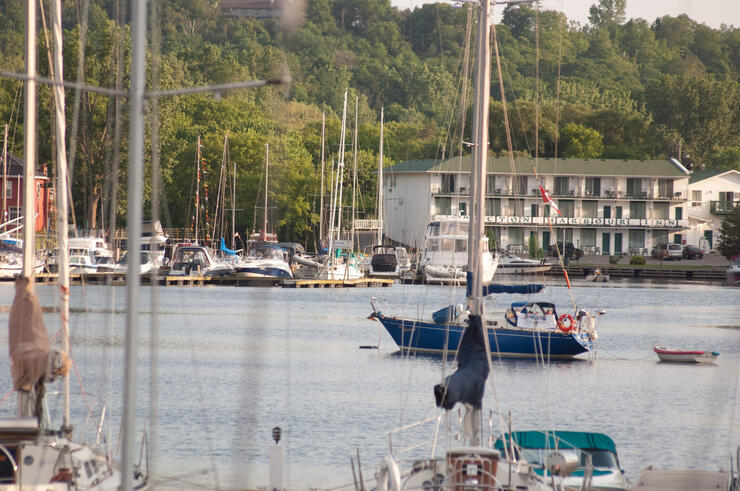 Along the way we stayed at canal parks and enjoyed meeting many Canadian boaters, some on their own boats, others in chartered houseboats.  They laughed when we told them about our first experience celebrating Canada Day in Picton, where we marveled at seeing our first hot dog eating contest where contestants consumed them in a matter of minutes.
The scenery was breathtaking as we made our way toward Peterborough. We were startled when our cell phone rang and happily surprised to hear a diver tell us he found the teak gate at the bottom of the lock. We said we'd rent a car and come get it, but he insisted he'd be in Peterborough the next day and deliver it – which he did!  Despite Gene's effort to pay him, he wouldn't take a penny as a reward.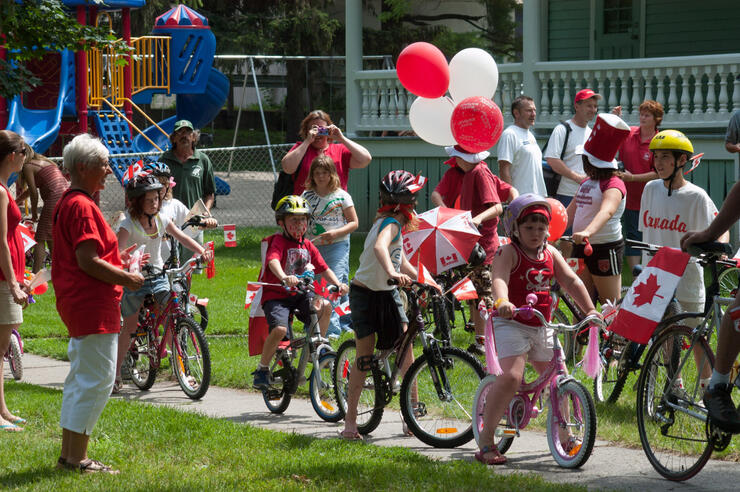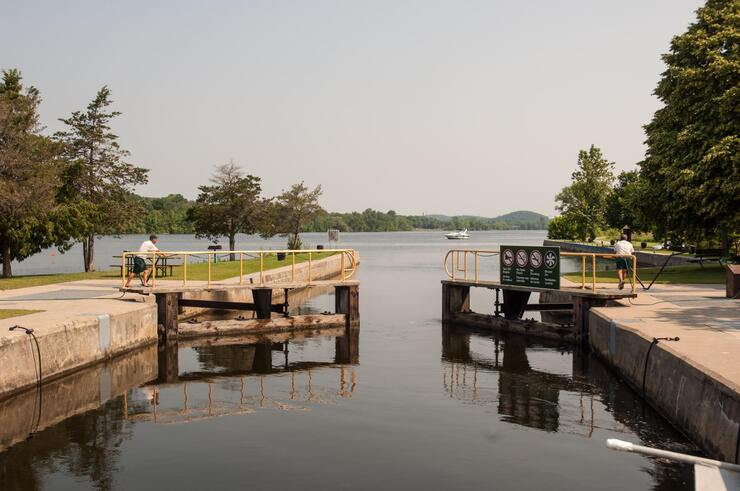 We spent a delightful weekend at Peterborough on Little Lake where we enjoyed a festival in a nearby park sampling BBQ ribs and beer, laughing at the motto of Church Key beers, "Drink religiously." At night we were part of a crowd of rockers and rollers at a free concert of the Stampeders, a local 1960s group. The finale was an impressive fireworks show on the lake.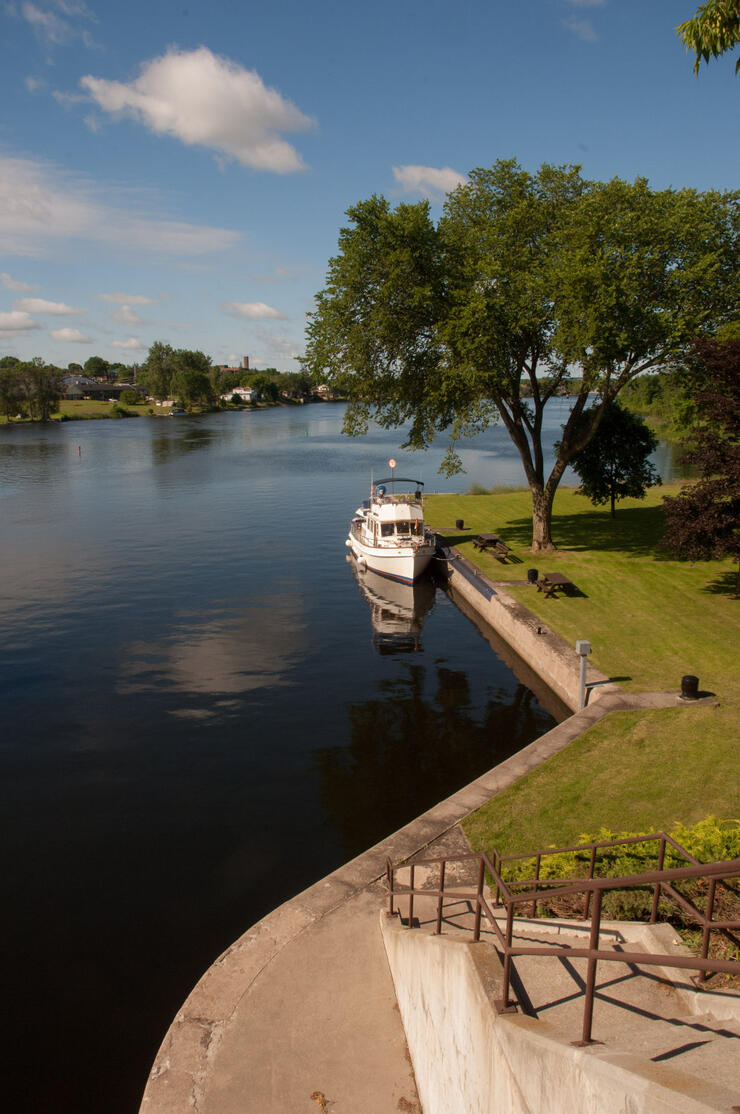 When we entered the hydraulic lift at Peterborough, we were impressed with the operation.  We secured our lines and when the chamber closed water was added to the upper chamber to make it heavier. Our chamber full of boats rose while its counterpart full of boats at the top was lowered. When we reached the top a gate lowered into the water, the front end of the elevator opened and off we went. It was the easiest lift we went through.
It was pouring rain as we approached the Lakefield marina, and the dock attendants were busy so we found our slip and pulled in. Bill and Kate on a houseboat, Sultana, caught our lines and asked where we'd come from.  When we told them, Peterborough Bill said, "Anyone who's run five locks and only traveled eight miles in a day needs a drink, come on aboard," and we were happy to oblige.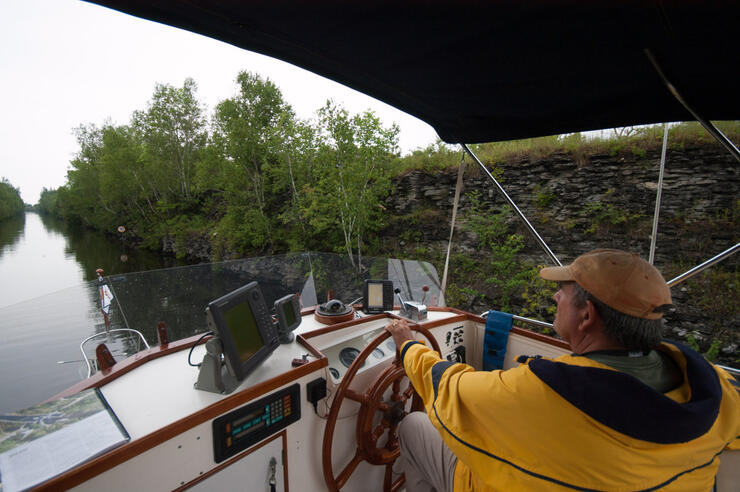 Between Sturgeon and Pigeon Lakes on our way west to Bobcaygeon, we saw more Canadian eye candy – rocks covered with a striking spread of orange lichen that carpeted their surface.  As we approached the narrow entrance of the Bobcaygeon Lock we were startled to see a low swing bridge we didn't expect.  Just as quickly we were relieved to hear "Approaching trawler, let me swing this bridge for you and them come on into the lock" from the lock tender.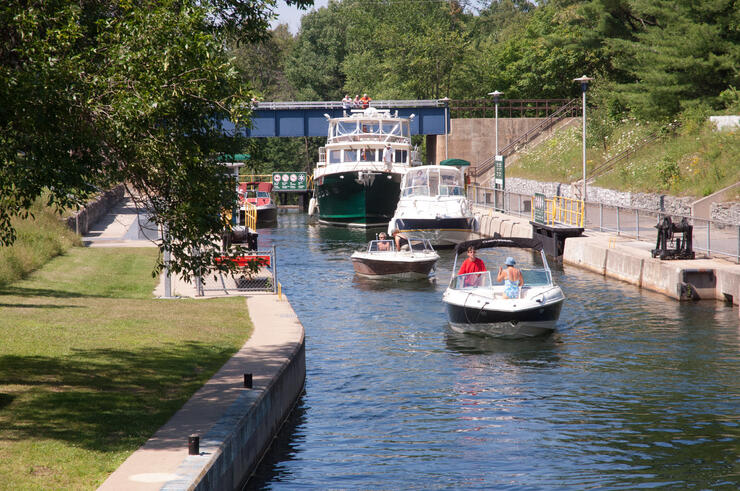 We eased into the second hydraulic lift lock at Kirkfield, and as we exited we noticed the navigation markers switched because we were locking down to Georgian Bay. The shoreline changed to Christmas trees, colorful wild flowers and stands of cattails and when we reached Lake Simcoe we were struck by the crystal clearness and color of the water – it was Canada Dry green.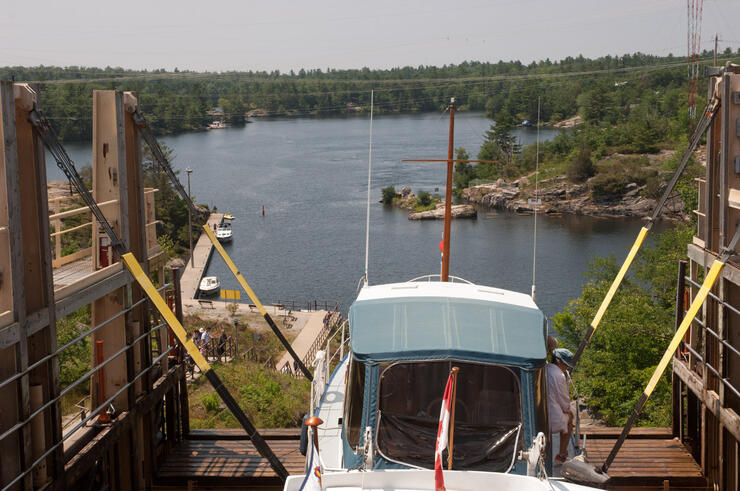 The Big Chute or railway lift was the last lock where we waited at the blue line until we were called, and then it happened so fast and efficiently it was over before we realized it.  Later we told friends it was like driving your boat onto a marine railway, then being lifted out of the water, and then traveling over a road and down a cliff into the water.
Our cruising experience in Ontario—the breathtaking scenery, the friendly people and the pristine waters – makes it one we'll never forget.