The Complete Guide to the Best Bike Routes & Trails in Ontario
Discover some of the best places to pedal in the province, no matter what type of cycling you like to do.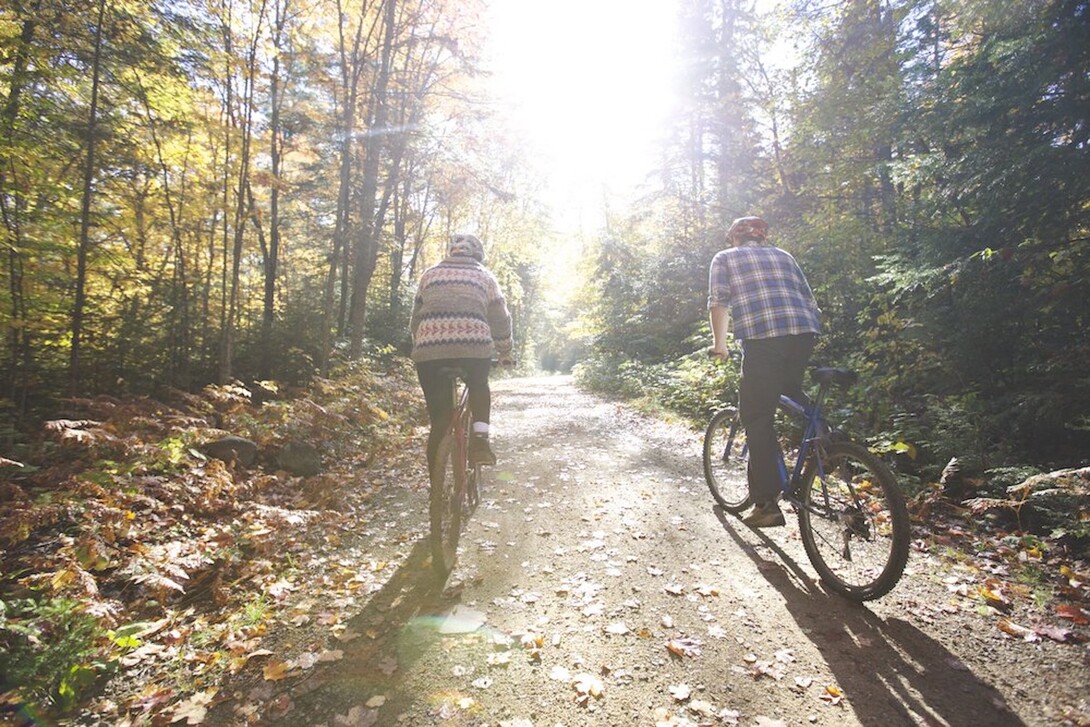 Paved and gravel roads forming endless networks of routes, dirt trail systems wending their way through trees and rocks, rail trails stretching across counties and into the distance, paved pathways cutting through urban neighbourhoods and tracing the shorelines of lakes, snow-covered passages through wintry wooded areas—these avenues for cycling aren't unique to Ontario, but the landscapes the roads and trails of Ontario travel through are without parallel. From flat farmland to forested hills, lively cities to quiet hamlets, sparkling lakes to rushing rivers, striking rock cuts to soaring escarpments, there's no end to the beautiful sights you'll behold when traversing Ontario by bike.
Cycling here is an all-season activity—all it takes is the right equipment. The options for the snowless months are obvious. Take your pick from road rides, whether on pavement, dirt or gravel, mountain biking at downhill parks or single-track trail networks, pedals along paved multi-use paths or gravel rail trails, and visits to pump tracks or outdoor bike parks with features. In the winter, fat biking is on tap with many designated fat biking trails maintained across the province. Biking is also fully customizable to the amount of time you have to spare and your skill and fitness level. Go for a short afternoon pedal or gear up for a bikepacking adventure.
You'll appreciate the balance of being able to travel long distances while still soaking up your surroundings that cycling affords. Take bikepacking as an example, where it's not uncommon to ride 100 km in a day, allowing you to travel large portions of the province over the course of a multi-day trip, while never reaching speeds that would make it difficult to observe the scenery. Even shorter rides produce the same effect, allowing you to explore entire single-track systems in an afternoon and enjoy your forested surrounds.
So whether you road or mountain bike, just bought your first bike or have a garage full of them, you'll find a route, trail, or trip and the advice that goes with it among the articles below.
Get Inspired
Getting motivated is tough, but we've done the legwork for you. Read about why you should get out on your bike more and why Ontario is the perfect place to do it in the articles below. Once you've finished reading, we know you'll be eager to get pedalling.
Learn & Plan
They say that once you've learned how to ride a bike you never forget. We're apt to believe that, but that doesn't mean the learning ends there. Whether you want to give a new type of cycling a try, are planning a cycling vacation, or just want some tips to make your rides safer and more enjoyable, the articles below can teach you a thing or two.
Get Involved
Cycling can be as solitary or group-oriented as you want it to be—of course, we think getting out for a bike ride with friends or family brings an extra level of fun to the table. Whether you want to join a club so you always have a regular riding group, enter a race to put your fitness to the test, or go to a clinic to improve your skills, you'll find what you're looking for below.
Get Out There
No matter what type of cycling you're looking to do or length of ride you want to go on, the guides and resources below will help you pick out the perfect trail or route for your next on-bike adventure. Once you know where you're headed, check out this guide to Bike Shop Rentals in Ontario to help you make it happen.
Route & Trail Roundups
These roundups of bike trails, routes and parks will show you the best options for whatever type of cycling trip you want to take. Head out to see fall colours or sample ice cream, go away on vacation to a cycling hotspot, book a tour with a knowledgeable guide and more below.
Routes & Trails For Americans
There are many incredible rides within a few hours' drive of the border for American cyclists to enjoy. See the articles below for the biking hotspots that are most accessible to states bordering Ontario. Each destination has many different types of cycling on offer in addition to amazing amenities for tourists, making them well-worth a multi-day getaway.
Routes & Trails In Different Regions of Ontario
Each part of the province offers different landscapes and cycling opportunities. We've sorted all of our specific cycling guides for cities, provincial parks, trail systems and more into different regions of Ontario below. Whether you already have a trip booked and want to sneak in an afternoon of biking or you want to plan a whole vacation around popular cycling spots, we have you covered.
Northeastern Ontario
Book a campsite and explore the bike trails at Restoule Provincial Park or Kettle Lakes Provincial Park, or stay in a hotel room in Timmins or Sudbury to take advantage of nearby trails and cycling routes. You'll find this area is the perfect mix of amenities and wilderness, providing you with excellent cycling infrastructure set amid beautiful scenery. Visit Northeastern Ontario's website to learn more and browse the resources below.
Northwest Ontario
Find trails at the likes of Sleeping Giant Provincial Park and Trowbridge Forest among others in the Thunder Bay area. Most provincial parks allow for biking along campground roads, but when it comes to mountain bike trails and popular road biking routes, the closer to the north coast of Lake Superior you stay, the more options you'll have available to you. Visit Sunset Country and Superior Country's websites to learn more and browse the resources below.
Sault Ste. Marie - Algoma
Stay in Sault Ste. Marie for access to great trails and bike routes, or head north to Pancake Bay Provincial Park and Hiawatha Highlands for trails that showcase the best natural environments the area has to offer. This part of the province is sparsely populated, so once again the closer to the coast of Lake Superior you are, the more cycling infrastructure you'll find. Visit Algoma Country's website to learn more and browse the resources below.
Southern Ontario
This area of the province is king for rail trails, paved pathways stretching on for kilometres and kilometres, popular road riding routes and a smattering of mountain biking thrown into the mix. Visit Ontario's Southwest to learn more and browse the resources below.
Routes & Trails For Different Types Of Cycling
For those wanting us to cut to the chase and provide guides to the best places to go for the type of cycling they like to do, see below. Ontario has it all and you're sure to find a challenge or dream destination suited to you.
Mountain Biking
Disappear between trees and emerge smiling and spent at these mountain biking spots.
Gravel Biking
You never know what you're going to get when you choose the road less travelled. But that's what makes these gravel rides all the more exciting.
Road Biking
Find flat stretches of countryside where you can grind it out for hours, or hills that'll make your quads quake in fear.
Fat Biking
Discover your favourite places anew by biking the trails in wintertime. While the rest of the world waits for spring, you'll be hoping the snow sticks around a little bit longer.
Off-Road Cycling
Dirt? Gravel? Paved? You'll find all of the above on these lists, just nothing that involves sharing the road with vehicles.
Bikepacking
Spend your days crushing distance and soaking up the sights, and evenings under star-filled skies and crackling campfires.
Explore by bike
There is a certain freedom that cycling affords. It's that feeling of getting out on the open road, but instead of being closed off from it in a vehicle, you can feel the wind on your face and the sun on your back. It's that feeling of of setting out into the woods, leaving civilization behind, if only for an hour or two. You don't have to be an expert to experience this freedom for yourself. Pick a route or trail, find a rental shop, and get out there. Ontario is yours to explore by bike.