9 Must-do Bike Paths and Routes in Ontario
Explore quiet country roads and uncrowded trails on these favourite local rides.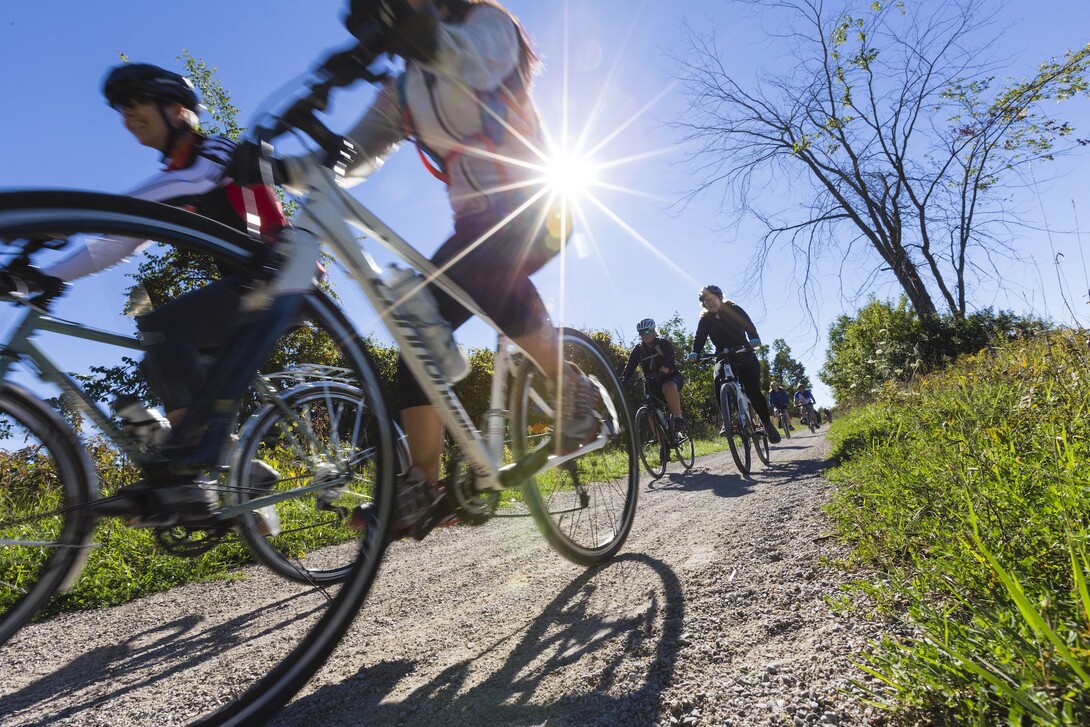 Cyclists across Ontario and beyond know the province is famous for its incredibly diverse scenery. Add a sprawling network of lightly travelled backroads and scores of excellent off-road recreational trails, and the riding possibilities are virtually endless. Fortunately, our dedicated local riders and organizations like Ontario By Bike have made it easy for visiting cyclists to get started—read on for our top routes. 
Great Lakes Waterfront trail—Algoma country
Who Should Ride It: Touring and recreational cyclists from Michigan, Sudbury, Sault Ste. Marie and Southern Ontario who prefer moderate grades, quaint farmland and welcoming communities. Much of the 460-km Great Lakes Waterfront Trail in Algoma follows along the North Channel of Lake Huron, enticing riders to take a refreshing dip at local beaches, break for a lakeside meal and microbrew, or find accommodations right on the lake.
Why You Should Ride It: The northern expansion of the Great Lakes Waterfront Trail offers a memorable mix of wilderness and waterfront—taking in heritage sites, rushing rivers, scenic lookouts, rugged Canadian Shield and rolling farms. Pedal the epic multi-day tour from Sault Ste. Marie to Sudbury, or choose from a variety of excellent day rides. The 70-km loop around St. Joseph Island is a local favourite that follows low-traffic coastal roads.
Download printable maps here. 
For itineraries including camping, hotel and motel recommendations, suggested stops, and local history, download the Lake Huron North Channel Mini-Guide. 
Providence Bay 2 Beach Loop—Manitoulin Island
Who Should Ride It: Road and recreational cyclists from Michigan and across Ontario will love the varied, pastoral scenery and empty paved roads on the Providence Bay 2 Beach Loop. This gentle 74-km tour is one of 14 fantastic Manitoulin Island cycling routes ranging from easy half-day rides to challenging multi-day tours.
Why You Should Ride It: As the name suggests, this loop visits two beautiful beaches and features waterfront cruising along three lakes—Huron, Mindemoya, and Kagawong. Expect great swimming, old-timey island villages, and roads all to yourself. The laidback village of Providence Bay makes an idyllic home base with tasty dining, lakeside camping, and cozy lodging options (check out the bright, new lofts at the Mutchmor).
View descriptions of all 14 Manitoulin cycling routes here.
Corbeil Circle Route—North Bay
Who Should Ride It: Road and recreational cyclists from Michigan's Upper Peninsula, New York's Buffalo and Rochester regions, Quebec, and across Ontario. The Corbeil Circle Route is just one of three popular loop rides in the North Bay area, which is also on the 380-km Voyageur Cycling Route.
Why You Should Ride It: Touring in and around the Northeastern Ontario city of North Bay, the 45-km Corbeil Circle Route rewards riders with frequent water vistas of Lake Nipissing, Trout Lake, and various small wetlands and waterways in between. Part of the route follows the Kate Pace Way, a 12-km paved, waterfront path from North Bay to the town of Callander.
Find more great rides and bike-friendly businesses in Northeastern Ontario here.
Beaches South Route—Bruce County
Who Should Ride It: The Beaches South tour is one of the 13 excellent Explore the Bruce cycling routes, and is a perfect metric century ride (100 km) for cyclists from Michigan, Ohio and the Greater Toronto Area. Road riders will enjoy the smooth, fast pavement, while recreational cyclists can sample a shorter section of the tour, combine it with an area rail trail, or tie in a visit to a bike-friendly provincial park.
Why You Should Ride It: Lakeside cycling with unbelievable sunsets, quiet country roads, and visits to lighthouses and spectacular beaches. The Beaches South route is an out-and-back tour from Port Elgin south along the shores of Lake Huron to Kincardine. Both are delightful waterfront towns with delicious dining options, charming accommodations, and superb beaches. For a classic imperial century (100 miles or 160 km), combine this ride with the equally lovely Lighthouses South tour.
Download an excellent PDF guide to all 13 Explore the Bruce routes here.
Georgian Trail—Grey County
Who Should Ride It: Recreational cyclists from Michigan, Upstate New York, and Southern or Central Ontario who enjoy riding away from roads and traffic—but with plenty of fantastic culinary and scenic diversions. The Georgian Trail is a 34-km multi-use path that follows an old railway bed along the south shore of sparkling Georgian Bay in Grey County. The surface is hard-packed limestone, suitable for all but the skinniest tires.
Why You Should Ride It: The Georgian Trail links beaches, apple orchards, parks and the charming waterfront towns of Meaford, Thornbury, The Blue Mountains and Collingwood. Expect leafy forest tunnels and lonely lake views, as well as bustling downtowns and upscale residential areas. The region is renowned for its many cideries, breweries, bakeries, and eateries, making this a popular route for local foodies.
Download the trail map here.
Grand River Conservation Authority Trails—South Central Ontario
Who Should Ride It: Lovers of rivers and rail trails. If you're from Michigan, Ohio, Upstate New York or across Ontario, these trails offer some of the finest and most scenic off-road cycling in Southern Ontario. The Grand River Conservation Authority maintains four multi-use trails on old railway corridors traversing the Credit River and Grand River watersheds. 
Why You Should Ride It: All four trails feature smooth stone-dust surfaces, stunning riverside pedaling and charming bike-friendly towns. The Elora Cataract Trailway runs 47 km through rolling countryside between the impressive limestone crags and rushing rapids of Elora Gorge Park and the grassy meadows and wooded escarpments of Forks of the Credit Provincial Park. Further south, the easy 18-km Cambridge to Paris Rail Trail follows alongside the beautiful Grand River through lush Carolinian forest, ending in the historic village of Paris. Continue onto the SC Johnson Trail, City of Brantford Trails, and Hamilton Rail Trail connections for a total distance of 77 km (each way).
Download a detailed map guide to the trails here.
Greater Niagara Circle Route—Niagara Region
Who Should Ride It: Everyone! Just 45 minutes from Buffalo, New York, the Niagara region is an incredibly scenic, easy and friendly cycling destination. While cycling the 140-km Circle Route, enjoy stops at famous Niagara wineries, picnicking by the water, and of course, viewing majestic Niagara Falls. It also makes an ideal first cycle tour, thanks to the delightful accommodation and dining options en route.
Why You Should Ride It: More than 90% of the Greater Niagara Circle Route follows dedicated paved bike paths—so it's a stress-free tour if you'd rather not ride with traffic. Even better, you're always near the water as the route follows four diverse pathways alongside Lake Ontario, the spectacular Niagara River, the sandy beaches of Lake Erie, and the mighty ships and locks of the Welland Canal. Most of the terrain is level and easy, with just a couple climbs onto the Niagara Escarpment for sweeping vistas. You can begin your tour anywhere along the Circle Route, but we recommend starting or staying in lovely Niagara-on-the-Lake.
This is just a taste of our favourite Ontario routes and paths—find more at Ontario By Bike, visit a friendly bike shop, or ask a local cyclist for more great, under-the-radar rides!