12 Best Ontario Parks for Bike Rides
Find out where to go, what to expect and why it needs to be on your bucket list.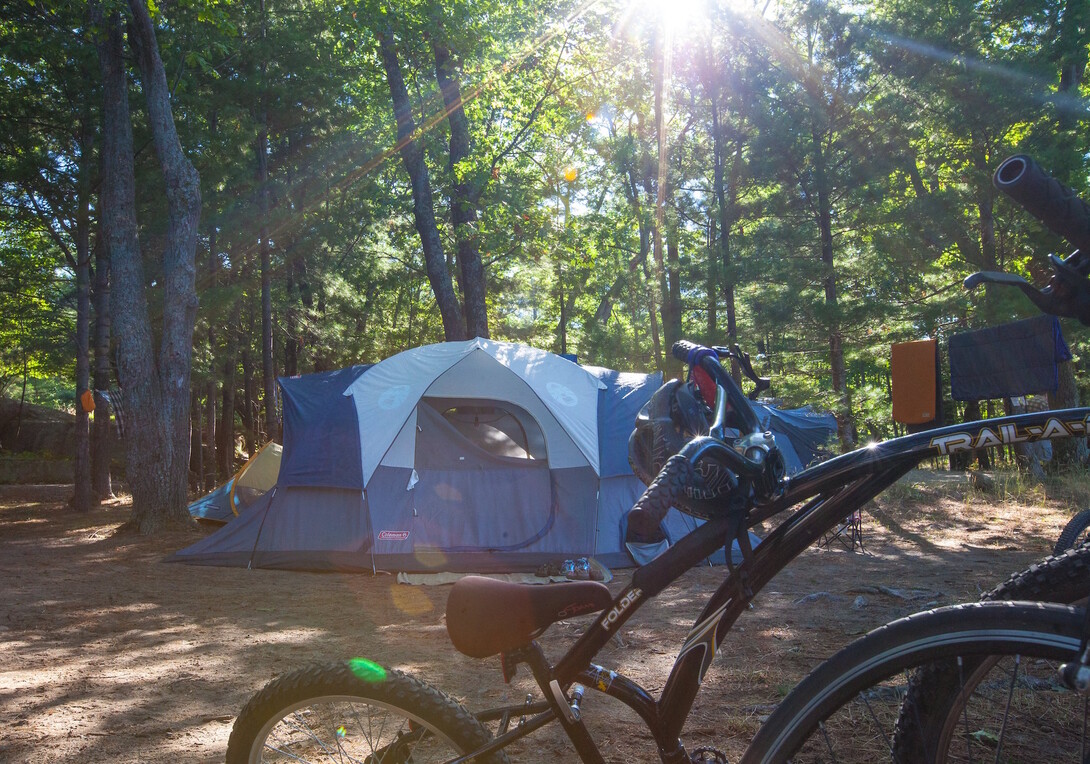 It's just not possible to name the best provincial park in Ontario for bike rides. With over 330 park locations, there are endless cycling opportunities. Many visitors enjoy cycling on quiet park roads while others want to explore off-road on mountain bike trails.
The best provincial park for you really depends on what you are looking for. In addition to biking routes and trails, there are other special features to consider. Some parks have incredible beaches to enjoy while others have amazing nature programs. Campsites and facilities vary too. Some parks are remote while others are close to urban centres and great for day trips.  
From family cycling to challenging mountain biking, you'll find the perfect bike ride at one of the Ontario Parks listed below. 
Best Provincial Parks in Northern Ontario 
Some of the best Northern Ontario provincial parks with bike trails are listed below. These parks have incredible scenery, lookouts and fabulous campsites. Many offer bike rentals.  
Kakabeka Falls Provincial Park
The spectacular 40 m high Kakabeka Falls is known as 'Niagara of the North'. Easy hiking trails give visitors great vantage points. Although there are no dedicated bike trails at Kakabeka Falls Provincial Park, most of the main access and campground roads are paved. Families love the short 4 km ride on Poplar Point Trail, which meanders through campground areas.  
Kettle Lakes Provincial Park
Kettle Lakes Provincial Park has 22 deep, spring-fed kettle lakes formed by glaciers. It has excellent Rainbow and Brook trout fishing as well as 14 km of mountain biking trails ranging from easy to moderate. Pedal though Jack Pine forest to Slab Lake to enjoy a swim. Bicycles are available for rent at the front gate. Visitors can camp or stay in a rustic one room cabin.
Killarney Provincial Park
Known for its extensive backcountry paddling and hiking experiences, Killarney Provincial Park is one of the most scenic provincial parks in Ontario. Cycling is permitted along several kms of park roads (paved and unpaved) and the Chikanishing Trail (natural surface). This trail (6km) winds along the park's southern boundary and crosses a series of small ridges ending on the shores of Georgian Bay. After a 10 km ride from the park to the village of Killarney, you can enjoy a delicious fish and chips meal at the famous Herbert Fisheries.  
Pancake Bay Provincial Park
Known for one of Ontario Provincial Parks best beaches, Pancake Bay Provincial Park is a perfect place for a bike and beach vacation. After mountain biking on the rugged 14 km Lookout Trail with spectacular views of Lake Superior, you'll be ready for a dip in the Caribbean blue water in Pancake Bay. Camping, hiking and discovery programs are available.
Restoule Provincial Park
If you are looking to escape the crowds and enjoy a more remote experience, consider camping at Restoule Provincial Park in the Almaguin Highlands. Take your mountain bike (or rent one at the park) on a series of short and easy trail loops. Ride the 2.8 km Angel's Point Trail loops that wind through vibrant hardwood forest. The short, easy Rangers Point Trail leads to two spectacular picnic sites on the shores of Stormy Lake, with views of the Stormy Lake Bluff and the historic Fire Tower in the distance.     
Rushing River Provincial Park
Rushing River is one of the best provincial parks in Ontario for families. It offers beaches, playgrounds, interpretive programs, hiking trails and great campsites. Cycling on quiet park roads is a great way to get around and explore the park.  
Sioux Narrows Provincial Park
The many waterfront campsites and family-friendly sandy beach at Sioux Narrows make this park special. Families enjoy incredible fishing on Lake of the Woods and the three easy hiking trails. Cycling on park roads is fun for the whole family.
Sleeping Giant Provincial Park
Located less than an hour drive east of Thunder Bay, Sleeping Giant Provincial Park offers endless opportunities for outdoor adventures. It has a network of trails and gravel roads perfect for novice to advanced bikers. Bike the Kabeyun Trail then hike to the Top of the Giant for a view like no other. Tour around Marie Louise Lake or ride to the Thunder Bay Lookout. Bike rentals and camping are available. Find out more about bike trails in Sleeping Giant Provincial Park.   
Best Provincial Parks in South and Central Ontario 
Many of the best Ontario provincial parks near Toronto are great for cycling and mountain biking. These parks are within an easy drive for a daytrip, weekend escape or longer holiday. Many offer bike rentals. In addition to the ones below, Arrowhead, Bronte Creek, Balsam Lake, Killbear, Mono Cliffs, Silent Lake, Forks of the Credit, Earl Rowe and MacGregor Point provide great Ontario Parks cycling opportunities.
Algonquin Provincial Park
While this is Ontario's most famous provincial park, it is easy to escape to quieter parts of the park with your bike and enjoy Algonquin's incredible lakes, rivers and forests. The 16 km Old Railway Bike Trail is a family-friendly pedal with trail access from several campgrounds. Be challenged on the Minnesing Mountain Bike Trail with 4.7 km to 23 km routes or the rugged 13 km Byers Lake Mountain Bike Trail. Bicycle rentals are available at the Lake of Two Rivers Store on Highway 60. Rentals and services are available in nearby Huntsville at Algonquin Outfitters and Muskoka Bicycle Pro Shop. Algonquin also offers a unique fat biking experience in the winter, with more information here.
Mono Cliffs Provincial Park
Located less than an hour from Toronto, Mono Cliffs Provincial Park is located on the Bruce Trail. Mountain biking is permitted on 4 trails, ranging in length from 1.3 km to 4.6 km. The park is open year-round for day-use visits. 
Presquile Provincial Park
Located on a flat peninsula that juts out into Lake Ontario, Presquile Provincial Park is a perfect stop for an easy day ride. Well known for its bird viewing, trails, boardwalk and lighthouse, there is a cruisy 8 km loop on a dedicated trail that runs alongside the park road. 
Pinery Provincial Park
The Pinery is a summer time top destination to enjoy the 10 km sandy beach on Lake Huron. It has one of the best and most fun looped bike trails of all parks. The 14 km long Savanna Trail is a mix of unpaved hard packed pathway through wooded forest and paved one-way park road. See turtles and more on this easy bike route. Rentals are available from the park store.   
Plan your Ontario Parks Biking Adventure Now 
With over 330 Ontario Park locations, there are endless biking opportunities. From family cycling to challenging mountain biking, you'll find the perfect bike ride at Ontario Parks.