A Complete Guide to Riding E-Bikes in Ontario
Learn how and where to ride your electric bicycle safely and legally.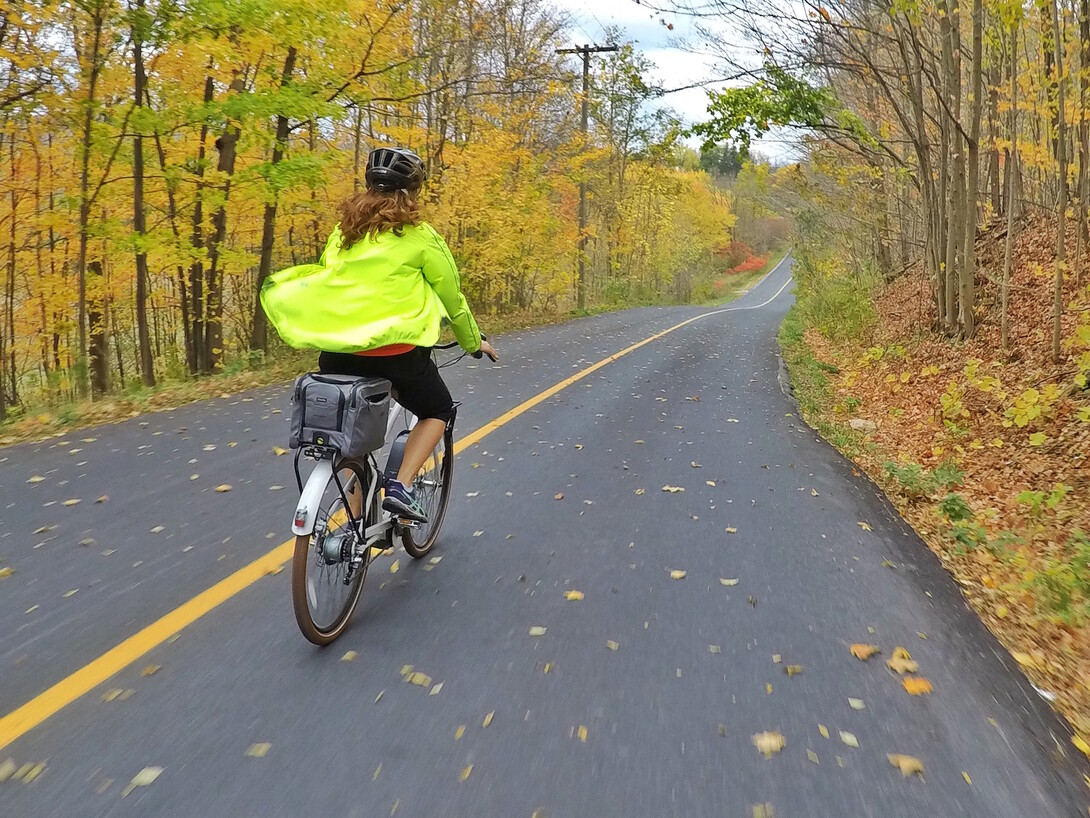 As much as we'd love to see you in Northern Ontario, the health and well-being of all travellers is our priority. Please call or check ahead online with each business, festival or event and attractions to ensure you have the most up-to-date information available. For the latest updates from the Ontario government, please visit ontario.ca/coronavirus.
What Is An E-Bike?
An electric bike, electric bicycle, or e-bike in Ontario is a bicycle with an added battery-powered electric motor that assists the rider in pedalling and increases the amount of power to the wheel. This enables the rider to pedal with less effort, to climb hills, ride against the wind more easily and to travel longer distances. They are often referred to as pedal-assisted bikes.
It is an environmentally-friendly form of transportation that doesn't require a license or insurance.  
There are two main operational modes for e-bikes:
Pedal assist, also referred to as pedelc, is a mode that provides power only when you are pedaling. The electric assist makes it easier to pedal and gives you help going up hills, going longer distances or want to travel faster.  
A throttle mode is similar to how a motorcycle or scooter operates. When the throttle is engaged, the motor provides power and propels you and the e-bike forward. A throttle allows you to pedal or just kick back and enjoy a "free" ride!
They are many different styles of e-bikes available from conventional bicycles (fat tire, mountain bike, foldable, and road) to scooter types.
According to the Ontario Ministry of Transportation (MTO), e-bikes in Ontario must have:
steering handlebars
working pedals
a maximum braking distance of nine metres
an electric motor that cannot provide power assist at a speed greater than 32 km/hr and a power output not exceeding 500 watts
a maximum weight of 120 kg (including bike and battery)
the capability of being operated with muscular power
wheels with a diameter of at least 350mm and width of at least 35mm
a permanent label from the manufacturer in both English and French stating that your e-bike conforms to the federal definition of a power-assisted bicycle
Confusing Use of Term E-Bike
Many retailers, businesses and trail management groups use the general term "e-bike" when describing a variety of e-bicycles, e-motorcycles, e-scooters, e-mobility vehicles, e-toys, e-ATVs, e-dirt bikes and e-trikes (3-wheels).
If these electric vehicles do not meet MTO's definition of an e-bike as shown above, they are not considered an e-bike under Ontario's law and different rules and regulations will apply to them.  
As more alternative forms of transportation are developed, new rules, regulations and laws will come into effect. The Ontario Government has recently launched a new pilot project to permit electric kick scooters (e-scooters) on Ontario roads.  
For the purpose of this article, the term e-bike refers only to electric bicycles (e-bikes) as defined by the MTO and the electric bike laws governing them.
E-Bike Laws Ontario
The following information will help you learn the rules and regulations of electric bike laws and bike regulations in Ontario 2020 so you can ride legally and safely.
E-bikes and their operators in Ontario are treated, for the most part, in the same manner as bicycles and bicyclists under the Highway Traffic Act (HTA).
This means that all e-bicyclists have the same rights and responsibilities to obey all traffic laws as other road users. Cyclists charged for disobeying traffic laws will be subject to a minimum set fine and a Victim Surcharge fine for most offences.
Full details on safety equipment, handling skills, riding in traffic, obstacles and road surfaces, cycling and the law are outlined in Ontario's Guide to Safe Cycling.
A summary of the additional e-bike laws in Ontario are outlined below.
E-bike age, helmet, and license laws 
E-bike Laws: All e-bike operators must be 16 years of age or older and all must wear an approved bicycle or motorcycle helmet that fits properly. You do not need a driver's license, vehicle permit or licence plate.
Bicycle Laws: It is the law that every cyclist under the age of 18 must wear an approved bicycle helmet that fits properly. No license is required.
Passengers on an e-bike 
You can carry passengers on an e-bike but only if it was designed for more than one person. Passengers must be at least 16 years old and must wear an approved bicycle or motorcycle helmet.
E-bikes on roads, sidewalks, bike paths, bike trails and bike lanes
E-bikes are permitted on most roads and highways where conventional bikes are permitted, with some exceptions. Many municipalities, but not all, allow you to ride on "bike only" lanes and paths as long as the motor is not engaged at any point. Make sure you check local regulations that affect where you may cycle in each municipality.
You cannot ride your e-bike:
On certain provincial controlled access highways, such as 400 series, the Queen Elizabeth Way, the Queensway in Ottawa or the Kitchener-Waterloo Expressway
On municipal roads, including sidewalks, where bicycles are banned under municipal by-laws
On municipal roads, sidewalks, bike paths, bike trails, or bike lanes where e-bikes are prohibited
Riding E-Bikes In Northern Ontario
Cycling continues to grow more popular as a form of active transportation for commuting to work as well for as exploring Ontario's beautiful landscapes, cities, towns, and villages. It is great exercise for not only your physical health but for your mental health as well.
Riding an e-bike in makes cycling easier and encourages people of all fitness levels to get out and enjoy the sport. It is especially useful in Northern Ontario where there are long distances between communities and many scenic but hilly landscapes to explore.
Be sure to check with local municipalities and/or trail organizations to confirm where you can ride legally.  
SAULT STE. MARIE AND AREA
E-Bike Rentals, Retailers, and Repairs
Vélorution, 162 Old Garden River Road, Sault Ste. Marie, 705 253 9388, offers a variety of fat, electric, and top of the line mountain and pedal-assist mountain bike rentals. Plus they offer exceptional sales and service.
Hollywood Electric Bikes, 195 Queen St. East, Sault Ste. Marie, 705-206-7909, is your one-stop shop for quality e-bikes, e-scooters in Northern Ontario. They are a certified exclusive dealer offering sales, service and repairs.
Trails and Self-Guided Touring Routes
Sault Ste. Marie and the Algoma area offer incredible, rugged mountain biking trails plus excellent road and multi-use trails.
Hiawatha Mountain Bike Trails
30 km of single track mountain bike trails ranging in difficulty from beginner to expert. Trails have easy to ride to very technical sections. View map.
Lake Huron North Channel Waterfront Trail
Cycle from Lake Superior (west of Sault Ste. Marie) to Sudbury. From 380 to 570 km including St. Joseph Island and Manitoulin Island. Tour some of the great Canadian landscapes that inspired the Group of Seven.  View mini-guide, detailed daily itineraries, and maps.
Deer Trail, a 120 km road touring route from the City of Elliot Lake to Mississagi Provincial Park, southwest to Little White River and Iron Bridge then east to Blind River. See more Algoma Mountain Bike & Cycle Routes.
John Rowswell Hub Trail
Please note that e-bikes are NOT allowed on the Hub Trail.
SUDBURY AND AREA
E-bike Rentals, Retailers, and Repairs
Sudbury E-Bike, 4544 Old Hwy 69, UNIT 5, Val Therese (beside the Pizza Hut in Hanmer),705 969 2453, has a good selection of fat tire, mountain and road e-bikes for sale.
Trails and Self-Guided Touring Routes
Rainbow Routes Association co-ordinates a variety of cycling trails including commuter trails, wilderness, urban cycling, mountain biking and paved & partially paved.
Kivi Park is an all season, multi-sport recreation area on 480+ acres of Precambrian Shield. It offers exceptional mountain biking trails and cycling trails. Passes are required.
Walden Mountain Bike Trails are located in the Walden Trails Park in Naughton, which is in the west end of the City of Greater Sudbury. Ride terrain that is rolling to moderately hilly. Check out these six routes to ride.
Lake Laurentian Conservation Area has a variety of cycling trails to your enjoyment.  View map.
TIMMINS AND AREA
E-bike Rentals, Retailers and Repairs 
Awesome E Rides, 383 Wilson Ave., Timmins, 705-360-0911, has a wide selection of fat tire, mountain, and road e-bikes for sale.  
Trails and Self-Guided Touring Routes
Mattagami Region Conservation Authority Trails provide easy cycling in and around the City of Timmins. With a hard packed rock surface, the 55 km recreational trail system connects major conservation areas and many points of interest between.
Kettle Lakes Provincial Park offers 14 km of biking trails ranging from easy to moderate levels of difficulty. The trails wander through the Jack Pine forest and lead you to Slab Lake.  
NORTH BAY AND AREA
Trails and Self Guided Touring Routes
Kate Pace Way and Kinsmen Trail are North Bay's two paved bike paths. E-bikes are allowed but only in pedal-mode only as there is a speed limit of 20 km/hour.
Discovery Routes have indicated that the other trails in the region have no specific rules for e-bikes (pedal assisted bicycles). 
E-Bike Tours In Ontario 
If you want to try e-cycling or if you are thinking about buying an e-bike, why not take a tour to see if you like it? It's a fun, safe and easy way to do a test drive.
NIAGARA FALLS AND AREA 
E-Bike Rentals and/or Guided Tours 
Niagara EBikes, will deliver your rental bike to St. Catharines, Niagara Falls, Niagara-on-the-Lake, and Thorold. They offer small group tours with local guides of Niagara Falls, the Wine Country and Niagara-on-the-lake.  
Snap E-Bike Rentals & Tours, located at 4239 Park St., Niagara Falls, rents premium electric bikes for 3 hours, 4 hours, or a full day. Rentals include a premium e-bike with rear storage bag, your choice of stylish helmet, 10 minute one-on-one trailing, and a sights & attractions map. Call 905-651-1951
Trails and Self-Guided Touring Routes 
It's easy and fun to explore the incredible attractions of the Niagara region with a little extra help from an e-bike. Full and half-day rides are perfect for an active weekend getaway for couples and friends. 
Niagara Falls
Explore all the local hotspots quickly and easily: entertainment and amusement attractions of Clifton Hill, the incredible Horseshoe Falls, Floral Clock, Botanical Gardens and more.
Niagara Falls to Niagara-on-the-Lake (55 km round trip) – It's easy to travel the 55 km return distance on an e-bike. Choose to visit some or all of the 22 interesting attractions along the Niagara River Recreational Trail.
GO FURTHER, GO FASTER
Cycling on e-bikes in Ontario share many of the same health and mental benefits as traditional bicycle riding and can give the rider a little extra boost when needed to conquer hills and longer distances. Explore further and faster in Ontario.