Ultimate Guide to Biking in Sudbury
Locals love these cycling paths, trail rides, gravel routes and friendly bike shops.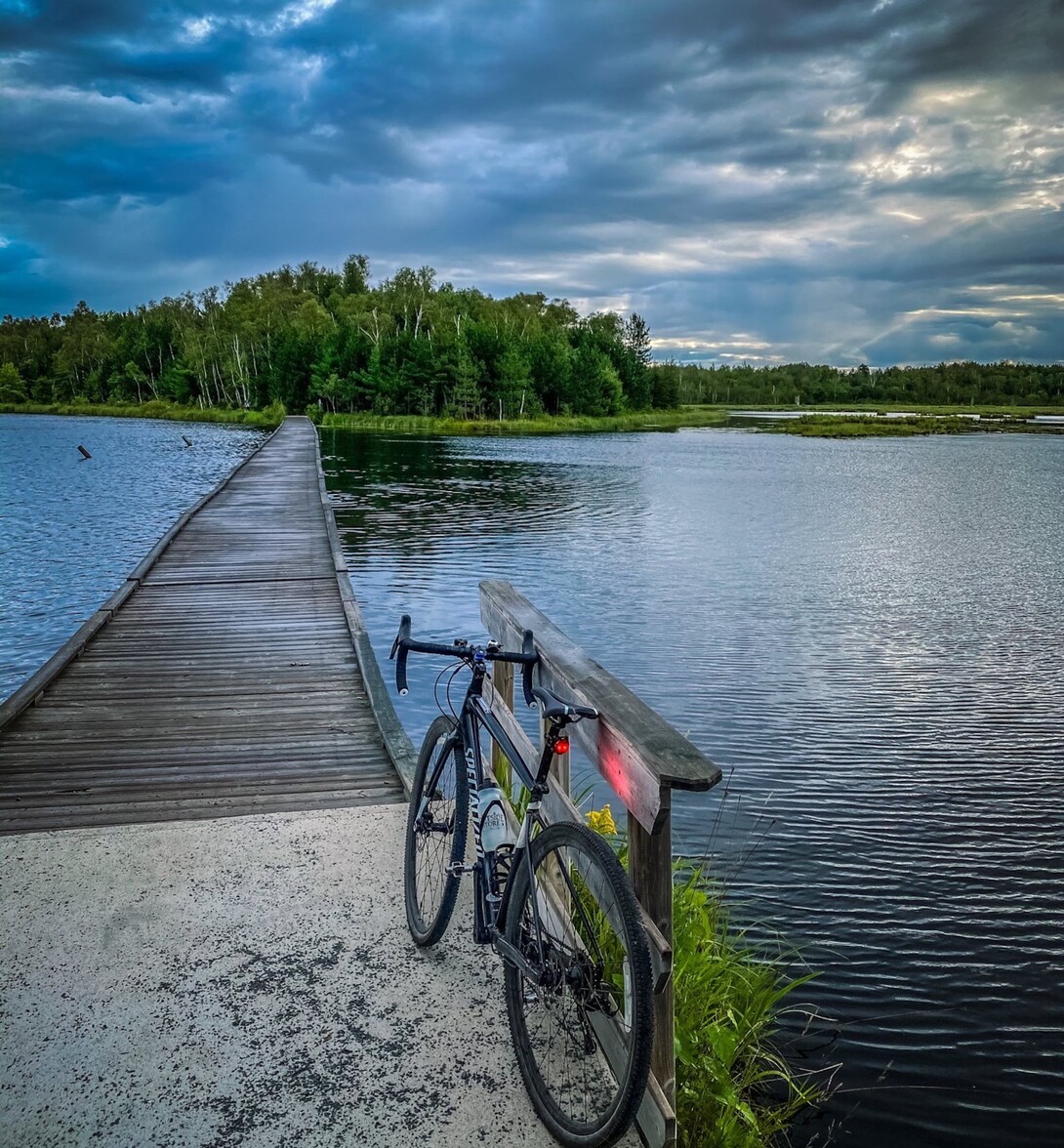 Sudbury is a bike-friendly community that offers plenty of options for all types of cycling. It makes sense that the "Nickel City" would feature some of Ontario's best mountain bike trails. In fact, Sudbury was one among the first Ontario cities to embrace mountain biking decades ago, with enthusiasts and local bike clubs taking advantage of the area's rocky geography to craft outstanding trails.
As Sudbury's reputation as a mining town has evolved into its recognition as the "City of Lakes", mountain biking in Sudbury has continued to grow alongside great opportunities for road biking, gravel biking, family recreational cycling and fat biking. The city's trails, paths and routes take in the area's abundant natural greenspaces and countless jewel-like bodies of water. Simply put, cycling Sudbury cannot be beat! This article will help you plan a vacation to discover all the city has to offer two-wheeled travellers.
Best Mountain Bike Trails in Sudbury
There's no better way to get a sense of the rugged landscape of Northern Ontario than freewheeling over the rocks and roots on a mountain bike. Sudbury offers three great options, all characterized by plenty of bare rock riding leading some to draw comparisons to Utah's legendary Moab area—with a distinctive Northern Ontario twist.
Mountain bike trails in Sudbury all have their unique attractions: Lake Laurentian offers easily accessible yet technical trails adjacent to the city's core, with plenty of opportunities to complement a ride with a cooling swim. Kivi Park features 480 acres of greenspace, including dedicated mountain bike trails and groomed fat bike trails for winter cycling. And the Walden Mountain Bike trails are built on the passion of local enthusiasts, offering some of the finest single-track in Ontario.
Lake Laurentian
Imagine a 2,400-acre protected greenspace of lakes, wetlands and lush boreal forest located adjacent to the downtown core of a vibrant city. The Lake Laurentian Conservation Area is a big reason why Sudbury is one of Ontario's top adventure towns. The trails here are multi-use, so expect to share the single-track with hikers. Highlights of the network include great scenery and the opportunity to take a dip in a secluded lake. In particular, the 10-kilometre Lake Laurentian Loop has a couple amazing panoramic lookouts.
Kivi Park
Kivi Park is a fantastic all-season, multi-sport outdoor adventure destination set on 480 acres of Canadian Shield terrain. This great cycling Sudbury destination includes something for everyone, with 15.4 kilometres of mountain bike trails and on-site rentals by Adventure365. Options for hiking and paddling make it a great place to mix it up or try something new.
Walden Mountain Bike Club
Located just west of Sudbury in the outlying borough of Lively, the Walden Mountain Bike Club has built and maintains Sudbury's best cycling trails. Discover 15 kilometres of single-track, with options available for novices to Canada Cup cross-country racers. The Walden Trails capture the best of cycling Sudbury, with plenty of distinctive hardrock sections as well as scenic woodlands. The trails are open June through October.
Best Bike Paths in Sudbury
Sudbury features no shortage of bike paths radiating throughout the city's core. Urban cycling routes and commuter paths are supported by Rainbow Routes and the Trans-Canada Trail. Check out Sudbury's recreation map for a comprehensive overview. Some popular Sudbury bike path options include:
Check out Bike Sudbury for more urban riding options.
Best Road and Gravel Routes in Sudbury
With abundant rural roads and plenty of diverse topography and great scenery, there's no shortage of excellent Sudbury cycling routes for road and gravel riding. For starters, Sudbury is the eastern terminus of the Lake Huron North Channel section of the Great Lakes Waterfront Trail. Starting in Sudbury, you can trace up to 570 kilometres of backroads through 26 communities all the way to Sault Ste. Marie.
You don't have to pack panniers for a great road ride around Sudbury. Plenty of options exist for shorter rides around the city's outskirts. One favourite road ride traces an eight-kilometre route from Junction Creek to Bell Park. For a great gravel ride, start at Centennial Park and follow the Great Lakes Waterfront Trail to the community of Gibson, a 21-kilometre Sudbury cycling route with plenty of ups and downs. Gravel Bike Sudbury is a good resource for mapping out routes.
Best Fat Biking in Sudbury
Are you looking to take advantage of long northern winters and fat bike Sudbury? More and more options are becoming available, with Kivi Park and Walden Trails leading the pack for expertly groomed, dedicated single-track for diehard riders, with dozens of kilometres available. What's more, the volunteer Sudbury Singletrack Trail Collective maintains a network of fat bike trails at the Nickeldale Conservation Area. Many of Sudbury's urban bike paths are also packed and perfectly suited for winter cycling on fat bikes, making it possible to ride year-round in the heart of the city.
E-bikes
E-bikes are allowed in Sudbury, as long as users follow the provincial regulations for use, including being over 16 years of age, wearing a helmet, using the appropriate lights for night riding and not riding on sidewalks. Electric-assist mountain bikes are allowed on Sudbury mountain bike trails at Kivi Park, Walden and Lake Laurentian Conservation Area.
Bike Shops and Rentals
Sudbury bike shops include Adventure365, Sessions Ride Company and The Outside Store, all of which offer sales, repairs and outstanding local advice. Additionally, Sudbury Ebikes offers e-bike sales. All of these great bike shops also offer bike rental Sudbury. Adventure365 provides on-site bike rentals at Kivi Park.
Bike-friendly Businesses
Bicycle-friendly accommodations in Sudbury include Canada's Best Value Inn, Travelway Inn or TownePlace Suites By Marriott, all of which offer safe storage areas for your bike. Check out the 46 North Brewery tasting room on Kelly Lake Road and dine at Don's Pizza (Sudbury's original pizzeria) or the Hardrock 42 Gastropub. Meanwhile, Salute Coffee, Kuppajo Espresso Bar, Old Rock Coffee, Beard's Coffee Bar and Bakery and Twiggs Coffee Roasters are all local standbys that will satisfy your need for caffeine.
Bike Sudbury
Sudbury is home to vibrant cycling and mountain biking communities that welcome visitors to share the city's wealth of trails and bike paths. Find even more bike-friendly Sudbury attractions, restaurants and accommodations at Ontario By Bike.