9 Phenomenal 50-km Bike Routes in Ontario
Explore provincial parks, city streets and country roads.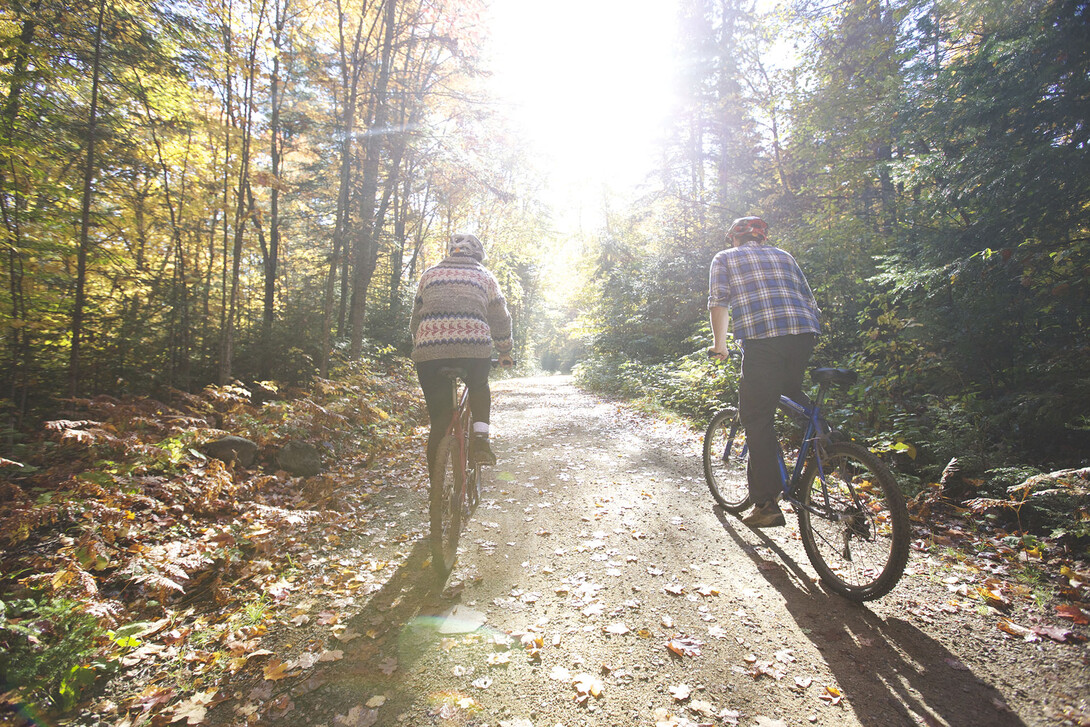 Assembling a short list of 50-km bike rides in Ontario is a huge challenge. The province features hundreds of great rides, whether you're looking for a family friendly outing, a mountain biking challenge, or smooth-riding roads. We focused our search on Northern and Central Ontario. The list includes provincial parks, urban centres and rural areas. Rest assured there's something for everyone. Furthermore, we've curated the list to highlight complementary attractions, including towering waterfalls, great hiking and stunning views of inland seas.
Ride Sunset Country Lakeshores in Kenora
Kenora is a vibrant, bike-friendly city in Northwestern Ontario's Sunset Country that embraces its Lake of the Woods waterfront. The community features plenty of cycling options, including paved urban trails along the lakeshore in Anicinabe Park and routes connecting to dozens of local lakes and wetlands, to give you a sense of this area's amazing access to nature. For a 50-km road ride try the Coker-Redditt loop, which starts downtown. Follow Veteran's Drive north, past the Trans-Canada Highway bypass where it becomes Redditt Road (Highway 658). Continue along the west shore of Black Sturgeon Lake, before looping south on the east side of Black Sturgeon and returning to Kenora via Cooker Road and East Melick Road. Or, for a family friendly route with options for ice cream, swims and other diversions, you could easily stitch together 50 km of riding by simply linking all the established bike trails within city limits.
Be sure to get a keeper photo with the 12-metre-tall Husky the Muskie statue in Kenora's McLeod Park. Dine (and drink) at the Lake of the Woods Brewing Company's taproom, located in a historic firehall. Visit the Lake of the Woods Discovery Centre to learn more about local attractions, and to check out local art and a Science North exhibit. Kenora is the capital of northwestern Ontario cottage country and you'll find plenty of waterfront cabins to rent on Airbnb. Downtown Kenora's The Hardwear Company is your spot for bike sales and repairs.
Riding to Thunder Bay's Niagara of the North
Kakabeka Falls has the distinction of being Ontario's second-largest waterfall. For an even 50-km, out-and-back ride that's perfect for road bikes, start at Thunder Bay's Fort William Historical Park, located on the city's southwestern perimeter. Head west and then north on Vibert Road to cross Highway 17 before making a left on Pole Line Road, which leads directly to Kakabeka Falls Provincial Park. Be sure to bring a lock to secure your bike while you explore the park's easy trails, which radiate around the magnificent 40-m plunge of the Kaministiquia River that stymied Canada's early explorers and encouraged the fur traders to adopt portage-intensive bypass routes for canoeing goods across the country 200 years go. Visiting Kakabeka Falls puts life in early Canada in good perspective—and prepares you for visiting Fort William Historical Park, one of Ontario's hidden jewels that recreates life at Thunder Bay's once-bustling Northwest Company trading post, when you complete your ride.
Thunder Bay is a vibrant city that embraces the outdoors. For bike sales, rentals and service check out Rollin' Thunder, Fresh Air Experience or Petrie's Cycle and Sports. The city boasts an active cycling community that can point you to other great road and mountain biking routes, including nearly 40 km of single-track at Trowbridge Forest, in the city's north end. For a great apres-cycling meal check out Caribou Restaurant; and for local beverages try Sleeping Giant Brewing.
Ontario's Latest and Greatest Single Track in Sault Ste. Marie
The Sault Cycling Club mountain bike trails at Hiawatha Highlands, just north of Sault Ste. Marie, have always been cherished by local riders. Thanks to huge investments in cycling by city council, a new, improved and expanded network of single-track ranks up there with some of Ontario's finest. You can easily put in 50 km of mountain biking at Hiawatha Highlands. Existing trails on the Crystal network were upgraded last year with machine-made berms, rollers and banked corners for great flow. Meanwhile, the 10-km Pinder network remains a great choice for kids and beginners. The Red Pine trails are rugged with roots and boulders and a wilderness riding feel. Most exciting is the brand-new Farmer Lake loop, which includes spectacular scenery and a unique canyon section. Looking for something more challenging? The summer of 2022 marks the return of Crank the Shield, a three-day, 180-km mountain bike adventure based in Sault Ste. Marie.
Gear up for your ride at Velorution, a local bike shop offering tune ups, rentals and expert advice with a new store minutes from the Hiawatha trailhead. Algoma Bicycle Company is another popular local store. Fuel up for a day of adventure at The Breakfast Pig in downtown Sault Ste. Marie; you'll find a huge selection of tasty, post-ride treats at Hiawatha Ice Cream; and Giovanni's Restaurant provides an authentic taste of Italy. The Water Tower Inn is one of most popular hotels in "the Soo"—and it's conveniently located a short drive from the trails.
Central Algoma's Scenic Backroads
You'll find a treasure trove of amazing road biking on quiet backroads between Sault Ste. Marie and Blind River, in an area known as Central Algoma. The 51-km Sylvan Valley route from Echo Bay to Bruce Mines captures what riding this scenic, pastoral landscape of rolling hills is all about. Highway 638 passes through a mix of oak, pine, and maple forests, farm fields, and quaint hamlets, all with a bucolic atmosphere that belies the rugged geology of Northern Ontario. The area is especially popular among birders, with sightings of a huge variety of species, including bobolinks and meadowlarks in the early summer, and many migratory songbirds making the most of a wide range of habitat. There are several stops for picnics and swims along the way, including public beaches and parks at Tower Lake (slight detour up Lonely Lake Road), Rock Lake, and in the community of Rydal Bank. Be sure to grab a coffee and a baked treat at the Copper Bean Cafe in Bruce Mines when you're done. Looking for more distance (or another ride)? You can loop back to Echo Bay via the Great Lakes Waterfront Trail.
The Sylvan Valley ride is ideal for road bikes. However, the burlier tires of a gravel bike will give you more options for detours on rural roads. Get the inside scoop on this route and others from the crew at Velorution, a bike shop offering sales, repairs and rentals in Sault Ste. Marie.
Voyageur Discovery Route North Bay
North Bay embraces the shoreline of Lake Nipissing, with city limits encompassing many smaller lakes, too. The waterfront's Kate Pace Way, celebrating local Olympian skier, traces the lakeshore through the heart of the city. Meanwhile, a favourite 50-km road ride makes use of the long-distance Voyageur Cycling Route, touching on Nipissing as well as Lake Nosbonsing and Trout Lake and passing through the outlying communities of Callandar, Astorville and Corbeil, on quiet rural roads and small segments of the Trans-Canada Highway east of city limits.
You'll find insider local knowledge (not to mention bike sales and repairs) at Wheelhouse or Cycle Works. Meanwhile, make a reservation at The Boat, a historic Lake Nipissing passenger ferry turned lakeside restaurant and bar, for a unique dining experience. You can also score some great waterfront AirBnB rentals in North Bay.
Hard-Rock Riding in Sudbury
Mountain bikers in Sudbury have a good thing going. In a way, the Nickel City's notorious exposed bedrock and sparse forests replicates riding in the American Southwest, the birthplace of mountain biking. But in Sudbury the trails have a distinctly boreal feel, with verdant spruce trees and access to countless inland lakes. It's easy to rack up 50 km of trail riding in Sudbury. Start downtown, where Lake Laurentian Conservation Area features nearly 20 km of multi-use trails. It's important to share the path with hikers—and be ready for equal parts technical and smooth-flowing trails. For bike sales, repairs, and rentals check out The Outside Store.
Located near Long Lake, south of the Trans-Canada Highway, Kivi Park has 15 km of dedicated mountain bike trails ranging from easy to difficult, all part of a 195-hectare outdoor centre that also offers paddling and hiking, as well as outstanding cross-country skiing and fat-biking in the winter months). The park partners with Adventure365, a Sudbury bike shop, for on-site bike rentals.
Finally, volunteers with the Walden Bike Club have crafted 15 km of gorgeous single track in Sudbury's west end community of Naughton. Tons of exposed bedrock makes for a riding experience you won't find anywhere else in Ontario (and also means you'll want to pack a patch kit or spare tube). The Walden trails also feature the most diverse topography of all of Sudbury's trails. Fat-biking routes are available in the winter, too. Sessions Ride Company is another great Sudbury bike shop for sales, repairs and local knowledge.
Touring Temiskaming Shores
The Northeastern Ontario community of Temiskaming Shores has mapped out an incredible 36 cycling routes through urban parks and rural roads. For a challenging ride with options for paved road and gravel head west on Highway 65 to Hudson Hall and Twin Lake Road to the Twin Lakes, where Pike Lake Park makes a great spot for a picnic and a refreshing swim. The return trip on C Road, Bartle Lake Road, Hudson 1 Concession and Rockley Road features many hills. Stop in at Howey Bros in New Liskeard for bike repairs and spare parts. 
Riding the Sleeping Giant
Sleeping Giant is unique among provincial parks in Northern Ontario in that it allows cycling on designated trails. A rugged gravel or cyclocross bike will give you access to more than 50 km of Sleeping Giant cycling trails, including a gravel route to the Thunder Bay Lookout over Lake Superior. Easy, family friendly cycling routes depart the campground on Marie Louise Lake. You can also visit the historic community of Silver Islet and ride a portion of the Kabeyun Trail to the backcountry campsites at Tee Harbour, where an expansive slab of granite is a great place to take in the view of Lake Superior; Lehtinen's Bay, a little further along the trail, has a gravel beach to tempt keen swimmers.
The park also provides racks at the junction of the Kabeyun and Talus Lake trails so you can store your bike and hike one of three options to reach the summit of the Sleeping Giant. Check out Beyond the Giant Nature Retreat for nearby cabin rentals on Lake Superior's Black Bay. Meanwhile, the historic Silver Islet General Store is a must-stop for homemade treats.
Cycling Canoe Country: Algonquin Provincial Park
Algonquin Provincial Park is world-renowned for backcountry canoeing and camping. But the park also boasts great cycling. There are more than 55 km of trails accessible via the Highway 60 corridor, with options for mountain biking and gravel. The 16-km Old Railway Bike Trail stretches from Cache Lake to the campground at Rock Lake, with easy access from the campgrounds at Mew Lake, Pog Lake, Raccoon Lake and Kearney Lake. This family-friendly trail is level with smooth gravel, tracing the lumbering railway line that once bisected Algonquin. For mountain biking, check out Minnesing Lake for 32 km of challenging trails set in Algonquin's stunning (especially in autumn) hardwood forest. A shorter, 6.5-km mountain bike trail (one-way) departs the Kingscote Lake access point to Byers Lake. 
Bikes rentals are available for rent at Algonquin Outfitters' Lake of Two Rivers location, on the Highway 60 corridor. Huntsville's The Bike Shop and Muskoka Bicycle offer nearby sales and repairs.