A Multispecies Mecca: Lake of the Woods
"Whether you want to catch walleye, pike, bass, muskie, lake trout, whitefish, or crappies, it's arguably one of the most majestic places in North America to catch a fish."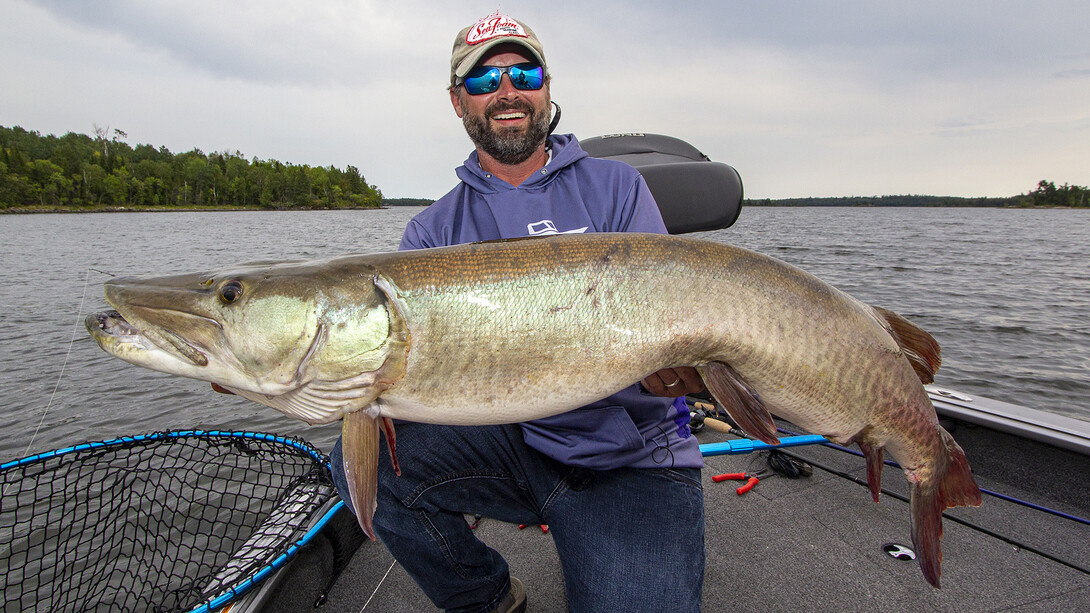 Year after year, for over 25 years, we have travelled to fish Lake of the Woods in Sunset Country, Ontario. The fishing is so fantastic—no matter what the season—that it only stands to reason to make it an annual destination. North, south, east, or west, this body of water has more than 14,500 islands and 65,000 miles of shoreline. Whether you want to catch walleye, pike, bass, muskie, lake trout, whitefish, or crappies, it's arguably one of the most majestic places in North America to catch a fish. 
Our home base on this trip was Tomahawk Resort near Sioux Narrows. Established by the Kast Family in 1946, this fantastic resort has been handed down three generations. Tomahawk Resort has two, three, and five-bedroom cottages to accommodate groups of all sizes in comfortable, worry-free surroundings. 
We enjoyed modern conveniences, like fully-equipped kitchens, satellite television, fireplaces, air conditioning, free wireless Internet, and electric heat with individual thermostats in each bedroom. There are marina services and docking slips for your boat. After a long day of fishing, it is so incredibly nice to motor back to the resort, gas up, tie up, and plug in the boat so it's ready to go at dawn the next day. This place is easily one of the nicest resorts we have ever stayed at on Lake of the Woods.
Lake Trout: A Lake of the Woods Special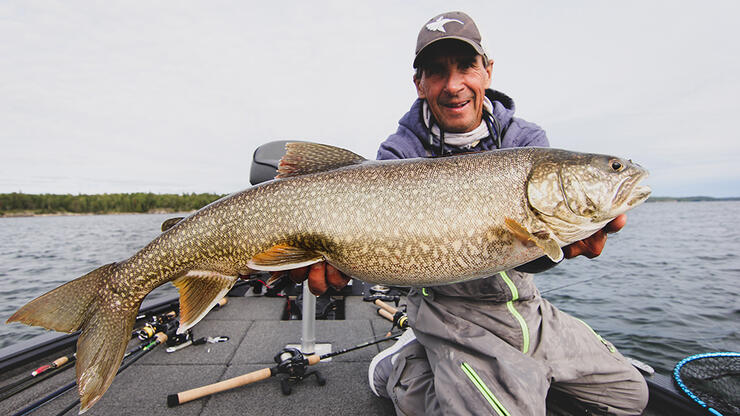 The two most complex decisions we had to make were choosing what species to target first and what to fish for next. James Lindner and I agreed to start the adventure by tracking down some lake trout. James has a long history here, spending his summers guiding during college, and one of his favorite Lake of the Woods species are the hard-fighting lakers. 
According to Lindner, "Lake of the Woods is unquestionably one of our favorite fisheries on the planet. Over the years, Jeff Simpson and I have spent much time there fishing for pike, musky, walleye, bass, whitefish, crappie, and lake trout. Honestly, lake trout is one of my favourite fish species to target on this particular body of water." 
Sunset Country has numerous world-class lake trout lakes. Our friends in Ontario do a fantastic job with their conservation efforts of all fish—especially lake trout—and the result of their efforts is clear: quality fish and fishing for decades. As a whole, lake trout thrive in Oligotrophic Lakes that maintain cold, oxygen-rich water. This lake is massive and has an ultra-healthy population of lake trout. 
"Jeff and I arrived in late summer, so within a 10-minute boat ride, we were already scanning potential areas," says Lindner. "We were fishing the Whitefish Bay Area, but Clearwater Bay, Echo, and Cul De Sac are just as good because they are so deep, some reaching over 110 feet of water. During this time of the year, the fish tend to congregate in large schools in these deeper water haunts. It's almost become cliche to say, but today's modern electronics combined with high-definition mapping has made to process of finding fish so much easier and faster." 
"For instance, in the old days, you spent a lot of your time getting to know the area to avoid getting lost and being extremely cautious to stay away from hazardous areas. Mapping has relieved a lot of that pressure, enabling anglers to move around safely, quickly, and confidently."
Lake trout are pretty easy to find throughout the summer with good electronics. If you can find big schools of cisco or tullibee, you are likely to find lake trout. When you look at the map, start the hunt by driving over these deep lake basins using 2D sonar to find bait and big fish marks. Critical spots include sheer ledge drops, sunken islands, and distinct points and bottlenecks that tend to congregate fish. At this same time frame which is late summer, big pike and whitefish inhabit these same areas, so you'll likely catch a few of these other species while laker fishing. 
"I almost always start by using a three-way rig to cover water quickly and contact active fish," Lindner explains. "Light flutter spoons on a three to four-foot lead is a bait trout can't often resist. Then after we find several spots with notable concentrations of fish, I love to hop from spot to spot and catch them vertical jigging. A medium-fast action bass rods and a handful of baits are all you need. Luhr Jensen's Crippled Herring spoons, Rapala Flat jigs, and VMC jigs rigged with Big Bite bait soft plastics were hands down the top producers," said Lindner. 
The key to deep-water vertical fishing is boat control. You want to keep the bait as upright as possible as a general rule. In most cases, you want to hover directly over the fish. It's a precision tactic where you sharpshoot individual fish that you see on your electronics. Other times you may have to pop the bait up and down to trigger strikes. And sometimes, a slow, steady reeling will trigger bites. Finally, the trick may be to suspend a bait 4 to 5 feet above them and hold the bait steady. 
A plain bucktail jig is about as good as it gets, like a VMC bucktail jig. For the depth of water where fishing, ¾- and 1-ounce jigs are preferred. Another good option is a 1-ounce VMC Moon Eye jig tipped with Big Bite Jointed Jerk Shad or Suicide Shad. These baits highly resemble small cisco—the lake trout's natural prey. Heavy spoons can also be good; something like Luhr Jensen's Crippled Hearing in weights from 1 to 1 ½ ounces enables you down in deep water fast. If the fish are aggressive, they usually smoke the bait as it's falling. For this tactic, a 7-foot 6-inch moderate action baitcasting rod and reel spooled with Sufix 15 to 20-pound Sufix 832 braid with 10 to 15-pound fluorocarbon leader using a Daiwa 300 Tatula.
Pike Bandits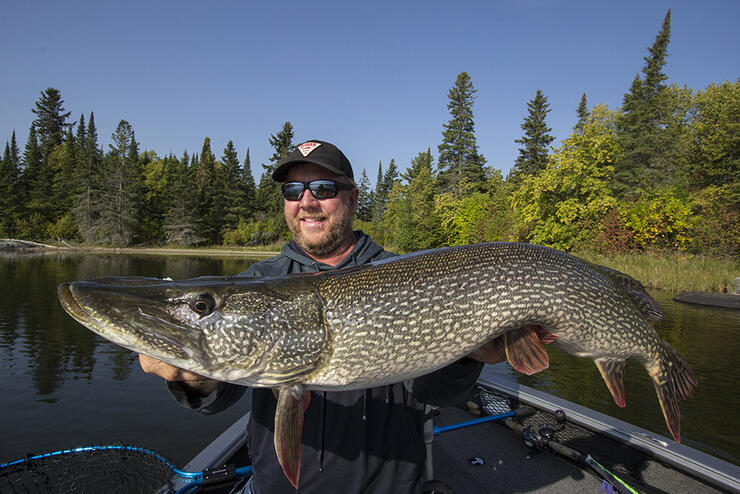 Jeremy Smith and I have a strong passion for big pike and musky. Lake of the Woods is renowned for hosting good musky fishing, but plenty of pike roam these waters—including a healthy population of trophy fish over 40 inches. In the Whitefish Bay Area near Tomahawk Resort, we caught lots of pike and big fish too.
Weeds are a great place to start casting for pike. Thanks to cool nights in late summer and early fall, the water begins to cool, and pike will begin to push toward deeper weed edges and structure Spinnerbaits, large soft plastic jerk baits, and even large spoons rigged with a Siwash hook are productive baits in the weeds. 
"Weeds are an obvious place to start casting for pike," Smith explains. "These areas are super easy to find on Lake of the Woods, and pike of all sizes utilize weeds to ambush prey. If you're after big fish, focus on deeper water edges. Again weeds are great classic spots, but there are plenty of other places to catch these big gals. Large rock reefs, round boulder areas, and sharp breaks near a shallow habitat are good spots to investigate. Honestly, most of the big fish we catch aren't in the weeds."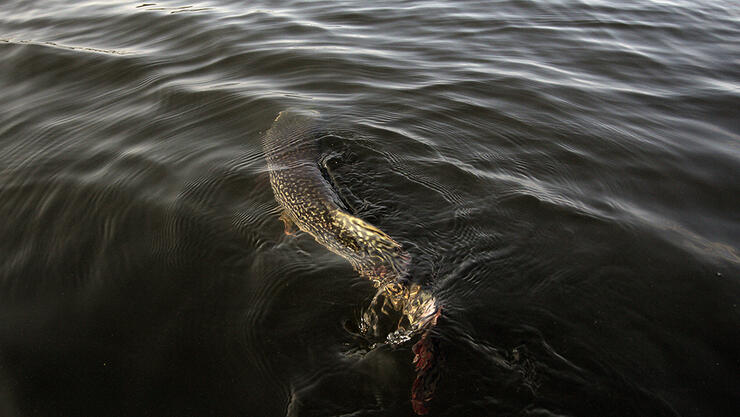 Jeremy and I had plenty of success casting plastic along the rock piles and breaking on this trip. The advantage to casting plastic is that you can count the bait down and work the bait very efficiently in the strike zone —even as the water tapers deeper. Deeper diving crankbaits are another go-to option. During this time of year, simply position the boat in 20 feet of water, cast up into a 10- to 12-foot zone, and start your retrieve. Shallow Shad Raps always produce, but deep-diving Rapala XRap Magnum 30 allows you to trace the structure pretty much back to the boat. 
"Trolling is another great option for catching pike. It's just the easiest way to contact lots of fish. Use a lure capable of diving to the exact depth you are fishing. While you're forward troll, ripping the bait forward, followed by a pause, is often all it takes to get pike to strike." 
Walleye, Bass, Crappies and More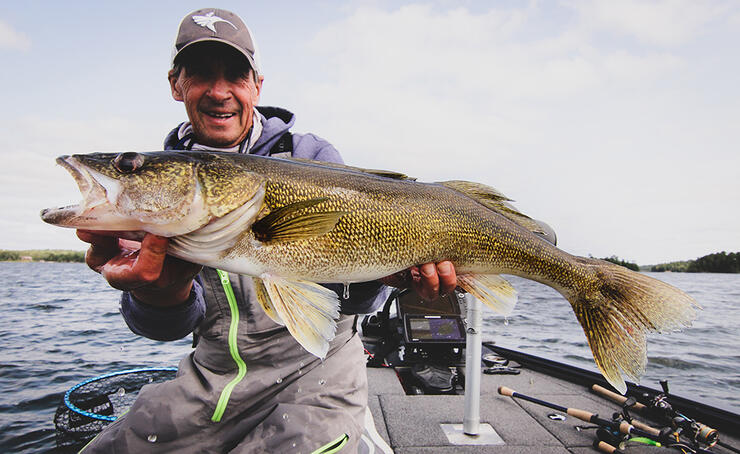 Walleyes are obviously the main attraction for many anglers, the lake is loaded with them, and the fish always seem to have a  good attitude about biting. Naturally, more anglers are fishing for them, however, we never fished around any other boats.
Again, today's electronics make finding walleyes pretty simple—shallow, deep, and in between. Shallow walleyes weren't easy to spot using 2D sonar in the past. But armed with Side-Imaging and 360 Live, shallow water walleyes can easily be pinpointed and caught with soft plastics or jerk baits. In deeper water, walleye can often be found near structure breaks. Jig and minnows always work, but snap jigging Rapala Jigging Raps is a simple and efficient option. 
Smallmouth bass populations have exploded and are fun and relatively easy to catch. Several large bass tournaments are held here every year, and it takes a heavyweight to win. Interestingly, right near Tomahawk Resort is also a healthy population of largemouth bass. Large lakes often raise big crappies, and Lake of the Woods is no exception. And although it is oddly not an overly popular perch destination, the Lake has plenty of jumbo perch — a tasty treat for anglers in the know.
Like every other adventure, we fished from dawn to dusk. That's just what we do, especially when fishing one of the finest sport fisheries in North America. There's little debate that we are looking forward to next year when I make yet another run to the majestic Lake of the Woods.