Walleye World
From big fish to blue fish, Ontario's lakes and lodges are the perfect place to reel in that once in a lifetime walleye. Discover why these 3 resorts top our list, and plan your next adventure today!
Ontario has some of the best walleye fishing found anywhere in North America, and amazing scenery with screen saver views nearly anywhere you go! The journey, many times, is a big part of the whole adventure. The following destinations offer you a variety of travel options; drive-to, train-in and fly-in! The fishing differs at each of these. If you're looking for the opportunity to catch blue walleye (possibly 100+ each day)…that's Guardian Eagle. If you're looking to land the biggest walleye of your life, then Dogtooth Lake Resort or Mar Mac Lodge are great choices for that. And they each offer the chance to target other fish as well. Let's dive a little deeper into these options, so you can choose the best one for you! This is Ontario's WALLEYE WORLD!
Dogtooth Lake Resort is an easy drive-to destination that's only a two-hour drive from the U.S./ Canada border through International Falls, MN. A great thing about this is that you're able to bring your own boat with as much gear as you like. This trophy walleye factory is nestled in the quiet woods of Sunset Country. It is known for BIG walleye, and if you're looking for your new personal best, look no further. A first-class multi-species trophy fishing resort catering to the hardcore angler, but also to those looking for a fun-filled family vacation. They have a great swimming beach, floating swimming dock, water slide, diving board, kayaks, campfires, great fishing off the docks and many other activities for the whole family.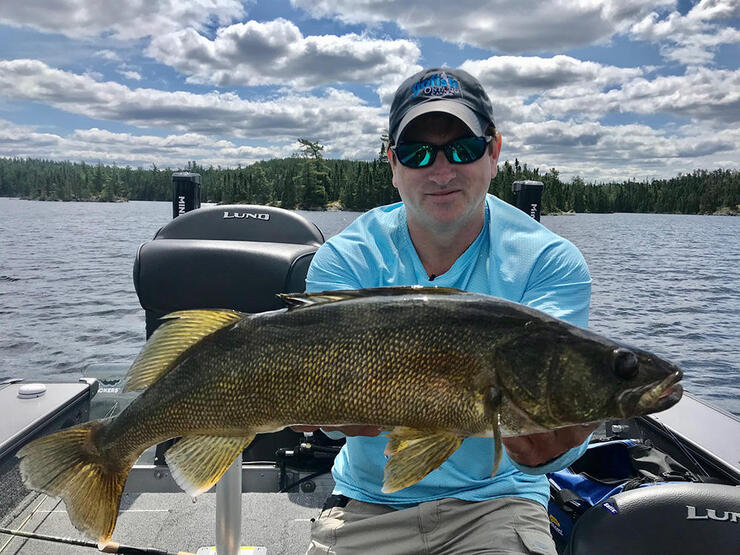 The Jones family purchased Dogtooth Lake Resort in 1988 and continue to help run it with their son, Kyle, who took over the management of the resort in 2014 and then ownership two years ago. His transition from an accountant to a resort owner was an easy one. His love and knowledge of fishing and the outdoors, along with his rapport with guests, is a win-win for him and the repeat Dogtooth Resort customers who come back year after year.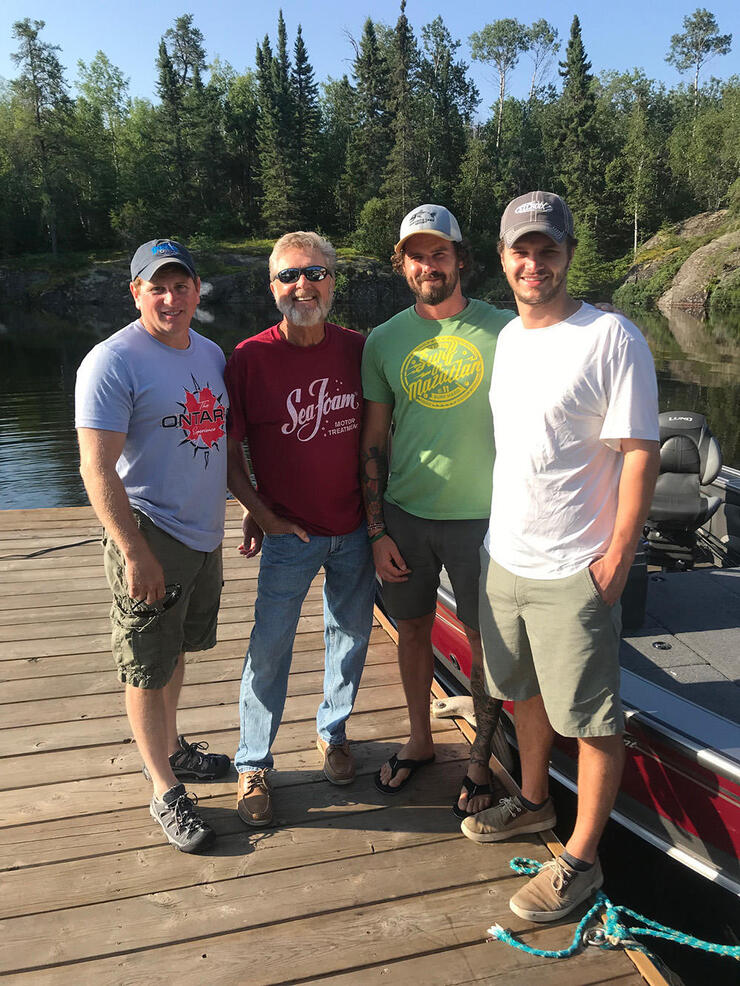 Dogtooth Lake Resort consists of 10 very comfortable, fully furnished housekeeping cabins with all your bedding, towels and linens included and range from two to four bedrooms. Cabins include all the cookware and dishes, electric heat, refrigerator, stove, microwave, coffee maker, full bathroom, and BBQ on lake view decks, along with Wi-Fi and satellite TV, giving you everything you need for the ultimate vacation. They do offer boats to those choosing not to bring their own. The resort has a convenience store that carries an assorted selection of groceries as well as gas, live bait, fishing licenses and more. Last season, a brand new boat launch was installed for guests to use.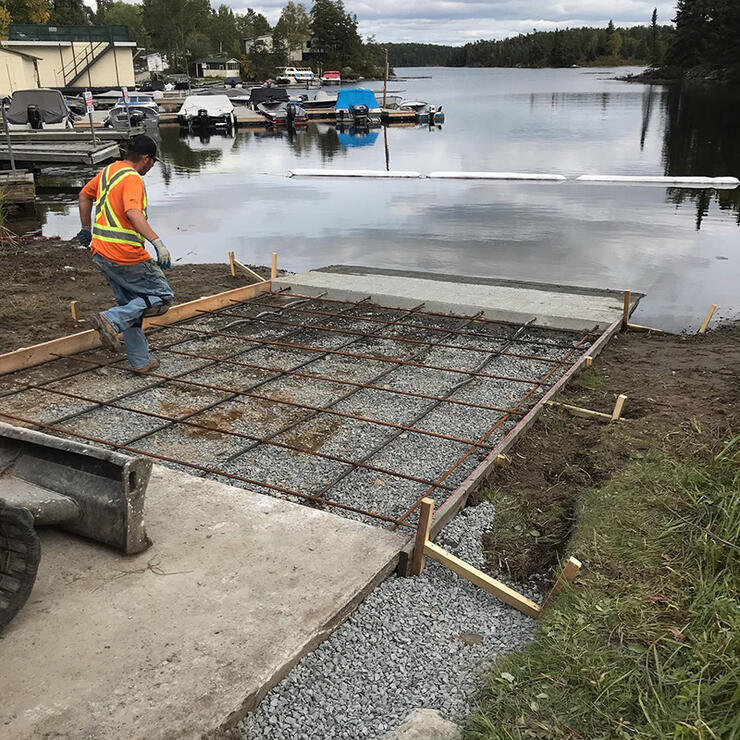 For those who prefer to be on their own, they have an outpost on Dogtooth Lake which features a two-bedroom cabin equipped with a kitchen, living and dining rooms, propane grill, fishing cooker, indoor shower, and outdoor plumbing along with a fish cleaning house. If you're looking for the ultimate Canadian adventure, they have another outpost camp an hour north, with a cabin that sleeps eight on a lake that features walleye, smallmouth bass, and northern pike.
Dogtooth Lake is 6,200 surface acres in size. There are lots of islands peppered throughout with plenty of great fishing locations. It has 167 miles of shoreline and the connection to Kilvert Lake is easily navigated, adding another 2,400 plus acres of amazing fishable gin-clear water. The large walleyes Dogtooth and Kilvert are famous for can be caught all season long as the lakes have it all. There are large 4' to 7' feeding areas, 10' to 30' channels, reefs, and shoreline breaks. If you're looking for some "shore lunchers," there is a good population of those in both. This water system is also home to some great smallmouth bass, lake trout, and trophy pike fishing in addition to the walleye.
 

Dogtooth Lake's trophy-size walleye reputation…it's no fish story. When filming there, Ty Sjodin and Al Lindner caught no fish under 5 pounds, with the biggest tipping the 10-pound mark. And that was just DAY ONE!  The following day was similar, including some good eater-sized for shore lunch. Artificial baits worked very well, like Rapala #7 Jiggin' Raps and 1/4 oz VMC Moon Eye jigs tipped with a 4" Big Bite Bait Finesse Swimmer or Northland's Impulse Paddle Minnow.
Early in the season, you can catch walleye and smallmouth bass using the same areas. Later on, as the summer heat increases, walleye will move deeper, but the smallmouth bass can stay shallow all season. On the last day of filming, they decided to focus on smallies. Pretty much any smallmouth-looking area held fish, especially around submerged big boulders in the shallow bays or on rocky main lake points. There's nothing like the fight of every fish acting like a 5-pounder with a great opportunity to reach that mark, Dogtooth Lake has a great population of them. For smallmouth tackle, the 1/4 oz VMC Moon Eye Jig with a paddle tail was a great option. Also, the top water bite was red hot with the Rapala Skitter Walk and X-Rap Pop being the go-to baits.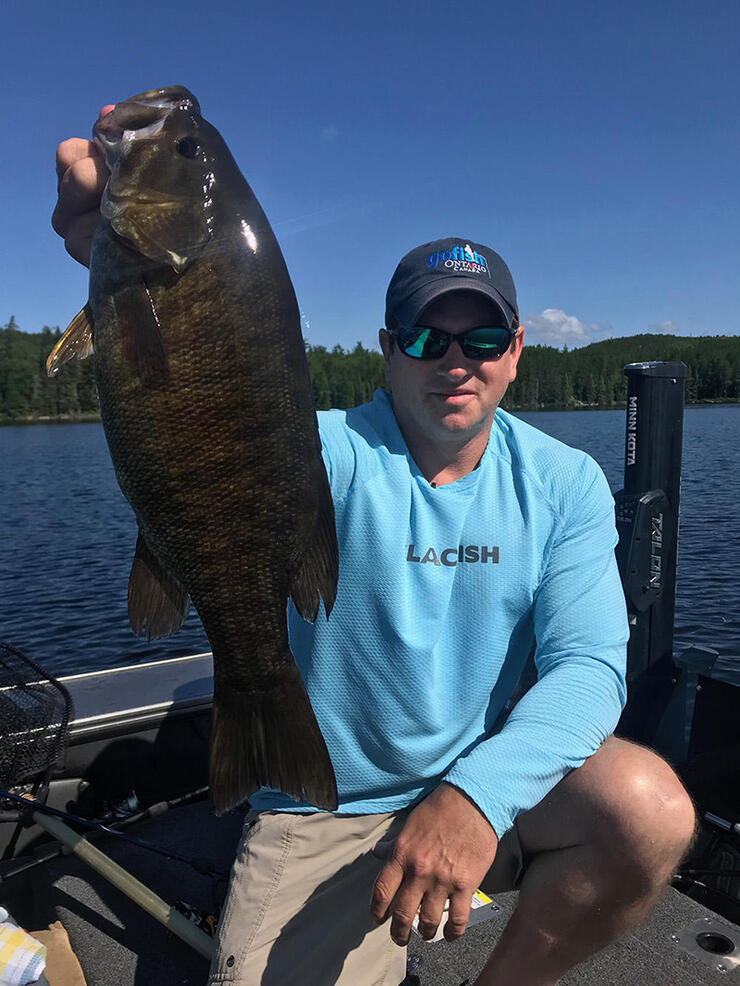 When you talk about bucket list destinations like Dogtooth Lake Resort, it isn't a place you visit once. When you get spoiled catching those big hefty walleyes and even the tough smallmouth, northern pike, and lake trout, you make this Ontario Experience an every-year trip.
The Guardian Eagle offers an executive class fishing experience and blue walleyes!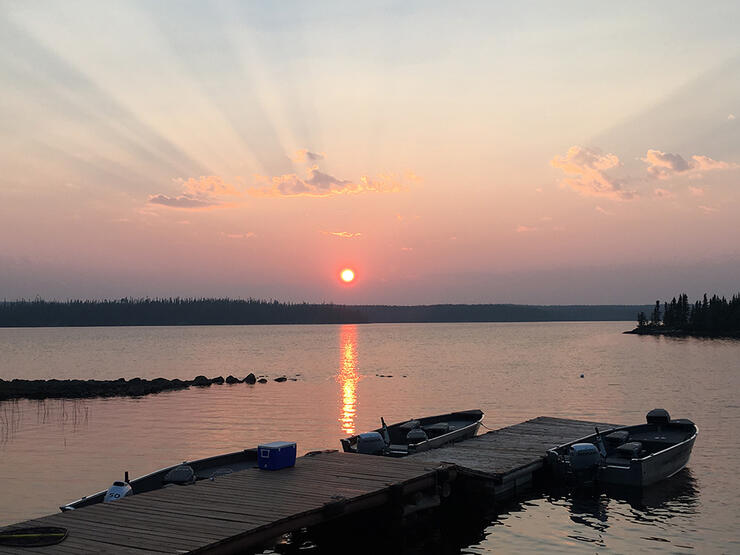 De Lesseps is filled with blue walleye! And here at Guardian Eagle, it is common for guests to catch 100 of them each day! Scientifically, these are regular walleye, just covered with a unique blue mucus. They are absolutely beautiful fish. Held up against the sky, you can really see this in detail. Along with the walleye, there are plenty of hungry northern pike to target in the shallow weed beds.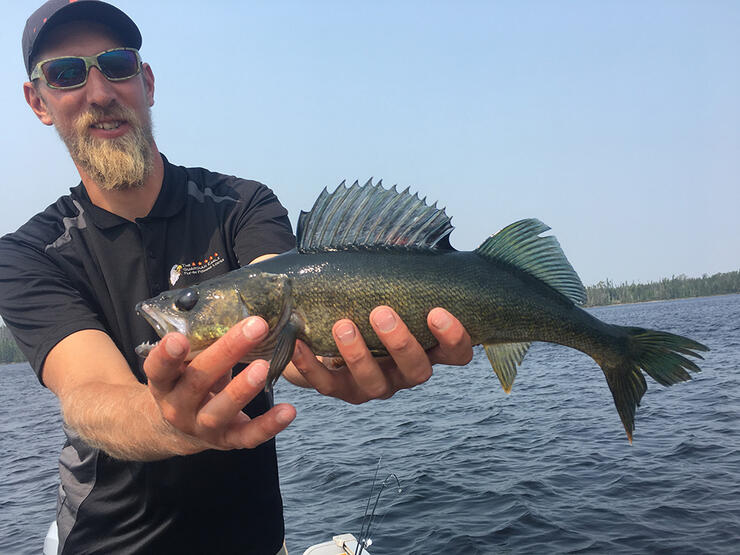 Getting there is as unique as the blue walleye. Travel in style on a private chartered flight to Guardian Eagle Resort, offering pretty much door-to-door service. They handle the entire process from start to finish. You can depart from either Minneapolis or Chicago, with just a short touch down in Fort Frances for customs and you're landing on the runway (no small float planes here) next to 75,000-acre De Lesseps Lake. This resort was founded by Dick Davidson in the early 1990s. He had the vision to create a 5-star, fly-in-only resort. Though he passed away in 2012, his dream still lives on. The new owners are Clarence and Twyla Bergen. Clarence is an avid fisherman.
The log cabins there are very big and spacious. Lots of room to relax, and great for big groups. You won't feel packed in at all. The beds and pillows are as comfortable as a nice hotel. There's also a hot tub and sauna room to relax at the end of each day.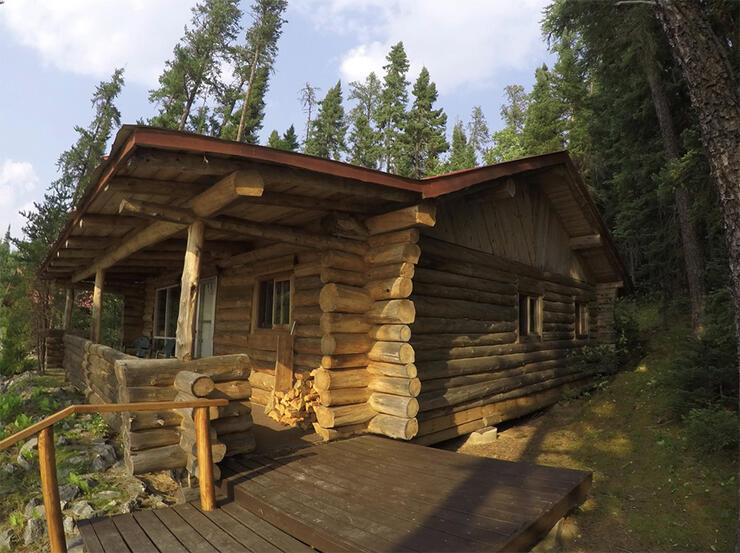 As with any Ontario trip, shore lunch is always a highlight. Here at Guardian Eagle, they offer shore lunch in three different ways! This is so great during a four-night stay to have that variety of delicious fish each afternoon. With a good side of corn, beans, and fresh-cut potatoes to top things off. And speaking of delicious, the breakfast and dinners served at the main lodge are top-notch. The dinners can range from baby back ribs with sweet potato fries, to sirloin steaks made to order, and various seafood options. Bring your appetite!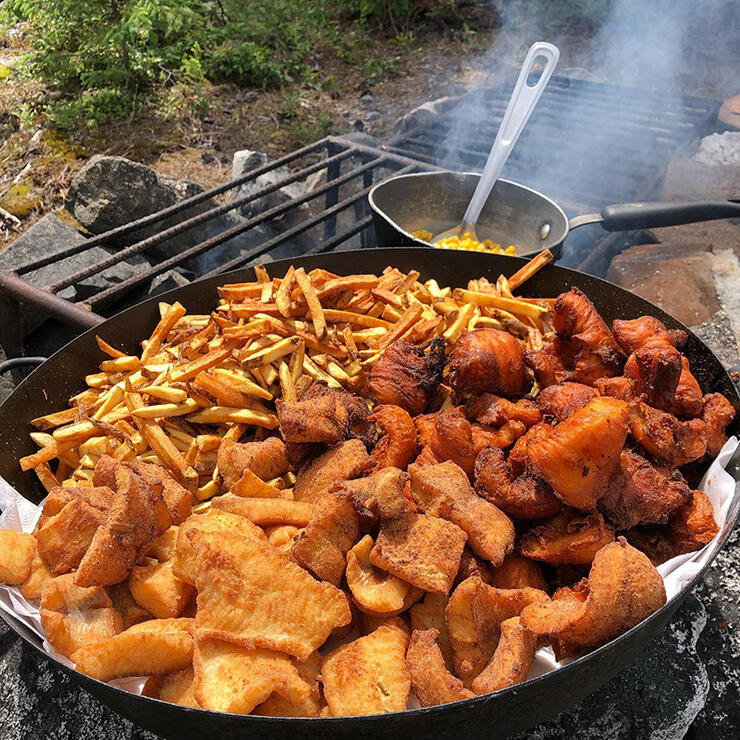 Guardian Eagle Resort packages include roundtrip chartered airfare, private log cabin lodging, all gourmet meals (breakfast, shore lunches, dinners), complementary cocktail nightly happy hour, boat, fuel, bait and more!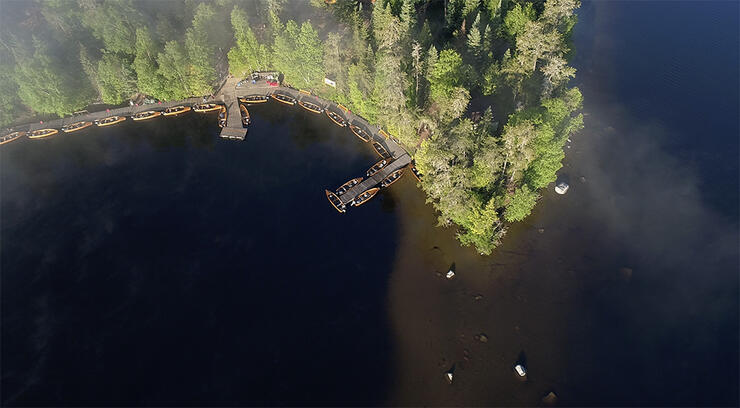 Mar Mac Lodge is located on Esnagi Lake, a place known for walleye, both in numbers and size! It has been operating there for 60 years by the MacLachlan family. Friendly staff and first-class accommodations keep guests returning for many years. The main lodge has a spacious dining area, a tuck shop (with tackle, drinks and snacks), a billiard table, and a TV. There's also WiFi to keep in contact while you're away or show off your day's catch on social media.
The spacious log cabins will make you feel right at home. You'll have cold and hot running water, a shower and a toilet in the full bathroom. The kitchen is outfitted with a fridge, gas oven/stove, and microwave. There are plenty of wall outlets to charge any electronics. Also, each cabin features a BBQ on the deck if you feel like grilling some freshly caught fish. Everything you need for the Housekeeping Plan—just bring the food. But with the American Plan, you only need to bring your appetite. Their home-cooked meals and shore lunches will keep you fueled up for fishing your entire trip!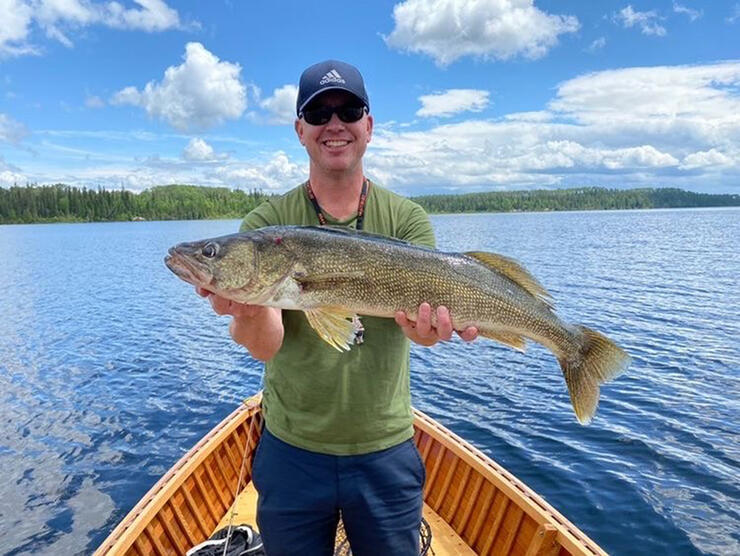 Todd Mackie visited Mar Mac this past summer and had a great trip. Their group had four walleye passing the 30" mark and twelve more 25-29" during their trip! Here's what he had to say about it:
 "Huge thanks to Troy Lindner and The Ontario Experience. They inspired me to check out Mar Mac Lodge on Esnagi lake and try for the fish of a lifetime. Well, it delivered! Huge fish every day and a trip my dad and I will never forget. Everything I've ever heard about the amazing jigging rap bite for big walleye came true. And a big thanks to Troy for sharing some of his key locations for trophy walleye and Pike."
Esnagi Lake is nearly 27 miles from end to end! If the wind gets too much, there are plenty of islands to drive to and catch fish. These bays are perfect for targeting northern pike, and they really like to feed in and around weed beds, especially cabbage. My favourite way to catch them is to throw a big chunky swimbait, they can't resist that!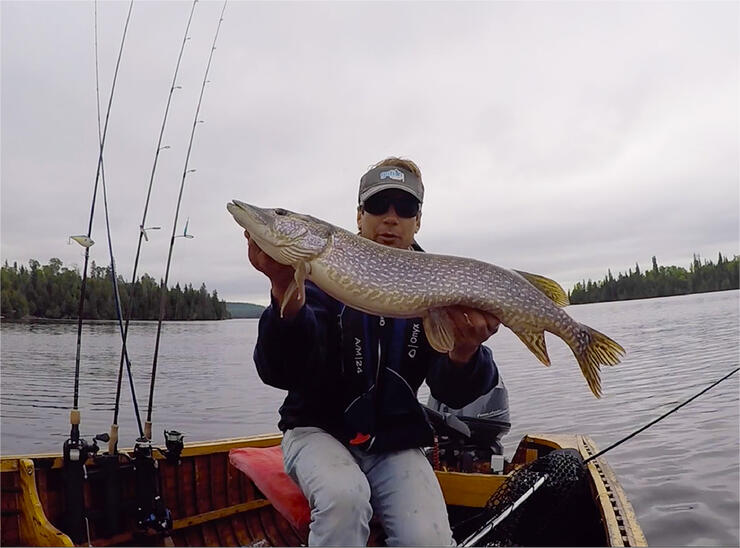 The majority of people travel to Mar Mac for the walleye, of course. This is a place where any wind-blown point can hold shore lunch-size eaters, with some giants too. It's tough to beat a jig and minnow, the standard in Ontario. And if you're looking for SIZE, then artificial lures are something to try, like a Rapala Jigging Rap and Rippin' Rap. These are great options for smooth rock areas and sand breaks. Even in the middle of the day, flat-calm, snap-jigging can be very effective. The conservation policies established in 1993, have made this an incredible fishery.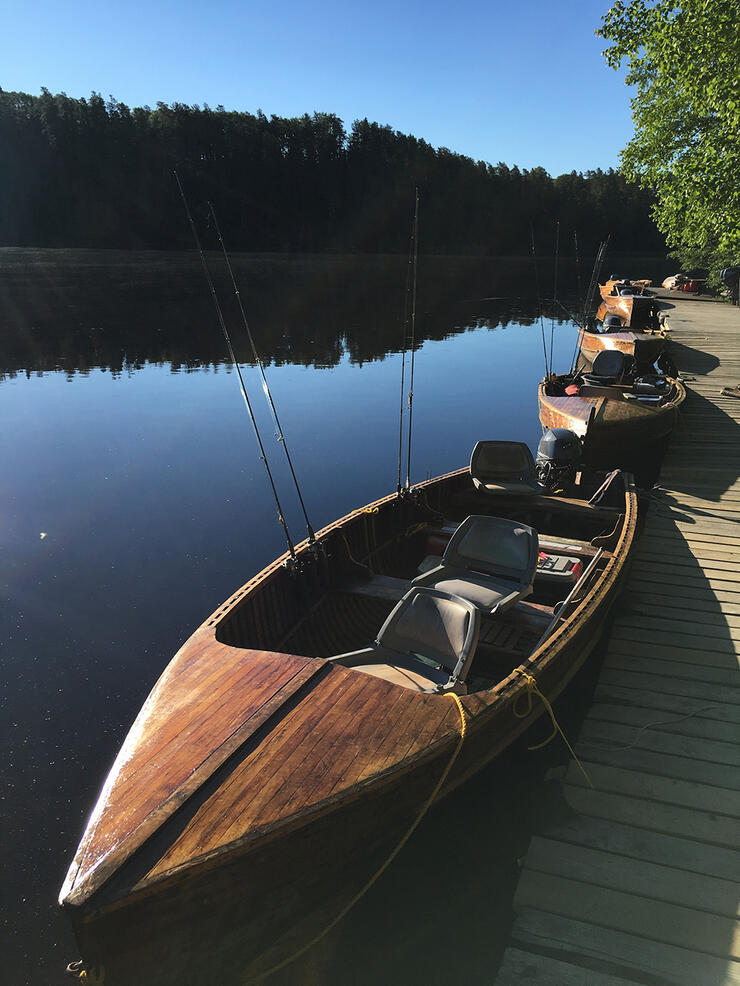 Unlike the standard 14-18' aluminum boats, at Mar Mac Lodge you cruise around and fish in style on custom-hand-built 18' cedar strip boats. These are very stable and easily fit three anglers with floor storage space for all your gear. I highly recommend hiring one of their knowledgeable fishing guides at least on your first day. They can prepare a shore lunch for you and there's nothing like freshly caught walleye in cast iron with some potatoes and beans. The guides know how to make it right! It's always a nice time to enjoy the peacefulness of the Ontario wilderness on an island with friends and family.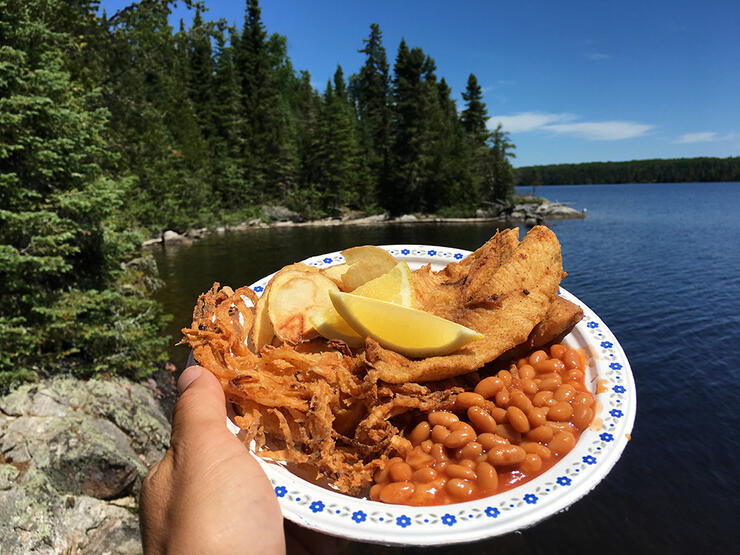 Mar Mac Lodge offers great accommodations with all the comforts of home. Getting there and back is simple, you can either enjoy a train ride or travel by float plane on a Dehavilland Beaver or Turbine Otter. The air base and train station are both located in White River. You have options. And speaking of that, Mar Mac Lodge even offers a big "Northend Outpost" cabin on the lake if you're looking for something "semi-remote."