Unique Bird Hunting Adventures in Ontario
Ontario has a large population of both ruffed and spruce grouse, but ruffed grouse offer quite possibly the tastiest table.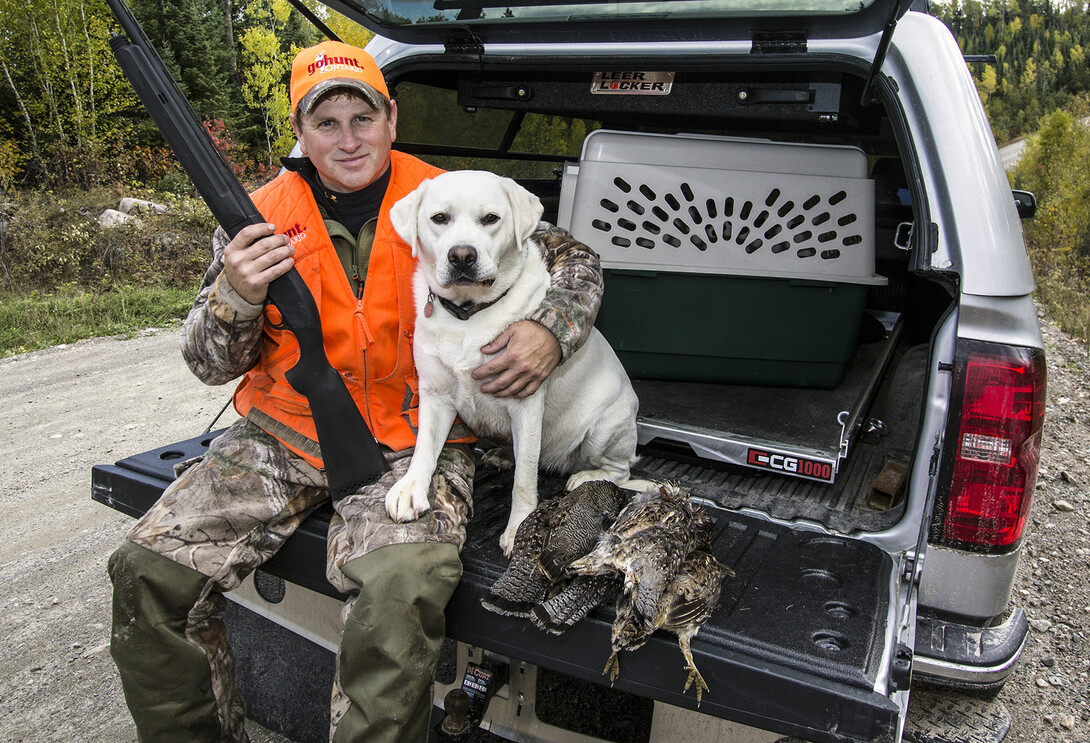 If chasing grouse with a man's best friend is your thing, Ontario may be the best place in the world. Ontario's grouse populations—even when at the lowest end of their cycle — are exceptionally robust. With thousands of miles of roads and walking trails through the best Grouse habitat, there are many hunting opportunities. With generous Ontario grouse limits of five birds per day and fifteen in possession, you should leave with a nice case of a sore shoulder.
The province has a large population of both ruffed and spruce grouse, but in my opinion, ruffed grouse offer quite possibly the tastiest table fair of any winged bird. While rough grouse have light meat that works well with various recipes, the spruce grouse has darker meat and is slightly more bitter to the taste if not cooked properly. But like with any wild game, if done right, it's all unique and outstanding.
Many Ontario lodges and resorts offer grouse hunting, and I have been to some outstanding ones over the years. Rikki, my white English Lab, cut her teeth on grouse in Ontario, and we have gone back multiple times to continue our hunting tradition together. Here are a few fantastic places that I have visited chasing those tasty birds.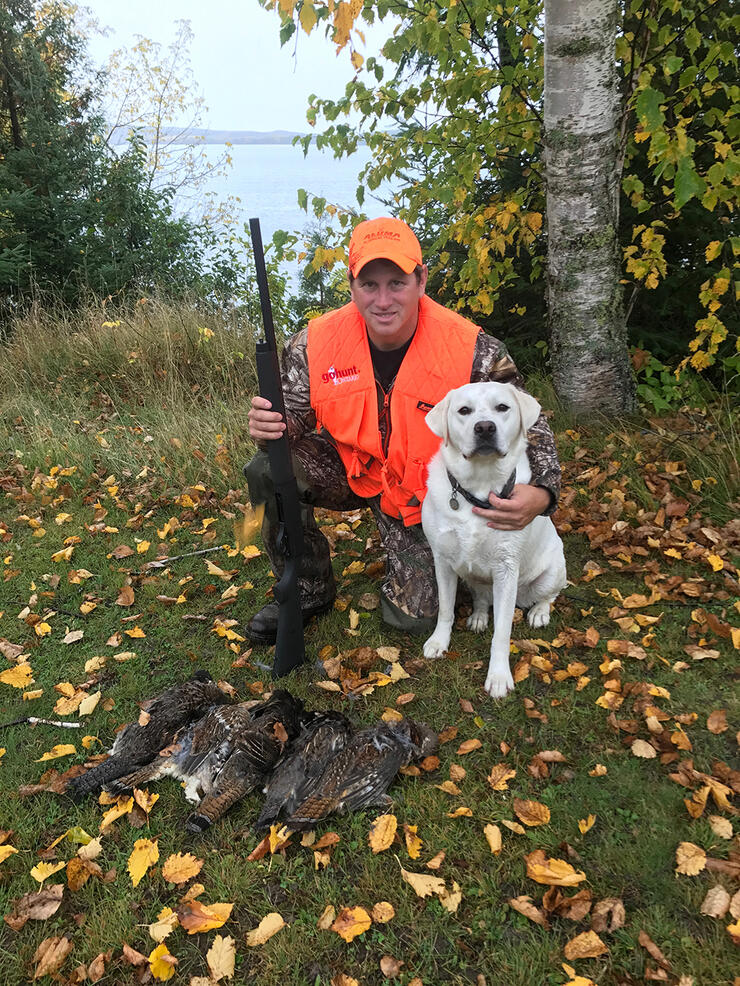 North Country Lodge is a gem nestled on Canyon Lake's shores in Northwestern Ontario's Sunset Country, only a couple hours north of the U.S. and Canadian Border.
Owners Wayne and Lydia Lecot run North Country Lodge offering a housekeeping plan with seven immaculate, well-kept, and comfortable cabins with cooking stoves, refrigerators, and home necessities.
To give you an idea of their hospitality, Wayne and Lydia host a "camp supper" one night a week at the main lodge. Guests love it because it gives them a chance to meet other guests and share hunting and fishing stories.
During my stay, it became immediately apparent why so many guests return year after year. Wayne and Lydia strive to make North Country Lodge a relaxed atmosphere where guests feel right at home.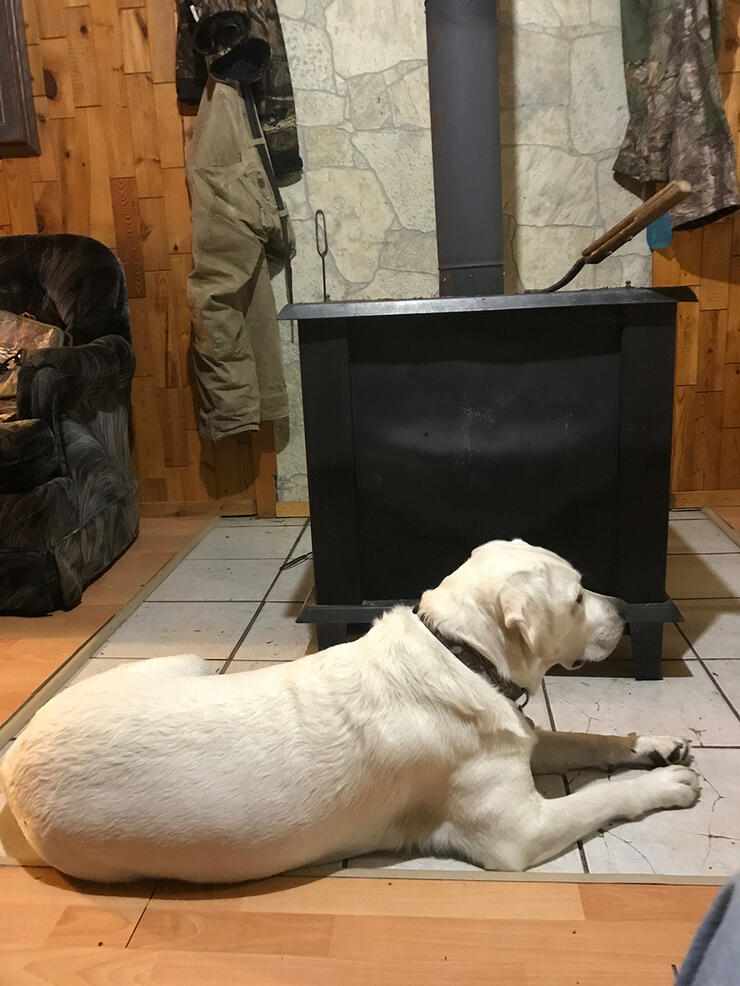 I brought my one-and-a-half-year-old white lab on this adventure because I knew North Country Lodge was dog-friendly, and this region is plum full of grouse. I can't think of a better place to bring your pup on his/her first hunt. It was so rewarding to see Rikki retrieve her first bird! She's just like one of my kids, and I was so excited to see her perform. Seeing her retrieve her first grouse reminded me of when my son took his first step. This will be an experience I will never forget, and bringing home a limit of grouse is pretty darn great too!
When it comes to grouse hunting, North Country Lodge offers a unique take. A boat-in hunt with miles and miles of untouched grouse hunting trails and birds that have seen very few hunters, and you won't see any either!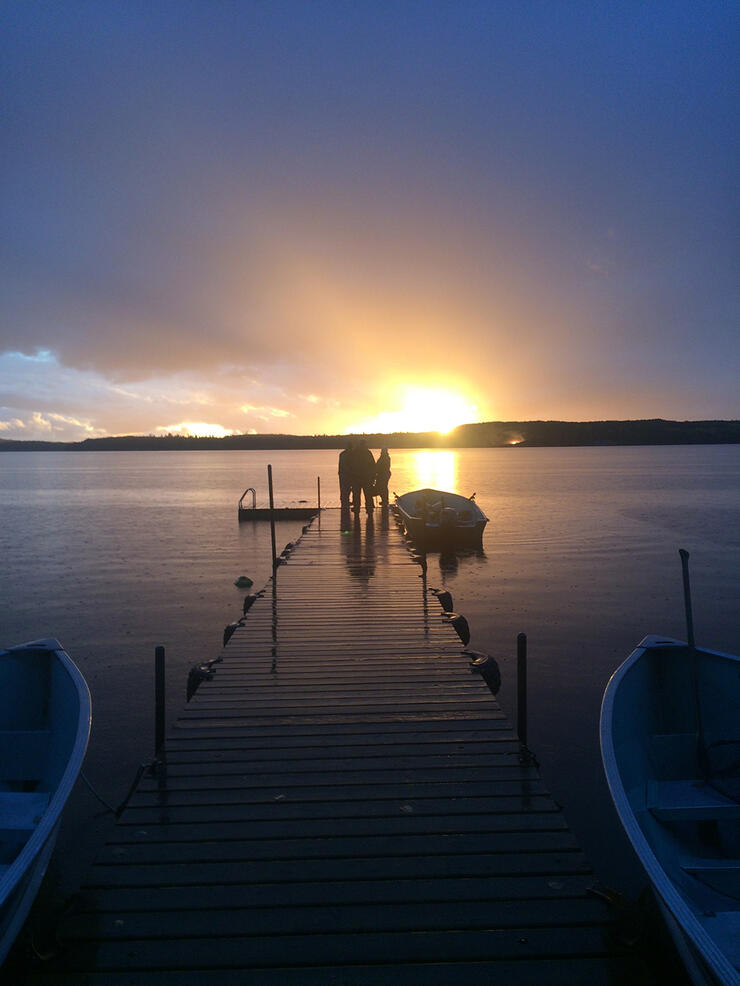 If grouse, bear, or fishing are on your radar, you've come to the right place. Bring your dog and grouse hunt all day or shoot a limit of grouse in the morning and sit in a tree stand for the chance to shoot a big ol' black bear in the afternoon. Or jump in a boat and fish musky or walleyes until your arms are sore.
Besides Wayne and Lydia making me feel at home and like family, the one thing I won't forget about this Ontario Experience is the sunsets on Canyon Lake. They take your breath away, along with all of life's stresses!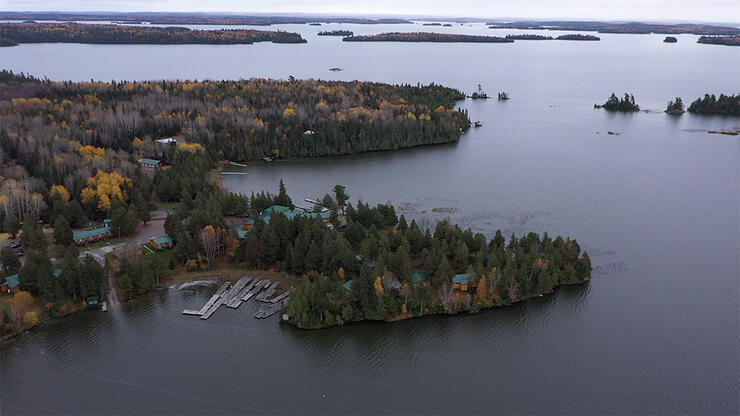 A place that pretty much has it all, Branch's Seine River Lodge is a short two-hour drive from the International Falls, Minnesota border. Starting with vast areas to grouse hunt and fantastic fishing, plan on bringing your fishing gear, your dog, and multiple boxes of shotgun shells for lots of hooksets, flushing, and shooting! The unbelievable fall colours are worth the trip alone to this first-class lodge nestled in Ontario's Sunset Country.
Quent and Lorie Branch strive to make Branch's Seine River Lodge as relaxing and comfortable as possible. Branch's Seine River Lodge offers an American or house-keeping plan with all of their new or newly renovated comfortable cabins with a full kitchen, full bath, satellite TV, and home amenities.
Bringing my two-and-a-half-year-old white lab, Rikki, back on a grouse hunting adventure was something I was looking forward to all year. I knew the region around Branch's Seine River Lodge has a large population of grouse. Rikki cut her teeth on grouse hunting in Sunset Country of Ontario, and I couldn't think of a better place to chase grouse again with my hunting partner. I was watching her work, catching the scent of a grouse, flushing, and when my shot is on—retrieving bird after bird. Spending time in the woods with her is something I always enjoy. And bringing home a limit of my favourite feathered table fare is pretty darn great too!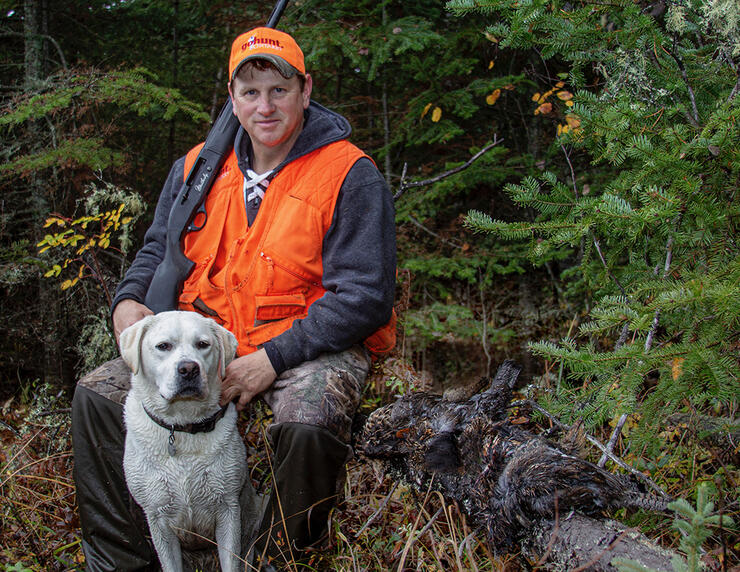 When it comes to grouse hunting, Branch's Seine River Lodge offers miles and miles of prime grouse hunting area just minutes from the lodge, making for some pretty fantastic hunting!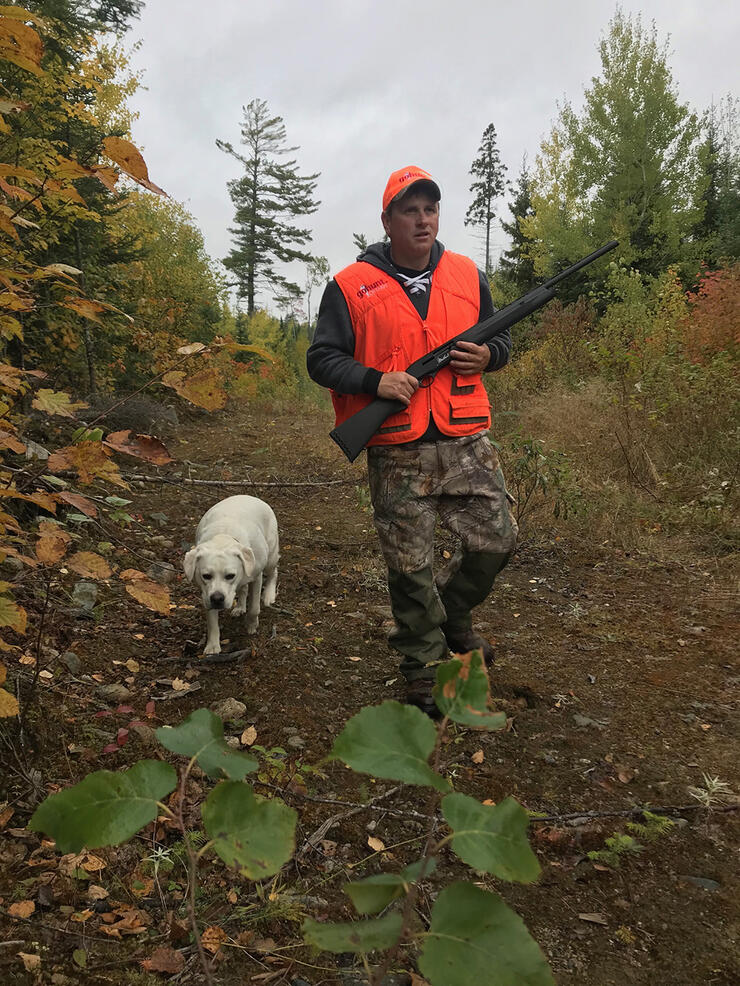 Besides Quent and Lorie making Rikki and I feel at home, the one thing I won't forget about from this Ontario Experience is Lorie's delicious, home-cooked meals. Every morning we left with a full stomach, thanks to the fantastic breakfast. When it came to dinner, from ribs and steak to turkey with mashed potatoes and gravy with all the fixings. Oh, and the desserts. Let's say, wow!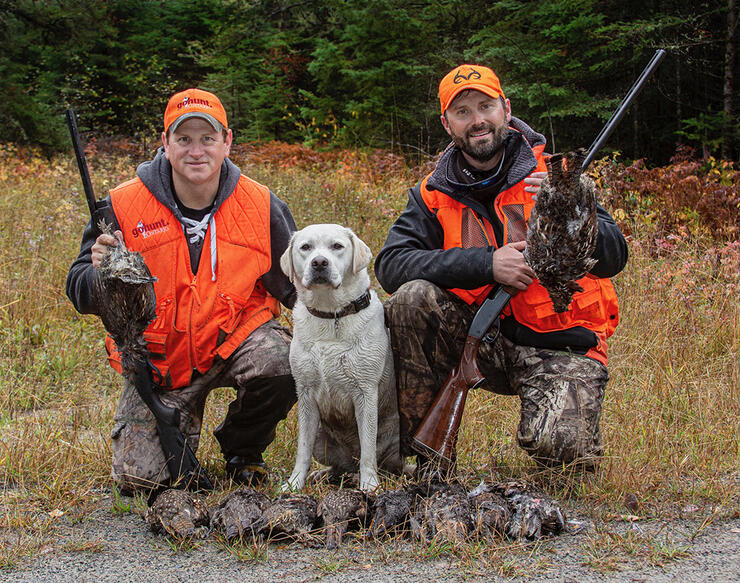 Temple Bay Lodge is the type of destination you plan to visit at least once a year, but two or three times would be much better! To describe Temple Bay Lodge, it's a pristine paradise deep in the woods of Sunset Country, Ontario. The beautiful lodge is a short 2-hour drive from the International Falls and Fort Frances border to the doorstep of the most incredible grouse hunting destination that will have you coming back every year. An unforgettable experience!
Temple Bay Lodge offers a great experience with hundreds of miles of logging roads, back roads, and walking trails within minutes of the lodge. This region has an excellent grouse population with many days, depending on your shot, leading to a limit of grouse by lunchtime. Flushing those tasty birds is a great way to spend time with your favourite four-legged hunting partner along with family or buddies.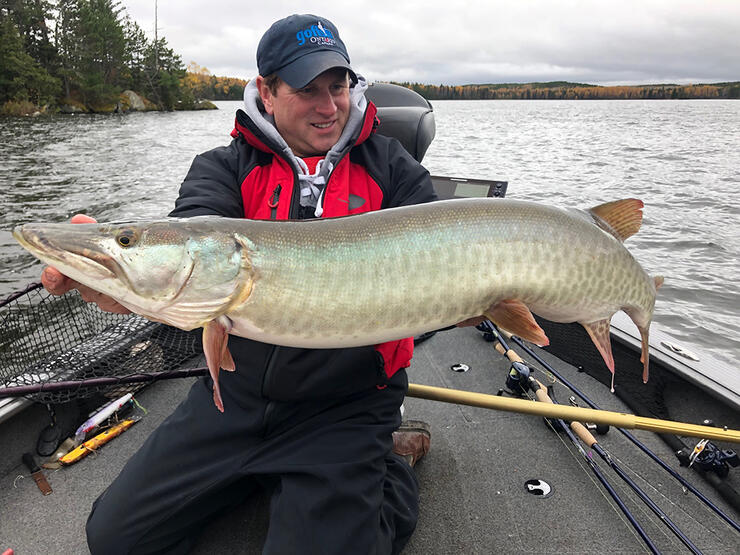 On my trip to Temple Bay Lodge, I spent every morning chasing after a limit of grouse with my white lab Rikki and good friend, Jeremy Smith, from my office at Lindner Media. With the Ontario grouse limit being five per day per person and a possession limit of fifteen per person, my dog got her week's worth of flushing in, and Jeremy and I were able to limit out every day. Jeremy had never shot a limit of grouse before, so that was a nice experience for him.  
If you're looking for a lodge with fantastic grouse hunting, amazing trophy fishing, and offers exceptional and friendly service and hospitality where each guest is catered to from the day of arrival until the day you leave, Temple Bay Lodge needs to be on top of your list! Give lodge hosts Jeff and Marieanne Moreau a call. I know I'll be back again next year!
An advantage of visiting Ontario's Sunset Country during the fall is the "cast and blast" opportunities. Spend a couple of days grouse hunting and a couple of fishing—or spend time flushing and shooting birds part of the day and the other half setting the hook. It's the best of both worlds in my book!
For more information on visit: