14 Amazing Places to Go Beach Camping in Ontario
Frontcountry and backcountry camping experiences at some of the province's most beautiful stretches of sand.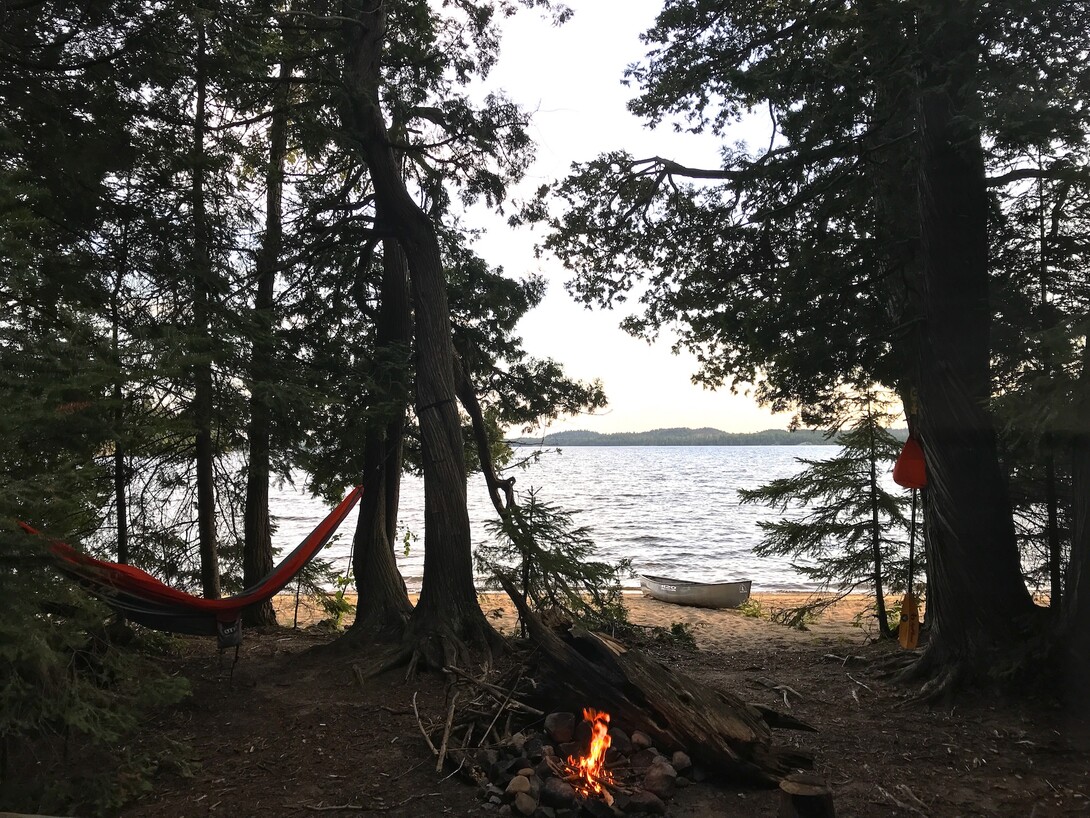 Why choose between a beach vacation and a camping trip when you can have both? Ontario is home to many fine-sand beaches, some set on waters so blue you'd think you were in the Caribbean were it not for their cooler temperatures. But on a hot and humid July day, a cool dip in the lake is just what you need.
There's a beach camping experience for everyone on this list, whether you want to stay at a campground or venture into the backcountry, swim in a big or small lake, or spend time in a lively or family-friendly environment. Picture yourself there now. Are you lounging on your towel reading a book, playing volleyball with friends, building sandcastles with your kids, cooking over the campfire as you watch the sun dip below the treeline, or going for a late-night swim? Each speaks to a different experience. You'll find all of these moments and more are on offer when beach camping in Ontario. Find yours below.
Best Camping in Ontario with a Beach
Tent or trailer, campfire or camp stove, shower or dip in the lake—no matter what camping looks like for you, the point is that you're spending time in nature with the people who matter to you. The following places are meant for those who prefer to stay in a frontcountry campground with all the usual amenities. Some are provincial or national parks that have beautiful onsite beaches for visitors to use, while others are popular public beaches that have camping options close at hand. Whatever your preference, you'll be able to spend afternoons eating ice cream at the beach and evenings roasting marshmallows over the fire as you soak up the best of both worlds.
Neys Provincial Park
With a shoreline 2,938 km long, you'll see plenty of Lake Superior beaches on this list. Each offers something different, whether views of windswept islands, stories of shipwrecks just off shore, or access to calm bays perfect for swimming in the notoriously cold water. One of the best beaches can be found at Neys Provincial Park, located at the northeast corner of Lake Superior. Here you can pitch a tent or park your trailer at one of their frontcountry campsites and spend your day at the water's edge or exploring many of the attractions within the park and nearby. Area 2 and 3 campgrounds have sites with private trails down to the beach, giving you instant access and the ability to come and go as you please throughout the day.
The beach stretches for 2 km along Ashburton Bay. You'll find deep, warm sand made even more picturesque by the driftwood that's scattered along the shore. Some days the water is calm, while others big swells roll in showcasing the power of Lake Superior. In the evenings, you'll be treated to a beautiful sunset across the water as the beach faces west.
When you're not spending time at the beach, you can take a hike on one of the park's many trails, rent a canoe and paddle the shoreline of Superior or up the Little Pic River, or go fishing. If you need supplies or want to explore nearby attractions, Terrace Bay is located 40 minutes west of the park and Marathon 25 minutes east. In Terrace Bay, you can take the short walk down to Aguasabon Falls and Gorge, hike the Casques Isles Trail  and visit the Terrace Bay lighthouse. The town also has a few restaurants as well as an outdoor outfitter called Experience North, where you can rent kayaks, canoes and SUPs, and purchase clothing, tackle and bait, and other outdoor gear. In Marathon, you'll find amenities such as grocery stores, restaurants and a Canadian Tire. You can also go golfing at the Peninsula Golf Course or visit Mink Creek Falls.
Sauble Beach
The second-longest freshwater beach in the world, Sauble Beach is the place to go for great family swimming due to its shallow waters, incredible sunsets across Lake Huron, and constant entertainment. The town of Sauble Beach is built along the 11-km-long beach itself and caters to the summer visitors who flock to the beach each year. Main Street and the beachfront are filled with restaurants, ice cream stands, shops and attractions. Go mini-putting at Putterama or try out the ropes course, climbing wall, axe throwing and more at Ascent Aerial Park. Get a meal from Beach Burger and a drink from Amici's Coffee Bar. Stop by Scoopers or the Ice Cream Shoppe (or both) for a cone or sundae.
There are many different camping options to choose from in the area. Woodland Park is located right in town and Carsons Camp at the south end of town—both are only a 20-minute walk from the beach at Main Street. The next closest is Winding River Campground, which is located on the shores of the Sauble River and is a five-minute drive away. Sauble Falls Provincial Park, Fiddlehead Resort Camp and White Sands Campground are all a 10-minute drive north of town.
Be sure to check out Suntrail Source for Adventure for your camping and outdoor needs.
Pancake Bay Provincial Park
The beach at Pancake Bay Provincial Park, located at the southwest corner of Lake Superior, is considered to be one of the finest in North America. Here you'll enjoy 3 km of white sand that's so fine it feels almost velvety under your feet, fantastic swimming as the sand slopes gently down into Lake Superior and the water tends to be a little warmer thanks to its being located in a sheltered bay, and the chance to take in the most incredible sunsets you'll ever see. Book a frontcountry site at the campground to make full use of the beach, as well as many of the other fun activities the park has to offer.
The 14-km round-trip hike (or bike) on The Lookout Trail will take you to a view over the portion of Lake Superior that is known as the "graveyard of the Great Lakes," as the shipwreck of the famous Edmund Fitzgerald is located here. For a less strenuous journey, take a walk on The Pancake Bay Nature Trail and cross boardwalks and read from interpretive signs.
Sault Ste. Marie is located 55 minutes south of the park if you need to stock up on supplies, but there are many quaint or kitschy attractions closer by. Just down the road from the park, you'll find Agawa Crafts & The Canadian Carver, the perfect spot to pick up a souvenir or gift. For a bite to eat, drive a little farther south to the Voyageurs' Lodge & Cookhouse, a roadhouse-style restaurant that boasts hearty portions and friendly service. This is also where you'll find River Rock Gifts, which sells specialty products and authentic Canadian gifts. Head north from the park to visit the Coppermine Point Lighthouse.
Sandbanks Provincial Park
Located on Lake Ontario, Sandbanks Provincial Park is home to the world's largest baymouth barrier dune formation. Those sandy dunes spill down onto pristine beaches—three of which are located within the provincial park. You can wade out into the water, set up for the day on the warm shores, and return to your nearby campsite at dinnertime for campfire meals and stargazing.
There's plenty else to do in the park, including hiking on six trails. Of particular interest is the Sandbanks Dunes Trail—a 2.5 km loop that travels through the fragile dune habitat. Canoeing is available on the Outlet River and birding is very popular in the spring and fall months.
Picton is located just a 20-minute drive from the park and is the perfect place to spend a town day. Here you'll find grocery stores, gas stations, and food options like The Acoustic Grill, Marks County Chips and Slickers County Ice Cream. Looking for something a little more adult? Visit Prince Eddy's Brewing Company or Black Prince Winery.
Pukaskwa National Park
The rugged natural beauty and wilderness opportunities of Pukaskwa National Park on Lake Superior might make you think the park's only beaches are difficult to access and sites of wild surf and jagged rocks. While it's true that much of the 1,878 sq km of the park is only accessible by foot or boat, and that many exposed, cobblestone beaches exist along its shoreline, there lies a crescent of sand in a calm cove that's quite easy to get to and serves as a little slice of paradise in this wild place. Horseshoe Beach is located at the northern end of the park, near the Hattie Cove Campground. Frontcountry campsites are available here on a first-come, first-served basis and provide a quiet entry to the park's many wonders.
Take the boardwalk from the campground through stands of pine and dunes before emerging onto the driftwood-strewn beach edged by turquoise-coloured waters. Pack a picnic and be sure to take along some buckets and shovels for building sandcastles. The water may be cold, but that's all part of the Lake Superior experience.
There are many day hiking opportunities to take advantage of while you're at Pukaskwa. One of the most impressive hikes is out to the White River Suspension Bridge via the Coastal Hiking Trail. This hike is 18 km round-trip, though, so be sure you are prepared before setting out. When your legs are ready for a rest, rent a canoe or paddleboard from the park and go day-paddling in Hattie Cove, which is almost always calm. More advanced paddlers will enjoy venturing out to Pulpwood Harbour, where you can explore islands and inlets.
Learn about the natural and cultural heritage of the park while exploring its natural beauty by going geocaching. The park rents GPS units so anyone can participate in this fun program. Pukaskwa is one of the parks that offers "the red chair experience." Challenge yourself to find the location of the Parks Canada red Muskoka (also called Adirondack) chairs in the park and snap a picture of yourself sitting in them and of course the view.
For in-town experiences and supplies, visit Marathon only 20 minutes north of the campground. Want to explore more beaches along the coast? Take a fully guided and partially outfitted sea kayak trip with Naturally Superior Adventures.
Killarney Provincial Park
Located on the north end of Georgian Bay, Killarney Provincial Park is the crown jewel of the Ontario Parks system. Known for its turquoise, crystal-clear lakes that are set against a stunning backdrop of granite mountains, many choose to experience the beauty by foot on the 100-km La Cloche Silhouette backpacking trail or by paddle on a canoe trip. However, you don't have to head into the backcountry to look across sparkling waters set in towering hills—the frontcountry campground is located on George Lake, which is as pretty as any of the lakes in the park. With two beaches, you can spend all day hanging out on the sand and swimming in the pristine lakewater.
A few of the campsites have hidden trails leading down to cliffs overlooking the lake from which you can swim. Rumour has it that one or two of the sites even have their own private beaches. While there, you can rent canoes right at the main George Lake beach and go for a paddle around the lake. And be sure to leave time to explore at least one of the park's day hiking trails. You can read about all of Killarney's hikes here.
The little town of Killarney is located 10 minutes west of the George Lake campground. On your way there, stop by Killarney Outfitters for any last-minute gear as well as firewood and ice. Once in town, you can grab a bite to eat at world-famous Herbert Fisheries or Aunt Bea's Corner Kitchen (among other restaurants), visit Pitfield's General Store, and take a walk out to the Killarney East Lighthouse.
Wasaga Beach
At 14 km long, Wasaga Beach is the longest freshwater beach in the world. Located at the south end of Georgian Bay, this is a popular summer tourist destination. The beach is actually divided into six sections, each affording beach-goers a different kind of experience whether you are looking to join the crowds for a good time, take part in paddlesports, or relax with your family. Find out what's on offer at each of the beaches and decide which is right for you here.
The town of Wasaga Beach is spread in a crescent around the beach and contains many cottages and tourist attractions, in addition to its quieter residential areas. For those looking to camp, tent sites are available at Gateway Camping (located in the middle of town and a 15-minute walk to Beach Area 1), Jell-e-Bean Campground & RV Park (located in the west end of town and a five-minute drive to Beach Area 6), and Georgian Bay Park (located north of town and a five-minute drive to Woodland Beach).
You'll find many attractions, stores and food options in particular along Beach Drive, which runs parallel to Beach Area 1. For those looking to enjoy outdoor activities in the area, book a paddling, climbing and caving adventure with Free Spirit Tours. You can also go for a hike on one of the many trails in the area. Visit Whitetails Crossing Outdoors in town for gear.
Lake Superior Provincial Park (Agawa Bay)
The beach at the Agawa Bay campground in Lake Superior Provincial Park is yet another stunning example of a sandy oasis on Lake Superior's shores. Camping here, however, will allow you to camp practically on the beach. Half of the campground's sites have views of the lake and back right onto the 3-km-long beach—in many cases, your picnic table and firepit will be on sand with a thin strip of grass the only barrier between you and the beach proper. You're guaranteed to have a more peaceful sleep as you drift off to the sound of waves rolling up onto the beach beside you.
Lake Superior Provincial Park is expansive and contains 11 hiking trails. Agawa Bay is located at the south end of the park and is close to trails such as Crescent Lake, Towab and Awausee. Many of these hikes are long and rugged, so be prepared before setting out. Also close by is the short trail to the Agawa Rock Pictographs—a sacred site for the Ojibwe people.
If you're looking for nearby amenities, Wawa is located one hour to the north and contains grocery stores, gas stations, hardware stores, fast food and take-out restaurants. Be sure to visit the goose statue while you're there! Up at this end of the park you'll also find Naturally Superior Adventures, which offers canoe and kayak rentals as well as many guided sea kayak, canoe and SUP day trips and instructional courses.
Providence Bay
It's said that the beach at Providence Bay is the nicest in Northern Ontario. Located on the south side of Manitoulin Island and looking out to Lake Huron, this sandy stretch is ideal for families wanting a quiet getaway. Enjoy soft sand for lounging, clean water for swimming, and plenty of room to spread out even on busier days.
You can camp at Providence Bay Tent & Trailer Park, which is located right beside the beach, grab an ice cream cone at Huron Island Time, get a bite to eat at Lake Huron Fish & Chips, and take a stroll on the boardwalk that runs along the beach and through the dunes.
Best Beach Campsites in Ontario
Never fear, backcountry campers—there are beach camping opportunities for you, too. Choose from the campsites below and you'll be able to enjoy your own private beach, abounding in the quiet and seclusion you love about interior camping. Some you can get to on foot, while others require a paddle. Some are easily accessible for first-time backcountry campers, while others require a bit more experience to get to. Regardless, you can spend all day on your personal beach and all night sleeping sans-sleeping pad on the soft sand beneath your tent.
Quetico Provincial Park
Quetico Provincial Park is known for its sprawling backcountry canoeing opportunities, but you don't have to go far to experience beach camping at its finest. "The Pines" campsite on Pickerel Lake is popular for its relative seclusion that can be accessed by paddle (no portages required!) or foot, and beautiful, sandy beach surrounded by stands of old-growth red and white pine.
There are actually three sandy beaches on the east side of the lake, each of which is a designated campsite. The site farthest south is the one that is known as The Pines, though. To reach it, you can launch your canoe from either of the Dawson Trail Campgrounds—Chippewa Campground and Ojibwa Campground—on French Lake and paddle south to the Pickerel River, which leads into Pickerel Lake. The other option is hiking the Whiskey Jack Trail to The Pines Trail, which leads to all three campsites on the lake—a journey that is around 5.4 km in length to the farthest campsite, one way. See the map here.
Either before or after your trip, be sure to stop and visit the nearby town of Atikokan. Stroll the boardwalk at Little Falls, peruse the exhibits at the Atikokan Centennial Museum, grab a bite to eat at the Outdoorsman Restaurant, and rent gear from Canoe Canada Outfitters.
Sleeping Giant Provincial Park
Bikepackers and backpackers alike will love this opportunity to camp out on a beach on the shores of Lake Superior. There are several interior campsites located at Tee Harbour, a t-shaped peninsula that juts into Lake Superior at the south end of Sleeping Giant Provincial Park. The beach here makes for the perfect place to rest up after a day on the trail, as you soak your feet in the refreshing water and gaze out to the star-filled horizon. Ontario Parks reports that there are 10 campsites in the Tee Harbour Zone to choose from.
To reach Tee Harbour, you'll need to park at the South Kabeyun Trailhead and bike or hike 6.5 km along the Kabeyun Trail. See the map here. Many choose to use this as a base for hiking up the Top of the Giant trail or simply as an overnight to explore more of the park's 100 km of trails. Be sure to visit the Silver Islet General Store before you leave Sleeping Giant.
Depending which direction you're approaching the park from, there are two options for making stops on your way there or on the way home. Nipigon is located an hour and 15 minutes to the east and Thunder Bay an hour and 10 minutes to the west. In Nipigon, take a self-guided historic walking tour, get some food at La Luna Cafe or The Edgeview at Sunnyside, and play a round at the North Shore Golf Club. In Thunder Bay you can drive up Mount McKay to get a great view of the city, eat at Barbecupid or Both Hands, and pick up outdoors gear at Chaltrek.
Lake Superior Provincial Park (The Coastal Trail)
We're headed back to Lake Superior Provincial Park—this time to provide backpacking enthusiasts with the chance to camp on their own private beach. The Lake Superior Coastal Trail is 65 km in length and stretches from the Agawa Bay Visitors Centre in the south end of the park to Warp Bay in the north. Rugged and wild, this trail isn't for the faint of heart (or those who don't like to wake up sore every day). But the true seclusion and spectacular lake views make it worthwhile. There are many sandy beach campsites along the length of the trail, located at Warp Bay, Gargantua Harbour, Beatty Cove and Barrett River. All campsites are first-come, first-served, however you must secure backcountry camping permits before embarking on this trail. Learn more about hiking the Lake Superior Coastal Trail here.
If you're driving up from Southern Ontario, Sault Ste. Marie will be your hub to stock up on supplies, fuel up you and your vehicle, and stretch your legs. Visit the Canadian Bushplane Heritage Centre or go for a walk along the St. Marys River, take a culinary adventure with Blaq Bear or go more classic at the Burger Don, and gear up at Joe's Sports and Surplus and the Chippewa Trading Post.
Temagami
Stay on your own private beach and a piece of history when on a backcountry canoe trip in Temagami. The beach campsite in question is located on Wakimika Lake, which lies in the northwest corner of Obabika River Provincial Park. Enjoy soft sand, shallow swimming and a sheltered campsite tucked into the woods behind the beach. As you lay on the beach and stare out across the wild Temagami landscape, you can reflect about the historic event that took place there in September 1989. 
It was this beach that 200 protestors used as a basecamp to stage the Red Squirrel Road blockade in an effort to protect the largest continuous stand of old-growth red and white pine forest remaining in the world from being logged. This stand is located at the north end of Obabika Lake and was being threatened by the attempted expansion of Red Squirrel Road, which would be used to transport the old-growth logs to the Milne Mill in Temagami. The road expansion was also controversial because it would cut through an area that was part of a land claim filed by the Teme-Augama Anishnabai. The Red Squirrel Road blockade was one of many undertaken by the Temagami Wilderness Society and Teme-Augama Anishnabai between 1988 and 1989. You can read more about the blockades here and see the beach as it is today in Camper Christina's video here.
Temagami is an outdoor adventurer's dream location. For more information on planning a canoe trip, check out this Ultimate Guide to the Best Canoeing Routes in Temagami. Guided trips and rentals are available with Smoothwater Outfitters and Temagami Outfitting Co. In the town of Temagami itself, you'll find stores like One Stop Trading Post, Northland Traders and Peacock Woodcraft, and restaurants like Temagami Shores and Theodore's Chip Stand. 
Fushimi Provincial Park
Lesser-known Fushimi Lake Provincial Park is a great place for entry-level backcountry camping. You'll need a canoe to get to the park's 13 interior campsites, scattered along the shore and islands of Fushimi Lake. Many of these campsites have their own private beach, making for great swimming and comfy star-gazing as you lay in the sand and stare up at the night sky.
While at Fushimi, you can canoe back to the main campground to hike the park's two trails: the Achilles Lake Trail and the Fire Tower Trail. The latter takes you to the Bannerman Fire Tower—one of the few original fire lookout towers left in Ontario. As Fushimi is located on sparsely populated Highway 11, you won't find any big towns full of attractions to check out while in the area. Hearst is 35 minutes to the east and has a grocery store, gas stations, and a few fast food establishments. You can take your picture in front of the "Moose and Wolves statue" and visit the Hearst Heritage Sawmill. Otherwise enjoy the Northern Ontario seclusion and the natural beauty of the sparkling lakes and surrounding boreal forest.
Pitch your tent and spread out your beach towel
Ontario's beaches are as varied as the rest of its landscape. Find sand dunes and flat stretches that go on for miles, driftwood adornments and colourful pebbles, views out to an endless horizon and up to soaring cliffs. Some beaches are just where you think they'd be; others are an oasis tucked away between rocky shores and dense trees. All are lovely and are even more so when you can pitch your tent nearby and spend multiple days enjoying all it has to offer. The summers in Ontario are hot, the days long, and the lakes cool. Why not make the most of it by going beach camping? There's a sandy expanse waiting for you.