WHAT HAPPENS WHEN 13 STRANGERS FORM A VOYAGEUR BRIGADE?
With great expectation and nervous excitement, Becky Mason embarks on a Lake Superior journey to find out.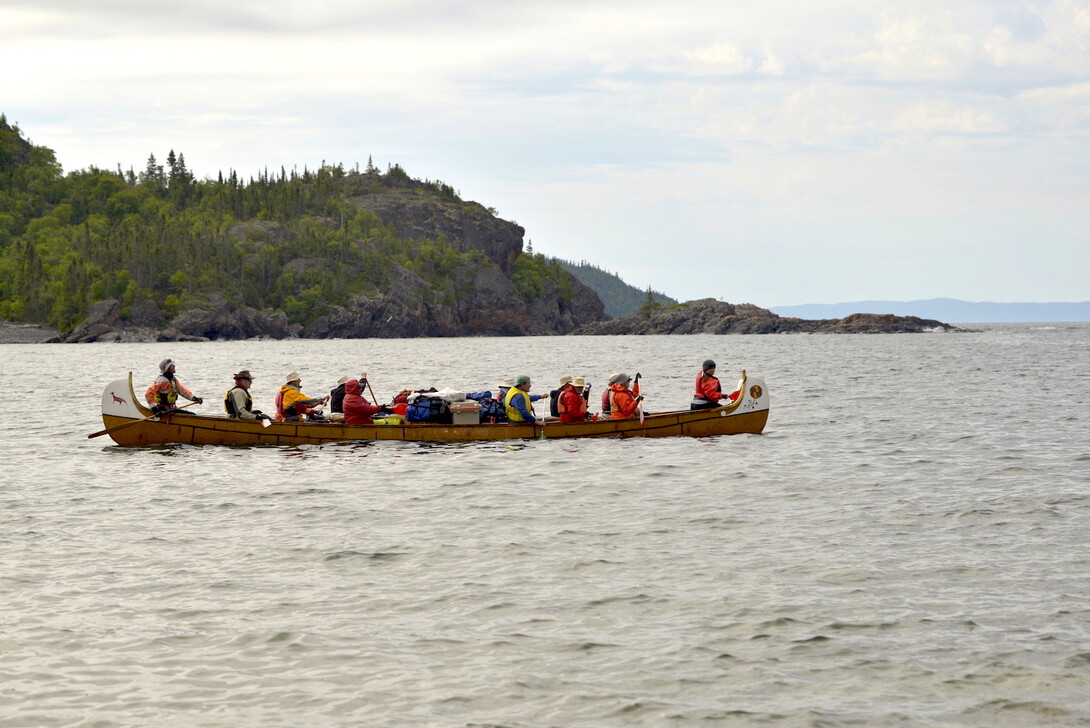 "Brian, how's our course?" Ewen shouts to the bow. "Ten degrees to port," comes the reply. Ewen then faces the stern and relays the message. "Ten degrees to port Reid!" At the helm, grim-faced Reid, preoccupied with the changing conditions, simply nods and steers to windward. "Watch the luff," Greg exclaims, as we change our course and Véronique trims the sail. I am keenly watching the water, looking for any signs that the seas might be increasing.
We are sailing our 36' boat along the coast of Pukaskwa National Park and with gusts between 10 to 15 knots, a wind like this on Lake Superior is not to be trifled with in any sort of craft; especially when the craft is a voyageur canoe. It is a thrill like no other, but I'm wondering if we're starting to push our luck.
Seven days earlier, 13 strangers congregated at Naturally Superior Adventures on the shores of Lake Superior near Wawa, Ontario. We had a plan. We were going to paddle the 190 kilometre long wild Pukaskwa coast from Michipicoten Harbour to Hattie Cove, and we were all going to be squished into one great big canoe!
I confess to having had some concerns about this adventure. I had never been on an extended trip in a voyageur canoe and felt trepidation about so many things: how to fit all our food, gear, and 13 people into the canoe; could we keep the peace onboard with zero personal space; and, most importantly, at least in my husband's mind: "will we ever stop to pee?" Well, to say that our fears were allayed would be a huge understatement.
Right from the moment the 13 of us got to the beach that first morning, we started to come together as a team. We all had to join forces to load the canoe, forming a "pack brigade" to pass our gear hand-over-hand to the canoe and then, having to hoist the 50kg food coolers into the bottom of our craft. With some direction from our guide, Ewen, and some nifty packing tricks from Reid, we somehow managed to get all of our gear jammed in—a small miracle that warranted high-fives all around!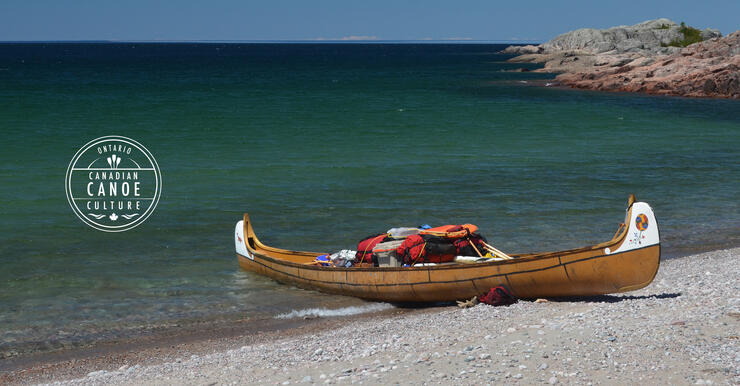 After a safety briefing, a description of the plan for the day, and a final check for forgotten items, we all joined in and with a "One, two, three, HEAVE!" launched our canoe and climbed aboard. Considering the huge load we were carrying we rode high and dry and could turn beautifully—it felt like the canoe was made for a big lake like Superior; which of course, it was.
After a few minutes of paddling I took out my pouch of tea leaves to give thanks and ask the Lake to let us pass safely. I explained to the group that tobacco leaves are the traditional choice but I prefer using my raspberry tea. I passed both around and suggested that each individual make an offering of thanks and for safe passage to the Lake or higher spirit, if they felt so inclined. After a few minutes of silence, our gouvernail (the voyageur name for the paddler steering from the stern of the canoe) shouted the first "en avant" of the trip and it wasn't long before we were all paddling together in-time and singing voyageur songs as we cut through the mirror-calm waters of Superior on the way to one of my most cherished of places, the Nimoosh or Dog River.
This coastline is a favourite of mine, and also of my father, Bill Mason—it was one that he popularized in his many films and books, including his 1983 film Pukaskwa National Park that I appeared in. We will be visiting many of the places that inspired and moved him to create: iconic places like Cascade Falls, Pointe Canadienne, and the Pukaskwa River. And of course, the Dog River and Denison Falls.
I have paddled the Dog River from its headwaters down to the Lake and experienced all of its many moods. An unassuming boggy wetland beginning which, with a gentle tug of the current on the canoe, imperceptibly starts to transform itself. On this trip, the river is trying to draw me towards the lake. Soon the tug becomes more insistent as the river funnels and boils and plunges down its rocky course, demanding that it gets to Superior as fast as it can. But before she gets there, the Dog will bare all of her teeth in one final glorious howl... Denison Falls.  
And that's where we are now. Much of our group has joined me on the arduous hike up from the coast where we are camped at the river mouth. On the map it looks like a straight forward 2.5-km hike. On the trail, it's a different story. But it is worth every bug-bite, scraped knee and wet boot. I have been here a number of times and on every visit I am awe struck; I can taste the mist, am deafened by the pounding water, and can feel the rocks tremble. It is such a powerful, magical, reverential place that I am always mesmerized by the entire experience. My paddler friends all seem to feel the same way and it is a quiet, reflective hike back to camp.
With nine days ahead of us, we are filled with great expectations and nervous excitement. If you have ever been lucky enough to experience the North Shore of Lake Superior, you will know exactly what I mean when I say that its beauty, mystery and power are indescribable. If you have never seen and felt its forceful spirit then I can only hope that one day you will. The lake has many moods and can be capricious, even violent, but she rewards the cautious traveller with mystical and powerful experiences like no other. No matter what its conditions I always exercise extreme caution and utmost respect when on the water or the land along this rugged coast. Over the next week, we will share and bond with each other, and with this place.
We will be shadowed by eagles, walk where wolves have trodden and be amazed by the delicate flora that grows along this harsh coast.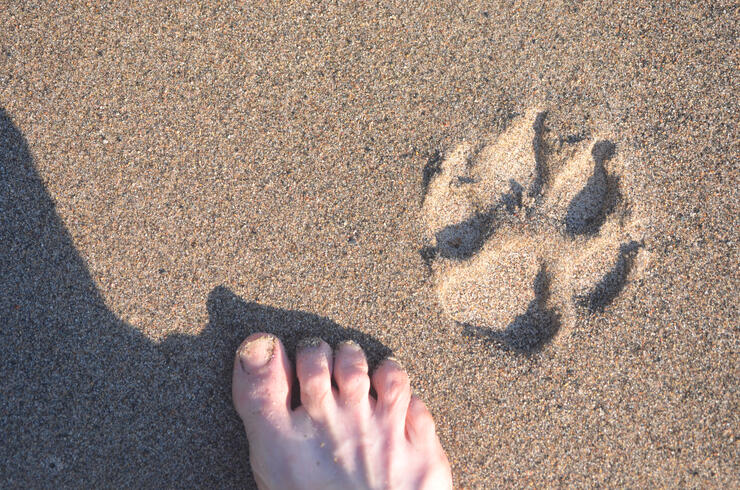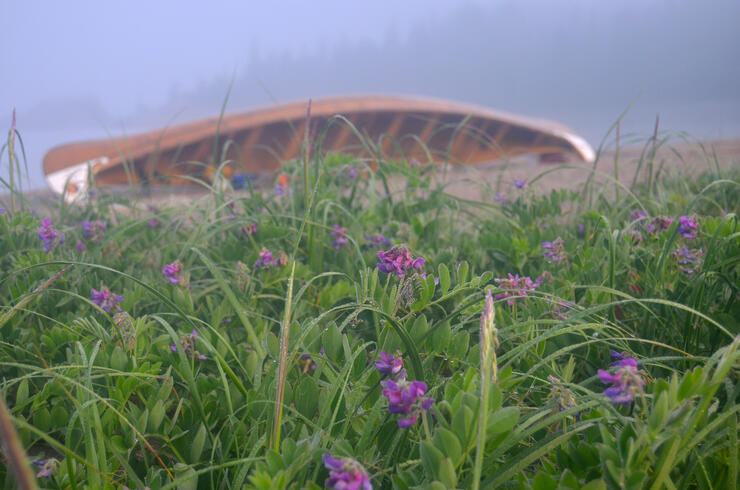 We'll explore old cabins and village sites. We'll embrace the voyageur spirit by singing songs and having early morning launches without breakfast. We will feel the spirits of the first peoples in the swirling mists and hear them whispering in the trees and find faint traces of their passing—pictographs and strange rock formations—whose purposes and meanings remain locked in time. All of these experiences and more will work their magic on each one of us, forging a powerful bond and a covenant: I will return here to this, the most profoundly moving and deeply spiritual place I know.
"It could be building, some waves are starting to break," I squawk, as the sail snaps in the wind. Our guide, Ewen, nods in agreement. "We're headed for the harbour just around that next point," he yells to the stern and taps his head three times. Reid replies ok with three taps of his own, and while our team cheers and bursts into song, he turns the canoe towards the shore and to our home for the night. As we drift into the lee, we drop the sail and I breathe a big sigh of relief and then turn back to look at the huge, endless expanse of waves and water.
With the late afternoon sun sparkling and dancing on the greatest lake in the world, I think to myself, "I never want this to end."