How To Winter Camp
Cool lessons for hardy adventurers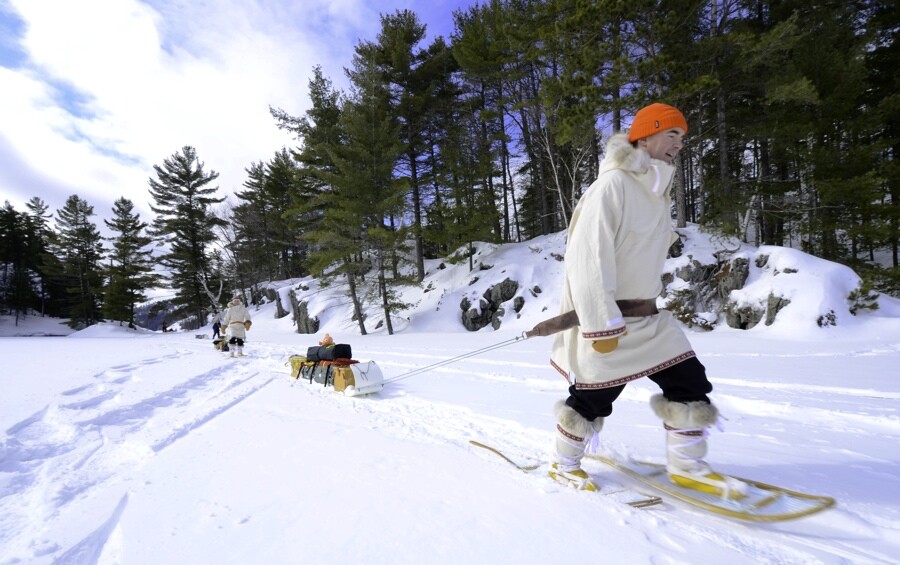 Chalk it up to peer pressure. I'm standing in my bare feet and skivvies on a frozen Northern Ontario lake in the dead of winter, psyching up for a plunge into a slushy pool cut through more than a foot of ice. Kielyn Marrone assures me that this strange stunt—intended to impart confidence in aspiring winter campers—is often participants' greatest highlight of Training Camp, a four-day primer on the basics of traditional winter camping delivered by Lure of the North, an outfitter near Sudbury.  
Today we chipped a hole through the ice and studied its tree-ring-like layers for a first-hand lesson in ice safety. The plunge is meant to demonstrate "just how quickly you can get out, and how quickly you'll warm up afterward if you have the right clothing," says Marrone, who founded Lure of the North with her husband, Dave, in 2012.
Training Camp appeals to outdoor enthusiasts—often avid canoe trippers and three-season campers—who want to learn more about an emerging trend in outdoor adventure. Oversized wooden snowshoes and narrow, three-metre toboggans were vehicles of the coureurs des bois of the Canadian fur trade, who adopted the methods of First Nations for travelling on frozen lakes and rivers.
Spacious canvas tents, designed to accommodate portable woodstoves, make camping downright luxurious. But "hot camping," as it's called, requires a hefty investment in gear.
Marrone explains that most people sign up for Lure of the North's primer to—literally, as it turns out—test the waters. Others may register for Training Camp to prepare for a longer expedition with Lure of the North, which offers multi-day guided trips throughout northern Ontario. The company also offers hands-on courses in crafting traditional snowshoes, winter moccasins, and anoraks throughout the year at locations across Ontario.
This style of winter adventure parallels a summer canoe trip. Travel favours frozen waterways, but sometimes involves overland portages between lakes.
This style of winter adventure parallels a summer canoe trip. Travel favours frozen waterways, but sometimes involves overland portages between lakes. So, after trying the various shapes of wooden snowshoes and learning a simple but effective binding to attach them to our feet, we're coached in how to pack our own toboggan and work as a team to wrangle it uphill and along narrow trails.
The program is based out of the Lure of the North homestead, taking advantage of a range of conditions frequently encountered on a winter trip. We're living outdoors, experiencing different styles of canvas winter tents, and learning how to safely set up and operate a small woodstove inside.
Remarkably, all this equipment fits on our toboggans and, in typical conditions, isn't too much of a struggle to haul.
Dave Marrone offers tips for gathering firewood, highlighting the softwoods that burn best in compact woodstoves. At night, the white canvas tent glows by candlelight beneath the crisp starry sky, and we relax inside in T-shirts.
Many participants combine Training Camp with Vast Horizons—a three-day wilderness trip leaving the Marrones' property to traverse the frozen lakes and snowy wetlands of the La Cloche Mountains—to put their new skills to use. "The greatest takeaway is how comfortable you are," says Kielyn Marrone. "All of the gear works as a system to keep you warm. People are amazed at how cozy the tent is, how comfortable it is to sleep overnight. There's no suffering in this type of winter camping!"
But now, plunging into ice-cold water sounds like misery. I take a deep breath, summon the nerve, and drop in, feet first. The burning sensation is eclipsed by the cheers of my fellow participants. I even take a moment to dunk my head, feeling the abrasiveness of slushy water rubbed on my skin. Getting out requires minimal effort. I push up and slither away, simulating self-rescue from an unexpected breakthrough. "You did it!" Marrone shouts as I scurry back into my clothes, thinking warm thoughts about the coming evening in our hot tent.